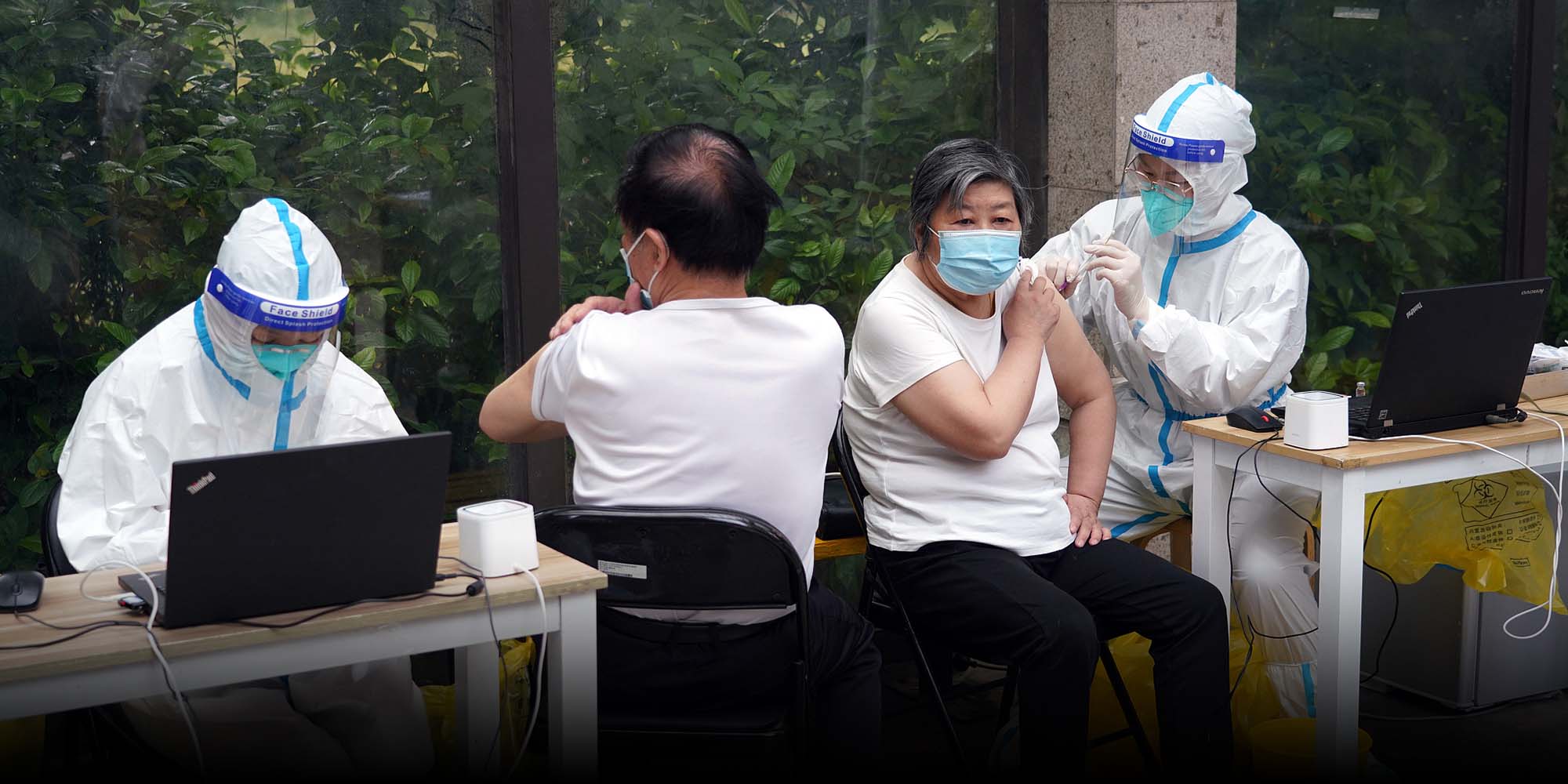 NEWS
China to Boost COVID Vaccination for the Elderly Amid Outbreak
As infections spike, the country plans to protect the most vulnerable demographic.
China plans to accelerate its COVID-19 vaccination drive among the vulnerable older population, especially those over the age of 80, in an effort to ramp up the lagging inoculation progress amid record-high infections since the pandemic started.
The time interval for older individuals to receive booster doses has also been reduced from six to three months, according to the plan released Tuesday by the epidemic prevention arm of the State Council, or China's Cabinet. The document listed six domestically manufactured vaccine combinations, including the inhaled and recombinant protein vaccines, as booster shots.
"People aged 60 and above are identified as high-risk groups for developing severe symptoms, while the risks are even higher for those over 80 years old," Guo Yanhong, a senior official at the National Health Commission, said during a press conference Tuesday.
While seniors accounted for 65% of all severe COVID cases in China, more than half of them were unvaccinated, according to official data published in March. The central authorities have now ordered local governments to make inoculation more convenient and accessible for older people, while boosting vaccination efforts in nursing homes, activity centers, and other public venues.
Though China has vaccinated the vast majority of its people, the country has fallen short of getting the shots into the arms of its older population. As of Wednesday, around 86% of those aged 60 and above had received a two-dose regimen, and 66% of those over 80 had completed the same course.
The vaccination campaign, especially for booster doses, has slowed in the past months. While the number of over-60s getting a booster shot edged from 146.6 million to 181.5 million between April and November, the figure for over-80s rose marginally from 38% to 40% from July to November, according to the National Health Commission.
Though experts and officials have made reassurances that vaccinations could prevent the elderly from serious illness after being infected with COVID, many remain skeptical amid claims of possible adverse reactions. Experts have rejected posts made online claiming that the vaccines could cause health risks such as leukemia and diabetes.
Meanwhile, the vaccination drive has been overshadowed by local coronavirus outbreaks, with many places struggling to contain the surges, domestic media reported. China has seen an uptick of COVID-19 cases since October, with cases reaching a pandemic high last week.
China began to more strongly push for the elderly to get vaccinated against COVID after an Omicron wave in Hong Kong earlier this year showed the risk posed to the unvaccinated older population. The State Council's move on Tuesday came just weeks after the country revised its anti-COVID policy, promising to ease curbs, though many places are still under lockdowns or other restrictions amid recent cases.
Editor: Bibek Bhandari.
(Header image: Older Chinese receive COVID-19 vaccine in Shanghai, May 26, 2022. VCG)