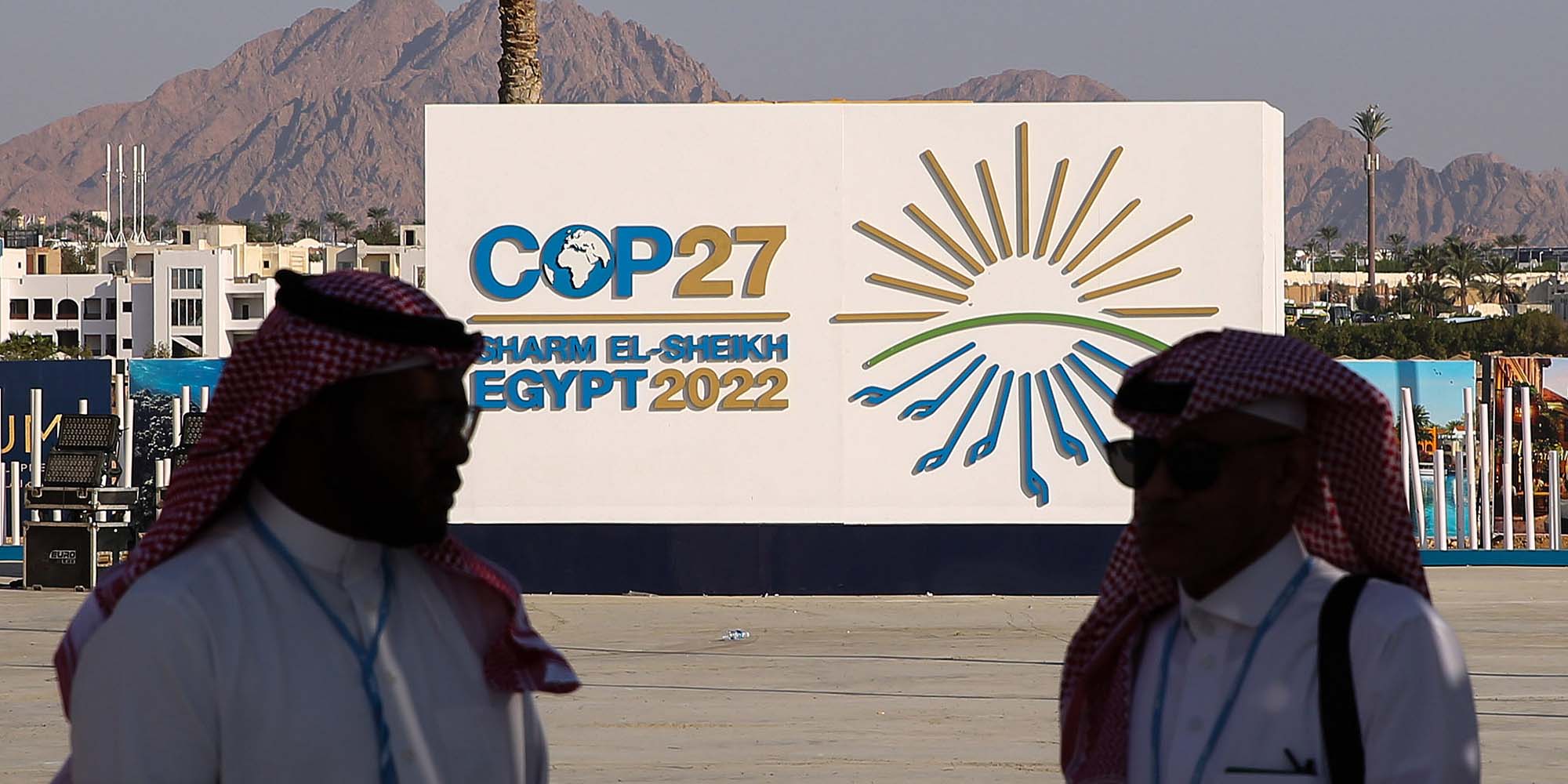 VOICES & OPINION
What You Missed at the World's Biggest Climate Conference
COP27 produced a groundbreaking agreement on a "loss and damage" fund. It also marked China's return to significant in-person engagement on climate issues after years of pandemic-related disruptions.
This month's COP27 international climate talks in Sharm El Sheikh ended with a breakthrough, albeit a partial one. Climate reparations were at the top of the agenda when leaders and representatives from more than 100 states and governments met in the Egyptian city to hammer out a preliminary agreement for a climate change "loss and damage" fund. Although details of the fund — including the amount each country will be expected to contribute — remain to be worked out over the coming years, the latest COP (short for "Conference of the Parties") nevertheless delivered on a longtime aim of the climate justice movement.
The Conference also marked Chinese civil society's re-engagement with the world on climate issues after years of COVID-19 related disruptions. Over 100 representatives from Chinese nongovernmental organizations, businesses, and think tanks traveled to Egypt to take part in COP27, most of them bearing good news about developments in the world's current biggest emitter.
In case you missed it, here are three key China-related takeaways from the last major climate change summit of 2022.
China's business sector is accelerating its net zero transition. Discussions of Chinese climate action often focus on government policies, like its 2020 pledge to peak emissions by 2030 and reach "net zero" by 2060, but the corporate sector is where much of the action is taking place.
About 20 Chinese companies showcased their low-carbon transition practices at this year's COP, in sectors ranging from tech and aviation to steel and consumer manufacturing. While the central government's pledges have helped spur action, Chinese companies' motivation for cutting emissions comes as much from their international peers as national policy.
Tencent and Alibaba, two of China's largest tech companies, are following in the footsteps of Amazon and Facebook with pledges to reach carbon neutrality by 2030. In the manufacturing sector, increasingly stringent supply chain requirements imposed by multinational brands are pushing Chinese factories to go green or risk losing vital business. In 2021, more than 1,500 Chinese manufacturing companies disclosed information on their carbon emissions to the Carbon Disclosure Project, the world's largest data set for corporate environmental reports, up more than 40% from the previous year.
Indeed, the supply chain appears to be a crucial front in China's climate campaign. Although Chinese companies, including the tech giants, still lag their overseas counterparts when it comes to emissions reductions, there are signs that more firms, even those targeting the domestic market, are asking their suppliers to bring emissions down. Tencent announced it will include "scope 3" emissions from its upstream suppliers in its emissions pledge, and over 100 Chinese real estate companies shared green sourcing plans during the COP. They also released an updated list of building material suppliers which are better at disclosing and managing their emissions.
China-Africa collaboration on renewable energy could remake the continent's power network. Because of its location in Egypt, this month's COP had been dubbed by African leaders as "Africa's COP." Fittingly, its theme, "implementation," also describes the current state of Sino-African climate collaboration.
According to the Boston University Global Development Policy Center, Chinese investments, including policy bank loans and direct investment from Chinese firms, have financed 56 power plants in Africa. Previously, much of this investment went to coal and hydropower production, but now Chinese money is gradually flowing toward green energy projects. This shift has accelerated since 2019, as Chinese investment in coal and hydropower on the continent has dropped sharply, while investment in solar and wind has risen.
l
In 2021, the Forum on China-Africa Cooperation released a new declaration on "combatting climate change," in which China committed to increasing the share of clean energy in Africa's energy mix, with particular emphasis on solar and wind development.
COP27 brought the launch of the Egypt Initiative, a new project under this umbrella focused on developing clean energy and electricity access across the continent. In addition to exploring the potential of off-grid clean energy in Africa as a solution to the difficulties countries face in delivering clean energy to remote areas, the new initiative also prioritizes creative financing, such as blended finance and public–private partnerships, as a means of alleviating African nations' financial burdens and motivating private Chinese renewable electricity companies to enter the African market.
In lieu of cash payments, China is stepping up in-kind support for and collaboration with other developing countries on climate adaptation and mitigation work. As a developing country, China is not obligated to contribute to climate finance, per the United Nations Framework Convention on Climate Change. Nevertheless, China's climate envoy Xie Zhenhua said at this year's COP that China is willing to help at-risk countries via other means, including financing and expert assistance.
Much of this assistance is being delivered through the framework of South-South collaboration. In the past, rather than contribute to the UN's Green Climate Fund, China has preferred working through its own South-South Cooperation Fund for climate change. China has also established 42 mitigation and adaptation programs in more than 30 developing countries, with mitigation efforts already underway in countries like Ghana and Egypt.
Other emphases include the provision of technology, capacity building, and setting up low-carbon pilot projects. This year, the China Meteorological Administration conducted post-flood assessment work in Pakistan after that country experienced devastating floods over the summer.
Although it has not given a firm answer about whether it intends to contribute funding, both before and during COP27 China positioned itself alongside the G77 bloc of developing countries in support of the new loss and damage fund. Between the growing frustration on the part of at-risk countries and rising pressure from developed countries, China must walk a fine line if it wants to be seen as a leader of the developing nation bloc.
Editors: Cai Yiwen and Kilian O'Donnell; portrait artist: Wang Zhenhao.
(Header image: Attendees arrive at the venue on the opening day of the COP27 climate conference at the Sharm El Sheikh International Convention Center in Sharm El-Sheikh, Egypt, Nov. 7, 2022. Islam Safwat/Bloomberg via Getty Images/VCG)