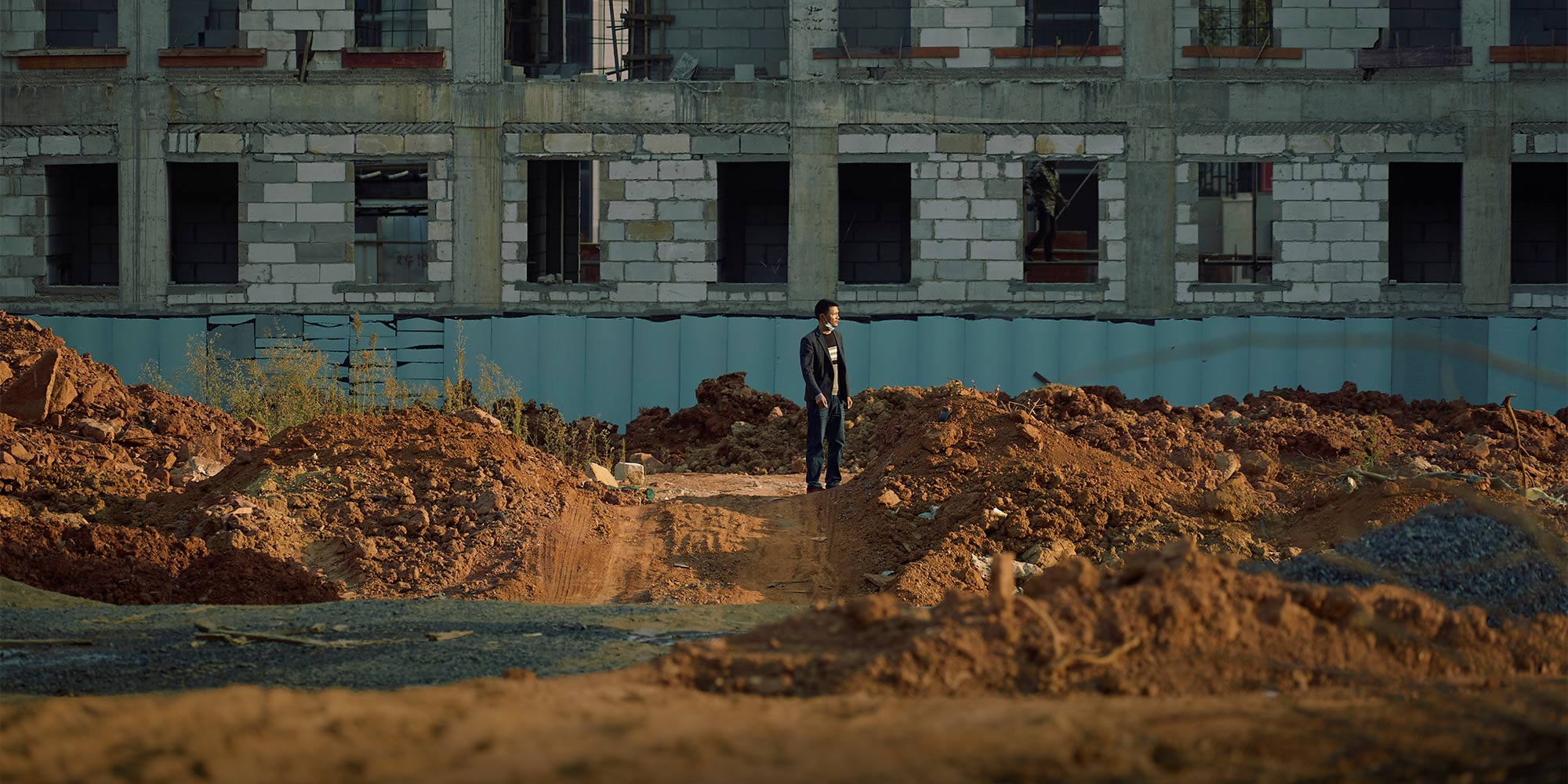 FEATURES
'No Way Out': Why China's Mortgage Strikers Refuse to Back Down
Homebuyers involved in China's mortgage boycott movement are facing harassment, punishment, and threats of legal action. But they say they can't afford to give up.
JIANGXI, East China — For Kuang Hong, joining China's mortgage strike movement in July has had severe personal consequences.
His credit rating has tanked, dashing his hopes of starting a business. He has had to deal with repeated, angry calls from the bank. And he risks being blacklisted via the social credit system, making it impossible for him to buy luxury goods, take a flight, or even ride a high-speed train.
The 27-year-old, however, plans to continue striking regardless. He feels he has no other choice.
"Suspending the mortgage payments is a gamble," Kuang told Sixth Tone. "There is no way out. We've been driven to despair."
In this corner of east China's Jiangxi province, the resolve of mortgage strikers like Kuang appears to be hardening despite months of punishments and threats. Many have seen their incomes decline steeply amid China's economic slowdown, and feel they have nothing to lose. Their only hope, in their view, is to face down the banks and the authorities — and win.
Mortgage strikes have mushroomed all over China as the country's real estate crisis has escalated in recent months. Failing developers have halted construction on vast numbers of apartments, leaving the buyers who prepaid for these new-build homes in an impossible situation: required to make mortgage payments on properties that do not — and may never — exist.
Many of them have refused to play along. In a rare act of defiance, homebuyers across the country began to organize and take direct action during the summer. Some groups stopped paying their mortgages immediately; others threatened to do so if construction on their homes hadn't restarted by a certain date. More than 340 strikes in over 100 Chinese cities have been announced so far, according to a crowdsourced list on open-source platform GitHub.
Kuang's group is a typical example. Its nearly 1,000 members all bought apartments inside the second-phase development at Sinic City — a residential complex in Nanchang, the capital of Jiangxi province. Originally, the developer said it would complete their homes by November 2021. But months later, the buildings remained little more than concrete shells. 
Repeated rounds of negotiation with the developer and local officials went nowhere. So when the buyers heard about other groups of aggrieved homeowners launching mortgage boycotts in late June, they decided to follow their lead.
By doing so, the strikers hope to pressure the banks and the government to take stronger action to ensure developers restart zombie construction projects. In theory, they have real leverage. Up to 2 trillion yuan ($280 billion) of mortgages — around 5% of China's total outstanding mortgages — could be affected by the boycotts, GF Securities estimates. If the authorities fail to deal with the strikes, it could spark a wider economic crisis, analysts say.
"The main concern is that the mortgage boycott could expand," said Alfredo Montufar-Helu, head of the China Center for Economics and Business at research group The Conference Board. "If this were to happen, it could exacerbate the cash crunch that developers are facing and potentially lead to more debt defaults. This would then contribute to a much deeper downturn of the property sector in China."
But much will depend on how far the strikers are willing to go. In China, failing to repay a mortgage can result in severe punishment. Anyone who defaults risks having their credit rating immediately downgraded via the social credit system. If a bank then gets a court order and the striker still refuses to pay, they are added to a blacklist, which places strict limitations on their ability to travel and consume freely.
Earlier this month, Sixth Tone traveled to Jiangxi province — the region where many of the first boycotts began — to gauge the mood of homebuyers five months into the strike. Here, at least, the strikers appear to be prepared for a long struggle. All eight of the buyers we spoke with at Sinic City said they were determined to continue the boycott — even if that meant being sanctioned and blacklisted — until their homes are delivered, or construction properly resumes.
"It's like breaking your arms to survive — we clearly understand the consequences," said Peng Gong, another homebuyer at Sinic City, who spoke with Sixth Tone using a pseudonym for privacy reasons. "But we have to do it, because we've run out of options."
After seeing their incomes drop during the pandemic, many of the buyers are feeling increasingly desperate. Some would barely be able to pay their mortgages now, even if they wanted to. The punishments, meanwhile, have come to seem acceptable, as few can see past their immediate financial pressure.
And the strike at least offers some hope. The group believes that if they persist, they can still achieve their main objective of getting their apartments completed. They might even be able to convince the banks and the authorities to clear their credit records, they said.
For now, it's still unclear whether their gamble will pay off. But the story of Sinic City offers a window into the dire situations homebuyers are facing across China — and why many mortgage strikers are refusing to back down.
Broken dreams
For the buyers, the strike was a final, desperate move after months of failed negotiations and broken promises.
Kuang originally bought his 900,000 yuan apartment at Sinic City in 2019, when construction on the project was just beginning. To secure the property, he had to pay the developer a 300,000 yuan down payment upfront, and begin making monthly mortgage payments immediately.
It was a huge investment for the 20-something, who works as a salesperson in the construction industry and was earning just under 10,000 yuan per month at the time. But the new home meant everything to him: He was keen to get married, and in Jiangxi province young men who don't own property often struggle to find a partner.
For the next three and a half years, Kuang continued to pay the mortgage on his unfinished home, while living in a tiny rental apartment across town. Juggling the 1,000 yuan rent and 4,000 yuan mortgage payments each month was tough, but he accepted it as a short-term inconvenience.
This kind of arrangement has become normalized in China, where 87% of new homes were presales in 2021. Many other Sinic City homebuyers were doing the same thing.
Then, in August 2021, the buyers' nightmare scenario began to play out. The contractor halted construction on Sinic City, citing cash flow issues due to delayed payments from the developer, Sinic Holdings Group.
It was part of a much wider trend. As the debt crisis in the Chinese real estate sector has spread, half-finished apartment complexes — known as lanweilou, or "rotten-tail buildings," in Chinese — have become a common sight in cities all over the country.
Homebuyers who invested in lanweilou often have little recourse in such situations. Chinese regulations state that the money buyers pay for presale homes should be kept in an escrow account supervised by local authorities and banks. But in reality, developers have often managed to circumvent these rules, and use the money to get other new projects off the ground.
Sinic City appears to have been no different. The presale funds were transferred into the developer's own accounts instead of the escrow account specified on the housing purchase contract, according to transaction records buyers shared with Sixth Tone. That meant it was impossible for the buyers to recover their money.
"At a supermarket, I pay money, and you give me the goods," said Peng. "I bought the house three years ago, but I have yet to see anything."
Worried their homes might never be finished, the buyers at Sinic City quickly got organized. Over the following months, they gathered to petition local and provincial authorities more than 10 times. They organized multiple protests and hung banners on Sinic City's muddy construction site. They bombarded officials with hundreds of complaint letters and online petitions.
None of it worked. On several occasions, local officials attended the protests and met with representatives from the group of homebuyers, offering to help get Sinic City completed. But each time, the agreed deadline passed without any action being taken, according to the buyers.
"Every time we went to defend our rights, the government would give us hope," said Peng. "Then, the hope would get dashed — so many times."
'Throwing money into a river'
By the summer of 2022, Sinic City still didn't look close to being finished. The buildings' concrete walls were exposed, the elevators had not been installed, and the interior decoration hadn't even started. 
Sometimes, a few dozen workers would show up at the site, but not nearly enough to complete the huge complex — which is built to accommodate several thousand families — within a reasonable time frame. At other times, the site was completely deserted.
The buyers' patience had run out. Peng, a 33-year-old engineering consultant, had been living in a poorly ventilated, 2,000-yuan-a-month apartment with his wife and small child for two years, waiting in vain for his home to be delivered.
For months, he'd spent hours each day checking messages on the Sinic City homebuyers' group chats and discussing future protests. The stress had given him insomnia. His performance at work had suffered, and his employer had reduced his salary by one-third to 10,000 yuan per month, citing the economic disruptions caused by China's COVID-prevention policies.
Now, Peng was struggling to provide for his family, as the rent, mortgage, and bills were swallowing up most of his monthly income. He was close to despair.
"It's like throwing money into a river without it even causing a splash," said Peng. "The apartment had yet to be completed, but I had to pay the mortgage every month. I felt so bad."
Then, on June 30, a potential solution appeared. Another group of homebuyers in Jiangxi released a joint statement in which they threatened to stop paying their mortgages unless the developer — in this case, the embattled property giant Evergrande — restarted construction on their unfinished apartment complex.
It was the first ultimatum of this kind issued in China, and the Sinic City buyers quickly grasped its significance. A few dozen of them, including Peng, had tried to stop paying their mortgages as early as March, but they'd soon given up the idea. Acting alone had seemed too risky. 
Now, however, they felt emboldened to "follow suit" and issue their own ultimatum, the buyers told Sixth Tone. They fully expected other groups to do the same, and thought there would be safety in numbers. The more people joined, the more likely it was that the protests would effectively pressure the authorities and banks — and the less likely they'd be singled out for punishment.
"Previously, the number of people was too small to attract much attention, and the banks would get us in trouble," Peng said. "Now, with thousands of people banding together, I'm not afraid anymore."
Within days, the Sinic City buyers had hammered out their own statement. They released the document on July 7, and informed the authorities and banks that they'd soon be ceasing their mortgage payments.
Like many other groups, the buyers justified their actions by arguing that they should not be forced to pay the price for the stalled project. The developers had misappropriated funds, the banks had violated mortgage rules and loosely monitored the use of the presales capital, and the regulators had failed to fulfill their role, they claimed.
"I felt cheated," Peng said. "We did nothing wrong, but have had to bear all the consequences."
As of September, 987 households had joined the Sinic City mortgage boycott — around one-third of the total buyers, one of the homeowners told Sixth Tone, citing official statistics.
The boycott movement rapidly spread across the country, with several hundred groups releasing similar statements. But the Sinic City buyers are among the boldest. They didn't just threaten to strike unless their homes were delivered by a certain date; they actually went ahead and canceled their payments — becoming one of the first groups in China to do so.
Cash vs. credit
It didn't take long for the banks to react to the boycott. Within days, the Sinic City buyers began receiving calls and text messages from bank staff, urging them to make their payments.
The buyers also lost their good credit ratings, which could harm their ability to borrow for years to come. So far, however, the banks mostly haven't followed through on threats to take legal action.
Some buyers admit they were nervous about stopping their payments. Kuang took an entire week to decide to join the boycott, as he worried about losing his good credit rating. For years, he'd dreamed of starting his own business, but that would be impossible if he was unable to take out a loan.
In the end, however, Kuang realized he could no longer afford to worry about his credit rating. His employer had recently cut his salary to just 7,000 yuan a month amid China's economic slowdown, and his finances were even more stretched than before. The mortgage was now swallowing up more than half his income.
"Now, it's more important to keep money in my pocket and live," he said.
Other buyers echo this point. Several told Sixth Tone they actually felt more "relaxed" after they canceled their payments, as the mortgage had become such a drain on their personal finances. Peng even went out and spent 2,000 yuan on a new smartphone — the first time he'd upgraded his phone for five years.
Xu Qiu, a homebuyer who stopped paying his mortgage in August, said he regarded losing his good credit rating as "the lesser of two evils." As stricter COVID controls have disrupted the economy, he has had his salary cut, and is concerned that he might suffer another cut or even lose his job in the coming months.
"If you have a problem making a living, why would you still care about credit?" the 31-year-old said.
The buyers continue to live under the threat of legal action. But if the banks decide to sue for the unpaid mortgage payments, the courts are not guaranteed to rule in their favor. 
While buyers who withhold payments on a mortgage are technically violating their loan contracts, there are precedents for Chinese judges to rule in favor of the buyers when a dispute involves an unfinished housing project.
In 2020, China's Supreme People's Court heard a retrial involving a dispute between a group of homebuyers and a bank in northwest China's Qinghai province. After the developer failed to deliver their homes, the buyers had severed their purchase contracts and refused to pay the remaining balance on their mortgages. The bank argued that the buyers were required to honor their loan contract.
Initially, a lower court had found in favor of the bank, and ordered the buyers to continue paying their mortgages per their original contract. But the Supreme People's Court overturned this verdict, with the judges ruling that forcing the buyers to make mortgage payments on an unfinished apartment had "obviously and unreasonably increased their burdens."
Li Xiaoran, a real estate lawyer at Beijing DHH Law Firm, told Sixth Tone that lawsuits involving mortgage boycotts tend to be decided on a case-by-case basis. "You can't respond to every situation with just one solution," Li said.
Pushing for change
Meanwhile, the mortgage strike movement appears to have made real progress toward its main goal: moving the issue of unfinished housing projects up China's political agenda.
Since July, Chinese authorities have repeatedly stressed the need to get lanweilou completed. A raft of new policies have been proposed, including launching enormous new bailout funds and offering special loans to developers through policy banks.
There are also tentative signs that the authorities are softening their stance toward mortgage strikers. On Nov. 23, China's central bank and banking regulator published a 16-point plan for supporting the property sector, which offered greater leniency toward boycotters.
Homebuyers who have "lost their income source" due to the pandemic, or have terminated their housing contracts, are now allowed to negotiate with banks about extending their mortgage payments without having their credit scores reduced, according to the plan.
Authorities are wary of treating homebuyers too harshly, as it could further weaken confidence in the housing market, analysts told Sixth Tone. Sales of properties — and presale homes especially — have already fallen sharply in 2022. In October, new home sales in China were down 23.3% year-over-year, compared with a 15.3% decline in September, according to official data.
But in Nanchang, the buyers remain frustrated. Though things now appear to be moving forward, victory still feels a long way off.
In early October, the developer received a special loan of 89 million yuan to resume construction on Sinic City, and further funds are expected to be made available soon, according to chat records between the homebuyers and local officials seen by Sixth Tone.
Since the cash arrived, construction at Sinic City has picked up pace. There are now around 200-300 workers on the site per day, according to the buyers.
But it's still not enough. Sinic Holdings Group estimates it needs at least 400 million yuan to complete the project, and the developer has yet to issue a detailed schedule for when it can deliver the finished homes, buyers said. Based on the current rate of construction, it might take several years for the complex to be completed, several buyers estimated.
Sixth Tone's calls to the housing regulator in Nanchang's Xinjian District, where Sinic City is located, went unanswered. Sinic Holdings Group declined to comment.
Some buyers have become so disheartened, they're considering suing the developer. But the cost of doing so could be painful. In most previous cases, buyers have had to sever their purchase contract and forfeit ownership of their apartments to sue a developer. There's also a risk the buyers will be unable to recover their down payments and the mortgage payments they already made, as the companies may be too indebted to repay them.
Peng doesn't plan to go to court yet, though he may do so in the future. "I've already invested about 500,000 yuan into this home — I can't bear to lose all of it," he said. "But if things still look hopeless in another five years, I will take that step."
On a still November evening, Peng stood outside Sinic City, gazing at the rows of squat townhouses and high-rise apartment blocks in front of him. While some were now painted bright yellow and had windows installed, others were no more than concrete skeletons. Small groups of workers wandered amid piles of red-brown soil, bursts of construction noise occasionally puncturing the silence.
As the sun began to set, Peng turned and walked back toward the subway. It was a long journey back to his rental apartment on the other side of Nanchang. Behind him, the unfinished buildings of Sinic City melted into darkness.
Editor: Dominic Morgan.
(Header image: A man stands inside the half-finished Sinic City complex in Nanchang, Jiangxi province, November 2022. Wu Huiyuan/Sixth Tone)