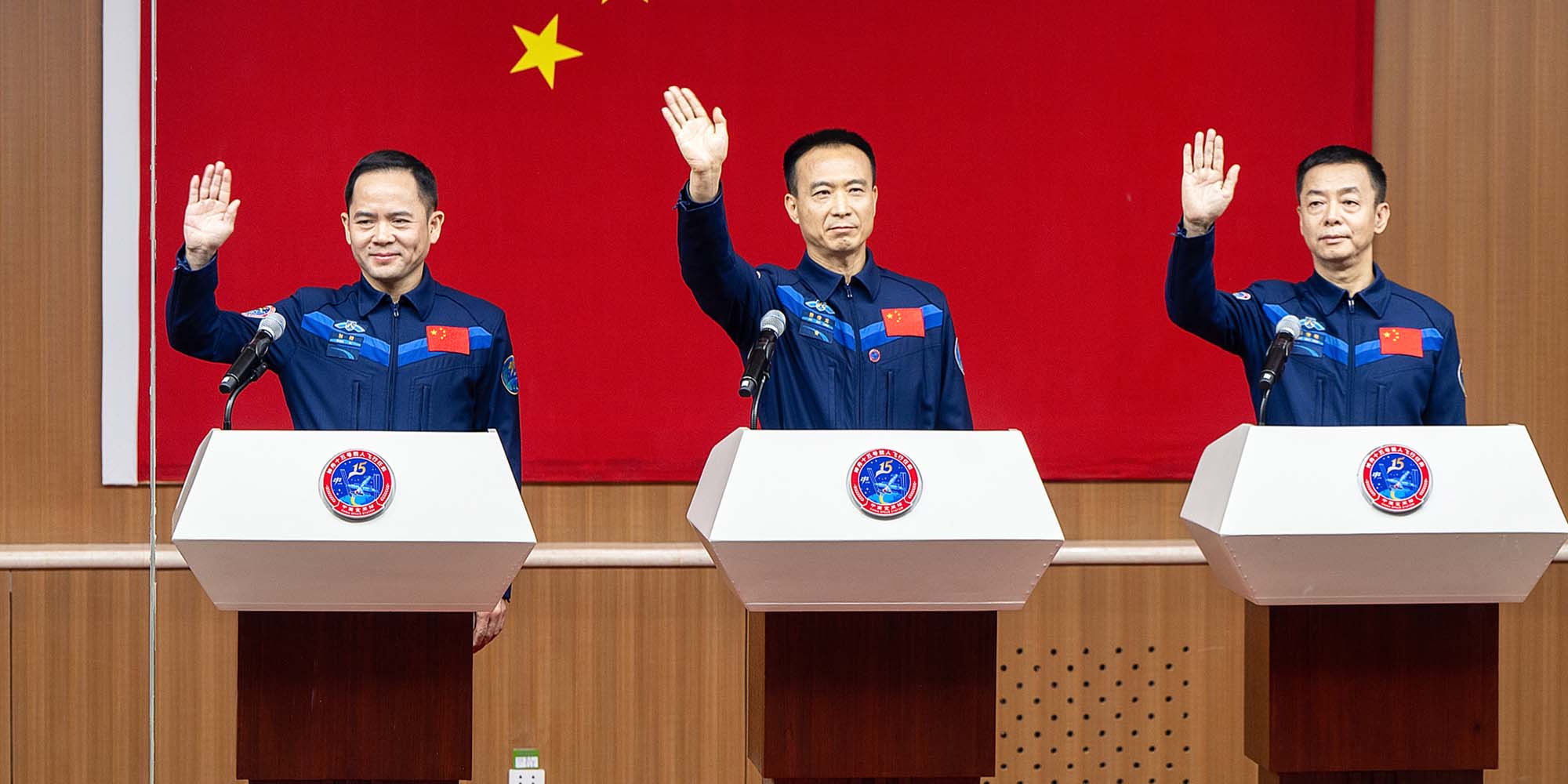 NEWS
China's Space Station to Welcome Largest Crew On Board
Astronauts with the Shenzhou-14 and Shenzhou-15 missions will stay concurrently in the country's space station for a week's time.
China is sending its latest trio of astronauts as part of its crewed space missions Tuesday, as the country plans to complete the construction of its ambitious space station this year.
The astronauts — Fei Junlong, Deng Qingming, and Zhang Lu — will be part of the Shenzhou-15 mission and will spend six months at the Tiangong space station, which means "sky palace," the China Manned Space Agency said Monday. The all-male crew will spend about a week with three others from the previous mission before they return to Earth, making it the first time that two Shenzhou spaceflights are operating concurrently.
"This is the last manned spacecraft launch during the construction stage of the Tiangong space station," said Ji Qiming, assistant director general of China Manned Space Agency, during a press conference Monday, adding that the astronauts will be testing the space station's capacity to support crew shifts and start installing and testing scientific research facilities.
The 57-year-old Fei, who has experience of one previous space trip in 2005, has been named the commander of the upcoming mission. Deng, 56, and Zhang, 46, are first-timers for space missions, though they have been part of the Chinese Astronaut Corps, a subunit of China's army for training and selection of astronauts, for 24 years and 12 years, respectively. With an average age of 53, the team is China's oldest crewed spaceship crew so far.
"We have done more training in order to prepare for various tasks, including more extravehicular activity," said Fei in the pre-launch meeting Monday. "The crew is in good shape and ready for the trip."
During the next six months, the team will welcome the cargo spaceship Tianzhou-6 to deliver food and other facilities, as well as the Shenzhou-16 crewed spaceship. Shenzhou-15 is the fourth crewed spaceflight for the space station since the first batch of astronauts blasted off in June 2021.
Editor: Bibek Bhandari.
(Header image: Astronauts Fei Junlong, Deng Qingming, and Zhang Lu (from left to right) attend a news conference before the Shenzhou-15 spaceflight mission to build China's space station, at Jiuquan Satellite Launch Center, near Jiuquan, Gansu province, Nov. 28, 2022. CNS/VCG)