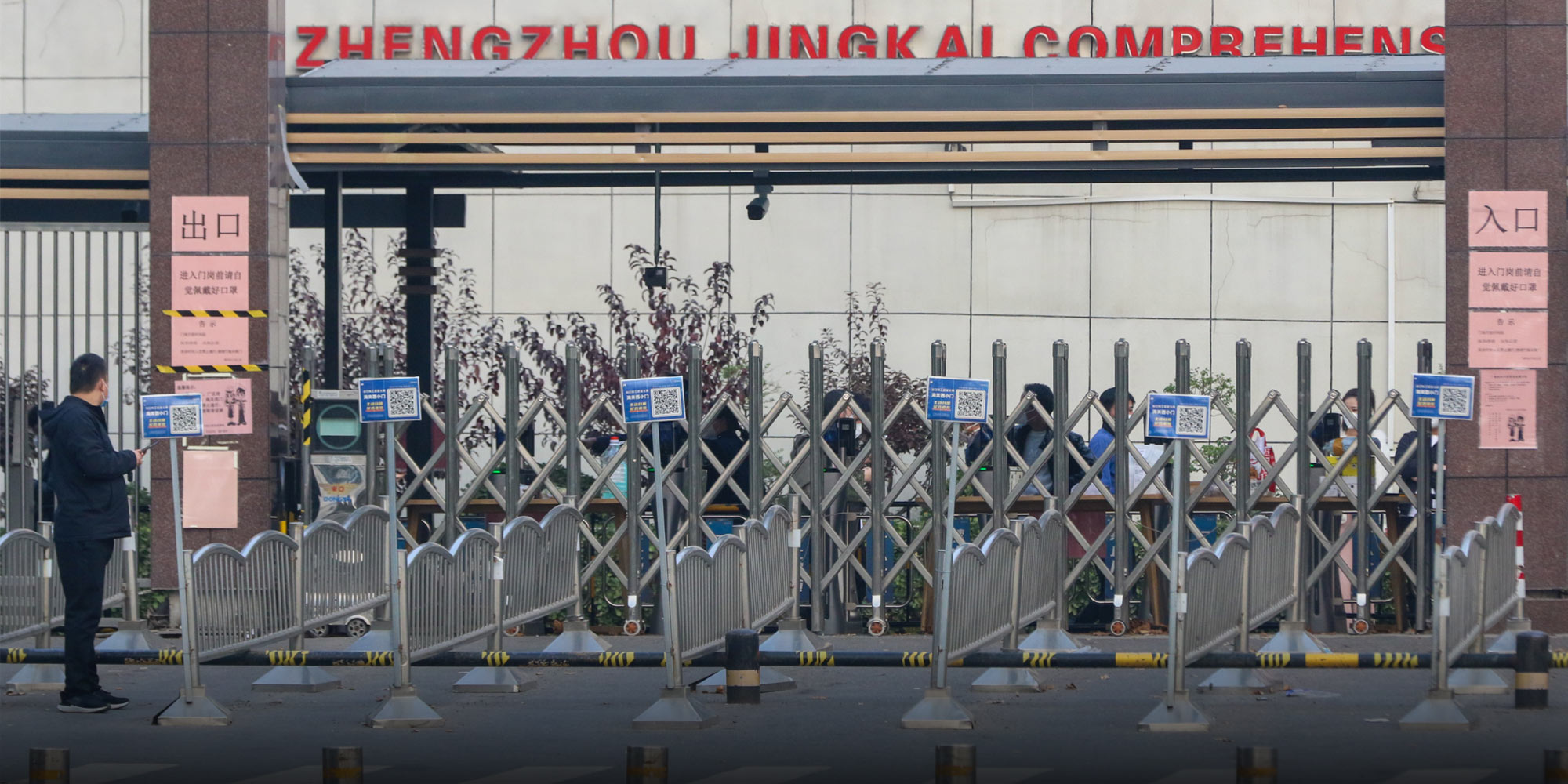 NEWS
After Unrest, Foxconn Agrees to Pay Workers Willing to Leave
Workers at the Zhengzhou iPhone factory accuse the company of changing contract conditions and mixing infected individuals with non-infected ones.
Tech giant Foxconn said it will give newly recruited employees at the world's largest iPhone assembly plant in the central city of Zhengzhou an option to return home with severance pay after accusations over contract fraud and poor pandemic control measures led to worker unrest.
The Taiwan-headquartered company said Wednesday that those willing to leave will receive 10,000 yuan ($1,400), which workers said was proposed by them and nearly equivalent to the three-month bonus sum. The announcement, which was sent to an internal communication platform and later surfaced online, came after workers protested over pay discrepancies and the company's COVID control measures starting at around 9 p.m. Tuesday.
Fourteen workers told Sixth Tone on Wednesday that Foxconn wasn't paying them the salary or bonus package above the industry average that initially attracted them to the job. Foxconn had vowed to pay 30 yuan per hour along with 3,000 yuan in monthly bonuses, but workers allege that the company later changed some of the conditions and said they had to work until mid-March to receive the full bonus amount.
"I was tricked by the shady contract. They tricked me here," said one worker in a WeChat group named "Foxconn, pay me" on Wednesday. The group, which a Sixth Tone reporter was added to, has since changed its name to "Sisters and brothers, let's escape Foxconn."
The Foxconn plant in Zhengzhou, the capital of Henan province, employs some 200,000 people and is crucial to Apple's production of iPhones. However, the factory has been under COVID restrictions due to the recent outbreak inside the factory, affecting the usual output.
At the end of October, hundreds of workers fled the factory, some on foot, accusing the company of not properly quarantining COVID-positive workers or securing food and medicine. Foxconn then agreed to transport workers home and started a massive recruitment drive with an attractive pay package to plug the labor shortage, while local governments in the province asked cadres to help assemble iPhones.
Domestic media reported that the drive was successful in recruiting 100,000 employees, but Foxconn workers Sixth Tone spoke to said the conditions haven't improved yet. The discrepancy in their contract, pay deduction for missing work after infectection, and poor virus control measures, they said, forced them to protest starting Tuesday night, which turned violent by Wednesday afternoon.
A military veteran surnamed Liu, who didn't participate in the protests, said that he joined the local government's call to work for Foxconn but was disappointed soon after arriving on Nov. 13. His WeChat feed showed photos of instant food items, summer quilts being handed out despite the cold weather, and said there was also a shortage of water. 
"Here, COVID-positive patients work and live with negative ones," Liu told Sixth Tone, referring to the chaotic virus control measures.
Another worker surnamed Sun, who joined the factory in early November, told Sixth Tone that Foxconn has stopped doing PCR tests on long-term workers to reduce the number of confirmed cases in the factory — another source of discontent that led to the protests.
In several WeChat groups, thousands of workers complained of the company's COVID policies. One claimed that some workers had green health codes despite not doing PCR tests for a week, as the codes usually turn yellow in such cases to restrict the mobility of people.
Foxconn told domestic media outlet Yicai on Wednesday that all dormitories are sanitized according to government protocols and new employees weren't mixed with others. However, the company didn't say if infected individuals were in the same accommodation as non-infected ones, as claimed by the workers.
Local authorities have also not yet responded to the situation at Foxconn, though they previously intervened to reign in the chaos earlier this month.
"Don't come unless you are really short on money. Save your life," one worker surnamed Ma said on the video-sharing platform Kuaishou, where some workers also livestreamed Wednesday's unrest.
Sun said he received Foxconn's first installment of 8,000 yuan Thursday morning and is packing his things to leave Zhengzhou for the nearby city of Luoyang as soon as possible, ahead of a citywide lockdown.
"Nowhere is better than my hometown," Sun said. "I'm happy that I'm heading home."
But not everyone was ready to leave. Some workers Sixth Tone spoke with said that they joined Foxconn because of its lucrative salary, and they intended to stay — many didn't have other work options.
"I only want to earn more before Lunar New Year," said one worker who didn't want to be named for fear of retribution. "Foxconn pays the best. If it were not for the pay, who would be willing to come here?"
Editor: Bibek Bhandari.
(Header image: People line up at Foxconn's recruiting center in Zhengzhou, Henan province, Nov. 8, 2022. IC)