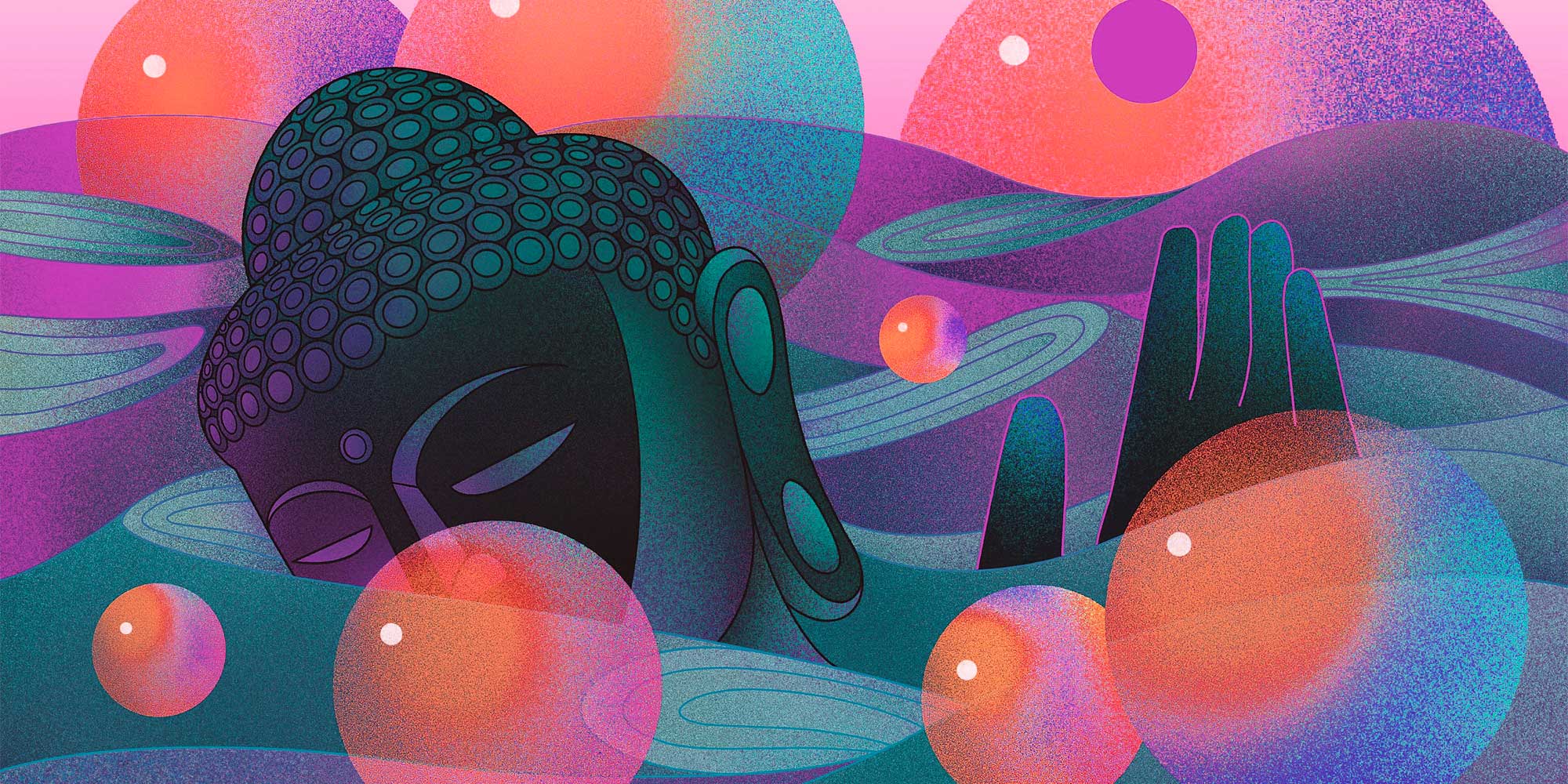 SIXTH TONE ×
Pray to Pay: Buddhism's Questionable Virtual Future
Working, shopping, and romance have all gone virtual. Why not Buddhism?
Master Lan handed me the controller and spread his white hands apart to catch the drone as it descended slowly. The wash from the propeller made me squint.
Deep in a dense forest in the mountains, we walked on the same gravel road tread on by generations of villagers searching for herbal medicine and mushrooms. At the heart of Mount Wutai in Shanxi province, Master Lan's temple was under construction in Huyin Valley. It remained little known to the outside world.
I followed Master Lan and asked him if he was interested in combining Buddhism with the internet. Holding the drone, he looked at me and smiled, but didn't say anything for a long time. Still, I could see the pride on his face.
At that time, I was working on a project to build a Buddhist social media platform that aimed to connect with temples across the country. The slogan was "One thousand temples on one platform to offer blessings to all."
Mount Wutai was our first stop. It is one of the four sacred Buddhist mountains in China with a long history and it serves as the abode of Manjusri Bodhisattva. The mountain saw its first temple in 68 A.D., and was home to around 300 temples and over 5,000 monks in the 8th to 9th century.
Beginning with a roadblock
The Buddhist social media platform was just one of the many projects of my friend Da Lang's digital media company, which I had recently joined after a long career in journalism. Da Lang told me what was trending on Chinese social media — anything from traditional Chinese culture to travel, food, and military affairs. But one particular trend stood out to him — a public account associated with Buddhism had earned over 800,000 followers on WeChat, China's most popular messaging app.
Inspired by such a large social media following, Da Lang envisioned that we could manage the social media accounts of Buddhist influencers to grow the community, from which we could make a profit by organizing online meditation sessions, meditation summer camps, Buddhism-themed tours, and an online marketplace for Buddhist art.
We started with one million yuan ($139,575) and a goal to turn a profit within six months. Our first stop was Mount Wutai, where we rented a local home to be our office at the foot of the mountain. This sacred area is home to more than 80 religious sites and, in my eyes, was filled with opportunities. Would any of these temples, masters, and followers be our partners in this project?
The monks were no strangers to digital technology. The masters used the latest iPhones and many temples had Wi-Fi connections. Sitting in the middle of a room where pilgrims were received was a smart tea table with wireless charging and a Bluetooth speaker. A wireless camera was installed above the donation box.
But only a few masters were interested in venturing into social media and only a handful of temples had a presence on social media, with very simple and infrequent updates.
To tap into this opportunity, we thought we could manage social media accounts for the temples as a service provider. To make this plan work, we had to convince Master Hai first.
Master Hai leads the Buddhist community on Mount Wutai and has many disciples there. His visitors include celebrities and millionaires. If he let us manage his temple's social media account, other temples on Mount Wutai would follow suit.
It was not easy to meet Master Hai as he was a very busy man. I waited the whole evening to catch him.
During the first five minutes I dropped industry jargon like "online Buddhism," "influence beyond physical barriers," "global communications," and "multimedia products" into the conversation. But it didn't feel like I had captured his interest. Master Hai nodded slightly but didn't ask any questions. I felt embarrassed as I sank into the chair.
Without rejecting me or agreeing with me, Master Hai just suggested that I stay at the temple in the meantime. I agreed to the idea and during my stay, I saw how meticulously Master Hai practiced calligraphy, and how much his work was appreciated by his followers.
A few weeks later, he finally agreed to let us help manage his temple's social media account, but he warned that there would be no profit to be made as "most of the temple's work is done by volunteers." Our business plan seemed to have come to a dead end.
Selling calligraphy online
But not long after, I came up with another business idea. I had seen how followers came to Master Hai for his calligraphy, which they saw as excellent gifts for business occasions, birthdays, and weddings. If Master Hai agreed to grant us the exclusive rights to sell his calligraphy on our online platform, we could grow our social media following and make a huge hit.
But the plan hit a dead end again with Master Hai, who only offered his calligraphy to people he knew or came recommended. Selling his work to unknown strangers was not an option.
Then came the more business-minded Master Jiang, the abbot of another temple. He had successfully drawn more visitors to his temple compared to his peers. He had a parking lot built on top of the mountain and there were direct shuttles in service.
He was also known as the head of the Traditional Calligraphy and Painting Research Institute on Mount Wutai, which sits next to his temple. This was where he spent most of his time when not in the meditation room. He was always happy to offer his calligraphy to whoever asked for it.
The institute is open to all. Very often, a dozen people can be found practicing calligraphy or traditional Chinese painting there. In Chinese painting, peonies symbolize prosperity, galloping horses mean strong business, and grapes and cabbages represent many sons and blessings and longevity.
When I met Master Jiang, he wore a beige vest instead of a monk's robe and was ready to write a character with a brush as thick as his forearm. Setting himself in motion, he dipped the brush in ink, then wrote on the paper with vigor. The ink splashed everywhere. Then, as if he were doing martial arts, he swung the brush. The last stroke had him turn his elbow from inside to out, like a tai chi move.
The onlookers couldn't hold back from shouting out applause.
Master Jiang wrote a big character for "dragon" in one stroke. Amid cheers, he wrote over ten "dragons" and seven or eight "Buddhas" in succession.
The room was decorated with calligraphy by Master Jiang. The characters and proverbs featured the most in his work were "Buddha," "dragon," "meditation," "tranquility," and "may luck be with you." Such a selection would be great for online business. In addition to standard orders, customers may order characters of their choice. Calligraphy for important festivals and Buddhist celebrations could even be auctioned online.
And yet, Master Jiang laughed after hearing my proposal. "I can't do orders. I can only write these few characters. I'm illiterate," he said.
Master Jiang told me he never went to school when he was young. His relatives sent him to Mount Wutai to become a monk because the family was too poor to raise him. They figured that at least he would be fed at a temple. He didn't know many of the words in the scriptures when he was a child. His teacher at the temple taught some of them, and he memorized most.
Seeing a stream of followers on Mount Wutai asking for calligraphy, Master Jiang began to practice this art form. He neither used copybooks nor followed a teacher. He began by writing big characters with the largest brush on a huge piece of paper. After a few weeks of practice, followers started to come to him. After he wrote something, they would wrap his work in yellow silk and carry it down the mountain carefully.
Over time, Master Jiang has greatly improved his calligraphy skills. Besides Mount Wutai, he has also built an institute dedicated to calligraphy in Hainan province, and he also has plans to build another one in the U.S.
Unsurprisingly, Master Jiang was not very interested in our idea of selling calligraphy online. "If you give a follower a piece of calligraphy, he won't take it for free. He will always make an offering," he said. "The money may come in big or small amounts, but he will always remember it was gifted to him by the master."
Master Jiang was worried that once his calligraphy work carried a price tag, it would become merchandised. Customers may not want to pay more and will critique his work. "It's just not worth it," he said.
Turning virtual
Summer finally came to an end. After August, there were fewer tourists to Mount Wutai.
In the morning, there were no longer loud noises from car horns or tour guide speakers, and the singing and chirping of birds could be heard instead. Many guesthouses on the mountain were ready to close for the season.
None of our innovative business initiatives had worked out by then. Traditional temples were dominated by older monks, who were always polite and dismissed us with a "thank you." They rejected us by saying they would "think about" the suggestions.
Master Lan, who is in his twenties, is different from other monks. He runs his temple's social media accounts. He has taught himself drone flying and photography, kept a blog on the progress of his temple's construction, stayed in touch with potential donors, and organized visits to the temple that was still under construction.
After learning that my team had settled on Mount Wutai, he often came to us to talk about equipment and a digital media strategy. Since his temple was still being built, digital marketing could bring more publicity and donations.
But besides helping him with the drone, I found it hard to discuss business collaboration with him. He seemed to have little interest in doing more beyond the limited social media presence his temple had. Perhaps maintaining a sense of mystery was the most important thing for his temple.
Faced with one setback after another, my team settled for the simplest business plan — offering religious rituals online.
Upon opening our WeChat store, users would be greeted with images of the Buddha and Buddhist chants. They could pay an amount to perform various rituals online, such as praying, chanting, and burning digital incense. The next morning, members of my team would perform these rituals on behalf of the customers at the temples and take photos to show them. The more money spent on these virtual rituals, the higher the score and better karma. It became a competitive game.
This was a low-cost project and my team soon turned a profit. Thousands of Buddhists used our services every day and shared their joy on social media.
I was, however, troubled by the fact that devotion to Buddhism had turned into a numbers game. Competing in spending on virtual rituals to cultivate good karma did nothing to help followers understand Buddhist teachings, and took away the essence of these rituals. As a provider of these online services, we failed to offer any Buddhist teachings in a meaningful way.
In December 2021, the State Administration of Religious Affairs required the licensing of internet religious information services for organizations that promote Buddhism online. The license was hard to obtain for businesses like ours. Several major tech companies removed social media accounts related to Buddhism and banned all relevant activities.
My project fell apart. I went to say goodbye to the masters.
"There are more temples but fewer monks. The spread of the faith can't afford to be contained in the mountains," said Master Lan. He remained very supportive of promoting Buddhism online. "Like religious sites in other countries, we should establish counseling courses in the community and approach more people step by step to let everyone understand what Buddhism can offer," he added.
Master Hai offered a different thought. "Only when a monk has good practice can he pass on the dharma. The mountains are quiet, so it is better to practice here," he said.
Over the phone, Da Lang urged me to return quickly as he was eager to jump on his next big project — relationship counseling. "There are always men and women seeking relationship advice, and the social media traffic will be unstoppable," he said excitedly.
(Da Lang, Master Lan, Master Hai, and Master Jiang are pseudonyms.)
Author: Shiba Huasheng.
A version of this article originally appeared in The Paper. It has been translated and edited for brevity and clarity, and is published here with permission.
Translator: Matt Turner; editors: Xue Yongle and Elise Mak.
(Header image: Shijue/VCG)