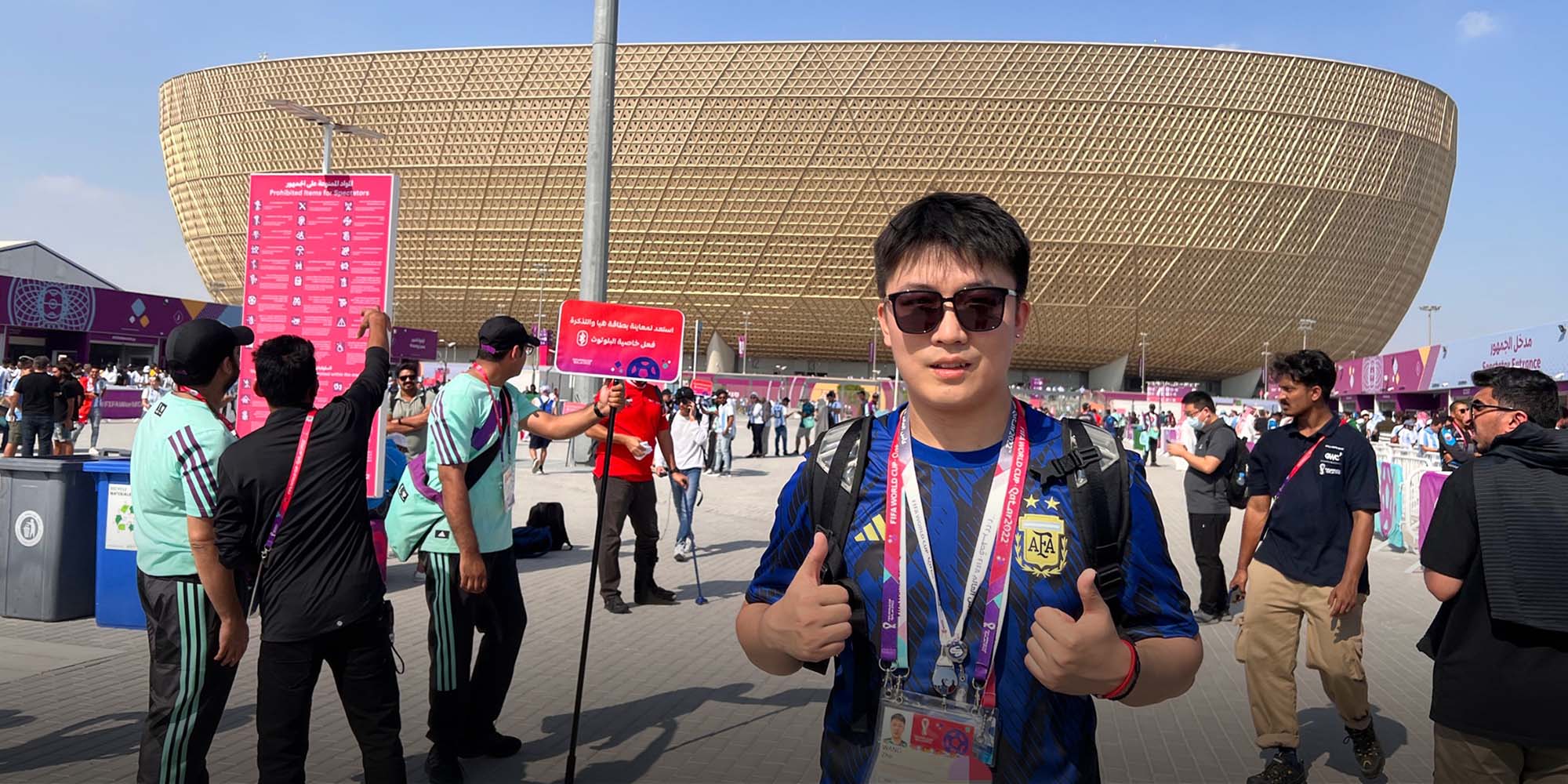 NEWS
'It's My Dream': Chinese Soccer Fans Fly to Qatar Amid COVID Curbs
Some 5,000 to 7,000 tickets have been sold to Chinese fans, far less than the 40,000 for the 2018 FIFA World Cup in Russia.
For millions, leaving China is nearly impossible amid the country's pandemic control protocols. But a few of them have found a way out through their love of soccer.
Xiang Zeyu is among the lucky ones who traveled to Qatar to watch the FIFA World Cup in person — a distant dream for the majority of the population stuck in an endless loop of lockdowns and other restrictions. The 20-something said she even gave up her job at a local soccer association in the northwestern province of Shaanxi after managing to secure a ticket in a late-night scramble in July.
"This tournament only happens once every four years in a person's life, and I should seize this opportunity when I have both the money and energy to do so," Xiang told Sixth Tone. "It's my dream."
But securing a match ticket would just be the first of several steps ahead, as China doesn't allow citizens to go abroad except for "essential reasons" and flights to and from the country are still limited and expensive. Xiang said she first took a ferry from Shenzhen to Hong Kong on Wednesday and then flew to Dubai to meet a friend before heading to the Qatari capital Doha on Sunday — all for a 12,000 yuan ($1,680) round-trip ticket.
The COVID curbs at home and chaotic travel itineraries have dampened the spirits of millions of Chinese fans who might have planned to fly to Doha for the World Cup. The ticket numbers are telling — only 5,000 to 7,000 tickets have been sold to Chinese fans this year compared with over 40,000 during the 2018 tournament in Russia. Data shows some 100,000 Chinese tourists flew to Russia during the World Cup.
"Most fans decided a long time ago to stay put, but some still purchased tickets in the hope of a policy shift," Wang Zhe, another soccer enthusiast who flew to Qatar, told Sixth Tone. "Many potential travelers were reluctant to endure quarantine and the risk of infection."
China still adopts a mandatory quarantine for all inbound travelers, though this month it was shortened to five days from seven at a designated hotel upon arrival. And those leaving have shared their experiences of being interrogated at customs, discouraging others from traveling abroad.
But in the wake of the World Cup, many who were able to leave for Qatar claimed that customs clearance was relatively smooth. Posts on the lifestyle app Xiaohongshu showed travelers saying they weren't questioned as long as they had proper documentation, including the Hayya Card, an entry permit for the tournament.
Xiang concurred that she wasn't deterred at the checkpoint after explaining the exact purpose of the visit, though immigration officers verified her documents and informed her of the risks regarding personal safety and infection abroad. Meanwhile, Wang's journey constituted a work trip, as he was employed with the FIFA World Cup's organizing committee.
A member of staff from the immigration administration hotline didn't respond to Sixth Tone's inquiry on the issue Tuesday. When a Sixth Tone reporter posed as a potential traveler flying to Doha for the World Cup, a member of staff on the hotline suggested suspending or canceling the trip, stressing the possibility of being denied boarding.
Nevertheless, many soccer fans have been mulling over whether to fly to Qatar and try their luck in leaving the country on holiday three years into the pandemic, Wang said. As of Sunday, the number of flight bookings from China to Qatar on booking site Trip.com grew by more than 84 times during the World Cup, which runs from Nov. 20 to Dec. 18, according to the company.
Those who have already left said they plan to make the most of their first trip abroad in years. After the World Cup, Xiang will travel to watch another soccer match in Thailand.
"For now, a smooth and happy journey is what I want for all," she told Sixth Tone by text in the Hong Kong International Airport.
Editor: Bibek Bhandari.
(Header image: Wang Zhe poses for a photo in Doha in front of the Lusail Stadium in Doha, Qatar, Nov.22, 2022. Courtesy of Wang)