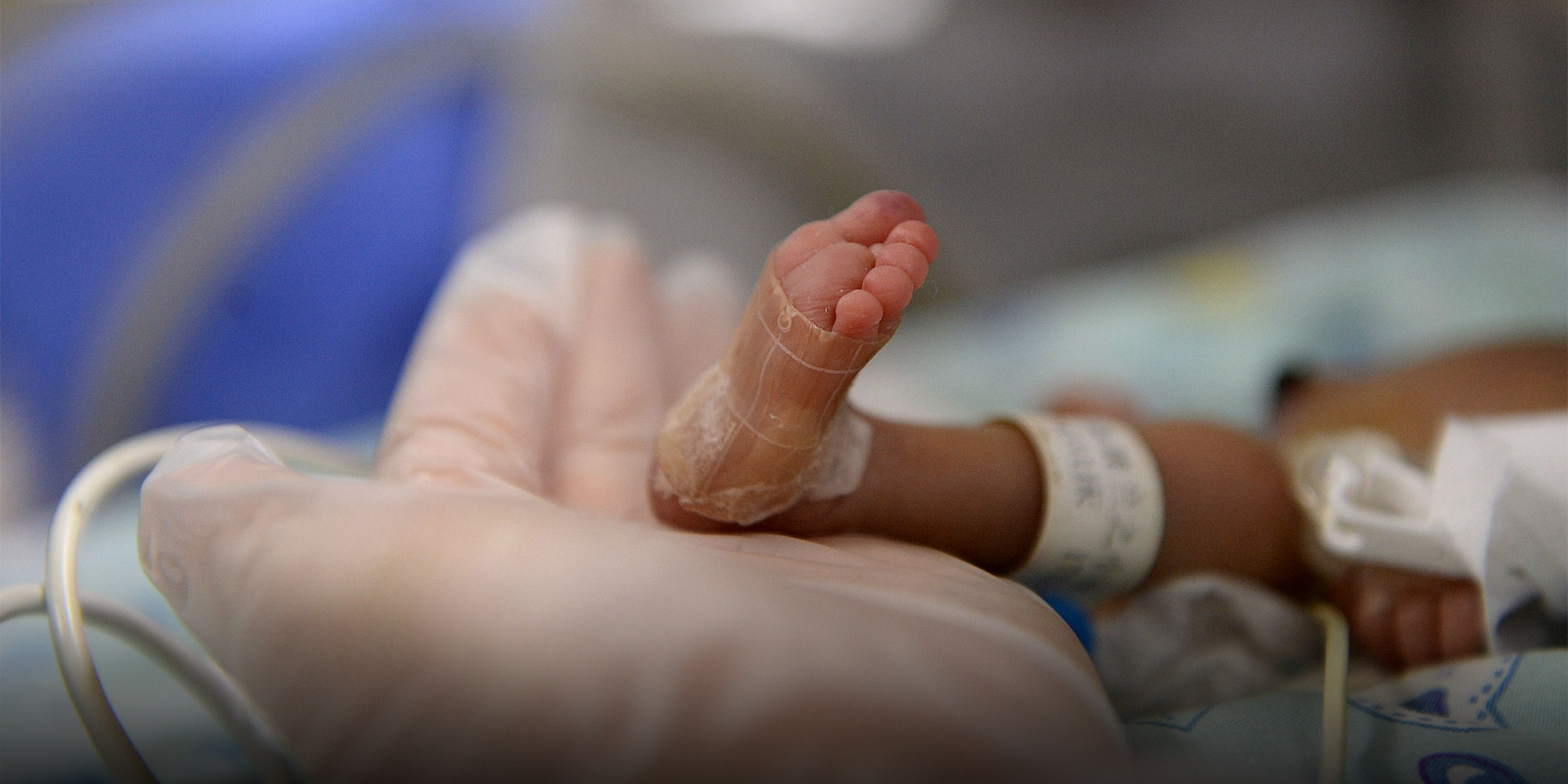 FEATURES
For China's Mothers, Preterm Births Bring Shame and Trauma
Premature births are a traumatic event for parents around the world. But the pain is magnified in China, where new mothers often struggle to access the support they need.
Liu Shuqi was overjoyed when she finally managed to become pregnant after two years of trying. But she wasn't prepared for how harrowing the next few months would be.
Her son stayed in the womb for only 23 weeks and 2 days, just over half the normal term for a pregnancy. He was one of the smallest babies ever delivered in China, weighing 475 grams — around the same as three apples.
Dundun, as Liu named him, was a true miracle baby. But the birth was only the start of Liu and her son's ordeal.
Extremely preterm infants have a high mortality rate even in the wealthiest nations: in the United States, nearly half of babies born at 23 weeks do not survive. In China, the odds of survival are sometimes even lower.
Before Liu could even set eyes on Dundun, the nurses whisked him away to a neonatal intensive care unit. She wouldn't be reunited with him for another 140 days. The doctors warned Liu and her husband that they couldn't guarantee that the child would live. "The chances were too tiny," Liu tells Sixth Tone.
The next few weeks were torture for Liu. She spent most of the time alone at home, waiting for news from the NICU. She tried to distract herself by gardening, knitting, and reading books. But she was consumed by anxiety over what might be happening in the hospital.
Even the smallest things are a huge challenge for preterm babies. Dundun had to learn how to breathe, drink milk, and survive in a world full of bacteria. In the NICU, he needed an incubator that provided the optimal temperature and humidity level, a feeding tube inserted into his throat, and a nasal cannula to deliver a steady flow of oxygen. His body was covered in wires, hooked to machines monitoring his blood pressure, blood oxygen levels, and heart rate.
The hospital would send Liu a photo or video of Dundun most weekdays, and call her once a week to give her an update on his condition. If a doctor called her at any other time, it meant bad news was coming.
After six weeks, a doctor called Liu to tell her that Dundun couldn't urinate. "His electrolytes test showed that he's low on sodium and high on potassium," Liu recalls the doctor saying. "And his kidney test results are not good: it It could either be a kidney failure or congenital adrenal hyperplasia."
The barrage of medical jargon felt overwhelming at the time. After hanging up, Liu had to search for each term online to figure out what was happening. Yet, half a year later, she can still remember the doctor's speech word for word.
Even after Dundun was finally discharged from hospital, Liu still lived in a state of constant fear. For a whole month, she and her husband spent 24 hours a day watching the blood oxygen monitor attached to Dundun's foot. If the number dropped below 90, the boy's life would be in danger.
It happened once. While Dundun was drinking infant formula, he suddenly began to choke. His blood oxygen saturation plunged to 57, and his face turned purple. Heart in her mouth, Liu placed her baby's face down against her forearm, and patted his back, again and again. Finally, he cried and breathed again.
Liu struggled to cope emotionally during this period. She often felt isolated, as there were few people around her with whom she could share her anxiety. Though one of her relatives had also recently had a child, she didn't understand what it was like to experience a preterm birth.
"Even if I talked with people, they might not actually understand," Liu says. "They weren't doing it on purpose, but it would make me more miserable."
Liu is far from alone in this. Premature babies can face a multitude of health problems, including breathing problems, gastrointestinal issues, and developmental delays, among many others. Parents are often totally unprepared for the stress of dealing with all these issues, says Cao Yun, director of the neonatal department at the Children's Hospital of Fudan University in Shanghai.
"Premature births are a big blow to families," says Cao. "I've seen some families who couldn't bear the pressure of having a preterm baby — mothers were so stressed that they couldn't breast feed."
For Chinese neonatologists and nursing staff, providing better support to distressed parents like Liu is an urgent challenge.
In China, where nearly 1.2 million preterm babies are born each year, the level of care families receive has improved dramatically over the past two decades. In the past, Chinese hospitals didn't consider it possible to save extremely premature babies like Dundun. Now, it's becoming increasingly common.
In 2017, media reported that the average survival rate for extremely preterm infants in China was 50-60%, while in wealthy areas like Shanghai it was often over 70%. By 2020, the survival rate for babies born before 32 weeks at the Chinese Neonatal Network — a group of elite hospitals that includes the Children's Hospital of Fudan University — was nearly 90%.
As NICUs become more confident in their ability to keep preterm infants alive, many are starting to expand their focus to the children's parents. Supporting parents is crucial, because they play such a key role in the infants' development, Cao says.
"When children are discharged from the hospital, parents should take greater care of preterm babies to prevent infections," says Cao. "It's important to feed them well, so they gain more weight, which will help their physical and mental development."
But caring for a premature baby is no easy task — and it's made even harder by the fact that parents often struggle with their mental health after giving birth.
Jessica Wang knows all too well how difficult life as the mother of a preterm baby can be. In 2014, while she was working in the United States, she experienced breakthrough bleeding just 28 weeks into her pregnancy, and her doctors told her she needed to give birth immediately. It unleashed a wave of negative emotions, she says.
For Wang, it was traumatizing having to live with the knowledge that her daughter might die at any moment. She didn't dare tell her mother back in China about the premature birth. She shut down all her social media accounts, and spent hours going over all the details of her pregnancy, trying to figure out if she had done anything wrong. When her friends expressed concern, she felt even worse.
"I was sensitive and fragile, but all my pain was too private to speak about," says Wang.
These experiences led Wang to become a parenting blogger and to found Zhangxin, China's first and only nonprofit supporting families of premature infants, in 2018. Since then, she has spoken with hundreds of parents like herself, and found that many experience the same toxic emotions: a mix of anxiety, depression, shame, and guilt.
In 2019, Zhangxin conducted a survey of around 5,000 Chinese families with preterm babies, which found that 90% of respondents had experienced negative emotions and blamed themselves for the fact their babies were born prematurely. Nearly 60% of the parents struggled to establish connections with other families. Half of them had fights with their partners or parents. Mothers always felt worse than fathers.
Zhangxin has been doing what it can to help parents cope. Wang spends hours helping distressed families get to grips with complicated medical terminology, and gently encourages them to realize that their preterm birth was not their fault.
"They're often stuck in negative emotions such as anger, guilt, loneliness, and depression," says Wang. "These emotions not only affect their work and social relationships, but are also obstacles to them being able to raise their children."
That's why neonatologists like Cao are trying to make changes inside hospitals so that parents receive greater support. One initiative both Cao and Wang are advocating for is allowing Chinese parents to practice kangaroo care inside NICUs.
Kangaroo care is a method of holding newborns to provide skin-on-skin contact, which studies have found is medically beneficial for premature babies, helping to stabilize their heart rates and breathing. But the practice is rarely used in China. On one hand, most NICUs are reluctant to allow parents to enter wards, as they worry about the risk of infection. On the other hand, many Chinese mothers stay indoors and rest for 4-6 weeks after giving birth, a custom known as zuoyuezi, or "sitting the month."
The Children's Hospital of Fudan University is one of the first hospitals in China to introduce kangaroo care. It's also planning to expand the wards inside its new building to allow mothers to spend more time with their babies, or even "sit the month" inside the hospital. Cao has been a strong backer of the program.
"We want to create more opportunities for 'rooming-in' practices," she says. "If parents are allowed to spend more time with babies in the hospital, it's not only beneficial for the infants' development, it also gives parents more confidence in raising a premature baby at home."
Wang, meanwhile, is focusing on building connections among families with preterm babies. She recalls one recent incident, when Zhangxin received dozens of desperate messages from the mother of a baby who had been born after 34 weeks. The woman was distressed because her child wouldn't fall asleep, and was convinced this might be a sign of brain damage.
"We talked for a whole night, and the mother realized that she's still living under the shadow of her preterm birth," says Wang. "Therefore, we want to connect these isolated families, to tell them that they're not alone."
For a long time, Liu was afraid even to tell others that she'd given birth prematurely. "I was scared others would judge me — why had it happened to me, or why it was so early," she says. She didn't dare give away Dundun's old clothes, as she suspected other parents might reject them. "What if the recipients thought they were unlucky?"
Fortunately, Dundun is growing bigger and stronger all the time. Whenever she sees him giggling, Liu thinks about the dream she had in the hospital after her waters broke: A fluffy kitten was about to fall from a balcony, and she was rushing to catch it.
"I knew that it was Dundun," she says. "I knew that I could protect him."
Editor: Dominic Morgan.
(Header image: A nurse holds the feet of a premature baby, which weighed 710 grams when delivered, at a hospital in Chengdu, Sichuan province, 2019. Wang Xiao/Redstar News/VCG)