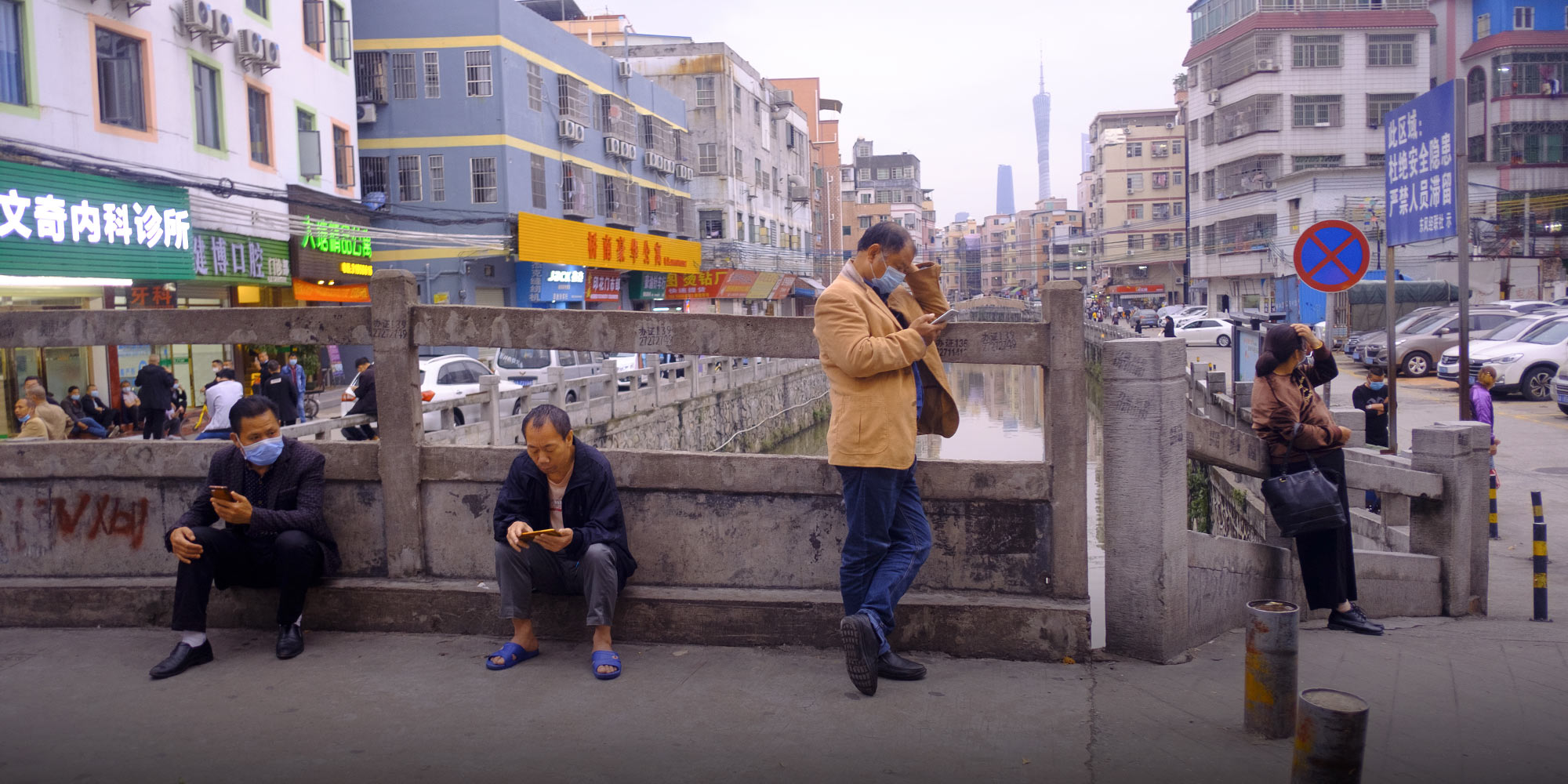 SIXTH TONE ×
Amid Outbreak, Guangzhou Workers Wait and Wonder
Workers in Guangzhou's urban villages face days living on the streets as their residences restrict entry.
This article was originally published by The World of Chinese. It has been republished here with permission.
Zhang Yanbing had been living in a rented apartment in Lujiang, Guangzhou, and going to work in nearby textile factories for five years. In the last week, however, he has spent five days sleeping on a cardboard box near a subway station, with only a quilt distributed by volunteers for shelter and food and water provided by local officials.
The 40-year-old garment worker from Sichuan province is just one of the thousands working and living in the "urban villages" of Haizhu District, which are administered as villages but have been encompassed by Guangzhou's urban sprawl. In Haizhu, these urban villages are major centers of textile production employing thousands of workers, mostly migrants from other provinces and the outlying countryside. In recent weeks, they have been closed off or placed under strict pandemic management due to rising COVID-19 cases in the city, leaving people like Zhang stranded outside with nowhere to stay after leaving centralized quarantine.
Lujiang is one of the most important areas for the textile industry in the region. Since 1988, a vast cloth market emerged around nearby Sun Yat-sen University which has become a supply chain hub that connects with 80 percent of the textile and garment factories in the Pearl River Delta.
According to a 2018 article written by Wang Xianqing, president of the Guangdong Commercial Economics Society, there are more than 30,000 garment factories, workshops, and stores in the area, employing over 300,000 people. According to Chinese media outlet Caixin, there are around 5,200 garment factories and a highly dense population of over 100,000 residents in Lujiang village and Kangle village, which occupy just one square kilometer.
Urban villages like Lujiang and Kangle in the Haizhu district have also become the epicenter of the Covid-19 outbreak in Guangzhou since October 22. According to official statistics, by Nov. 15, among 6,296 new infections in Guangzhou, 96 percent of them were found in Haizhu District, mostly concentrated in the two villages. As infections surged, Haizhu district underwent lockdown for a week from Nov. 5 and the majority of the district, including these urban villages, remains sealed today.
Since Oct. 30, the Haizhu district government has been transferring residents in urban villages to quarantine facilities in other districts and cities. According to data released by the government on Nov. 17, 95,300 residents in the district have been transferred so far. But once their quarantine ends, many residents like Zhang have been blocked from re-entering their locked-down homes and villages, and face either returning to their hometowns, where they potentially face more long quarantines and no employment, or waiting it out on the streets in the hope they will be allowed back into their apartments soon.
Zhang tried to return to Lujiang village on Nov. 12, after being transferred to and put into 10 days of quarantine in a hotel in Qingyuan (a city in the northern part of Guangdong, 100 kilometers from Guangzhou). But when he arrived in Lujiang, he found the entrances to the village barred. His landlord in the village told him that there would be a temporary shelter for tenants like him, organized by the local government, but this never materialized. All the hotels in the district are closed and residential compounds sealed, according to Zhang, making it difficult for him to rent accommodations.
Zhang tells TWOC that a friend offered to let him stay in his apartment temporarily. He walked over 10 kilometers to the friend's apartment on Nov. 13, as public transportation in Haizhu was completely shut down from Nov. 5 and only partly resumed by Nov. 14. But his friend's landlord also refused to let Zhang stay out of fear he might be infected or cause them to be locked down themselves. He spent the next five days living on the street until, on Thursday, he found another friend to take him in.
Zhang, who used to earn from 7,000 to 10,000 yuan ($1,000 to $1,400) a month working 14-hour shifts in the textile factories, has had no income for 20 days since the factories shut and he was transferred. "If the lockdown could be lifted in the next few days, I could leave with a green health code and find work in other districts or cities," Zhang tells TWOC. But he has heard that the digital health codes needed to enter public spaces turn from green (indicating no risk) to red (which bars a person from entering any public area) when one leaves Haizhu District.
Many migrant workers who reside in Guangzhou's urban villages have instead been encouraged to leave the metropolis and return to their hometowns. One recent notice from the village committees of Lujiang and Kangle blamed the struggle to control the pandemic on out-of-date infrastructure, poor sanitation, and dense population in the neighborhood, and stated residents who finished their quarantine should return to their hometowns or find alternative living arrangements until the outbreak is under control.
But many wish to stay. In an underpass around 1.5 kilometers away from the metro station Zhang lived outside, a 38-year-old garment workshop owner surnamed Han has been living with his wife and 18-year-old daughter since Nov. 14. Han and his family were brought to Zhaoqing (a city 150 kilometers west of Guangzhou) for hotel quarantine on Nov. 5. After they were released, they chose to return to the apartment they rent in the urban village. But, like Zhang, when they arrived, they were stopped by roadblocks at Lujiang village's entrance.
Han recalls that people guarding there told him that only those whose testing result had turned negative were allowed to enter, despite him having a negative test. "They said, 'What if you enter and get infected? Wouldn't our efforts to transfer you out and put you in quarantine be in vain?'" Han recalls. They also tell Han and other residents that it would take two to three months before they could re-enter the village and they'd better return to their hometown. Han's landlord, who Han says is conveying messages from their neighborhood committee, also suggests him to return to his hometown or find his relatives or friends for help.
Han doesn't want to return to his hometown, nearly 1,500 kilometers away in Luoyang, Henan province. He tells TWOC that his two younger daughters have been studying in elementary school back in Luoyang, and he is afraid he will affect their school attendance if he returns.
More importantly, if Han returns, his newly built business will come to a definite end. After working as a garment worker in Guangzhou for 11 years, Han managed to set up his own apparel factory last year, and is far from breaking even on this new venture still. Before his workshop ceased operating on Oct. 22 due to the outbreak, he still had orders and outstanding payments from his clients. In addition, he needs to pay rent for his factory and workers' dormitories, which adds up to over 10,000 yuan per month in total. His seven employees have all either returned home, or were infected and are still quarantined in makeshift hospitals.
Han estimates that if he returns to Luoyang and comes back here two to three months later, "It's all doomed. Even if all the equipment in my factory is sold, it may not be enough to cover the three months' rent." He is not afraid of the infection risk in the urban village and believes it's much safer to live in his apartment than on the street. He tries to contact his neighborhood committee for help, but says his phone calls have never been answered.
"They are all trying to persuade us to go back to our hometown. But you know, people who can figure a way out of this (situation) have already made their way home. Only those who don't have solutions choose to stay," he adds.
As reported by Chinese media, many garment factory owners in the areas are faced with similar problems as Han, with production (and thus, revenue) halted due to the lockdown. According to a professional working in the industry, who did not want to be named, 90 percent of the city's wholesale garment markets have suspended operations, as factories stop making clothes. They also worry that the waves of workers leaving may not return to the city after restrictions are lifted.
The weather in Guangzhou remains warm and humid, but living with no fixed abode is still traumatic. Han and his family got some food, water, and a quilt from some of the volunteers and government officials, but he says that there are too many mosquitoes, which makes it unbearable to live outdoors.
Zhu Fuhua, a 50-something garment worker from Hunan province, is marooned outside a closed store near Lujiang village with his wife. He tells TWOC that he didn't sleep for five or six nights due to pesky mosquitoes, only managing to doze off for short naps when he was exhausted. Zhu tried to return to Lujiang on Nov. 11 after a 10-day quarantine in the city's Baiyun district, but was stuck outside. Then his health code turned red, so most shops in the city refused to let him enter to buy food, and he cannot even board a train to go back to Hunan.
Zhu estimates TWOC there are around 150 to 200 others marooned outside the village in the area where he has been staying. In the last two days, volunteers brought him a tent, which at least keeps away the worst of the mosquitoes, he says.
Local government and volunteers have tried to address the situation. On Nov. 12, the Haizhu District government opened a temporary shelter with 375 beds for delivery workers who have no place to stay in the district. However, a plan to set up 15,000 beds in 50 schools for urban village residents after their released from quarantine was canceled after fierce opposition from local parents of schoolchildren. One businessman from Hubei is reported to have offered his billiard hall to accommodate around 100 residents in the district.
Hundreds of volunteers in Guangzhou have also mobilized to help find and deliver food and necessities for those marooned outside the urban villages, providing much needed supplies to people like Zhang, Han, and Zhu. On Nov. 18, Han finally also found a friend willing to take him in.
But so far, a lot more urban village workers and residents, like Zhu, are still living under uncertainty. On Nov. 16, the Haizhu district government officially announced that the lockdown of the sealed areas in the district would be extended three more days until Nov. 19, while the number of confirmed cases reached nearly 9,000 in a single day in the city, a new peak since the pandemic outbreak.
No one knows how long the lockdown will last, but Han still wants to stay in Guangzhou against all odds. "If they insist on kicking us out, there is nothing we can do but go home. But as long as there is a possibility, we want to stay," he says, "This is the only business our family has. It would be heartbreaking to lose it."
Reported by Chen Shihuan.
(Header image: Residents of Kangle Village, Guangzhou province, April 2020. Wu Huiyuan/Sixth Tone)