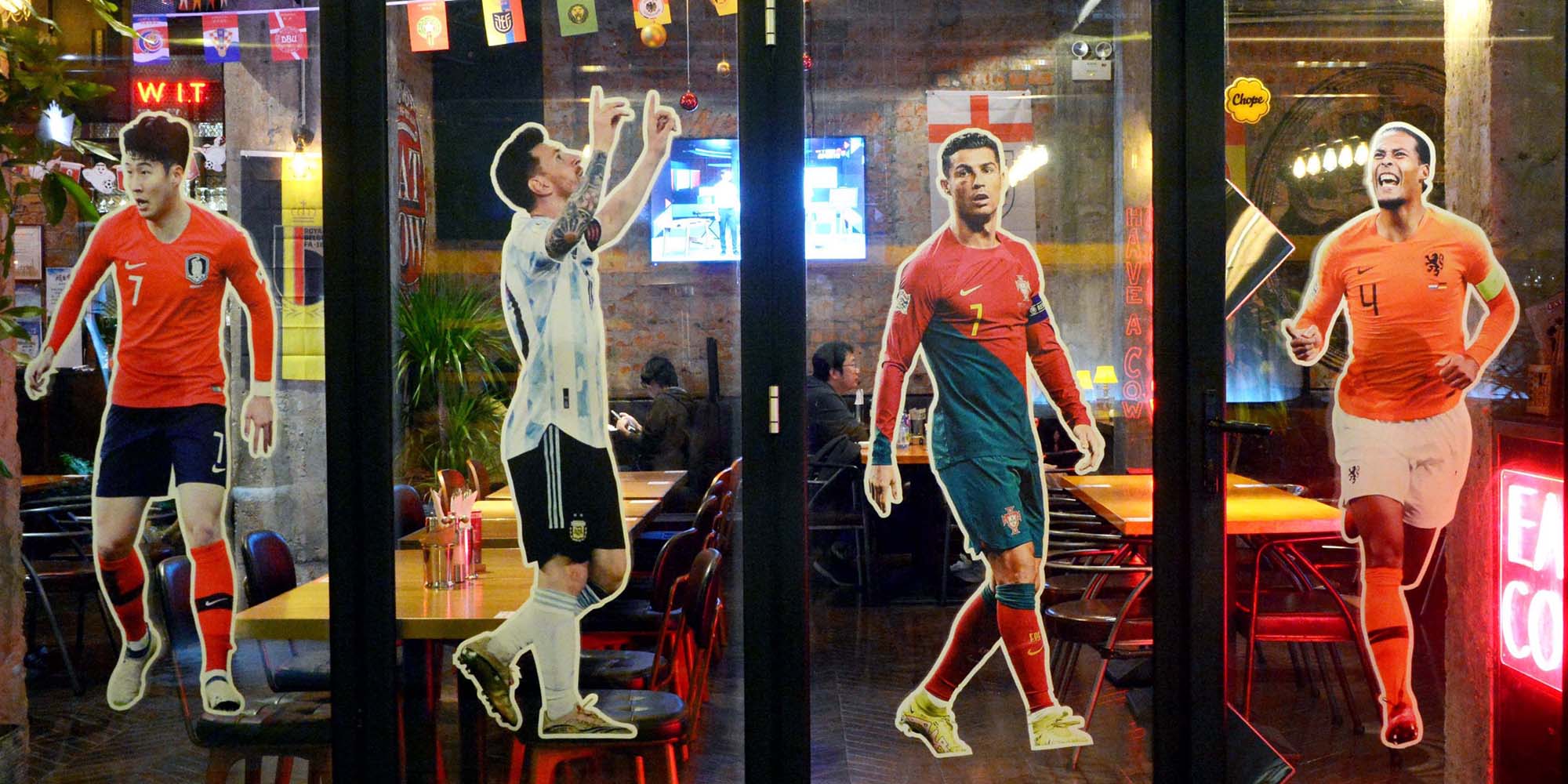 NEWS
Chinese Soccer Fans Book Hotel Rooms to Watch the World Cup
Unable to travel, many sports fans are instead finding new and luxurious ways to elevate their watching experience.
Chinese soccer fans trying to stay away from crowded restaurants and bars amid COVID-19 flare-ups have found a new way to socialize and watch the 2022 FIFA World Cup — in hotel rooms.
Many young sports enthusiasts are booking spacious hotel rooms that come with big screens and other amenities to enhance their enjoyment of matches, domestic travel operators told Sixth Tone.
Bookings for hotel rooms offering such viewing experiences surged by more than 30 times Sunday, when the World Cup kicked off in Qatar, according to online travel platform Tongcheng Travel. While 64% of those placing the orders were under 25, only 5% were aged 45 and above.
Trip.com — another booking site — saw offerings with the tag "World Cup" by hotels on its platform soar by 40% on Friday, and most of their consumers were men. While middle-aged men preferred family suites, their younger counterparts opted for rooms with bigger screens.
By contrast, 70% of female consumers chose hot spring hotels or minsu, the Chinese-style bed and breakfast accommodation, before Sunday's opening match, according to Trip.com.
"We don't have to worry about complaints from our neighbors or clean up the mess after having fun," a soccer fan surnamed Tang told Sixth Tone, adding he planned to book a room at a luxury hotel to watch the game with his friends Friday.
Tang said he was shelling out 388 yuan ($55) per night for the room, which would be equipped with projectors and come with snacks and drinks. He said that the hotel also has a bar for guests to watch the game with a bigger crowd of people.
Despite China not making it to the men's World Cup for many years — it has only qualified once, in 2002 — the mega-event is widely watched in the country. In 2018, 660 million people watched the matches on screen, while nearly 100,000 Chinese tourists flew to Russia to attend the matches in person, according to FIFA.
Other than hotels, bars and restaurants are also extending their opening hours and offering promotions for the World Cup. The sporting event is set to boost local consumption after being hit hard by coronavirus restrictions in previous months, according to media reports.
Editor: Bibek Bhandari.
(Header image: A restaurant is decorated with posters of soccer stars to attract customers, Shanghai, Nov. 20, 2022. IC)