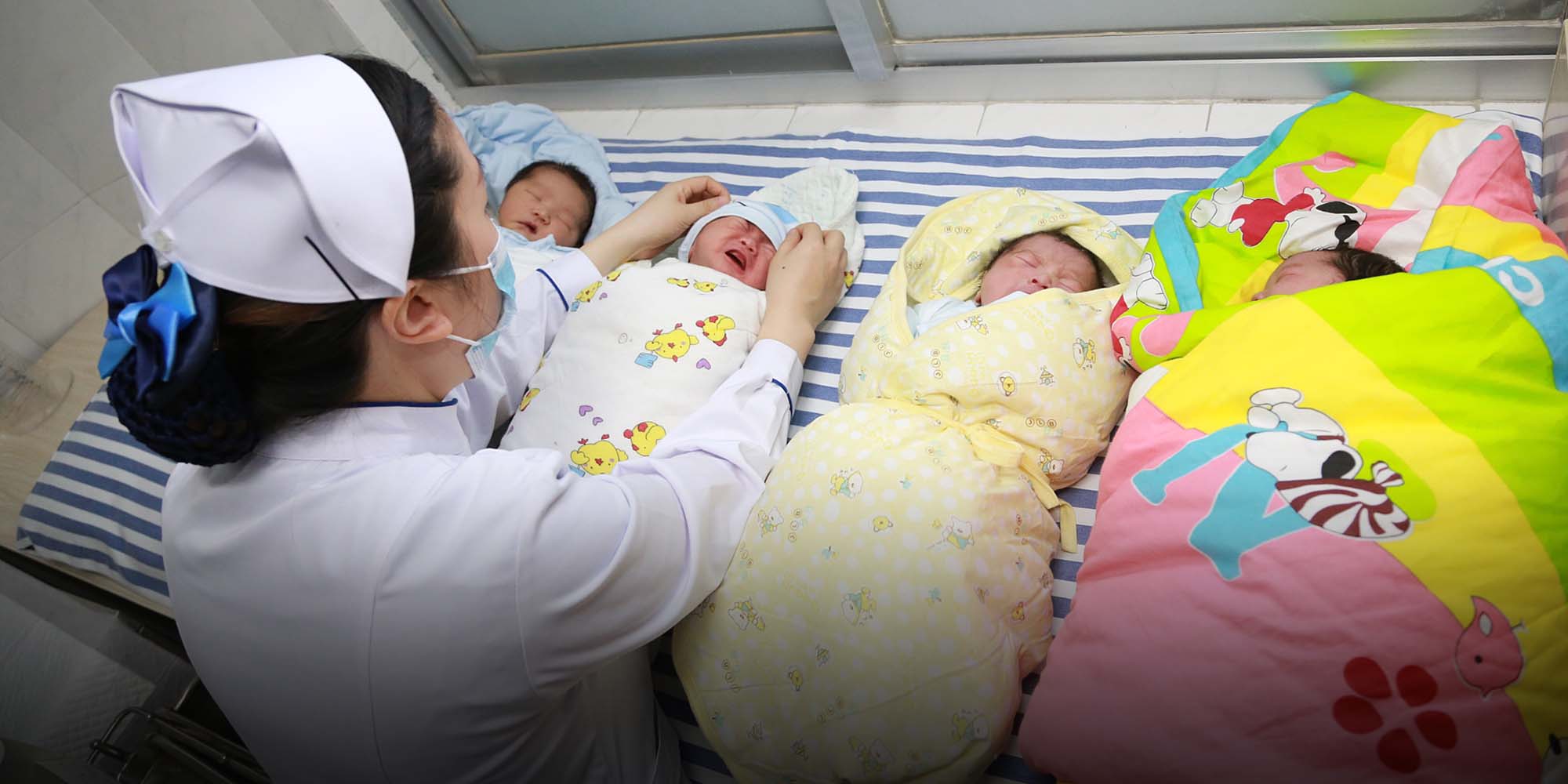 NEWS
China's Birth Rate Fell to Another Record Low in 2021, Gov't Confirms
Despite the introduction of a nationwide three-child policy, China's birth rate plunged to its lowest level in decades last year, according to newly released official data.
China's birth rate plunged to its lowest level since the early 1960s last year, with several provinces experiencing negative population growth for the first time in modern history, according to a newly released official report.
The China Statistical Yearbook 2022 states that only 10.6 million people were born in China in 2021, the lowest total since 1961. The country's population grew by just 480,000, also the lowest figure in decades.
The data, published by China's National Bureau of Statistics a few days ago, confirms earlier reports that China's introduction of a nationwide three-child policy and a slew of other pro-natalist policies in 2021 failed to stem the country's falling birth rate. 
It also suggests that China's population may soon begin shrinking — possibly as soon as this year — experts told Sixth Tone.
"There is a considerable possibility that starting this year, our country will face long-term negative population growth," said Ren Yuan, a senior researcher at Fudan University's Institute of Population Research. "This also marks a turning point in our population pattern, which will bring a series of challenges to the country's development."
The report includes the birth rates, death rates, and natural population growth rates of 31 Chinese provinces last year. For the first time, 13 provinces reported a negative natural population growth rate.
China's three northeastern "Rust Belt" provinces — Heilongjiang, Jilin, and Liaoning — have been experiencing negative population growth for several years, but this trend is now spreading into the country's more developed areas. 
In 2021, several regions saw their populations shrink for the first time, including Hunan, Hubei, Jiangsu, Tianjin, Shanxi, and the Inner Mongolia Autonomous Region.
South China's Guangdong province, by contrast, recorded more births than any other region for the fourth year since 2018. The province is one of China's most populous regions, and has also benefited from a large influx of young people.
The latest data adds to concerns that China will be unable to reverse its declining birth rate, which could cause the country to sink into a decadeslong "fertility trap" of slowing economic growth and spiraling social care costs.
In the past few years, China has introduced a number of policies to encourage people to have more children. It implemented a nationwide two-child policy in 2016, followed by a three-child policy last year. Authorities have also offered couples several new incentives to have children, including better parental leave, home-purchase subsidies, and a range of other financial incentives.
However, some experts argue that these policies will not be enough to change families' plans. Many countries have seen their birth rates decline as their economies have developed, and China's fertility rate has been falling for decades, Ren said.
"The decline in fertility did not start recently; it began in the 1970s," he said. "The low fertility level in recent years is mainly due to socioeconomic factors, such as the higher cost of living, career competition, and the work-family conflicts that arise in modern market economies."
Some Chinese leaders have also acknowledged this possibility. In late 2020, Li Jiheng, China's minister of civil affairs, warned that "at present, Chinese people are relatively unwilling to have children, the fertility rate has already fallen below the warning line, and population growth has entered into a critical turning point."
Xu Jian, a demographer, previously told Sixth Tone that China may need to brace itself for the possibility that the country's population decline "cannot be halted." 
"The government may find encouraging families to have more children even more challenging than implementing birth limits had been all those years ago," he said.
Editor: Dominic Morgan.
(Header image: A nurse takes care of newborn babies at a hospital in Xiangyang, Hubei province, Feb. 12, 2021. VCG)