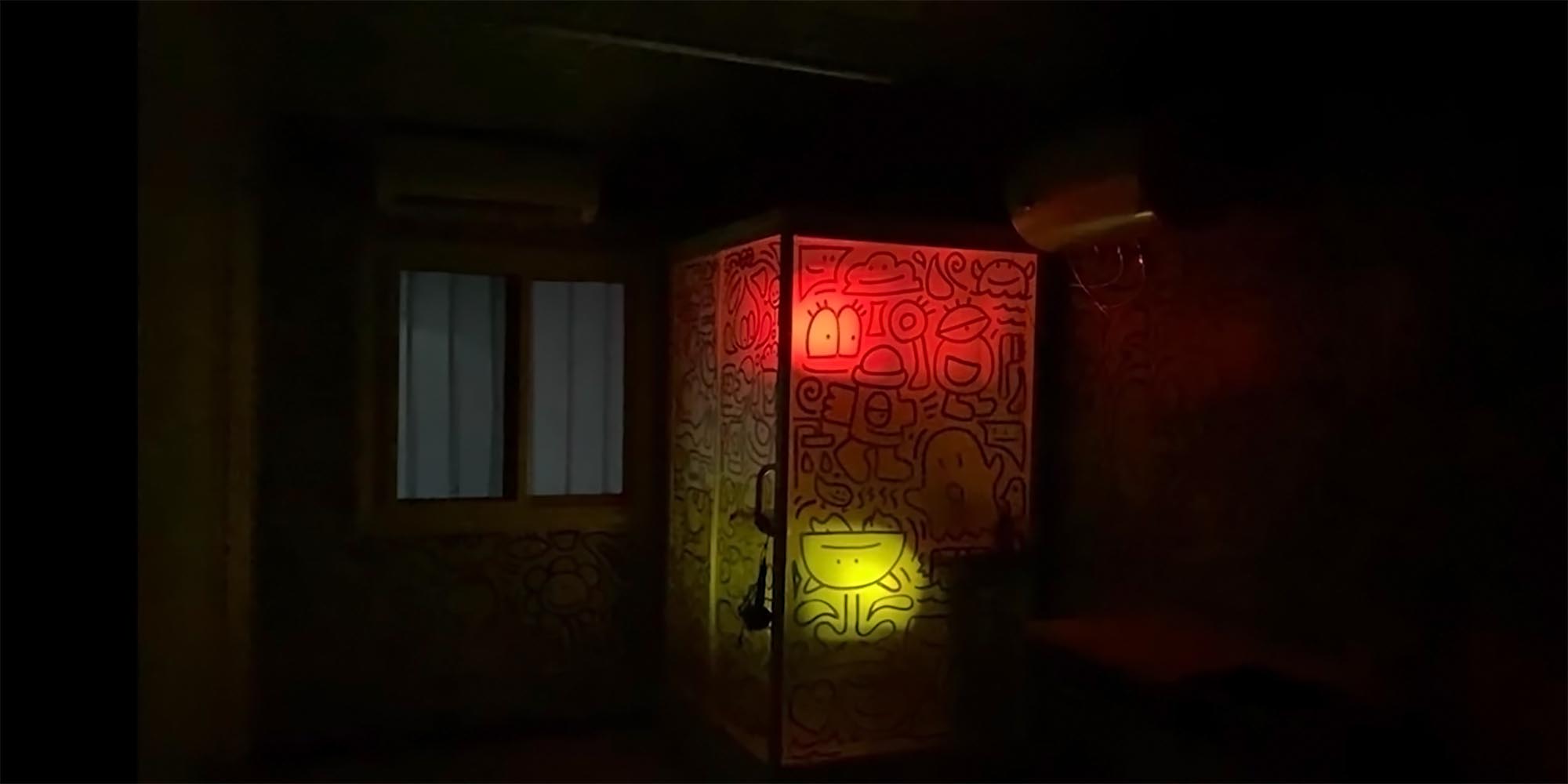 MULTIMEDIA
China's Hottest Art Show Is in the Middle of Nowhere. Literally.
After being quarantined in a 'fangcang' hospital, artist Meng Lichao and two friends decided to put on a show. Don't bother trying to get a ticket though — you have to you know someone with COVID.
If you hold a one-day art exhibition in a fangcang hospital in the middle of nowhere, and no one can get in to see it, does it make a sound?
For artist Meng Lichao, the answer appears to be yes. After being identified as a "close contact" of a COVID-19 case, he was sent to a temporary shelter hospital, or fangcang, on the outskirts of the southwestern city of Deyang on Nov. 8. Once there, Meng decided to make the hospital the site of his next exhibition.
Along with two of his friends who had been sent to the same quarantine site, the 31-year-old artist and curator spent three days preparing. Together they produced 11 works of art, ranging from drawings to photos, collages, and sound recordings.
"Being put in quarantine is a common experience," Meng told Sixth Tone in a phone interview Thursday. "We wanted to keep optimistic and handle a passive thing in a lighter, more interesting manner, while reflecting on the current state of life through art."
The three artists paid couriers to buy them pens, paper, and printed photos, which would then be delivered to their separate rooms by staff at the fangcang. They also made use of materials at the quarantine facility, such as lunch boxes and plastic bags for medical waste.
Imitating the British artist Sam Cox, better known as Mr. Doodle, Meng covered every inch of his 18-square-meter plastic shed in black and white squiggles and sketches.
For another work, Meng mixed rhythmic music produced by a friend with a recording of the mechanical alarm that loudly declared, "Please note, you have entered the monitoring area," any time there was activity in the aisle that linked quarantine rooms.
First put into use to house patients during the 2020 outbreak of COVID-19 in the central city of Wuhan, fangcang hospitals have spread nationwide as China clings to its "dynamic zero-COVID" strategy. Often converted from large public venues or built from trailers, they are designed to house mild cases of the disease or close contacts.
After being released from the quarantine Wednesday, Meng left his work behind. Given the closed nature of fangcang, the only way to see it in person is by being assigned to his old room.
A curator in the central city of Zhengzhou whose art space in that city cannot open due to a separate COVID-19 outbreak, Meng said the experiment awakened him to the ways the meaning of artistic expression changes between public and private spaces.
"The exhibition's only audience will be the next group of people living in there," Meng said. "Whether they understand art or not, we all share certain experiences that resonate with us."
Editor: Kilian O'Donnell.
(Header image: A screenshot from 'Amusing Ourselves to Death' by Meng Lichao. Courtesy of Meng Lichao