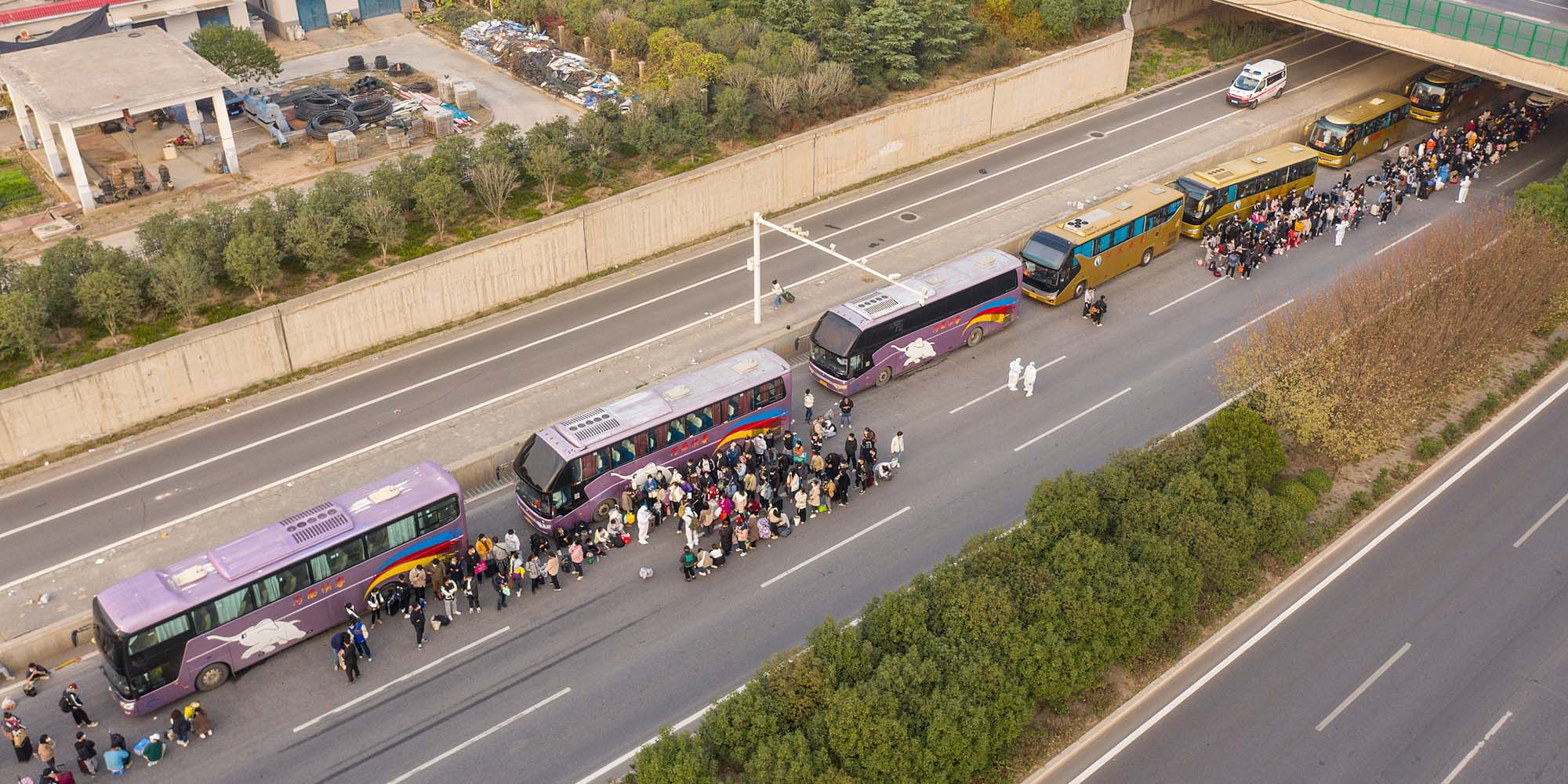 NEWS
Henan Asks Cadres to Assemble iPhones Amid Foxconn Labor Shortage
The world's largest iPhone assembly plant is offering bonuses to attract more workers ahead of an important production season.
Multiple counties in the central Henan province have asked grassroots cadres to work temporarily at the world's largest iPhone assembly plant as COVID-19 lockdowns and labor shortages affect production, domestic media reported Tuesday.
The cadres — members of the Communist Party of China and working in the civil service — have been told to "set a good example" by working at Foxconn's factory in the provincial capital Zhengzhou just weeks after thousands of workers fled the workplace amid chaotic virus control curbs. Most of them have been required to work for between one and six months, with some already reporting for duty, according to media reports.
In late October, hundreds of workers at Taiwan-headquartered Foxconn fled their workplace, some on foot, accusing their employer of inadequately handling the COVID outbreak in the factory. Foxconn's Zhengzhou factory, which employs some 200,000 people, accounts for around half of the iPhone's global manufacturing.
Earlier this month, Apple said that the restrictions have "temporarily impacted" operations at the plant that produces its iPhone 14 models, as it was "operating at significantly reduced capacity."
The months before the holiday season are considered as a peak production period for Foxconn. Last month, the company also offered bonus allowances of between 50 yuan and 400 yuan ($7-$56) per day, as hundreds of positions remained vacant due to the outbreak and local quarantine measures.
A member of staff working in recruitment at Foxconn declined to speak with a Sixth Tone journalist on Wednesday. But when the journalist posed as a potential employee in a subsequent call, another member of staff in recruitment said that they were hiring with additional pay, and those coming from outside Zhengzhou will have to quarantine for four days before working under the current COVID policy.
"We subsidize 400 yuan a day for your quarantine," he said. "The cost of the hotel is covered by Foxconn. After joining the factory, you'll be paid 30 yuan per hour. "
The hourly income being offered is considered to be a "high price" by the market standard, where similar jobs pay under 20 yuan an hour on average. The company also said employees will be paid their full salary without any conditions, unlike before.
The Foxconn recruitment staff also said that those who fled the factory in October will receive a one-time additional payment of 500 yuan after resuming work. However, he added that people from certain ethnic minorities — including those from the Uyghur, Yi, Hui, and Tibetan communities — weren't welcome because "they are hard to get along with."
Editor: Bibek Bhandari.
(Header image: Foxconn workers board buses sending them home after the local COVID-19 outbreak in Zhengzhou, Oct. 30, 2022. VCG)