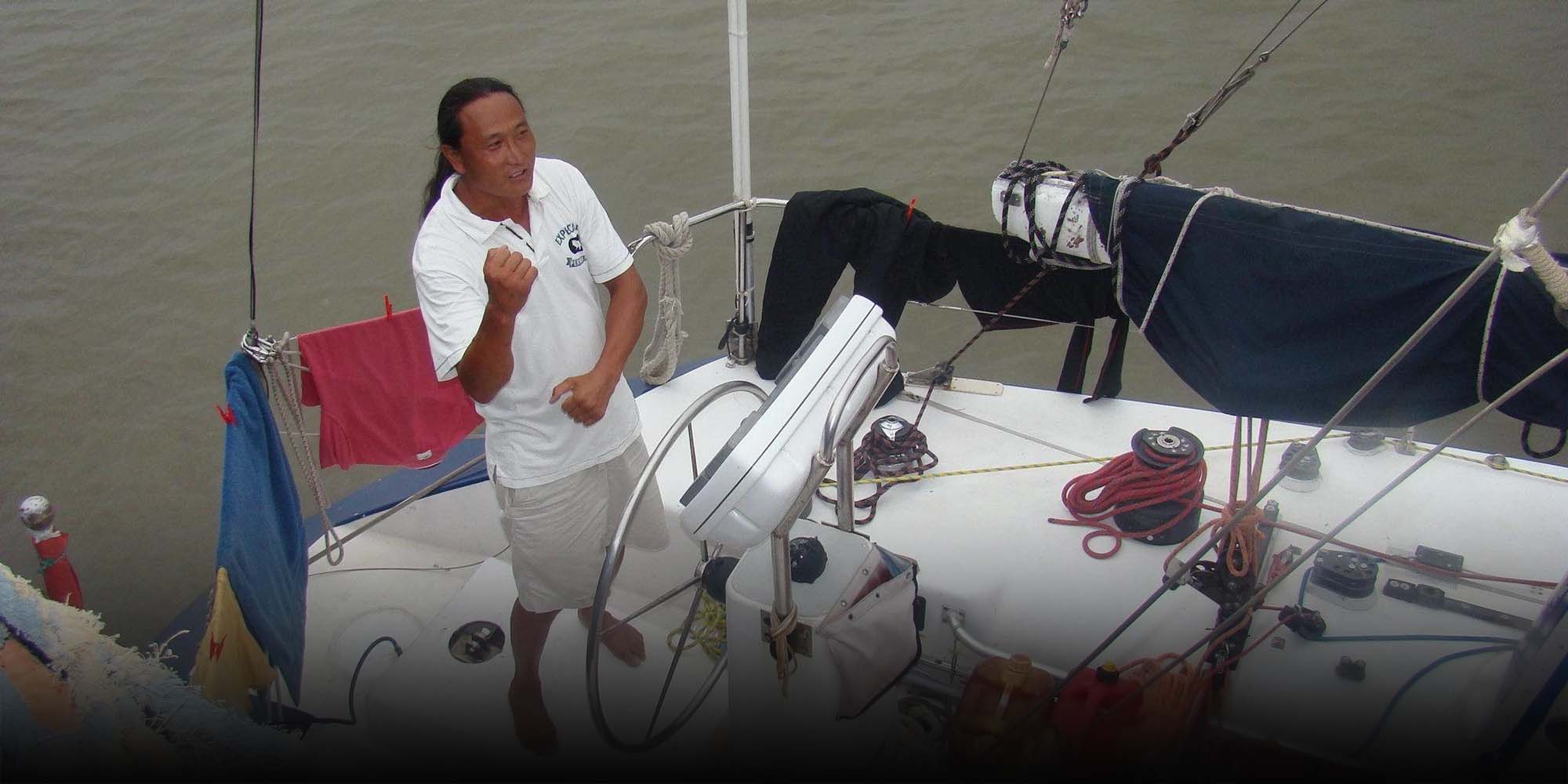 NEWS
Chinese Sailor Returns Home After Circumnavigating the Arctic
The 54-year-old man journeyed for 17 months on a solar-powered yacht to raise awareness of climate change.
SHANGHAI — Seventeen months after Chinese artist-turned-sailor Zhai Mo embarked on what he called the "first-ever non-stop circumnavigation of the Arctic Ocean," the 54-year-old finally returned to the city where he started the journey.
Zhai received a hero's welcome in Shanghai on Tuesday at an event hosted by the Shanghai government and the International Maritime Organization. He was also handed its science and technology award by the China Institute of Navigation.
The Chinese sailor set sail on his Arctic trip on June 30, 2021 along with a two-person crew on a solar-powered yacht. The journey, which measured more than 28,000 nautical miles, aimed to raise awareness of climate change and marine environment protection.
"Circumnavigating the Arctic Ocean, a completely ice-covered route commonly referred to as 'the death route,' has been a longtime goal for me," Zhai told Sixth Tone. "We encountered lots of floating ice instead of huge icebergs at the location where the Titanic sank ... it was also striking that the temperature in northern Siberia reached 37 degrees Celsius this summer."
Zhai's 15,000-nautical-mile northbound odyssey was originally planned to be finished within four months, but it was extended due to tricky weather conditions and disruptions in getting the green light from countries along the way. The floating ice made the route more risky to sail through and the extreme cold temperatures affected the team's communication and navigation facilities several times, according to Zhai.
"To fully prepare for various accidents, we carried food items that would support us for a year and half," Zhani said. "And we were lucky to pass through three of the four largest fisheries in the world, which meant that our food supply was sufficient."
The sailor said he will settle temporarily in Shanghai and plans to open a sailing traning school in the city.
"There are sailing schools in the United States, Canada, and France. I hope to contribute to the training of more marine talent for the development of ocean navigation in China," he said. "My next sailing goal is to circumnavigate Oceania."
Previously a post-impressionist painter, Zhai became fascinated by sailing in 2011 after an experienced Norwegian sailor introduced him to the sport as a way to travel around the world in pursuit of freedom and artistic inspirations.
An inland man who grew up in the eastern Shandong province, Zhai's other nautical achievements include circumnavigating the planet between 2007 and 2009, as well as sailing along a route manifesting China's plans for a "Maritime Silk Road" as part of the Belt and Road Initiative in 2015. His current expedition is also part of that project, as the country endeavors to develop a "Polar Silk Road" to further engage with trade in the Arctic region.
(Header image: Zhai Mo drives his boat at a harbor in Wenzhou, Zhejiang province, July 7, 2009. IC)