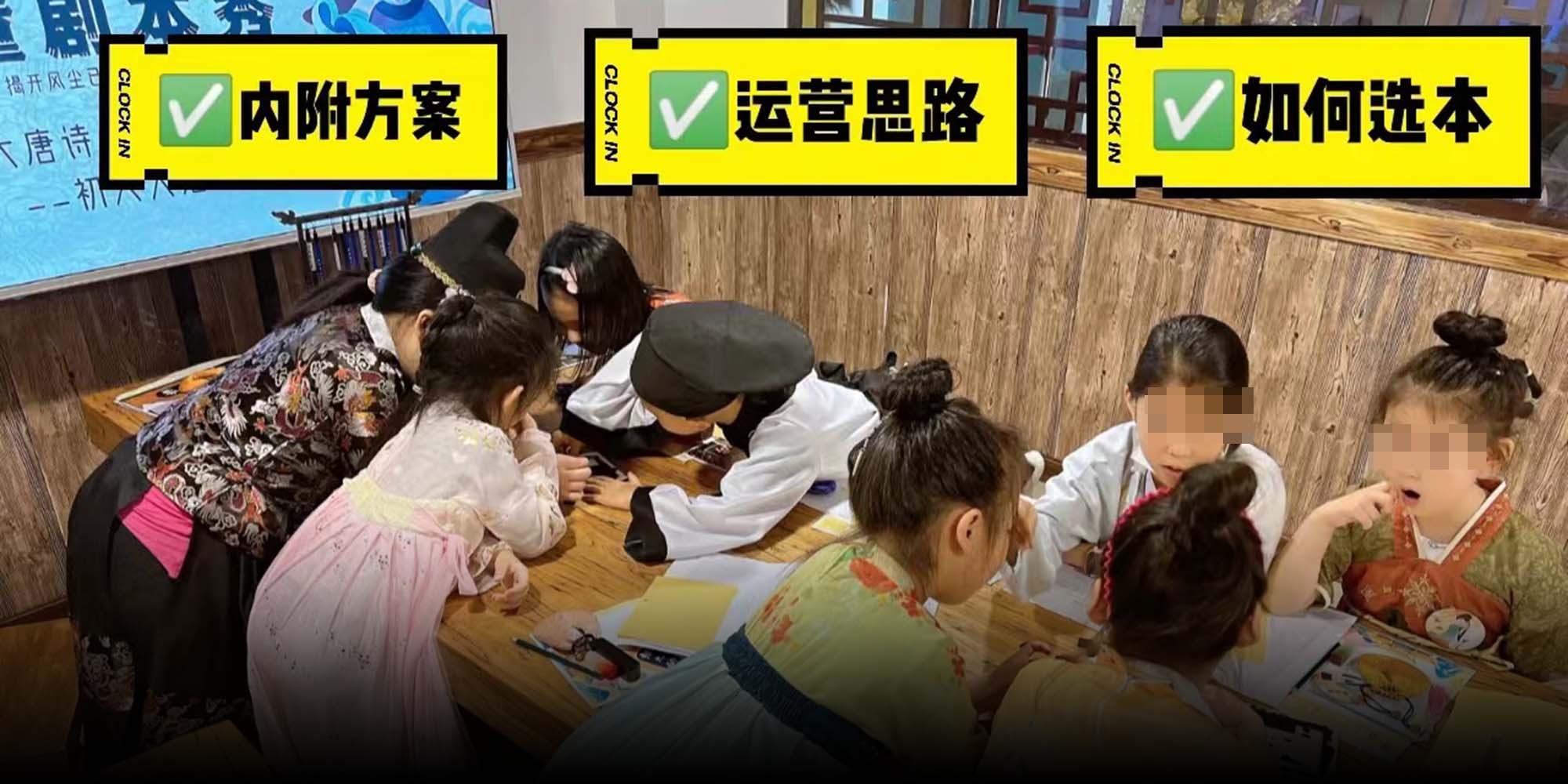 NEWS
Kids' Role-Playing Games: New Learning Tool or Tutoring in Disguise?
The new genre is attracting parents wanting to indulge their children in largely prohibited extracurricular lessons.
Cui Yan's tutoring school was in its eighth year when China's education authority banned online classes for children to reduce the academic burden on them. The government's move in 2021 led to thousands of tutoring centers shutting down abruptly and massive job cuts that made both parents, students, and teachers anxious.
In it's aftermath, some companies, including powerhouses like the New Oriental Education and Technology Group, diversified their business from tutoring to selling vegetables. Many educators turned to livestreaming to teach and sell various items.
But 32-year-old Cui wasn't ready to give up teaching entirely. In 2021, she changed her company's name to Tianyi Xingbai, which is now part of an emerging role-playing mystery game industry — but for kids — and combines entertainment and education.
"China's sweeping reforms to private education have crippled the tutoring industry, but it underlines a shift toward quality education," Cui told Sixth Tone. "That's why we decided to transform traditional education by exploring new teaching methods that would allow kids to learn while playing."
Different from the role-playing games for adults — they're known as jubensha, or "script murder" and have been accused of corrupting minors — the interactive games for children include plots that are more educational. Such scripts are written mostly for primary and middle school children and based on real historical events to improve their learning and thinking skills, according to Fan Sizhe, founder of Beijing-based kids' script production agency Xiaoqingju.
Cui's gaming venue in the central city of Zhengzhou is doing just that through gaming sessions that include eight to 10 children — they last about 90 minutes and cost between 100 yuan and 200 yuan ($14-$28). A video shared by Cui with Sixth Tone showed 10 primary school students gathered for a day of learning and leisure: They were dressed in traditional hanfu costumes and engaged in a script based on the classic Chinese fable "Foolish Old Man Removes the Mountains," which has been seen as a lesson on perseverance.
Cui said that apart from historical scripts, her company has developed more than 100 other scripts incorporating various elements of the Chinese language curriculum that helps to contextualize them, so children can learn better. In just a year, she has sold them to 200 offline stores providing role-playing games for children across China.
Its popularity is apparent on lifestyle platform Xiaohongshu, where a search using the phrase "role-playing game for kids" yields thousands of results. The majority of such posts mostly suggest various scripts and jubensha venues for children.
"This is a new area that's growing very quickly," said Cui, a former Chinese language teacher. "More than 60% of the offline stores Tianyi cooperates with were private education institutions previously. It's an easy business shift because they already have the right resources."
Some script production agencies told domestic media that education institutions represented up to 80% of their clients. The rest fell into different categories, including children's book stores, cafés, and campsites trying to diversify their offline activities to attract more customers.
In Guangzhou and Shenzhen, some primary and middle schools have even started to cooperate with venues offering role-playing games for children. By the end of 2021, the Shatou subdistrict in Shenzhen had invited 36 students for an immersive role-play game called Abyss, which encourages students to stay away from drugs. New Oriental is also in talks with digital media and content company Panda iMedia about venturing into the field.
Role-playing games for children have swiftly expanded their market footprint, while those for adults are witnessing a slump, according to an August report jointly published by China Culture and Entertainment Industry Association and Meituan. The value of the jubensha market is estimated to shrink from 20 billion yuan in 2021 to 17 billion yuan this year due to regulatory curbs and disruptions from COVID-19 prevention measures.
Despite a gradual growth, the role-playing gaming sector for children, however, is currently operating in an uncertain environment. Those working in the sector said that the market is still in an early stage of development and operates without clear guidelines or oversight.
"I don't think there will be any regulatory risks because it has none of the concerns mentioned by the regulators," a store owner in Beijing, surnamed Wang, told Sixth Tone, referring to the double reduction policy and those targeting jubensha. "In fact, I would not describe it as a subcategory of script murder, because there's no murder, violence, or negative aspects that the regulators are worried about."
But some of the venues offering such role-playing games are already resorting to marketing tactics that seemingly promote them as an alternative to tutoring agencies, according to domestic media reports. They're advertising that such games can improve children's reading, reasoning, and communication skills.
But Fan from the Beijing-based script production agency told Sixth Tone that the role-playing games aren't curriculum-driven, and that instead they're an interactive and immersive way to engage children in developing non-academic skills. She dismissed the idea that the gaming genre would replace private tutoring, but warned its swift expansion may prove costly.
"Private tutoring is dead, but education is not," she said. "The development of a new learning path will take time, and rushing to an emerging genre for quick commercialization is irresponsible."
Editor: Bibek Bhandari.
(Header image: Children take part in a role-playing game. From @芒果老师 on Xiaohongshu)