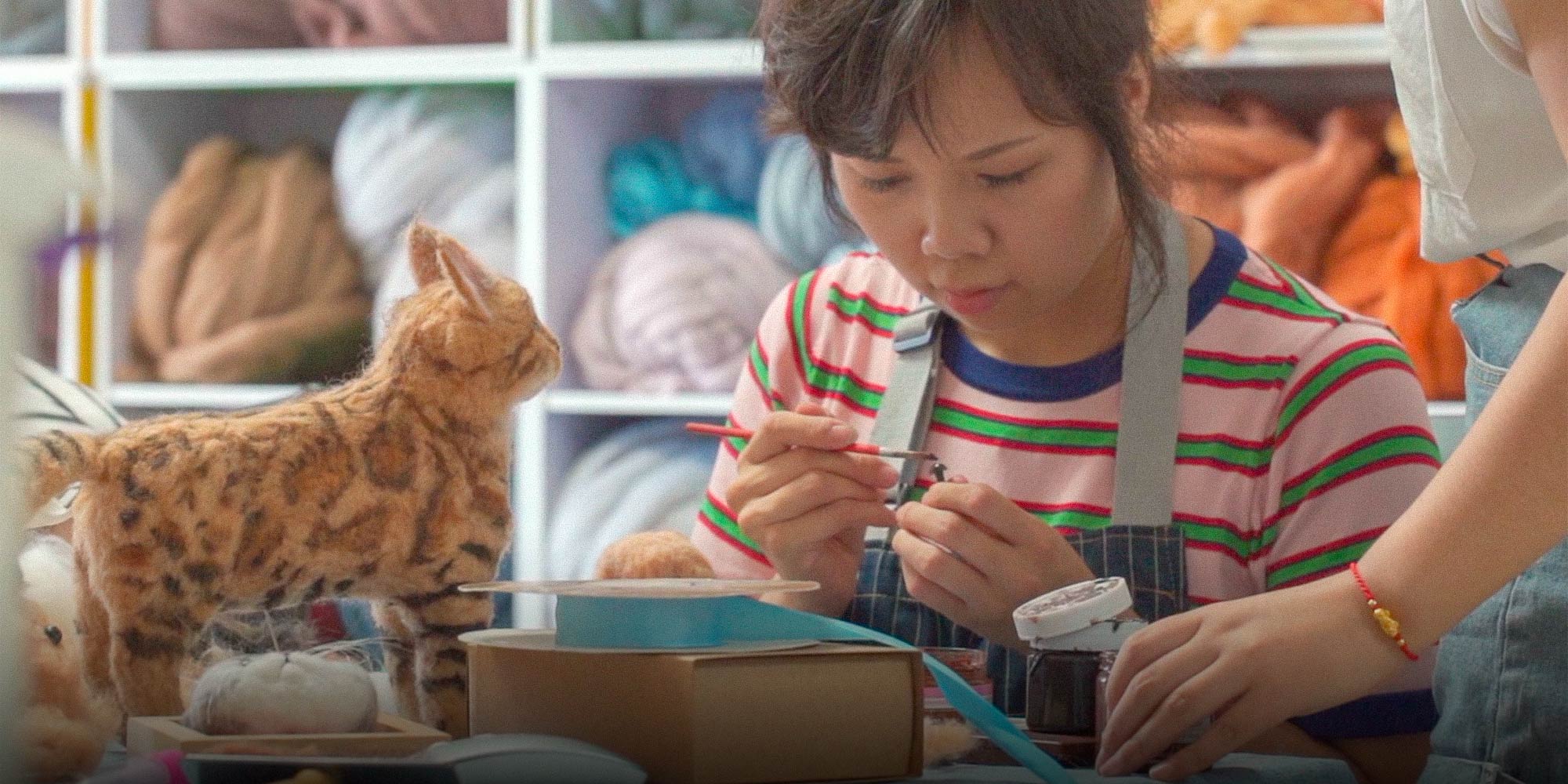 FEATURES
Alibaba Built Its Success on Small Vendors. Now, It Fears Losing Them.
Ahead of the all-important Singles' Day shopping festival, the Chinese e-commerce giant is struggling to cling on to the core of its business: the small merchants that populate its flagship Taobao platform.
Two weeks ago, jewelry vendor Wang Sicheng received an unexpected phone call. It was a staff member from China's largest e-commerce platform, Taobao, and she wanted to offer Wang a chance to get a surge of free traffic to his online store.
All Wang had to do, the person said, was become a blogger on Taobao. If things went well, he'd start driving traffic to his store naturally, and then Taobao might even feature him in its "must-visit store collections" section on the app's homepage. 
For Wang, the offer was intriguing. But his main reaction was one of surprise: given his store's mediocre sales and low visibility, he was amazed Taobao was bothering to contact him at all.
The encounter reflects a major shift in strategy at Alibaba, the firm that runs Taobao, as the Chinese tech giant desperately tries to shore up support among the small vendors who drove its initial success.
For years, Alibaba reigned supreme over China's $2.6 trillion e-commerce market, but that is changing fast. Since mid-2021, the company has suffered a series of severe setbacks that has seen its share price plunge from a peak of $228 to just over $65 at time of writing.
China's regulatory clampdown on big tech companies has played a major role in Alibaba's decline — as has the "zero-COVID" policy and the slowdown in the Chinese economy — but there's more to it than that. The company has also struggled to fend off competition from some formidable new rivals.
China's major social media platforms — including Kuaishou, Xiaohongshu, and China's version of TikTok, Douyin — have aggressively moved into e-commerce, and they have already made big gains. Douyin is reportedly targeting a gross merchandise volume of 1.7 trillion yuan ($235 billion) in 2022, up from 700 billion yuan last year, according to tech media outlet 36kr.
Wang is among the thousands of Chinese vendors who have already moved part of their business from Taobao to these new platforms. Frustrated with his stagnant sales on Taobao, he decided to set up stores on Douyin and Xiaohongshu — and it produced immediate results.
The social apps seem naturally suited to selling jewelry, Wang says. His visual-friendly posts — which typically feature footage of foreign models wearing his products, or graphics helping users match different styles of earrings to their face shape — generated a lot of traffic, and Wang was surprised how quickly his sales rose.
"While the market on Taobao has been completely rigid, these social platforms provide a new kind of e-commerce game, which I'm better at," Wang tells Sixth Tone.
For Taobao, this represents a serious threat. From its founding in 2003, Alibaba saw the platform as a bazaar filled with individual merchants. Over time, the company has gradually shifted its focus toward major multinational brands, but small-scale vendors still represent the backbone of its business.
So, ahead of this year's Singles' Day — China's Black Friday-style shopping festival, which falls on Nov. 11 — Alibaba has launched an unprecedented campaign to woo back small businesses like Wang's, as the company tries to go back to basics.
In the past, Alibaba loudly celebrated its record sales each Singles' Day. Now, the company is downplaying the importance of the total sales figure, and insists it's focusing on "making business easier for merchants."
At a recent press conference, Dai Shan, the newly appointed president of Alibaba's e-commerce division, said the company has made an "unprecedented investment" to enhance the experience of merchants using its platforms, simplifying rules, reducing operating costs, and improving logistics services.
This follows a major organizational reshuffle in January, which saw Alibaba merge its two largest platforms — Taobao and Tmall — to help smaller vendors compete. Alibaba originally created Tmall — a platform exclusively for major brands — to protect consumers and brands from counterfeit goods sold on Taobao. But ever since, small vendors have complained that Alibaba funnels users toward Tmall, making it harder for small businesses to generate sales.
"The dual operation strategy of Tmall and Taobao proved to be effective for a long time," says Du Jiayi, a research fellow at the Sino-German International Event Management Shanghai Research Center, an academic institute based in Shanghai. "But as their businesses grew, there were more and more conflicts."
Soon after the merger, Alibaba also announced the launch of a user development center specializing in product recommendation systems, which it says will push more small, interesting stores to the front of the Taobao app.
These moves aren't just a reaction to a recent dip in Alibaba's sales; they're part of a long-term strategy that aims to help the company adapt to the changing nature of e-commerce in China, analysts tell Sixth Tone.
"Prior to the merger of Tmall and Taobao this year, Alibaba had consciously been pivoting back to focusing on small- and medium-sized merchants since 2021," says Rita Bao, an analyst at market research firm ChemLinked. "It's not only in response to the 'common prosperity' policy environment, but also closely related to increasingly diversified and personalized consumption trends."
In China's e-commerce sector, there's a widespread feeling that "consumption fatigue" is making consumers less willing to splurge online, and the Chinese tech giants believe the key to retaining users is making e-commerce platforms more like social apps, Bao says. In this new environment, small merchants like Wang have become "high-quality assets": They're no longer just vendors, but also influencers and content creators.
"They play a vital role in covering new needs, new trends, and new products," Bao says. "Losing small- and medium-sized merchants means losing the chance to land potential hits and the ability to keep active users engaged."
Under this framework, Alibaba's push to retain its millions of small vendors makes sense. But will it work? So far, the jury is still out.
After the phone call from Taobao, Wang decided to give the platform another try. But it's clear that Alibaba has a lot of work to do to win back his trust. For years, he has felt that small vendors like him were unfairly treated by the company.
Over the past two years, Wang has bought nearly 50,000 yuan of ads on Taobao to drive more traffic to his store. But these ad buys rarely translated into strong sales, he says. The problem, in his view, is that everyone needs to buy ads to get traffic on Taobao these days — especially during the run-up to the Singles' Day festival. And the bigger brands can afford to buy more ads.
"How much traffic can you get by paying 1,000 yuan while many others have paid 100,000 yuan?" Wang says. "There was no hope for small players to reverse the situation … I thought about completely 'lying flat' for the upcoming Singles' Day."
Other vendors appear similarly downbeat. Of the six merchants Sixth Tone spoke with for this story, none of them said that they'd noticed an uptick in sales thanks to Alibaba's recent strategic adjustment.
Youcai, a toy designer based in southwest China's Yunnan province, said that although her store had been listed on one of Taobao's "must-visit store" sections, it hadn't given her revenues a significant boost. She believes Taobao's algorithms fail to match her store with the right type of buyers.
"I once spent a lot of money on Taobao to promote my store, but it always brought me the wrong type of crowd," says Youcai, who spoke with Sixth Tone using a pseudonym for privacy reasons. "Those users came to my store, asked me a bunch of weird and harsh questions, and didn't buy anything."
A livestreamer surnamed Cui, who sells cosmetic products on both Taobao and Douyin, echoes this point.
"Douyin has a better recommendation algorithm than Taobao," says Cui. "It's more capable of screening out those who won't buy, so there's relatively less wasted traffic."
As Douyin and Xiaohongshu's e-commerce businesses have become more popular, they have started to raise their ad prices. But many vendors say they still feel the platforms are worth investing in.
One Hangzhou-based clothing vendor who spoke with Sixth Tone, surnamed Liu, plans to spend just 7% of her marketing budget on Taobao this year, compared with 70% last year.
But most vendors don't plan to abandon Taobao completely. Wang says he's shifting his focus toward other platforms, but he will keep using Taobao because its 5% commission fee "is the cheapest of all the platforms."
Youcai, meanwhile, chooses to direct her fans from Douyin, Xiaohongshu, and the YouTube-like video platform Bilibili toward her Taobao store to place orders. It's easier to coordinate orders via one platform, and Taobao remains an excellent e-commerce service, she says. 
"I stick to Taobao due to its comprehensive operation and delivery system," says Youcai.
Cui has also found that Guangguang — Taobao's new, built-in social platform — outperforms Douyin when it comes to selling high-end products.
"People who swipe videos on Douyin are generally not mentally prepared to spend a lot of money," says Cui. "But those who log onto Taobao often intend to buy."
Wang has been experimenting with blog posts on Taobao in recent days, but he's skeptical of the platform's claims that it'll bring him a surge of free traffic. And he still plans to spend most of his ad budget on Douyin and Xiaohongshu.
"The biggest lesson from the past few years is that there's no free lunch anymore," says Wang.
Editor: Dominic Morgan.
(Header image: A Taobao store owner works on her felt artworks, in Yibin, Sichuan province, 2020. Niu Jing/VCG)