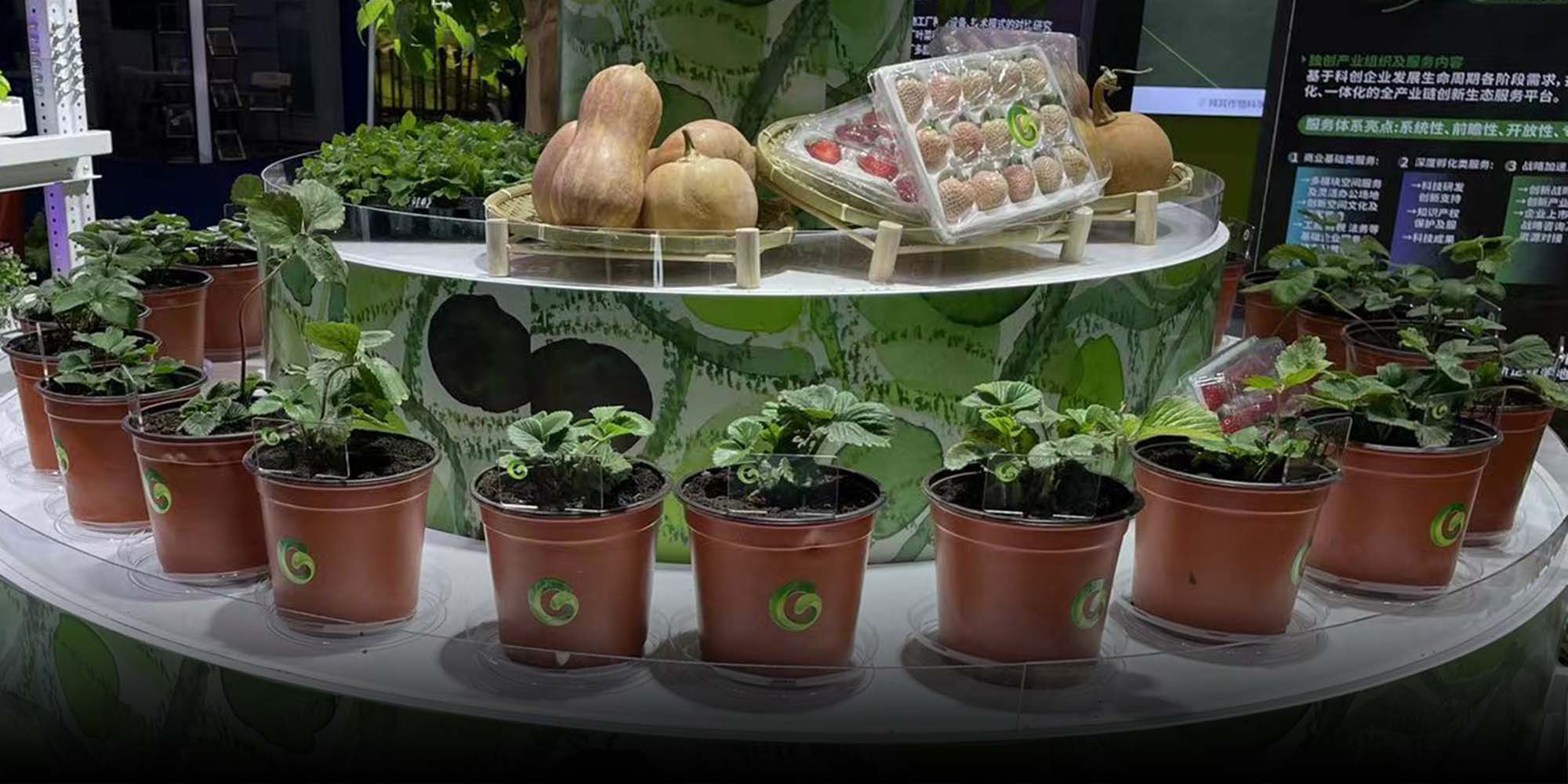 NEWS
Companies Promote Digital and Smart Agriculture in China
From vegetable factories to fishery-solar hybrid projects, Chinese agriculture companies have been showcasing agri-tech solutions at the CIIE.
SHANGHAI — The wider application of digital technologies is driving China's agriculture industry toward higher efficiency and an ecologically friendly path, according to experts in the field.
The agricultural committee of Shanghai's Jinshan District showcased its smart plant factory that was built in partnership with the BOE Technology Group. The space, which covers an area of 1.8 hectares, has a maximum seedling capacity of 500,000, is automated, and is equipped with an AI-powered plant growth optimization system.
The system will use photos taken by automated guided vehicles to track the growth stage of the hydroponic vegetables and adjust environmental parameters like temperature and humidity, Li Zhisheng, deputy director of the committee, said during an online briefing at the China International Import Expo.
China has been stepping up the digitization of its agriculture sector over the past few years. The country expects the agricultural digital economy to account for 15% of its agriculture value-add by 2025.
The initiative will also increase the efficiency of the agriculture industry by controlling light exposure, temperature, humidity, and watering levels, according to Li.
"The seedling period, which typically takes 30 days in an outdoor environment, was cut by half in a better growth environment," Li said, adding that all the vegetables produced are pre-ordered by residents who live nearby.
The digitization of the agriculture industry will also boost China's workforce efficiency against the backdrop of a labor shortage due to a quickly aging society.
The number of staff at a fishery solar hybrid project in Shanghai's Chongming District has been reduced from more than 80 to 40 after adopting an automatic feeding system, Zhu Zhenhua, the project's leader, said in a separate online CIIE session.
The program combines fishery with solar power generation. More than 300,000 blue photo-voltaic solar panels are set up above the surface of existing ponds for the farming of fish, shrimp, and hairy crab. The panels will generate 140 million kilowatt-hour annually.
Yellow perch, one of the three major fish products of the aquaculture farm, will generate an annual income of between 26 million yuan ($3.6 million) and 30 million yuan, according to Zhu.
Bright SeedBase, the seedling arm of Chinese food and beverage conglomerate Bright Food, demonstrated its indoor vertical farming and agricultural supply chain solutions at the expo. The company has built a 50-square-kilometer plant factory in Chongming, both for agricultural research and commercial production, Yuan Wei, a marketing representative of the company, told Sixth Tone.
"Agricultural research labs are solving the problem from 'zero to one.' With the support of Bright Food, we are addressing the problem of 'one to ten' for the early-stage commercialization of agricultural technologies by leveraging the group's partnership resources and capabilities in supply chain management." Yuan said.
(Header image: A view of Bright SeedBase's exhibition area at China International Import Expo in Shanghai, Nov. 9, 2022. Li Xin/Sixth Tone)