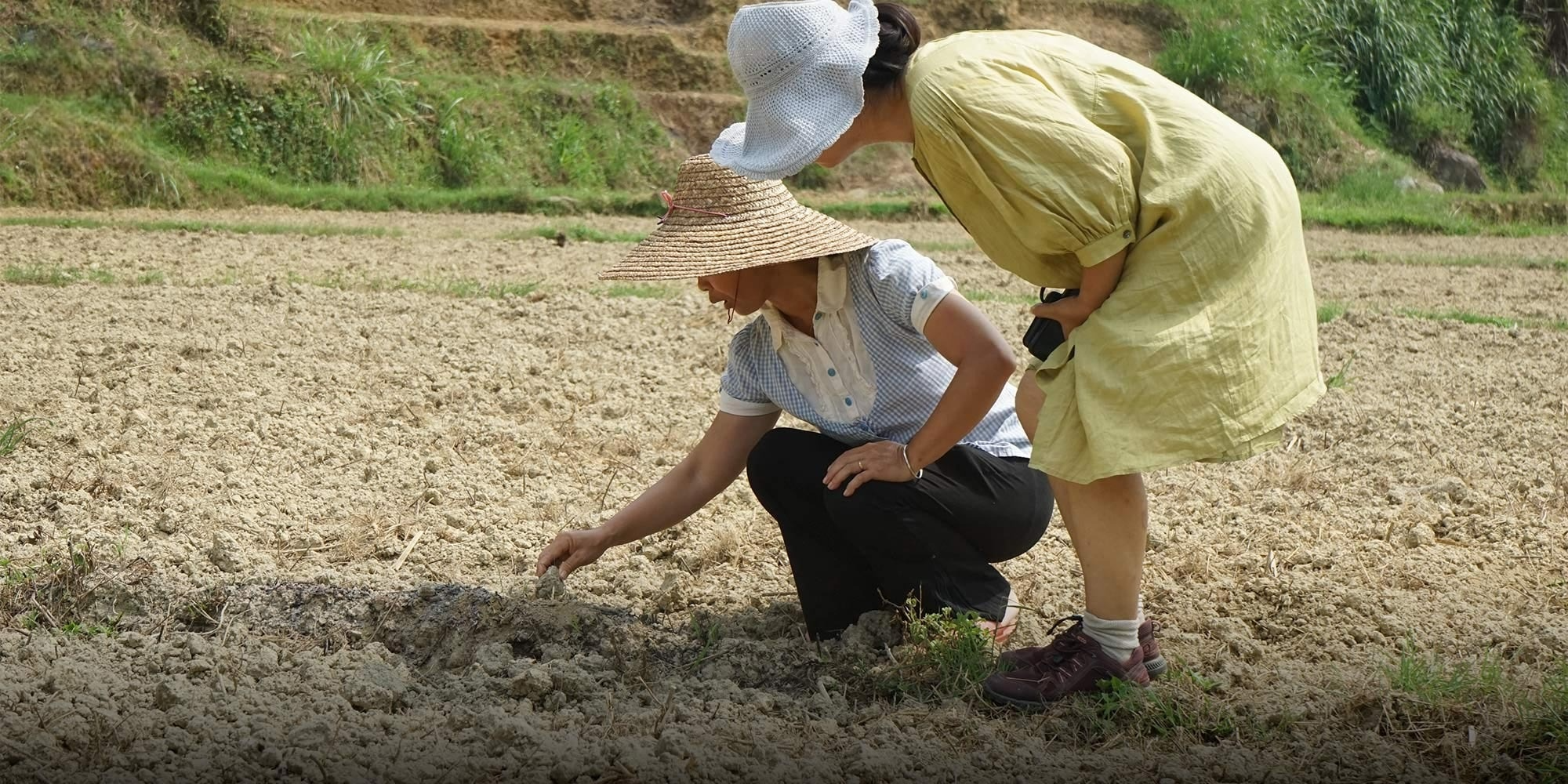 FEATURES
In China, a New Generation of Climate Activists Suddenly Emerges
Young Chinese are increasingly moving into environmental campaigning — a reaction to the growing impact of global warming on China, but also the shrinking space for feminist and labor rights groups.
At a recent community workshop in Guangzhou to discuss the effects of global warming, a senior academic raised his voice to ask a question: Given the discrepancies in research data, is it really true that the climate is changing?
He Xin, one of the coordinators of the event, sighed. As an environmental campaigner, she is used to facing confusion, or even skepticism, from the public in China. But she hadn't expected it from a respected geologist — especially one that the organization had selected to promote climate awareness in the local community.
"He was chosen as one of our 'community climate pioneers,' but he still thinks like this," says He, recalling the incident in July. "What can we do? We can only communicate patiently."
He is part of a new generation of climate activists that have emerged in China over the past couple of years, as the real-world consequences of a warming planet begin to play out all over the country.
The climate crisis has become an urgent issue confronting the Chinese government in recent years. The country is not only the world's largest greenhouse gas emitter; it is also acutely vulnerable to extreme weather events due to its massive population and huge landmass spanning a variety of climate zones.
That means China could become one of the biggest victims of uncontrolled global warming, with United Nations Secretary-General Antonio Guterres warning at this week's COP27 climate summit that the world is speeding down a "highway to climate hell."
The dangers for China became brutally evident during the summer, as the country was rocked by a succession of climate-related disasters — from severe wildfires to record droughts that reduced major rivers to a trickle and sparked nationwide energy shortages.
Yet until recently, public awareness of climate change issues still lagged in China by international standards. The issue has long been viewed as a remote problem that can be left for national leaders to solve through high-level events like the ongoing COP conference in Egypt.
Social attitudes, however, are now starting to change, as natural disasters become ever more frequent — and a wave of new campaign groups emerge to highlight the issue.
He joined her organization — the Guangdong Harmony Community Foundation (GHCF) — in 2020. Based in the southern city of Guangzhou, the outfit originally focused on providing disaster relief, but has expanded in recent years to work on climate issues. It now works to educate local communities on sustainability issues and help them adapt to a changing climate.
Like many such groups, the GHCF initially struggled to make headway, He admits. At first, even her own staff were often confused about the concept of climate change. But it has started to gain traction since 2021, when a devastating flood in central China's Henan province served as a wake-up call for people across the country. Now, local residents in coastal Guangdong are eager to learn how they can better protect themselves from flash floods, He says.
"One of our own members used to joke to us: 'Climate change is about the big conferences, what does it have to do with us?'" says He. "This year, I went to him directly, and I said, 'Now, you know what climate change has to do with us.'"
China's climate movement has also benefited from the country's shifting political environment. Beijing has become more vocal about climate issues, making high-profile pledges to hit peak carbon emissions by 2030 and reach carbon neutrality by 2060. That has prompted more Chinese nonprofits and activists to pivot toward this area, as environmental protection and climate change are now considered "safer" issues to be involved with.
Feng Jing, a former journalist based in Shanghai, decided to start campaigning on environmental issues after struggling to secure food during Shanghai's repeated lockdowns since 2020.
"You may call it a transportation issue, or a policy issue," says Feng. "But if you think about it through the lens of climate change, you'll realize that food shortages will be a real thing for many people in the future."
After quitting the media industry last year, Feng has now formed an advocacy group called Road to Tomorrow, which tries to promote sustainability through writing, screening documentaries, and hosting public activities.
Food-related advocacy groups have multiplied in China in recent years. Food Think, a food-related content platform headquartered in Beijing, brings together farmers, writers, and researchers to document local farming practices and how they can adapt to the effects of climate change.
Feng Qihua, who isn't related to Feng Jing, is the program officer at Food Think. She tells Sixth Tone that the organization has been motivated by the severe impact of record-breaking heat waves on China's farmers this year. During a recent field trip, Feng recalls seeing farmers in subtropical Guangdong struggling to grow sweet potatoes, as the soil was too dry.
"When you're on the road, you encounter so many vivid details," she says. "Then, you understand the urgency."
But these groups have to strike a delicate balance. Unlike Western climate activists — and major environmental groups operating in China — the new wave of Chinese activists tend to shy away from campaigns designed to directly pressure the government to change its national-level policies. Instead, they carefully align their work with official narratives, focusing on pushing for community-level adaptation to emerging climate risks.
"With environmental issues in China, action relies on a top-down approach," says Luo Ruixue, a campaigner at the Guangzhou-based group Plastic Free China. "Therefore, everyone looks to the government."
Wen Ruihuan, deputy director of the environmental group Toxics-Free Corps, says that many Chinese organizations — including hers — scour important government documents for any keywords related to their work before deciding on their public advocacy strategy for a given campaign.
Wen is among a number of Chinese activists who have moved into climate advocacy after years spent campaigning on other issues. Before, she worked for a labor rights group in Guangdong. Eventually, Wen was worn down by the continual harassment, fears for her personal safety, and financial strain, and she left the group before it closed in 2020.
Luo, the plastics waste campaigner, moved into environmental advocacy after the feminist media platform she was working for ceased operations in 2020. After years of struggling to keep the group alive while living on a salary that at times dropped to just 2,000 yuan ($275) per month, the strain on her mental health became too much, she says.
"There was a lot of financial pressure, and we also had to think about our future development," says Luo. 
Another Guangzhou-based feminist tells Sixth Tone that she is trying to break into climate advocacy due to its good career prospects and "intersectionality." 
"I think climate change is about protecting vulnerable groups," said the activist, who asked to remain anonymous due to privacy concerns. "I would still love to do gender rights advocacy, but I guess I would have to do it in a more roundabout way."
Yet the scope of climate change advocacy remains narrow in China, says He, the GHCF coordinator. Their group is trying to broach climate-related issues through community engagement activities. But a lack of funding and know-how makes conducting large-scale projects difficult. The low public awareness of climate change and China's conservative policy environment, meanwhile, limit their ability to communicate effectively, she adds.
Several newly joined climate campaigners told Sixth Tone they're currently focusing on developing their own expertise, as climate change is a highly technical field that requires a broad range of knowledge. Feng Jing, the food writer, said she just hopes her work can help people better understand where the food they eat comes from.
"I think awareness comes first, then we can think about what we can do together," she says.
Editor: Dominic Morgan.
(Header image: A Food Think member (right) talks to a farmer during their field study, 2022. Courtesy of Food Think)