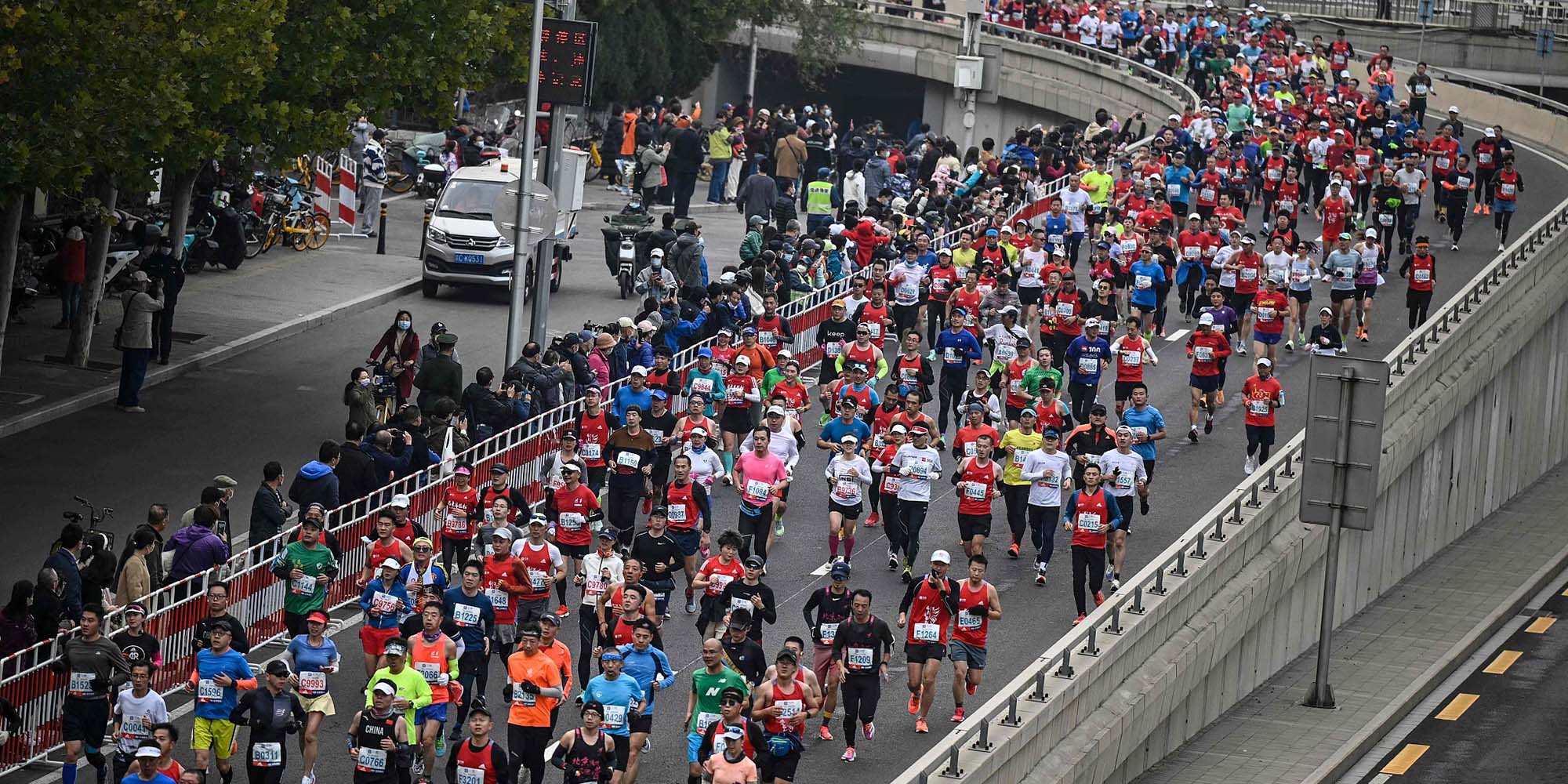 NEWS
Confusion Reigns as Marathon Races (Kind of) Return to China
A string of Chinese marathon and trail races were finally due to make a long-delayed return this month. Then, the country's virus prevention measures tightened up once again.
One of China's most popular ultramarathon races returned under unusual circumstances last weekend, as a last-minute tightening of local virus control rules led to three-quarters of the runners being unable to take part.
The sudden rule change followed the cancellation of several other major races amid a flare-up in coronavirus infections — underlining once again how China's sports industry faces a rocky road to recovery as the country doubles down on its strict "zero-COVID" policy.
The race — Tsaigu Tangsi — had been hotly anticipated among Chinese athletes, as it was one of the first major ultramarathon events to be held in the country since 21 runners tragically lost their lives during a race in northwest China's Gansu province two years ago.
Tsaigu Tangsi is a hugely popular event that sees athletes run through bamboo forests and tea plantations near the historic city of Linhai, in east China's Zhejiang province. Around 4,000 people were due to take part in the race, which includes distances of 26, 55, 85, and 115 kilometers.
But a few days ahead of the race, local authorities announced that only people who had been in Zhejiang province since Nov. 1 would be allowed to compete. That left around 3,000 of the 4,000 entrants unable to participate, according to the event organizers.
The race organizers did not elaborate on the decision or why it had been taken. "These were the COVID prevention and control requirements of Zhejiang province. We strictly adhered to all the COVID prevention and control policies," said Xue Yingchun, the event's owner and director. Sixth Tone was unable to reach the Zhejiang Provincial Center for Disease Control and Prevention for comment. 
For Chinese athletes, it was just the latest disruption after a chaotic few years. Almost all major running events were canceled during the first 10 months of 2022, as China struggled to contain the highly infectious Omicron variant.
A string of races were scheduled to be held in November, but local COVID rules have continued to make things difficult. The cities of Wuxi, Changchun, Baoding, Suzhou, and Shijiazhuang have all canceled marathon events in recent weeks. The Beijing Marathon went ahead on Nov. 6, but out-of-towners were barred from signing up.
"According to my estimates, originally there were five marathons (scheduled) on Nov. 5, but only one was held," said Du Mingrui, whose company, Beijing Runner Sports, supplies apparel and other goods for marathons in China. "Out of 17 marathons on Nov. 6, only five were held."
Ultramarathon and trail runners have suffered from even more disruption. China's sports authorities prohibited all trail and ultramarathon events following the disaster in Gansu in May 2020. The ban was lifted earlier this year, but before Tsaigu Tangsi only a handful of events had been held. Several races opened for registration only to be canceled at the last minute.
Before the pandemic, trail running races were exploding in popularity in China, with local authorities — keen to boost tourism — investing generously in events and offering lucrative prize money. Hundreds of events took place nationwide in 2019, many of them attracting thousands of entrants.
Chinese trail runners were also beginning to challenge the world's elite athletes, and claim podium places in the sport's most prestigious events. Yao Miao, from southwest China's Guizhou province, even reached the top of the female world rankings. At Tsaigu Tangsi, she dominated the blue-ribbon 115 km category.
However, China's ultramarathon runners have struggled to maintain their training during the pandemic. Many have been caught up in citywide lockdowns, while travel restrictions have often made going to the mountains to train impossible.
At Tsaigu Tangsi, the runners who managed to take part were just happy to be competing again at home. Xiang Fuzhao, a professional runner who finished second in the women's 115 km division, had to travel abroad to race during the past two years, meaning she had to quarantine each time she returned to China.
"For many people it was very hard to come to the race, because the demands of the COVID controls are very high," Xiang said. "My next race is not yet decided, because there is so much uncertainty."
Zhao Fan, a runner from Beijing who works in the trail running industry, said that many runners at Tsaigu Tangsi didn't believe they'd be able to run the race until they were standing on the starting line — such was the atmosphere of uncertainty.
"The feeling at the race was a mixture of familiar and unfamiliar," Zhao said. "It had been so long without races that we'd even forgotten how to prepare our equipment."
After two years of lockdowns and race cancellations, for many runners the race was a reunion.
"On the start line we saw friends we had not seen for two years. We were all very excited," said Zhao. "Tsaigu Tangsi is famous for its atmosphere, the starting ceremony has professional lighting and a rock band."
Despite the much-reduced attendance, the atmosphere on the day in Linhai was celebratory. The city's economy is highly reliant on tourism, and Tsaigu Tangsi has a lot of support from local residents and officials, according to Zhao. Thousands of people showed up to cheer on the runners.
"Tsaigu Tangsi has an atmosphere like no other race," said Zheng Wenrong, a professional runner from southwest China's Yunnan province. "Both on the race course and at the finish, you hear the roar of people cheering."
But now, the finishers at Tsaigu Tangsi will have to face the reality of yet more uncertainty, Zhao said.
"Everyone is asking: 'What is your next race? What have you registered for?'" said Zhao. "But nobody can tell what will happen. Everything now is uncertain."
Editor: Dominic Morgan.
(Header image: Runners take part in the Beijing Marathon in Beijing, Nov. 6, 2022. Jade Gao/VCG)