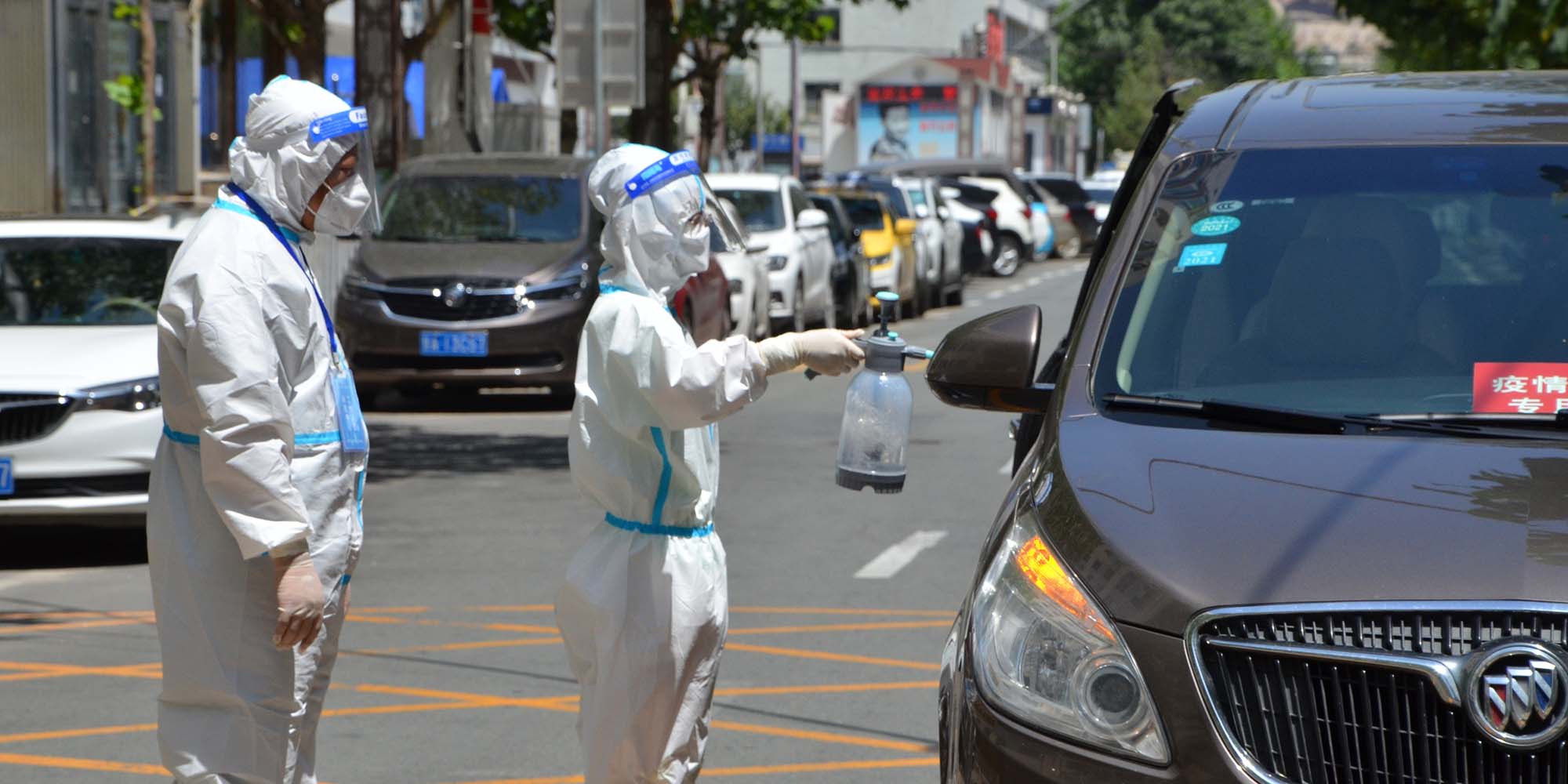 NEWS
A 3-Year-Old's Death During Lanzhou Lockdown Spurs Investigation
Questions arise over the delayed response of first responders and the role of community workers amid COVID-19 restrictions.
A three-year-old's death in the northwestern city of Lanzhou has once again triggered outrage on the delays and complications in accessing health care services during COVID-19 lockdowns, as local authorities opened an investigation Thursday.
The child died following a delayed response by emergency and community workers who had blocked the exit of a residential building under a COVID-19 lockdown, which impeded his father trying to rush him to a hospital, domestic media Caixin reported Wednesday. The father, surnamed Tuo, is said to have called ambulance services and the police to seek help at least nine times in less than an hour after finding his wife and son unconscious in the kitchen, but was unable to get an urgent response.
Tuo then smashed the lockdown barriers while holding his son, who was still breathing by then, before hailing a cab, according to Caixin. However, the child died after reaching the hospital, which was a 10-minute drive from their apartment.
Local police said Tuesday that the three-year-old died from carbon monoxide poisoning, while Tuo's wife had been hospitalized and later discharged.
The tragedy unleashed an outpouring of grief and outrage online, with many once again underscoring the lack of access to medical services during the relentless lockdowns. Similar incidents resulting in deaths due to delayed treatments and hospitals refusing patients because of COVID protocols in cities such as Xi'an and Shanghai have prompted authorities to do better, though it has not stopped such incidents from occurring again.
"(Without any hindrances) he could have arrived at any nearby hospital in five minutes, but he couldn't leave the alley for three hours," one user wrote on microblogging platform Weibo.
In a detailed statement about the incident, the city's epidemic prevention department on Thursday said that the emergency dispatch center had missed Tuo's first three phone calls due to the call "not ringing long enough." When the call did go through, the emergency worker told Tuo that they needed to further coordinate due to COVID risks and assigned doctors for a virtual consultation instead of sending an ambulance.
Two social workers were also said to have fallen short of assisting Tuo when his relative informed them of their situation, the statement noted.
"We will learn some painful lessons from this accident and punish units and officials who lacked emergency response capabilities and had rigid working styles," Thursday's statement said, though there were no specifics about the punishments.
China requires emergency centers to "rapidly" dispatch ambulances and medical care workers after receiving requests, and prohibits them from refusing or delaying the service. 
Large parts of Lanzhou have been under lockdown since early October amid a COVID flare-up. The city logged 63 local coronavirus cases Thursday.
Editor: Bibek Bhandari.
(Header image: COVID-19 control workers sanitize a car in Lanzhou, Gansu province, July 25, 2022. Li Yalong/CNS/VCG)