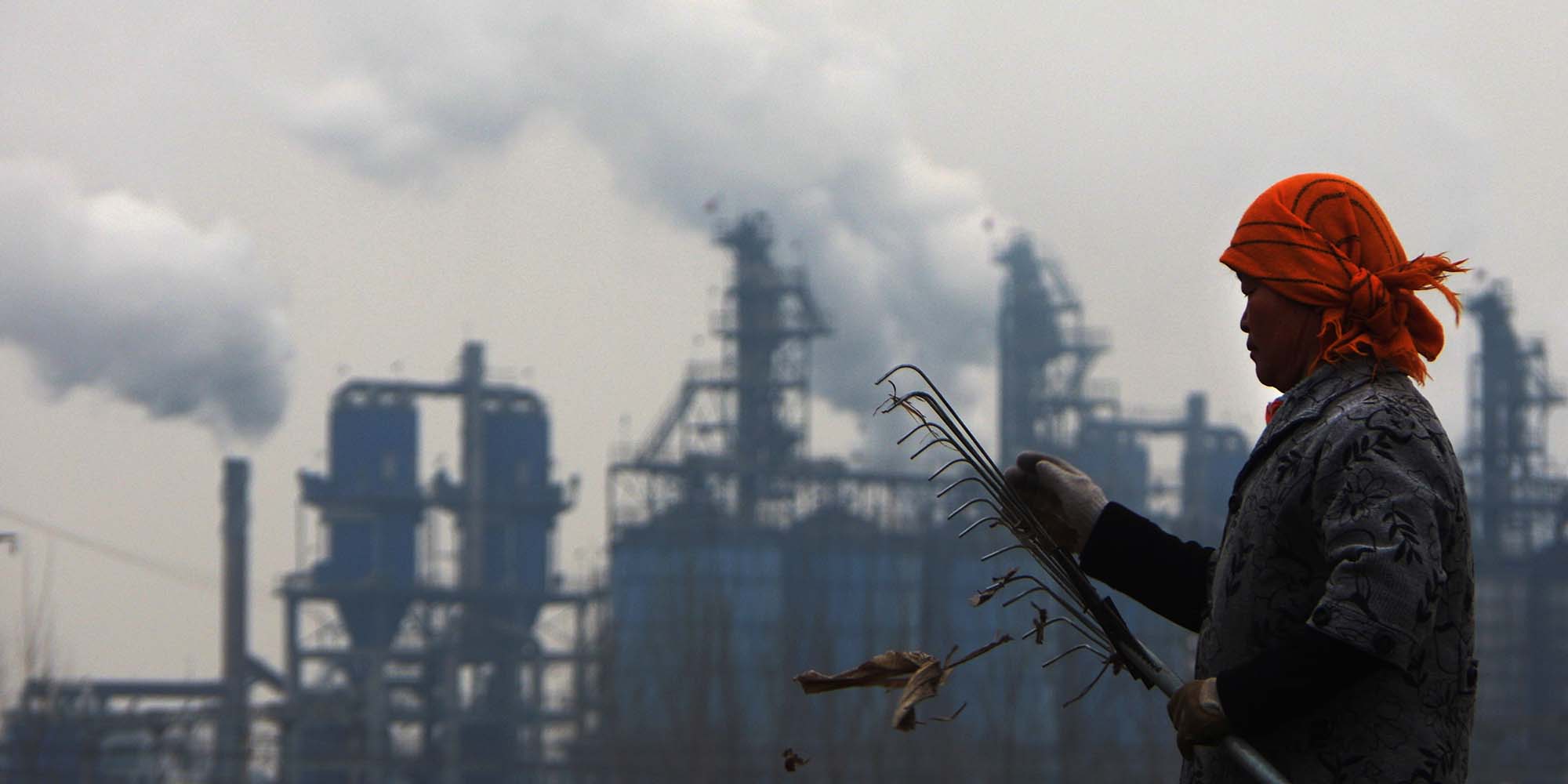 NEWS
The Four Key Issues Facing China at the COP27 Climate Summit
China will be at the very center of discussions at the crunch climate talks in Egypt next week. Here are the main issues to look out for.
The COP27 international climate change summit will open in Egypt on Sunday, after a year marred by a string of extreme weather events — from devastating floods in Pakistan to record heat waves in China.
Leaders and representatives from more than 190 countries are expected to gather in the city of Sharm El Sheik from Nov. 6-18 to discuss ways of enhancing climate cooperation.
This month's event is the 27th COP, or "Conference of the Parties," an annual decision-making forum hosted by the United Nations Framework Convention on Climate Change to help countries jointly address global warming through diplomatic negotiations.
COP27 comes at a pivotal moment in the struggle to contain climate change. But it is also shaping up to be one of the most "challenging" conferences in years, as it takes place amid a shifting geopolitical landscape and widespread concerns over energy security, experts tell Sixth Tone.
And China looks set to play a crucial role in the discussions, with the country's relationship with the United States, policy on fossil fuels, and stance on "loss and damages" all likely to become central to the negotiations this year.
Here are the key issues facing China's delegation at the conference.
China-U.S. climate talks
The world's current main climate goals were agreed at COP21 in 2015, with the signing of the Paris Agreement. The legally binding international treaty aims to limit global warming to "well below" 2 degrees Celsius above pre-industrial levels, and preferably to 1.5 degrees.
To some extent, the "unprecedented cooperation" between China and the U.S. laid the bedrock for the Paris Agreement, and the recent breakdown of the two nations' climate talks will add roadblocks to the success of COP27, experts say.
At last year's COP, China and the U.S. — the world's two largest carbon dioxide emitters — released a surprise joint declaration on climate cooperation. The document listed a series of actions the two nations would take in this decade to help fight climate change.
Three months before COP27, however, China suspended its talks with the U.S. on climate in response to a visit by Nancy Pelosi, speaker of the U.S. House of Representatives, to Taiwan. It remains unclear how long the suspension will last.
Kevin Mo, principal of the Beijing-based green consultancy iGDP, tells Sixth Tone that China-U.S. relations have always been vital to past COP negotiations.
Due to the diplomatic deadlock, Mo says he does not have "high hopes" for this year's conference, adding that a possible way forward is for the two nations to focus on implementing their respective goals.
David Sandalow, author of the book "Guide to Chinese Climate Policy 2022," says that the foundation for the Paris Agreement "was partly laid by U.S.-China diplomacy on this topic."
"My view is the U.S. and China can get more work done working together than alone on this issue," Sandalow, who holds positions at Columbia University, said at an event in London last month. "So, I hope that the cooperation can resume on that in the years ahead."
Coal and peak carbon
A significant change since last year's COP is the prevailing concern over energy security among many of the world's largest economies.
Many European countries have been left scrambling for alternative sources of fossil fuel since Russia reduced its gas exports in response to sanctions imposed on it over the war in Ukraine.
China, meanwhile, has been adjusting its own policies due to heightened concerns over energy security. 
The central government took a series of steps to ensure coal supply — including increasing daily output and production capacity — since power shortages struck many parts of the country late last year. Chinese provinces have also stepped up approvals of new coal-fired power plants.
Michal Meidan, director of the China energy program at the Oxford Institute for Energy Studies, tells Sixth Tone that reports and official statements from Chinese leaders this year have mentioned the importance of coal in the energy mix. 
As a result, there is a risk that the "considerable gains" China has made on renewables "could be overlooked" at COP27, she says.
Meidan, a co-author of "Guide to Chinese Climate Policy 2022," says that it will be "challenging" for China to communicate both its commitment to climate goals and its constraints related to short-term energy security needs.
"Questions around China's ability to peak before 2030, and more importantly, the levels at which (its) CO2 emissions will peak, especially if the government introduces another economic stimulus, will be critical," Meidan says.
But Belinda Schäpe, a climate diplomacy researcher on E.U.-China relations, says it will be "much harder" for European countries to push China to phase out coal due to the recent measures they have taken to secure alternative fossil fuel supplies.
Schäpe, who works for the climate think tank E3G, tells Sixth Tone that the recent meeting between China's climate envoy, Xie Zhenhua, and his German counterpart, Jennifer Morgan, is a case in point.
At the meeting in September, Xie reportedly told Morgan: "Some European countries are backtracking on their climate policy. We hope this is just a temporary stopgap."
Schäpe adds that it is "important to clarify" that the measures taken in Europe are "short-term."
New climate goals
At last year's COP, all 197 member countries agreed to "revisit and strengthen" their climate targets for 2030 in their official climate action plans — known as nationally determined contributions, or NDCs — by the end of 2022.
However, only 24 new or updated climate plans had been submitted by September this year — a number described as "disappointing" by Simon Stiell, executive secretary of U.N. Climate Change. China has yet to update its NDC at time of writing, though last year it released new targets on the eve of the conference.
Byford Tsang, senior policy advisor at E3G, tells Sixth Tone that if China updates its NDC, there are "a number of things" the country is "in a good position" to do.
According to Tsang, China could formally announce that its 2060 carbon neutrality goal will include all greenhouse gases, not just CO2 — something that China's climate envoy has stated, but hasn't yet been included in the country's NDC.
China could also consider revisiting its goal for renewable energy to "match the breakneck speed" of growth in the sector, Tsang says. China's current target is to bring its total installed capacity for wind and solar power to "over" 1,200 gigawatts by 2030, but the country is "very likely" to hit this target "much earlier," he adds.
A third possibility is for China to bring forward the 2030 carbon peaking timeline for its steel sector, which makes up 16% of China's overall CO2 emissions, Tsang says. He adds that China's steel industry association had previously aimed for a 2025 peaking target.
Mo, of iGDP, says China might release an action plan on reducing methane, a potent greenhouse gas, particularly if it intends to announce something new and ambitious.
China stated in last year's China-U.S. joint declaration that it "intends" to develop a "comprehensive and ambitious" national action plan on methane before COP27. However, the prospects for this plan remain unclear with climate talks between the two nations suspended.
Financing for "loss and damage"
One topic set to dominate COP27's agenda is the financing for "loss and damage," which refers to the permanent and irreversible losses human societies suffer due to climate change. Developing countries are expected to step up their efforts in demanding support from developed countries.
The loss and damage negotiations come against the backdrop of rich countries having failed to fulfill their longstanding promises to provide $100 billion annually to less wealthy nations by 2020 to help them cope with climate change.
In Mo's opinion, China has realized the importance of loss and damage at COP27. However, it is "yet to be observed" how the country will participate in these talks, which aim to establish rules regarding funding and which nations should give or receive support.
The issues of loss and damage and global climate financing are intertwined, and the position of China — which is currently neither a donor, nor a recipient under the $100 billion financing agreement — could be complicated due to its unique status: it is simultaneously a developing country, the world's largest CO2 emitter, and the world's second largest economy, Mo says.
China's efforts to "position itself as leader of the global South" will be "ambiguous" in Egypt, because its emissions impact the small island states whose cause it aims to "champion," says Meidan, of the Oxford Institute for Energy Studies.
Tsang, of E3G, has a slightly different opinion. He believes that China will "still have the backing" of developing countries, as long as the developed countries do not meet their climate finance pledges.
Pressure on China will mainly come from developed countries at COP27, Tsang predicts, particularly if the former does not provide more finance over loss and damage or if there is "no big breakthrough" in the loss and damage negotiations.
Editor: Dominic Morgan.
(Header image: An agricultural worker is pictured near a power plant in Dezhou, Shandong province, Dec. 23, 2016. VCG)