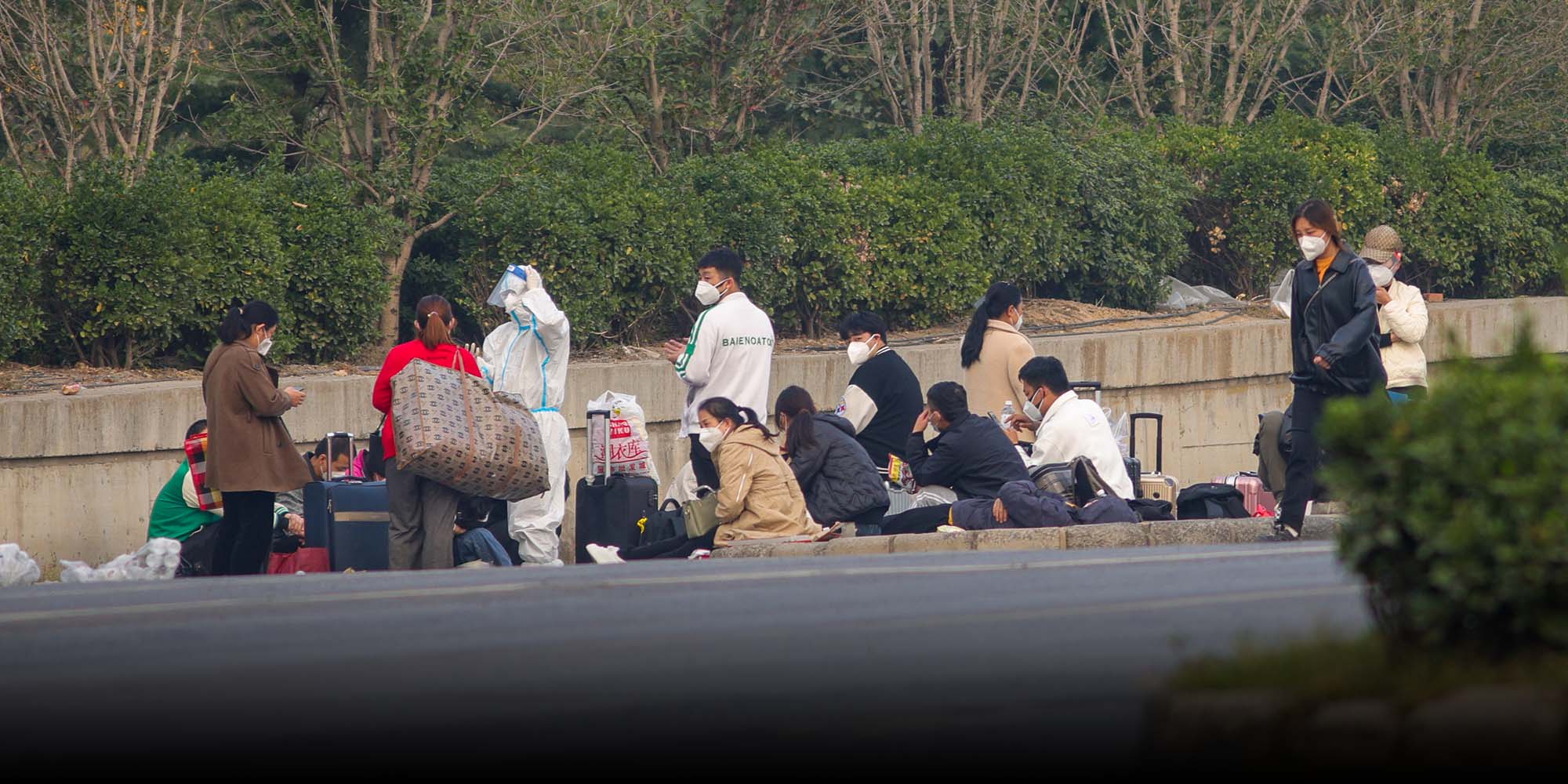 NEWS
Authorities Intervene to Curb COVID Chaos at Foxconn Factory
Hundreds of workers in Zhengzhou were seen fleeing their workplace on foot and accused the company of handling the coronavirus outbreak poorly.
A day after hundreds of workers at the factory of Apple's major supplier in central China's Henan province fled to their hometowns on foot amid a COVID-19 outbreak, local authorities stepped up to set up emergency plans to contain the chaos Sunday.
Authorities said they have cooperated with Taiwan-headquartered Foxconn to arrange personnel and vehicles to transport workers willing to return home by following proper procedures, according to a statement from the epidemic prevention office in Zhengzhou Airport Economy Zone, which oversees the factory.
"For those wanting to return home, the enterprise should fully respect their wishes and sufficiently communicate with them based on voluntary principles," the notice said, urging Foxconn to strengthen accommodation, testing, and other care services for those staying in the factory.
Workers in Foxconn's mega-factory, which employs some 200,000 people, started fleeing the manufacturing complex Saturday, as COVID-19 lockdown measures in the world's largest iPhone assembly plant left many grappling with inadequate living conditions. Many workers have accused the company of falling short on quarantining infected workers and securing food and medicines for them.
Videos circulating on social media over the weekend showed people jumping off fenced walls and hundreds walking on the highway dragging suitcases to cities and counties dozens of kilometers away. Posts revealing the shortage of food and other necessities in Foxconn's factory started emerging on social media platforms last week in an echo of similar situations in the cities of Xining and Guiyang recently.
Lin Xiang, a Foxconn worker who used a pseudonym for fear of retaliation, told Sixth Tone that he has witnessed several infections in the dormitories, but he was asked to continue working amid the outbreak.
"They only send those testing positive to quarantine while those deemed close contacts have to continue working," he said, which is in contrast to China's COVID policies that isolate all primary and secondary contacts.
Foxconn confirmed the infections last week and said production remained "relatively stable," without disclosing the number of cases, while authorities on Sunday said that the situation is "controllable overall, with no severe cases." In three letters to workers, which a government service platform published Sunday, the company said it will guarantee the safety and rights of workers who want to stay and arrange transportation for those willing to leave.
Foxconn's hotline for employees declined to comment when reached by Sixth Tone on Monday, referring to the company's media department, which was unreachable by publication time.
The chaos at Foxconn's Zhengzhou factory, which accounts for around half of the iPhone's global manufacturing, comes just ahead of the holiday season when sales usually pick up. More than 10% of global iPhone production capacity is currently affected by the incident, according to Ming-Chi Kuo, analyst at financial service TF International Securities. Others suggest it may slash the company's November iPhone shipment by up to 30%.
"This incident has not changed the current iPhone supply chain shipment forecast," Kuo said on Twitter. "It's expected that Foxconn's production capacity will gradually improve within a few weeks … However, suppliers in China must learn to improve closed-loop production efficiency in response to the zero-Covid policy."
Zhengzhou, a city of 12 million people, reported 40 coronavirus cases for Sunday, up from 19 cases on Oct. 23. Local authorities attributed the uptick in cases due to the increased movement of people during the National Day holidays at the start of the month.
Apart from Zhengzhou, several other regional economic hubs across China are also battling fresh COVID flare-ups, disrupting daily life and manufacturing in the northwestern cities of Xining and Urumqi, as well as Hohhot in the north. On Sunday, Shanghai Disney Resort said it was suspending operations due to COVID curbs until further notice, one day after announcing reduced operations last week and a year after a COVID-19 scare on Halloween.
Editor: Bibek Bhandari.
(Header image: Foxconn workers wait for buses by a street in Zhengzhou, Oct. 30, 2022. VCG)