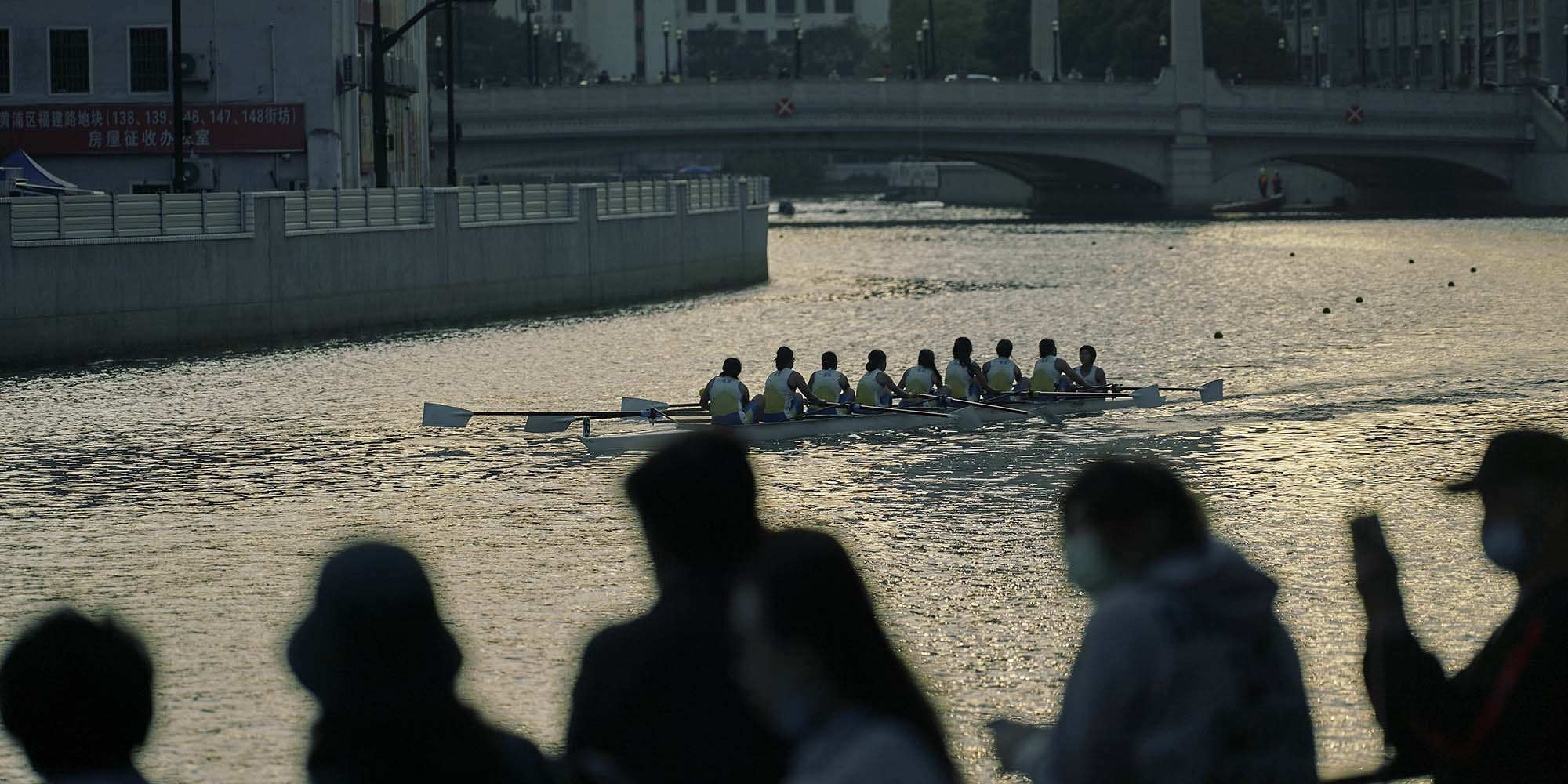 MULTIMEDIA
Shanghai Holds Second Regatta Amid Choppy Waters
Shanghai held the second edition of its flagship rowing event last weekend. But strict pandemic controls once again cast a shadow over the proceedings.
SHANGHAI — The second edition of the Head of Shanghai River Regatta — the city's flagship rowing meet designed to rival global events such as the U.K.'s Henley Royal Regatta — concluded on Sunday after two days of races.
The regatta was held along the banks of the Suzhou Creek, a tributary of the Huangpu River, where the city has conducted major redevelopment works to restore the historic bankside architecture. 
But the festivities were dampened somewhat by the city's ongoing pandemic-control measures, which have led to the cancelation of a string of major sporting events over the past three years. The athletes and coaches were kept inside a "closed loop" to avoid infections.
The event featured races between eights — eight-seater boats — and single sculls over 500 meters and a 4.2-kilometer pursuit course in three separate divisions: professional municipal and provincial teams, university teams, and amateur rowing clubs. 
Shanghai's athletes dominated, with the local Tongji University taking the wins in the mixed eights pursuit and mixed sprint, and finishing second in the men's spring and team pursuit. The most successful amateur team was Jin Jiang Holdings — a state-owned tourism and hospitality company headquartered in Shanghai — which won the mixed pursuit and men's sprint races.
Shanghai has a long history of rowing. China's first-ever rowing competition was held in the city in 1852, on the Huangpu River. In 1956, elite rowers from the newly established People's Republic of China started training on the Huangpu, and the new nation's first competitions were also held there. The city was scheduled to host the 2021 World Rowing Championships, but these were cancelled due to the pandemic.
This year's event was quite sparsely attended, as the city remains on high alert due to a recent spate of COVID-19 infections. But those that showed up were able to gain excellent views, with the Creek's large number of bridges offering good vantage points.
Some spectators arrived early to get a prime spot. One group of retirees, all avid amateur photographers, had set up camp at 9 a.m. on Saturday.
"China has a tradition of dragon boat racing, and now we have rowing," one man, surnamed Yang, told Sixth Tone. "I usually take photos of birds, but today I'm taking photos of boats."
By the time the races started, a large number of amateur photographers were jostling for position along the banks of the Creek. Most of them were retirees and keen birdwatchers — easily identified by their long, camouflaged lenses. A smattering of influencers could also be seen livestreaming the event.
"I wanted to experience the atmosphere," said Wang Lixin, a sports and fitness influencer who posts content on Douyin, China's version of TikTok. "I think in the future more and more people (in China) will come into contact with water sports, and they will spread through society."
Another vlogger, surnamed Liang, was livestreaming with his cat, Li Bai, sitting on his shoulders. Liang has a vlog called "Walking the Planet with a Cat."
"It is my first time at a regatta," he told Sixth Tone. "It is not something you see often, so it is a new experience."
Some visitors said they wished the city had done more to promote the event to the public. Katherine and Daniel, two German residents in Shanghai, who gave only their first names for privacy reasons, were watching the race as their young son shouted "jiayou" ("come on") at the passing boats.
"Ten minutes ago we didn't know this (race) would happen," Katherine said. "We were just cycling around."
For the organizers, the hope is that the regatta can help grow rowing as a sport in China. The country's professional rowers regularly win Olympic and world championship medals, the most recent being a bronze in the women's eights at the Tokyo Olympics. But amateur rowing, an expensive sport that requires access to open water, is still gaining a foothold in the country.
Yang Hajun, the China head of sailing apparel brand Helly Hansen, which was one of the event's sponsors, told Sixth Tone that rowing is a natural fit in Shanghai — a "river city." He added that the regatta is now arguably the city's second-largest sporting event after the Shanghai Marathon, in terms of its "impact" on the Shanghai population.
"Although rowing is not yet very popular in China, it's practiced by high-end people, such as graduates of top universities," said Yang.
Shi Yuanjing, a spokesperson for Jin Jiang Holdings, which was also an event sponsor, said that the company supported rowing because it is a "high-end sport and fits our company culture."
A security guard working nearby was among the spectators. "I came to see what this activity was all about," he said. "Even though I don't understand the rules, I've been watching for an hour. This is fun."
Editor: Dominic Morgan.