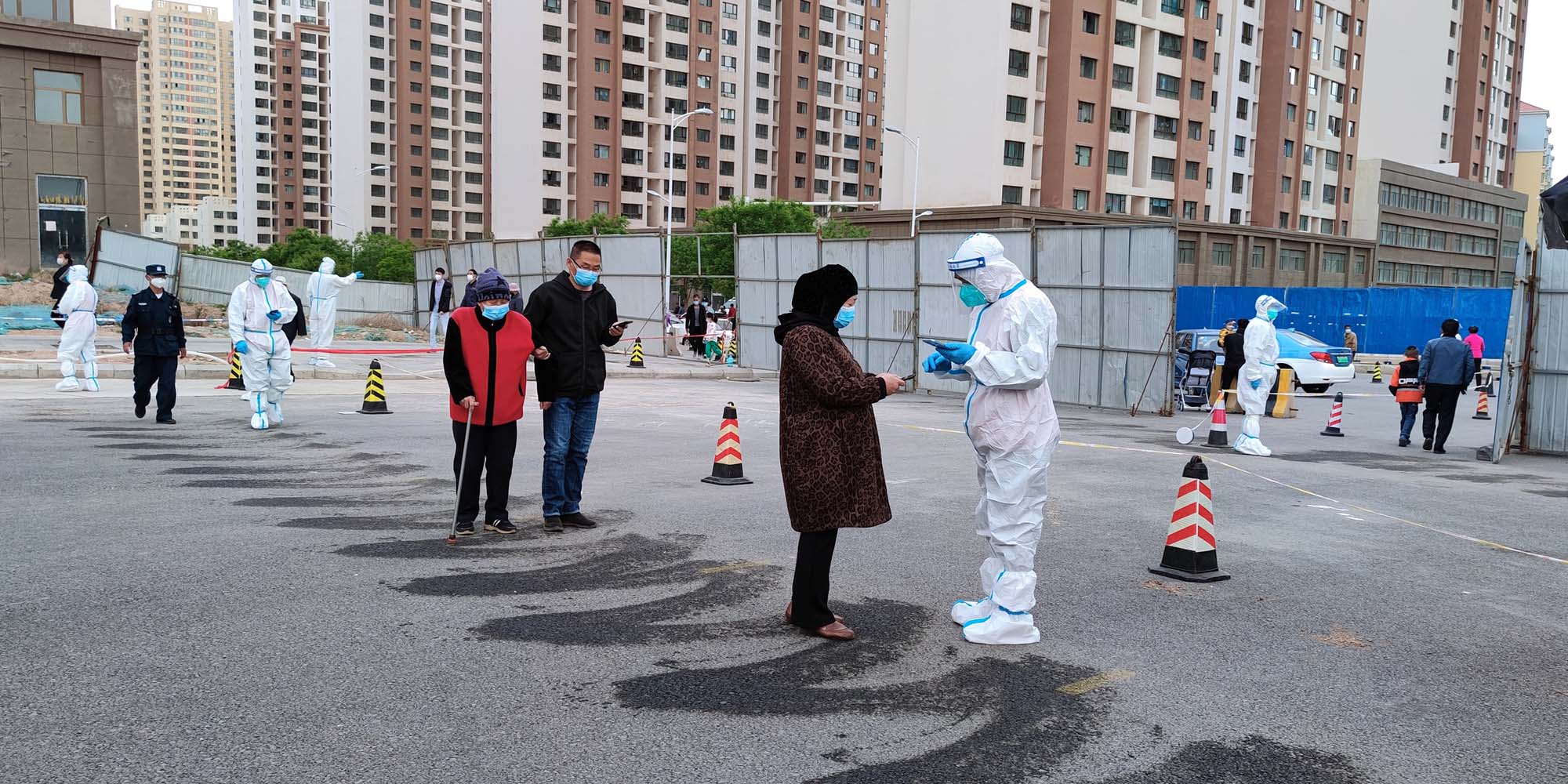 NEWS
Locked-Down Xining Residents Voice Their Hunger, Anger Online
A viral article has highlighted the plight of millions of people as authorities attempt to stamp out local coronavirus transmissions.
It's an all-too-familiar story of millions of people locked down amid a local COVID-19 outbreak, as food shortages and restrictions on mobility cripple people's lives.
This time, the scene is being played out in the northwestern city of Xining where residents are once again pleading for food and other essentials on social media. The capital of Qinghai province, home to 2.5 million people, went into a snap lockdown last week.
Dozens of locals said they are running out of food, with one making desperate pleas to a food courier to deliver steamed buns or cakes for their grandfather, who could only digest soft foods. Deliveries were not possible since the neighborhood was sealed and the older man died the following day.
"I'm heartbroken and helpless knowing my grandfather passed away starving," the Xining resident said in an article, a compilation of social media posts and chat logs, posted Wednesday. The article, posted by a WeMedia — or self-published — account, that tracks lockdown-related stories, has since gone viral and is still available online, unlike similar posts that usually disappear.
Sixth Tone wasn't able to independently verify the stories shared by the WeMedia account.
The situation in Xining follows the pages from China's COVID handbook to clear local outbreaks. This means mass testing and lockdowns, which has often led to food shortages, most recently in the cities of Guiyang and Urumqi.
Xining was placed in an indefinite lockdown on Oct. 21 after the city recorded three COVID-19 cases. The number of local infections had surged to 75 by Wednesday, local authorities said.
A screenshot of a private chat message shared in the viral article showed a worried mother in Xining saying that her daughter had only been living off half a corn cob for three days. Another resident shared on video platform Douyin that many of them failed to buy food after waiting for two hours at the supermarket during their allocated shopping time Tuesday.
The resident in the Douyin video said that they were allowed to go out shopping every three days. However, they added that it was likely to increase the risk of infection, as there were crowds of people at the few stores that were open.
Criticism over price gouging amid food shortages has also emerged on social media. Pictures shared in the viral WeChat article showed a cabbage, which usually costs a few yuan, being sold for 50 yuan ($7), while a cauliflower cost 23 yuan.

Responding to critics, local authorities in Xining have vowed to improve distribution, clamp down on price hikes, and gradually resume the normal operation of hospitals. A senior official attributed the food shortage to disruptions at a major agricultural product distribution center, which was at the center of the outbreak.
"The food supply was affected as vegetable and fruit stores were closed to minimize infection risks and their owners were classified as medium or high-risk groups," Chen Xiaoping, director of Xining's Commerce Bureau, told the state-run People's Daily.
Apart from Xining, other provincial capitals such as Zhengzhou in central China's Henan province and Lanzhou in the northwestern Gansu province are currently partially locked down amid virus flare-ups. Other cities, such as Shanghai, have resorted to targeted lockdowns, sealing buildings where coronavirus-infected individuals or their contacts live or may have visited.
On Tuesday, Shanghai authorities announced that the city will offer an inhaled COVID vaccine as a booster to residents over the age of 18. Data from China's top health authority shows that 89% of the country's 1.4 billion people were fully vaccinated as of July 23, while 72% had been boosted.
Editor: Bibek Bhandari.
(Header image: Residents receive COVID-19 test in Xining, Qinghai province, May 25, 2022, VCG)