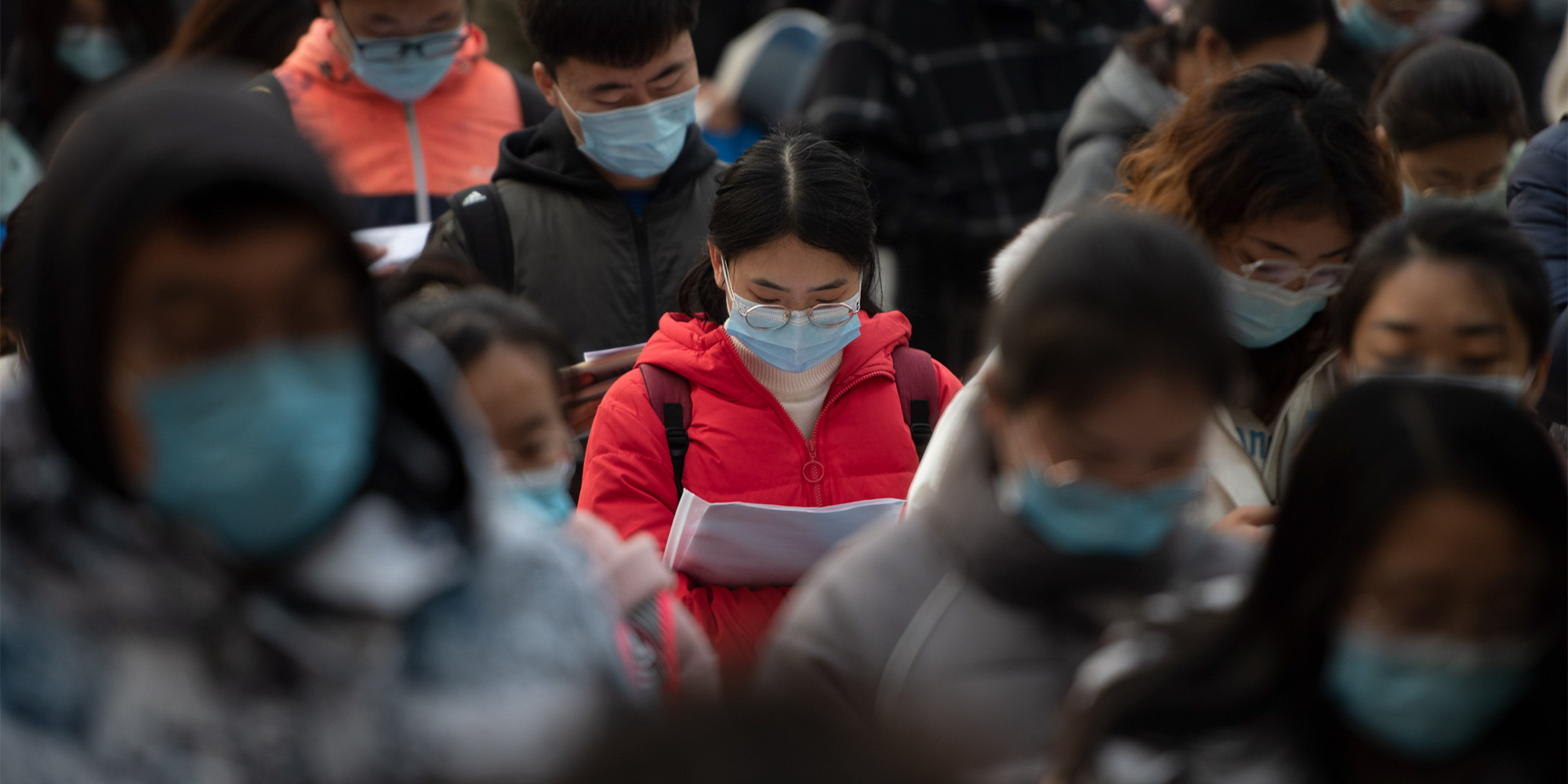 FEATURES
For Young Chinese, Even State Sector Jobs Are No Longer a Safe Bet
Chinese graduates rushed to join the civil service during the pandemic, hoping to find security amid a turbulent economy. Now, many are facing steep pay cuts — and looking for a way out.
When he landed a job in China's civil service in 2020, Wang Chang'an felt like he'd hit the jackpot.
The 30-something already had a good job at an auto company in Shanghai, and he knew a career in public service wouldn't offer the same glamor or earning potential. But he believed it would have other advantages: respectability, a more relaxed schedule, and ironclad job security.
Millions of young Chinese have made the same calculation during the pandemic, as strict "zero-COVID" measures cause unprecedented economic disruption. Graduates have applied for the civil service exam in record numbers, hoping to secure access to the state's "iron rice bowl."
Wang faced nearly 100 other applicants for the position, a junior role at a small township in the eastern city of Suzhou. He was bursting with pride when he heard he'd won out.
Yet, just two years later, Wang is already disillusioned with life in the state sector — and looking for a way out.
"I've actually found another job," says Wang, who spoke with Sixth Tone using a pseudonym for privacy reasons. "But I'm still hesitating — my family doesn't support me jumping out of the civil service."
The problem is that the public sector hasn't lived up to its reputation of being a safe haven. Nearly three years into the pandemic, many of China's local governments are facing eye-watering fiscal deficits and implementing austerity measures. And those cuts are hitting civil servants hard.
Wang had originally expected to earn at least 250,000 yuan ($34,600) per year at his new job. In reality, he estimates he's being paid just 160,000 yuan. His basic salary has been cut by 30%; his social insurance payments haven't risen as promised; part of his annual bonus has never been paid.
Instead, Wang finds himself forced to work regular unpaid overtime shifts, helping to implement the town's virus-control policies, and trying to cut back spending at home. His plans to trade in his boring SUV have been put on hold indefinitely.
"Changing the car? It's impossible," he sighs. "The loan for this car hasn't been paid off yet."
Many other Chinese civil servants are facing steep pay cuts, as local authorities struggle to plug yawning holes in their budgets.
China's local governments have faced a perfect storm of fiscal challenges in 2022. The economy has slowed after months of on-again-off-again lockdowns. Business tax cuts introduced by the central authorities have squeezed income further. And a sharp drop in land sales caused by China's real estate crisis has choked off another important revenue stream.
Local deficits in many areas have ballooned to worrying levels. During the first eight months of the year, local governments' financial self-sufficiency fell to 51.7%, the lowest level in more than a decade, domestic media reported.
"This situation is already very critical," Wu Muluan, an associate professor at the National University of Singapore's Lee Kuan Yew School of Public Policy, tells Sixth Tone. "Local finances are like a dry river."
China's central government has agreed to transfer extra funding to local authorities, but this hasn't been enough to make up the shortfall. That has forced local officials all over the country to take drastic measures to balance the books.
One county in north China's Shanxi province announced a sweeping consolidation of government bodies, with hundreds of organizations being axed. Other governments have stepped up sales of public assets, or loaded debt onto hidden investment vehicles through "sham" land sales.
But in many cases, authorities are also cutting expenditure by chipping away at civil servants' paychecks. New hires like Wang sometimes find themselves earning a fraction of what they had originally expected to receive.
Yin Yu also says she regrets her decision to take a state sector job. The 25-year-old moved back to her hometown in southwest China's Sichuan province after graduation last year, and now works at a local middle school.
On her first day, the principal thanked Yin and the other new hires for being willing to join the school, and promised not to take their passion for granted, Yin recalls. But within months, the teachers found they were only being paid around half of what they believed they were owed. In August, the principal abruptly left the school.
Yin says she and her colleagues are now on track to earn just 80,000 yuan this year. Their basic salary has never risen above 3,200 yuan per month, whereas teachers at other nearby schools are making nearly double that amount. Their monthly social insurance payments, meanwhile, have fallen from 3,000 to 1,200 yuan, and their annual bonus and expenses allowance have also been reduced. "I really want to quit," Yin says.
The pay cut has had a huge impact on Yin and her family. She had been planning to start a family with her husband, but now she's uncertain whether they can afford to. She had also been hoping to help her mother buy a house in Sichuan, so that she no longer had to live and work in faraway Guangdong province. That dream has now also died.
"I feel really sorry for my mom," says Yin. "It's funny to say that I'm a teacher — isn't it a great job? But how come I can't afford to support my mother?"
Not every civil servant is being affected equally. There is no blanket nationwide policy regarding salary cuts, as the decisions are being taken by local governments according to their specific needs, says Wu, the professor. Smaller, lower-level governments tend to be under the greatest financial pressure.
"But it (pay cuts) seems to happening all over the country," Wu says.
Zhang Lin, an employee at a municipal people's court in east China's Zhejiang province, considers herself relatively fortunate. Though she has seen her income fall, she knows others elsewhere are struggling more.
"It's true that the pay has been reduced, but Zhejiang is richer than other places," she says.
The 31-year-old estimates that she will make around 200,000 yuan this year — a significant, but not drastic fall, she says. The cuts have mainly been to her social insurance and bonus payments, which typically make up a large part of Chinese civil servants' pay packages.
Having bought a house just last year, the cuts have forced Zhang to become more frugal with her money. But she isn't too worried about making her mortgage payments, she says. The only problem is that her paychecks have begun to fluctuate wildly each month, though she has no idea why.
"Sometimes, it's 7,000 yuan. At its lowest point, it was just 1,000 yuan, but then it suddenly rose to 20,000 yuan," says Zhang.
Other state workers, however, are facing real hardship. One local official, who works at a township government in a remote part of Guangdong province, says he didn't believe the rumors about salary cuts when they first began to spread as his pay was already so low.
"I didn't take it seriously, because I was working in a financially impoverished area in western Guangdong and receiving a living wage," the official, who requested anonymity for privacy reasons, tells Sixth Tone. "At that time, I thought there would be nothing to deduct."
He was mistaken. Over the past 15 months, his pay has dropped from 5,200 yuan to 3,000 yuan per month, after several subsidies were withdrawn. Several of his colleagues are now struggling to meet their mortgage and car loan payments, he says.
"The grassroots staff and the families who are not very well-off really suffered a blow," the official says. "Fortunately, I am smart enough not to buy a house or a car. After all, my salary is only a few thousand a month."
It remains unclear when local governments will be able to reverse these cuts. At the moment, the signs are not promising. In June, one governor in northeast China reportedly told officials they needed to wield an "iron abacus" — a reference to keeping spending tight.
China's economic recovery since June promises to provide local governments with some relief. Yet local finances will only truly recover if the central government steps in and provides extra funding, Wu says.
"We don't know how the central government will rescue these local governments," says Wu. "But I believe this is something we should be very careful about in the near future … The current problem should not be underestimated."
Some public sector workers' patience has already run out. Xiaochen took a job at a school in Xiamen, a seaside city in east China's Fujian province, after graduating in 2020. But she quit the job in July, as her salary had been reduced to less than half its original level.
"I couldn't bear it anymore," says Xiaochen, who also spoke with Sixth Tone using a pseudonym due to privacy concerns.
A graduate of a top Chinese university, Xiaochen originally took the job partly because it offered a decent salary package of 260,000 yuan. But after months of denials about an impending salary cut, the school reduced her pay to just 120,000 yuan earlier this year.
For Xiaochen, the lower figure was unacceptable, as it'd be almost impossible to buy a home in pricey Xiamen on that salary. She also knew that her former classmates working in the tech sector were making nearly three times that amount. 
So, Xiaochen has also taken a job in the private sector, and says she's considering going back to school after she's saved up some money.
Wu, however, doubts that too many civil servants will follow suit. Though many are dissatisfied with the wave of pay cuts, they are still much less likely to lose their jobs than private sector workers, he says.
"Having a job is different from how much money you can make from this job," says Wu. "The job is the most important thing … If you don't have a job, you're the biggest victim."
For Wu, the civil service increasingly resembles a "besieged city": those inside the system want to flee outside, and those outside it want to break into it.
"This is an absolute siege, because it's actually difficult inside the system, and also difficult outside," says Wu. "And it's ugly. It's complicated."
(Header image: People wait to take the civil service exam at a test center in Taiyuan, Shanxi province, 2021. Wei Liang/CNS/VCG)