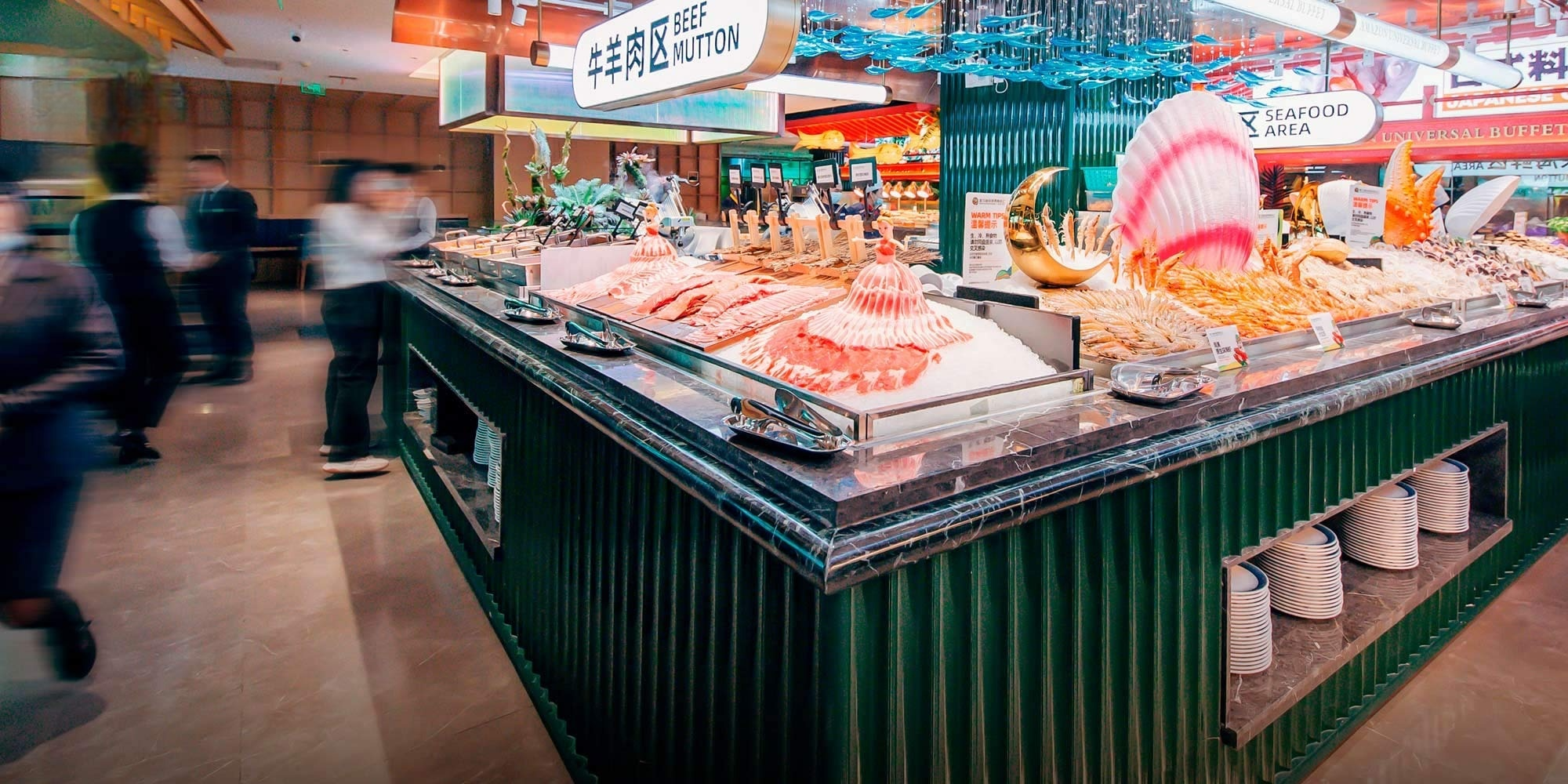 NEWS
'Consumption Downgrade': Buffets in China Enjoy a Revival
Diners are ready for all-you-can-eat deals as they seek more for their money.
China's buffet restaurants are savoring their moment, again.
Many popular buffet chains have swung back with more branches over the past two years, offering value-for-money meals in several cities. Other restaurants are also hopping on the buffet bandwagon this year by incorporating the pandemic-prompted self-service style of dining.
China's pandemic control protocols, which often lead to lockdowns and business closures, have assaulted almost every sector, with indoor dining one of the most affected. And now buffet restaurants are inviting diners for a feast with a "more-for-less" price tag to attract option-hungry consumers, or those who are tightening their belts.
Yu Junfei, founder of Amazon Universal Buffet, said that business had boomed — nearly half of his 24 stores opened over the past three years, and he plans to add six more next year. In 2021, footfall at his restaurants rose by 35% year-on-year, about 10% more than the pre-pandemic levels.
"Since the pandemic, the majority of consumers are spending carefully rather than splashing out," he told Sixth Tone. "They prefer spending 100 or 200 yuan ($14-$28) eating whatever they want."
According to Luo Huashan, the founder of consultancy and service platform Catering O2O, the buffet industry in China started to rebound in late 2021. He attributed the trend to the "consumption downgrade" of consumers amid an economic slowdown, with restaurants seizing the opportunity by providing cheaper and higher quality buffets.
Buffet restaurants, first introduced to Chinese diners in the 1980s, gained mass appeal with their extensive food menus in the following decades. Then in 2003 came Golden Jaguar, which quickly became a household name with its extensive and high-end menu serving over 400 kinds of delicacies, including sashimi, lobsters, and Häagen-Dazs ice cream.
In 2016, the country's buffet sector amassed around 1.2 billion yuan in revenue, accounting for 12% of the catering industry, data from food delivery platform Meituan showed. But consumers gradually started losing their appetite due to food safety concerns — some restaurants were found to be serving stale food, while Golden Jaguar, which shut all its outlets in 2017, reportedly made fake shark fin soup using rice noodles.
Between 2017 and 2020, consumer trends for buffets dropped by around 10 percentage points to 6.1% among all catering categories, according to Meituan. By then, China's food industry and consumer tastes had also diversified, and the rising disposable income — it rose by 29% between 2016 and 2019 — of consumers meant they had countless options to satisfy their taste buds.
And then COVID-19 hit. Virus prevention measures forced businesses to either shut, reduce hours, or adapt to the new normal of contactless deliveries and self-service operations. Consumers, on the other hand, started squeezing their spending as the economy faltered.
"The downfall of the buffet industry started from 2017, when Golden Jaguar shut down, and this lasted until the pandemic started," Luo told Sixth Tone. "People now want to spend a little money to eat a lot of things. As they may refrain from frequently dining out, buffets can satisfy their appetite for a variety of food at once. So, they have gained popularity again."
And consumers like the Shanghai resident surnamed Yang are partly fueling the boom. Hungry for choices after a two-month lockdown and unwilling to splurge, she rushed to a buffet restaurant with her partner when restaurants resumed indoor dining in late June.
"We were confined to our homes for quite a long time and wanted to taste everything all at once in one go," Yang told Sixth Tone. "Both of us gobbled up at least two dozen plates of beef, which took the waiters aback."
With buffets now making a comeback, they've also evolved with time. Some restaurants are offering trimmed down selections, while others are offering specialized food items, considering it to be a win-win situation for both business owners and consumers.
Wang Yue, manager of a buffet restaurant in Shenzhen, told Sixth Tone that she planned to provide "quality products at a lower price" and add two more stores next year. She said consumers were willing to spend a modest amount of 98 yuan on 80 types of Southeast Asian delicacies.
"Previously, customers preferred to visit a buffet restaurant for special occasions like holidays, eat as much as they could, and not go again for a long time," Wang said. "Now some of our regular customers come to us four or five times a month. Our price isn't an issue for them."
And her business is among the several outlets that have thrived during the pandemic years, even as many others continue to suffer.
Big Pizza, a pizza buffet founded in 2002, opened nearly half of its some 200 restaurants since the pandemic began in 2020. Kamii, serving Japanese cuisine, saw its annual revenue last year increase by around 11% from the pre-pandemic level in 2019, and has filed for public listings to raise funds for opening more outlets in the next two years.
But despite their prospects for growth, analysts said buffets would not become the mainstream catering type in a sector dominated by hot pot restaurants. Unlike in their heyday, there will always be something else to provide competition, both food-wise and cost-wise.
"Consumers would also judge whether the food they are buying is worth it by making comparisons with other types of food," Luo said. "A buffet priced at 70 yuan is considered cheap, but they can still spend much less on a stir-fry or fast food."
Editor: Bibek Bhandari.
(Header image: Yu Junfei's Amazon Universal Buffet in Shanghai. Courtesy of Yu Junfei)