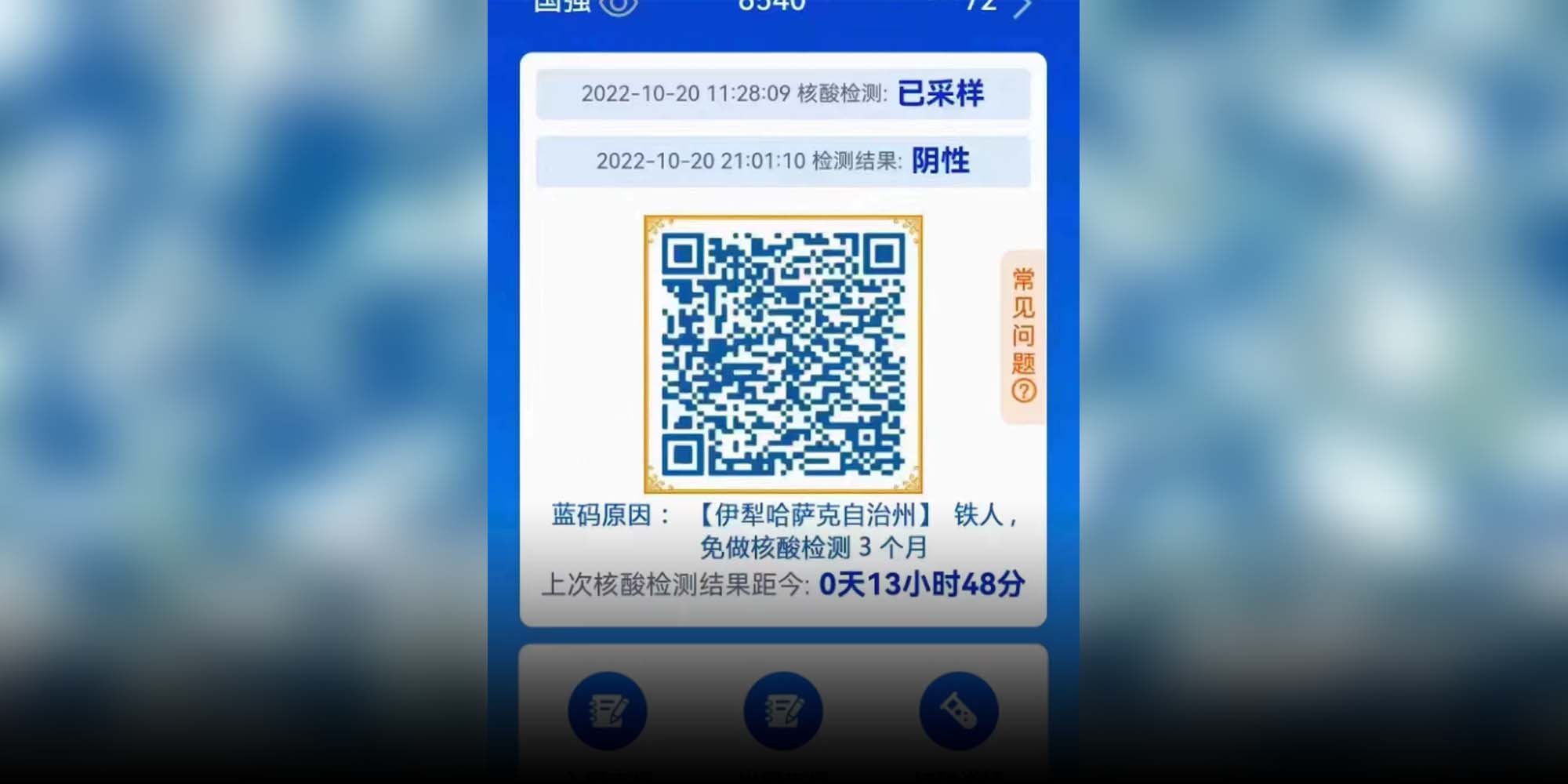 NEWS
Chinese Man Detained for Creating Fake 'Iron Man' Health Code
The blue health code, which went viral online, claimed to give immunity from post-COVID infection virus testing.
A man in northwest China's Xinjiang Uyghur Autonomous Region has been detained for creating a fake health code, implying that it temporarily exempted individuals who have recovered from COVID-19 from undergoing PCR tests.
The man, surnamed Dou, has been given a 10-day detention over the blue "Iron Man" health code and for causing confusion online with the non-existent code, local authorities in Yining said Monday. Dou nicknamed the code after a local community in the city gave individuals who recovered from COVID an "Iron Man certificate," urging them to join the pandemic control workforce and get exempted from daily PCR tests.
China uses a traffic light-like health code system for COVID control measures, which is largely used to track and trace infections. The color codes are also used to grant and restrict access to public transport and other places, with some local governments misusing it for non-COVID-related issues.
The cyberspace and public security bureaus in Yining, located in Ili Kazakh autonomous prefecture, said that the screenshot of the blue code triggered widespread discussion online and "caused an adverse social impact." They said Dou was detained for allegedly "picking quarrels and provoking trouble."
The community that first introduced the "Iron Man certificate" also apologized Monday for the "inappropriate name" given to recovered COVID patients. It blamed the name on the "sloppy" work of its staff.
Xinjiang has been attempting to stamp out local COVID outbreaks since late July, with the region logging more than 5,100 cases so far this month alone. Last month, authorities in Ili Kazakh autonomous prefecture apologized for the lack of access to sufficient health care during lockdowns.
Editor: Bibek Bhandari.
(Header image: A screenshot shows a blue code issued to those who have recovered from COVID-19. From Weibo)