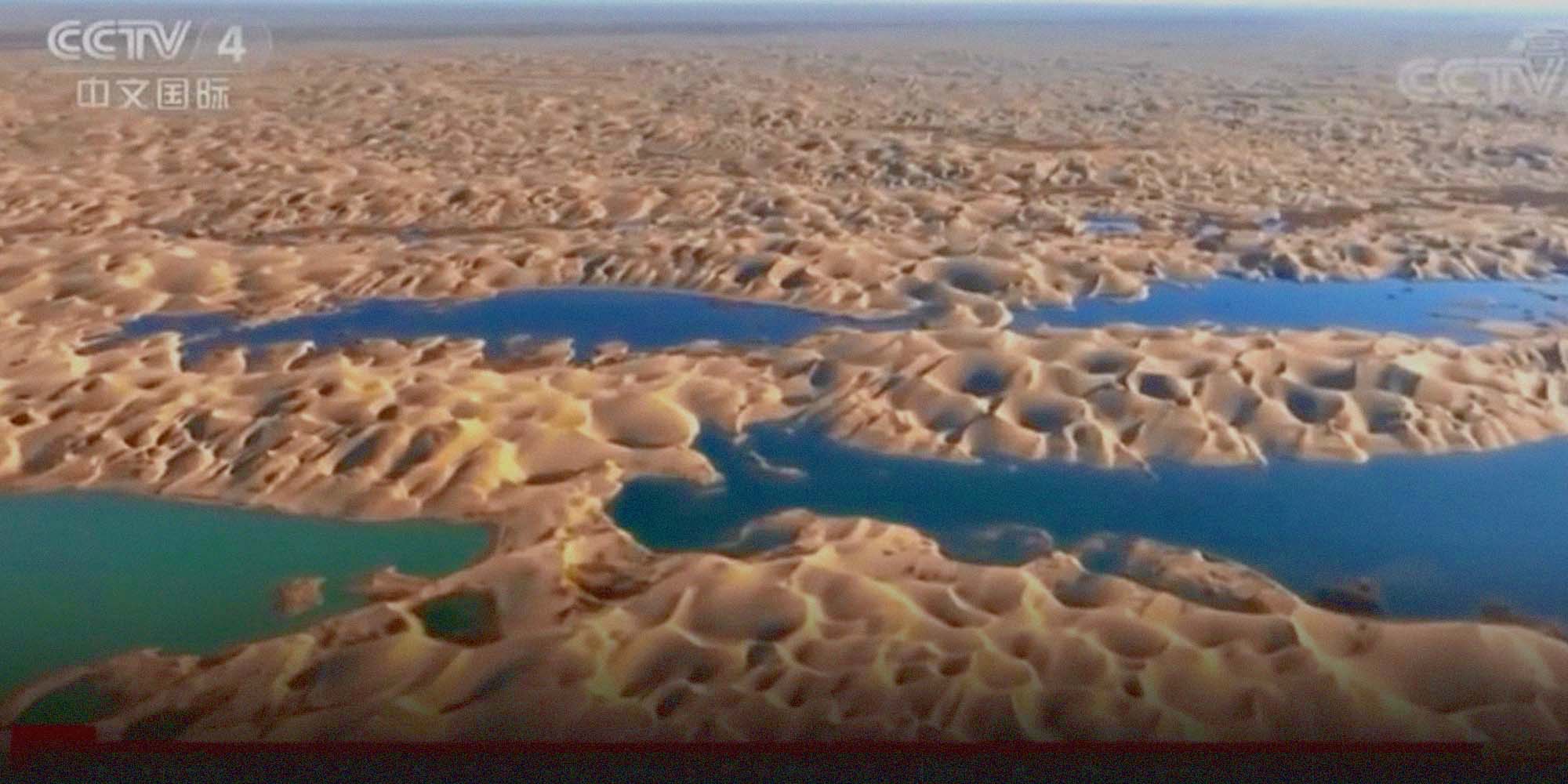 NEWS
Flood Water Forms Rare Lakes in China's Largest Desert
The occurrence in the Taklamakan Desert has been attributed to excessive rainfall and melting glaciers due to high temperatures.
In a rare occurrence, China's largest desert in the northwestern Xinjiang Uyghur Autonomous Region has seen multiple lake formations this year, which an environmental expert described as a warning about climate change.
The lakes were formed around the Taklamakan Desert after the Tarim River recorded its largest water volume in the past 10 years, causing the water to flood into the dunes, state broadcaster China Central Television reported Tuesday. The Tarim is the longest inland river in China and flows along the northern edges of the desert.
"The formation of the lakes is due to the impacts of climate change — more rain, more melting glacier water," Ma Quanlin, deputy head of the Gansu Desert Control Research Institute, told Sixth Tone, adding similar trends have also been noticed in Dunhuang, located on the edge of the Gobi Desert in northwest China. "In recent years, a trend of increased precipitation and heat was observed in the western part of the northwestern areas."
The runoff of the upper Tarim River from late May to late September was 1.5 times higher than in the same period during previous years, according to the Xinjiang Water Resources Department. It was the highest runoff since measurement data became available in 1957.
Earlier this year, authorities in Xinjiang said that extreme temperatures were rapidly melting the region's glaciers and causing natural disasters such as flooding.
This year, flooding in the main stream of the Tarim River stretched for 80 consecutive days since May, state-run Xinhua News Agency reported. The floods, which also occurred in the river's 24 tributaries, were mostly due to melting snow and rainfall.
The Taklamakan — which means "a sea of death" in Uyghur — spans about 277,000 square kilometers and is extremely desiccated. The average annual precipitation within the area doesn't usually exceed 100 millimeters, with the lowest record around 4 to 5 millimeters, while the average evaporation is as high as 2,500 to 3,400 millimeters.
Ma said that the recent formation of lakes was the result of flooding and the water bodies will eventually disappear.
"The increase of water in the region in a short period of time will effectively promote the recovery of desert vegetation," he said. "However, what will specifically happen depends on both the duration of the increase in precipitation and the increase in evaporation caused by warming temperatures."
Editor: Bibek Bhandari.
(Header image: An aerial view shows lakes appearing in the Taklamakan Desert. From @央视新闻 on Weibo)