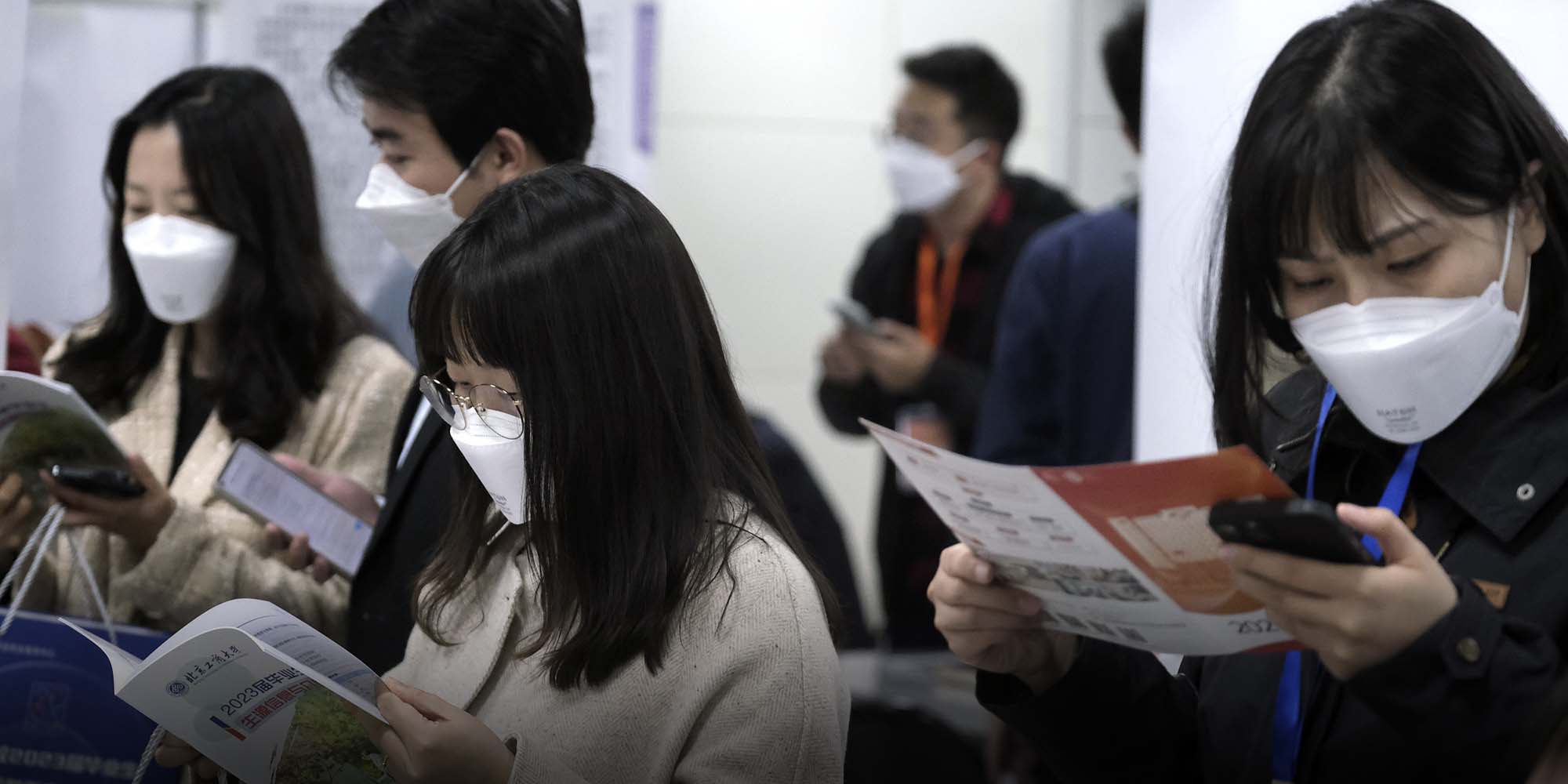 NEWS
China's Fall Recruitment Signals Fewer Jobs for Upcoming Grads
Several enterprises saw a drop in demand for college graduates, with the major recruitment season now underway.
China's graduating seniors are experiencing a frosty recruitment season.
More than 40% of the majority of the 5,670 companies that have kicked off their annual fall employment scheme since August have slashed their headcounts for those graduating in 2023, job platform Liepin said in a report last week, citing an undisclosed national survey. However, 28% of them were likely to increase the uptake in the third quarter of the year.
The cutback comes as an estimated 11 million graduating seniors have joined the annual fall recruitment season, at a time when nearly one out of five young urbanites are out of work. Many young jobseekers have found it increasingly difficult to find suitable positions amid fewer job openings and fierce competition, as key sectors including internet and education have been facing regulatory clampdowns.
"The environment is even tougher to get by this year," Zhao Jianya, a student majoring in advertising at Shanghai University, told Sixth Tone.
The 24-year-old senior said she was able to secure several job offers last fall, including a position at an e-commerce company, but failed to even pass the first round of résumé screening this year for the same positions. Zhao, who was graduating this summer, said she deferred it until next year after the company rescinded the original job offer for a different position due to "business restructuring."
Liepin said that sectors related to chip manufacturing — including electronics and semiconductors — and the internet and e-commerce sector provided the largest number of new job offers for upcoming graduates in the third quarter of 2022. Both sectors also offered the highest annual salaries, ranging from 200,000 yuan to 500,000 yuan ($27,750-$69,400) for new employees.
It wasn't immediately clear if the export curbs on certain semiconductors from the United States to China would dampen the job outlook.
Amid a grim employment trend in the private sector, many young Chinese have been drawn to civil service jobs that come with job security and a seemingly good reputation. A record 2 million people signed up for the national civil service exam last fall, while Liepin said job searches related to state-owned and foreign enterprises had increased on its platform this year.
Zhao said several prominent tech companies had reduced half of their employment schemes during the fall recruitment season, while some postponed their in-person university job fairs due to the pandemic. She added that she was now more determined to give up on her wish to work for major tech companies.
"If I can get the same pay doing other jobs, what's the point of joining the rat race?" she said.
Editor: Bibek Bhandari.
(Header image: Job hunters attend a job fair in Beijing, Oct. 10, 2022. VCG)