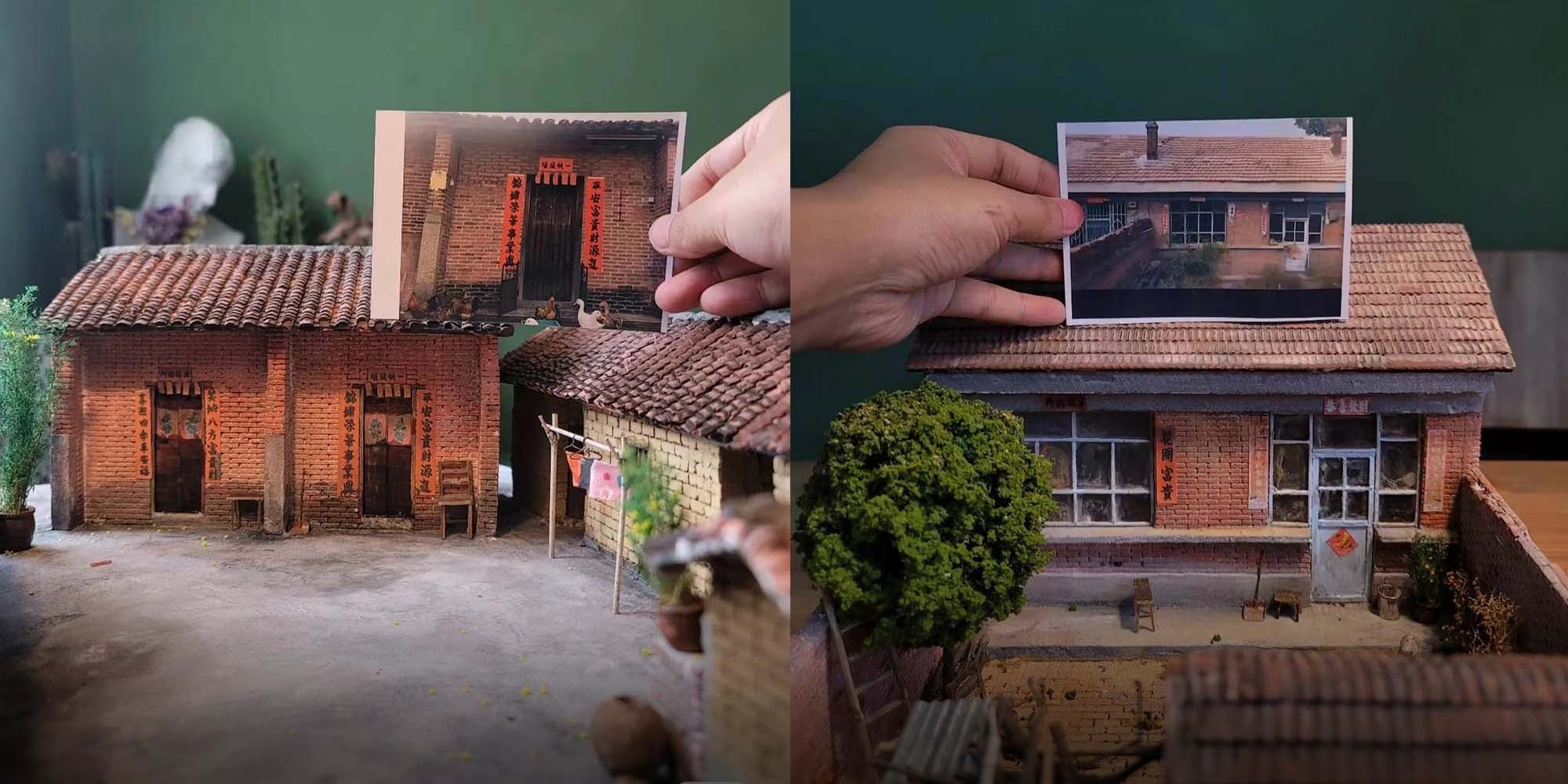 MULTIMEDIA
Micro-Dosing Nostalgia With China's Miniature Modelers
After decades of development and tear-downs, a new breed of model workers are helping Chinese recapture the long-gone countryside of their youth.
Welcome to WWW: What We're Watching, Sixth Tone's new column looking at the best, the most viral, or just what's obsessing us on the Chinese internet.
Wander onto the right part of Xiaohongshu, an Instagram-like platform, and you can fall down a rabbit hole of meticulous miniatures of '90s Chinese rural houses. They've got everything: the stone walls, the courtyard, laundry drying on a clothesline. Some have even got inch-high working televisions, garage doors, or electric fans.
At first, you might assume it's a hobby, like the fanciful townscapes made by model railroad enthusiasts. But as it turns out, it's a profession that's equal parts art and therapy: a small community of professional miniaturists specialize in recreating their clients' demolished childhood homes.
While most people remember their childhood by looking at old photographs or videos and holding on to meaningful objects, others choose to relive their memories at higher definition by commissioning skilled miniaturists to create elaborate scale models of the homes where they grew up.
It's a kind of nostalgia that appeals to the generation who came of age in China in the '90s. Hundreds of millions of people who grew up in traditional village homes left for cities, or moved into modern houses and high -rises in redeveloped villages. Often, their original homes have been demolished, victims of China's relentless rural development.
On a scale of 20 to 30 times smaller than the actual buildings, these delightful miniatures blend the '90s throwback trend gaining momentum across the world with a particularly Chinese sort of village nostalgia. Their remarkable level of detail stirs the imagination and sends people down memory lane, captivating a diverse list of followers on social media, old and young, urban and rural, and from all parts of China. Their clientele, however, fits into a much narrower demographic: adults born in the 1970s and 1980s, generations that, facing the pressure of middle age, are particularly nostalgic for more carefree times.
Li Yizhong began making scale models in 2015, and his first works were models of historic railway stations, temples, citadels, and other constructions with evident historical significance. One day, however, a friend asked him to reproduce his old rural home, a house destined to be torn down. "I thought it was a meaningful request, so I helped him out, but I never expected the reaction online. After I posted a short video, the internet went wild," Li says. In a matter of days, his post amassed hundreds of thousands of interactions. Today, he has over 200,000 followers on Xiaohongshu, the platform many Chinese miniature artists use to post their work.
The Instagram era has been kind to miniature art. With an ethos usually linked to the dimension of the street, the most interesting international artists out there tend to reproduce decaying buildings covered with graffiti, structures that would hardly strike the passerby as worthy of praise, or else they'll work on miniatures to preserve the memory of vernacular architecture and traditions disappearing in the face of development, as is the case with China's rural culture.
If you follow Li on Xiaohongshu, the platform will show you several related accounts featuring similar miniatures. They keep getting better: some models come with extra delightful touches like powdery snow, automated garage doors, and even functioning tiny television sets. In the comment sections, a few netizens even doubt these works are indeed miniatures. Other commenters reveal a childhood dream to become Ultraman or a kaiju monster and smash all these little buildings into pieces. That's another approach to '90s nostalgia.
Most comments are about the viewers' childhoods, and the time they spend with their families. Some people even bring up specific relatives, such as a much-loved grandmother who has passed away. Many lament that gathering family is not as easy as it was before the era of pandemic restrictions. To Li, more than childhood, the idea of family is the core of people's nostalgia. "Everyone has a childhood home that revolves around a specific family culture. I hope to pass on the idea of this family culture with my work," he says.
Born in 1983 in Shandong province, Li comes from a farming family. His parents never went to school, but invested what they could in his education. He, though, had a university education, graduating from the Sculpture Department of the Shandong Academy of Arts. Now living in the provincial capital, Jinan, he went from working on large sculptures — he once made them over ten meters high — to becoming a full-time model maker working on different types of commissions, not just people's homes. He charges a starting price of around 20,000 yuan ($2,810) yuan for a miniature house.
"Before I went to college, I always helped my family with the farm work, and I am very familiar with everything in my hometown. As I grew older, I became more emotional about it. After all, it's the place that nurtured me for decades, and it was the place of a happy childhood. Many of my works also reflect these fond memories," Li says.
Li says domestic layouts vary from place to place in China, and he's more familiar with homes from the north. Still, the references his clients provide him, mostly pictures and vivid descriptions, are usually enough to recreate their homes in a unique and faithful way. "I always focus on customer satisfaction. So far, I have had no issues. Most of the time, they're already happy before I finish the work," he says.
The work is indeed highly complex. It takes, on average, one to two months to complete one residential model. Each model comprises hundreds of small pieces and involves about 50 different materials, such as wood board, paper, iron wire, putty, gypsum plaster, and licorice root. Most of these materials can be found online; the other elements, as if mimicking the way these very houses were built, Li sources from his surroundings or straight from nature. "But you need to look for them carefully," he stresses.
Based in Changchun in Jilin province, Du Chunyu is another miniature artist helping people indulge in childhood wistfulness. Born in 1995, Du grew up in a rural village near Tongliao in Inner Mongolia, where he lived until his university years. He now owns a hotel and works on miniature models in his free time.
It was after graduation in 2017 that he discovered miniature making online. His first piece was a replica of the Eiffel Tower made of tiny wooden sticks. As with Li, when Du posted his work online, commission requests started popping up. People wanted him to recreate their rural homes — all from the '90s. Today, his commissions range from 4,000 to 20,000 yuan, depending on the level of detail.
"There are many people whose old homes have been demolished or abandoned. They look for me to treat their homesickness this way," he says. Because of their three-dimensional quality, Du thinks models touch people more profoundly than photographs or videos. As the ultimate keepsake, they usually gain a prime place in people's homes, something for the whole family to gather around and share intergenerational stories.
As part of his process, he often visits villages to examine the architecture up close. "I can spend an entire morning staring at a single building, observing it from multiple angles, trying to understand its patterns, arrangements, colors, and shapes. This exercise helps me with the making process, especially when working on the details," he says. And it's in the details that the magic happens. "Details are the most complicated part, but if they are good, the work will come to life," he adds.
Du's and Li's miniatures are replete with details, all of which they carefully arrange with their tweezers: New Year's decorations on the doorways, piles of excess bricks, bright red strings of chili peppers, clothes hanging to dry, and many pieces of wooden furniture. "These are the elements you used to see in every household in China in the '90s. You can still see them in many rural homes today. My favorites are wooden furniture because you can notice the traces of time in them," he says.
It's a way to revisit a simpler time, Du says. "In the '90s, when I was a child, we were not very rich, and the gap between households was small," Du says. Even though he only lived through the tail end of the decade, Du also gets lost in his memories while making models, daydreaming about life before the time of hyper-connectivity and widespread anxiety. "I'm also very nostalgic and get lost in my memories as I work. These models take me back to the past, to a time when every day was full of joy," he says.
Editor: David Cohen.
(Header image: Miniatures of '90s Chinese rural houses made by professional miniaturists. From @画房子 on Xiaohongshu)
Click here to read more.