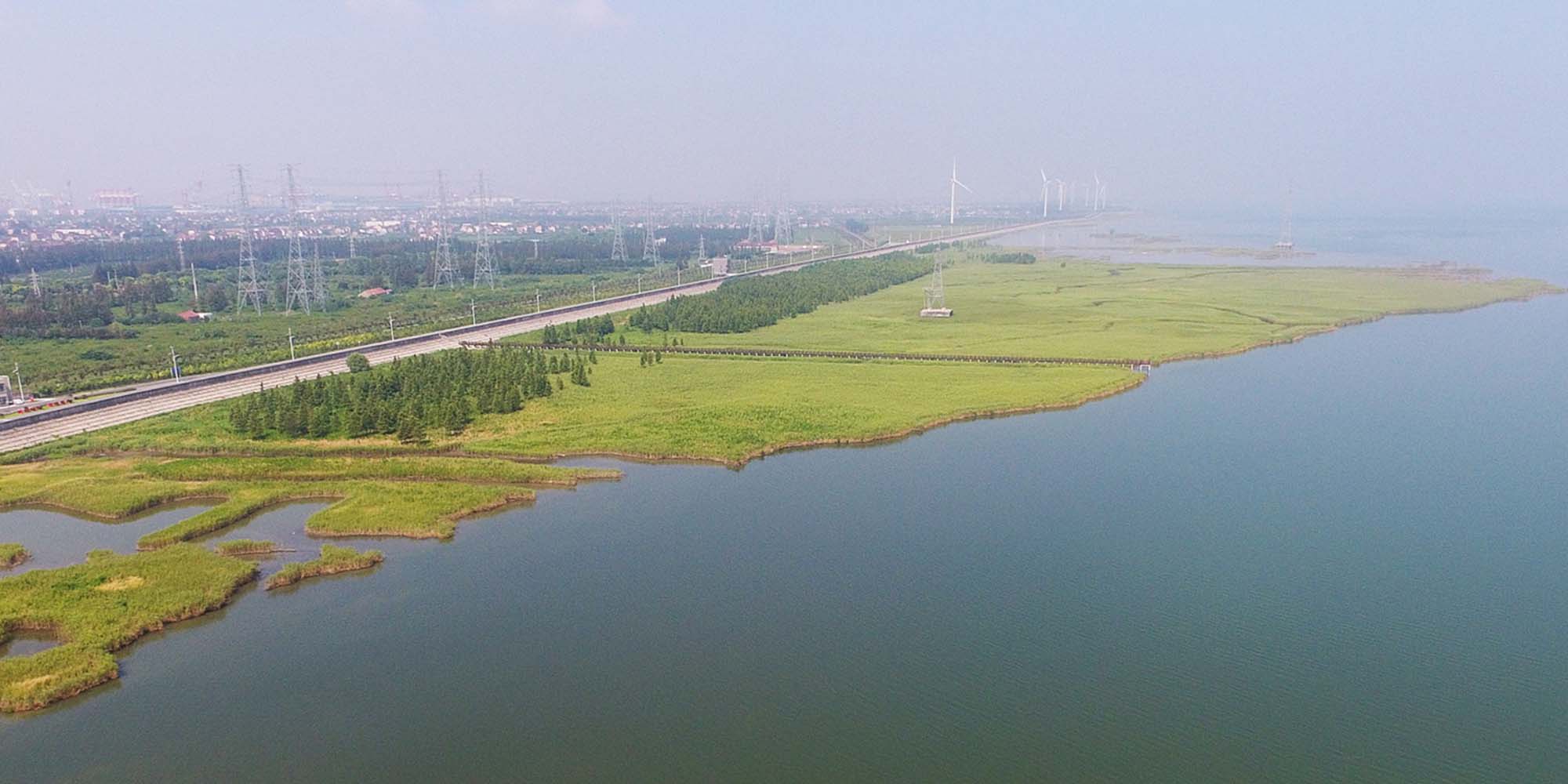 NEWS
Unseasonal Salt Tides in Shanghai Threaten Its Water Supply
The phenomenon that turns river water salty is not unusual in Shanghai, but the record-breaking drought has exacerbated it this year.
The surge in salt water in Shanghai's freshwater sources has put the city's water supply at risk, as the aftermath of China's record drought and heat waves continue to affect millions of people.
The Qingcaosha and Chenhang reservoirs, two of Shanghai's major drinking water sources that draw water from the Yangtze River, have reported salt tides several times since September, local water authorities said late last month, adding that the city's raw water supply was "normal and in order." A salt tide occurs when decreasing freshwater flow in a river allows seawater to push inland, causing chloride density to rise and the river water to become salty.
While it is not uncommon for Shanghai to experience salt tides in the dry season between October and March, the phenomenon has arrived early this year due to record low water levels along the Yangtze River, according to the Shanghai Water Authority. The droughts since August and several typhoons in early September have contributed to the salt tides, bringing salt water into the river estuary where Shanghai is located.
Hydrological monitoring data from August showed that chloride levels along the river estuary in the Pudong New Area exceeded the national standard that month, hitting over 1,000 milligrams per liter. China's national standard stipulates that drinking and tap water should contain no more than 250 milligrams per liter of chlorides, with excessive levels harming human health, the aquatic ecosystem, industrial production, and agricultural irrigation.
Online, some Shanghai residents have complained that boiled tap water tasted "salty" and "bitter." A resident surnamed Tai from Songjiang District told Sixth Tone that she started using bottled water after boiled tap water tasted unusual from around mid-August.
"My mother said the drinking water had a bitter aftertaste and thought she might have some serious disease," she said. "We haven't experienced this before."
Shanghai authorities have vowed to strengthen its monitoring of the water quality and increase water reserves before the arrival of salt tides. While authorities have discharged more water from the Three Gorges Reservoir on the Yangtze River since early October to increase the downstream water level, Shanghai is also transferring water from nearby regions, domestic media Caixin reported, citing government officials familiar with the matter.
Earlier this year, cities along the Pearl River system's lower reaches in the southern Guangdong province also dealt with salt tides amid the region's worst drought in decades. Residents were urged to save water amid potential supply shortages.
On Monday, the National Meteorological Center again issued orange and yellow drought alerts — the two lowest levels in China's four-tier weather warning system — in parts of the Yangtze River Basin. The forecast suggested little rain for most of the drought-hit areas in the next three days.
Editor: Bibek Bhandari.
(Header image: An aerial view of Qingcaosha reservoir, located in the Yangtze River estuary, Shanghai,Aug. 10, 2018. VCG)