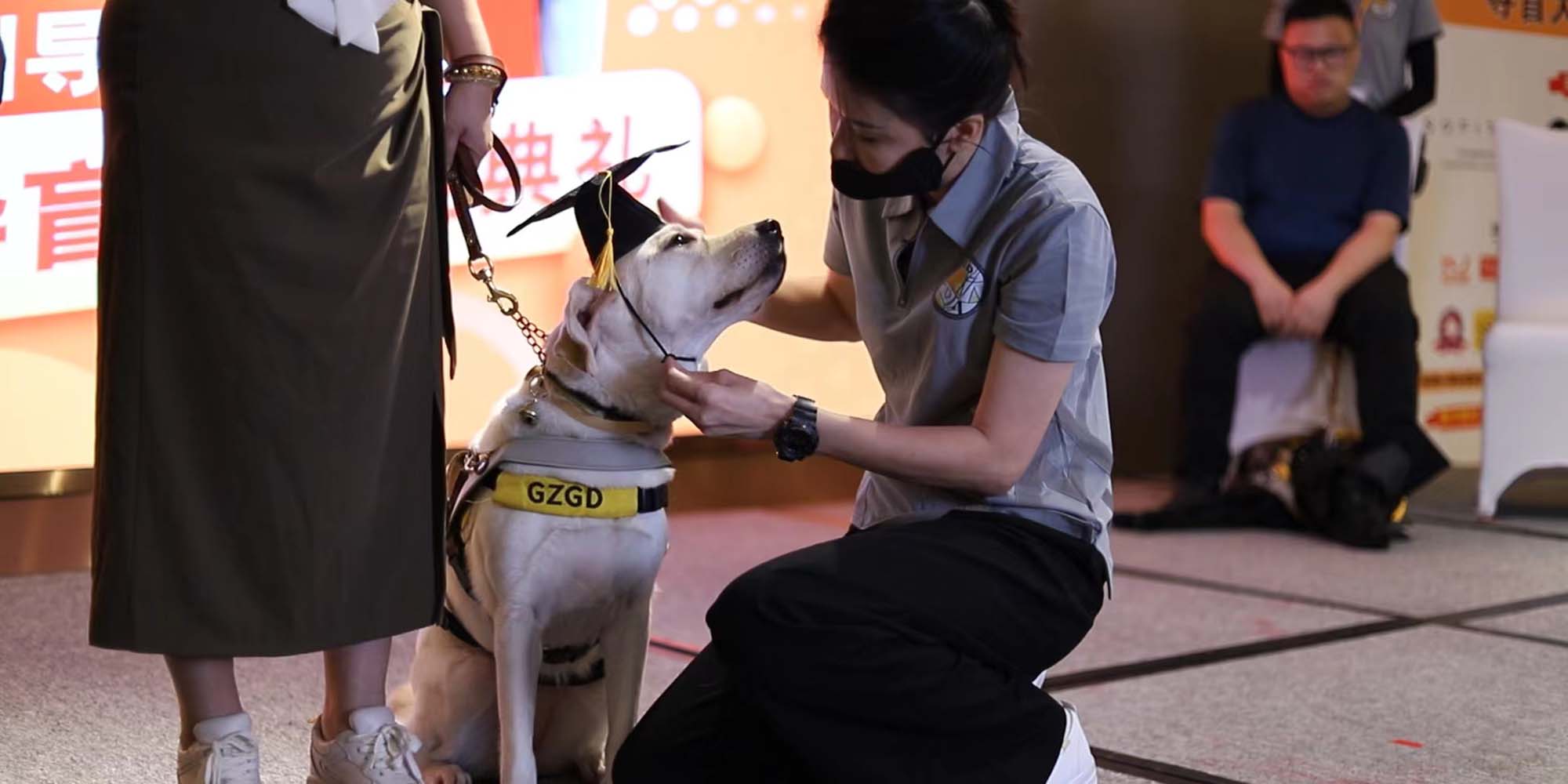 NEWS
'Graduation Day' for Guide Dogs Highlights Their Rarity in China
Hobbled by training and financial hurdles, the number of trained canines has long fallen short of meeting the tremendous demand in the country.
For Faith, FayFay, and Iris, the end of the weeklong National Day holiday marks a fresh start to their career — as guide dogs.
The three Labrador retrievers were fresh graduates from the Guangzhou Guide Dog School that trains canines in assisting visually impaired people. On Friday, the non-profit even organized a "graduation ceremony" for the dogs at a luxury hotel to raise awareness about the bond between people with disabilities and their furry companions.
"With the assistance of guide dogs, people with visual disabilities deserve a life with more confidence, independence, and dignity," Li Yuanzhen, principal of the training school, told Sixth Tone.
Facilities like the Guangzhou Guide Dog School have become more common since the first training center opened in the northeastern city of Dalian in 2006. However, the number of guide dogs in the country is grossly inadequate — a 2019 report by the China Association of the Blind said there were fewer than 200 guide dogs for a country with about 17 million people with visual impairments.
Li, citing international standard, said that ideally 1% of the country's visually impaired population should be equipped with a guide dog.
Dog trainers told Sixth Tone that the strict selection criteria for dogs and high coaching costs have proved to be a major hurdle in the industry. A guide dog should be free of biting records in the past three generations and have good vision along with the ability to walk long distances.
The Guangzhou Guide Dog School has trained 11 guide dogs since 2015 and are now working in the southern cities of Guangzhou, Shenzhen, and Foshan, Li said. Before graduation, Faith, FayFay, and Iris went through a rigorous six-month training program followed by a one-month session with their future owners.
Wang Jingyu, director of the China Guide Dog Training Center, told China Newsweek that 50% of the canine candidates are eliminated during the selection process, while the average expenditure for each dog's training program exceeds 200,000 yuan ($28,100). Such expenses are usually borne by training agencies, which adds a heavy financial burden, while owners only pay for the dog's living expenses while with them.
Guide dogs also face other issues, which sometimes include being forbidden from entering public spaces despite policies introduced in 2012 to provide a barrier-free environment for canines assisting the visually impaired. Those working in the dog training sector said the lack of punishments for violations of such policies and insufficient knowledge of the blind community have fueled traditional biases.
Editor: Bibek Bhandari.
(Header image: Li Yuanzhen, principal of Guangzhou Guide Dog School, with FayFay during the graduation ceremony in Guangzhou, Guangdong province, Oct. 7, 2022. Courtesy of Guangzhou Guide Dog School)