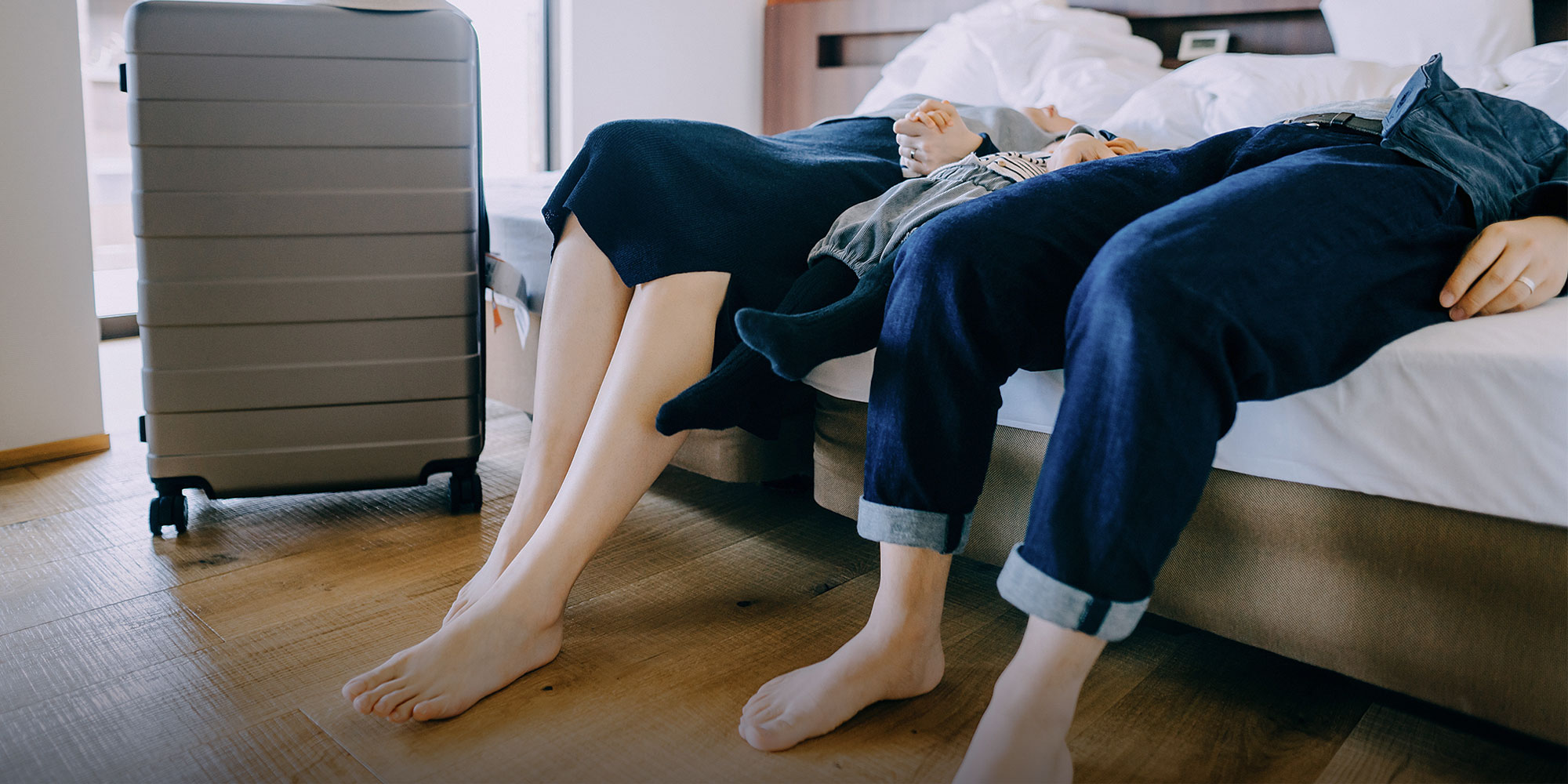 NEWS
China Spends Holiday 'Lying Flat' Amid Heavy Travel Restrictions
With long-distance travel strictly controlled, many Chinese are checking into upscale local resorts for the weeklong National Day holiday.
SHANGHAI — For this year's National Day holiday, Zhao Zhiyan and her husband have decided to get away from it all. The couple plan to travel to a fancy hotel on the outskirts of Shanghai — around 20 kilometers from their apartment.
Like millions of others, the pair are unable to travel beyond the city limits due to China's strict pandemic controls. This trip will be the furthest they've ventured from home in 2022.
Zhao feels lucky to be making even this short journey. She declines to reveal how much she spent to secure a spot in the five-star hotel; rooms in Shanghai's upscale resorts are like gold dust this holiday.
"We will stay in the hotel the whole time," the 29-year-old told Sixth Tone. "We want to relax and have contact with as few people as possible."
Many in China plan to "lie flat" in local hotels this week, as the country has once again imposed heavy restrictions on long-distance travel for the seven-day public holiday.
Authorities are being even more cautious than normal, with the historic 20th National Congress of the Communist Party of China due to take place just days after the holiday ends. The Chinese mainland reported a total of 655 local infections on Sunday; nearly 80% of provincial-level governments discovered at least one case.
Local authorities have issued repeated warnings against long-distance travel. Many employers and residential committees have imposed extra controls: Some have banned travel outright, while others have required people to provide a "valid reason" for travel in advance.
The restrictions have drastically curbed people's travel plans. Chinese tech giant Meituan has described this week as a "local holiday," with the majority of consumers planning to stay within their local area. 
In a user survey, Meituan found that 70% of people do not plan to leave their city or province this week. Shopping, going to restaurants, and staying in local hotels and homestays are the most popular activities this holiday, the company said.
Only 62,000 commercial flights are scheduled to take place during the National Day holiday, down over 22% compared with last year and nearly 40% compared with 2019. China's trains are expected to handle just 68.5 million passenger trips between Sept. 28 and Oct. 8, whereas 110 million trips were made between Sept. 28 and Oct. 7 last year.
Unable to take a vacation, many Chinese are instead scrambling to book luxurious "staycations" in nearby resorts. Online travel platform Trip.com reported Saturday that local bookings were up 98% on the first day of the holiday compared with the Mid-Autumn Festival last month. Nearly 60% of local hotel and homestay bookings were made by people born after 1990, the company added.
Many hotels have hiked prices significantly for the holiday, the state-owned China News reported Saturday. In Beijing, one resort had increased its room rates from under 2,000 yuan ($280) per night to 3,888 yuan for Oct. 6; another from a few hundred yuan to an astonishing 5,000 yuan for Oct. 2, though the hotel denied this.
Chen, a manager of a boutique homestay in east China's Zhejiang province, told Sixth Tone Monday that they'd increased their room rates by around 300 yuan for the holiday, with prices ranging from 1,000 yuan to 2,000 yuan per night.
"Our guests typically book a day or two in advance, and many drive from Shanghai," Chen said.
Editor: Dominic Morgan.
(Header image: d3sign/VCG)