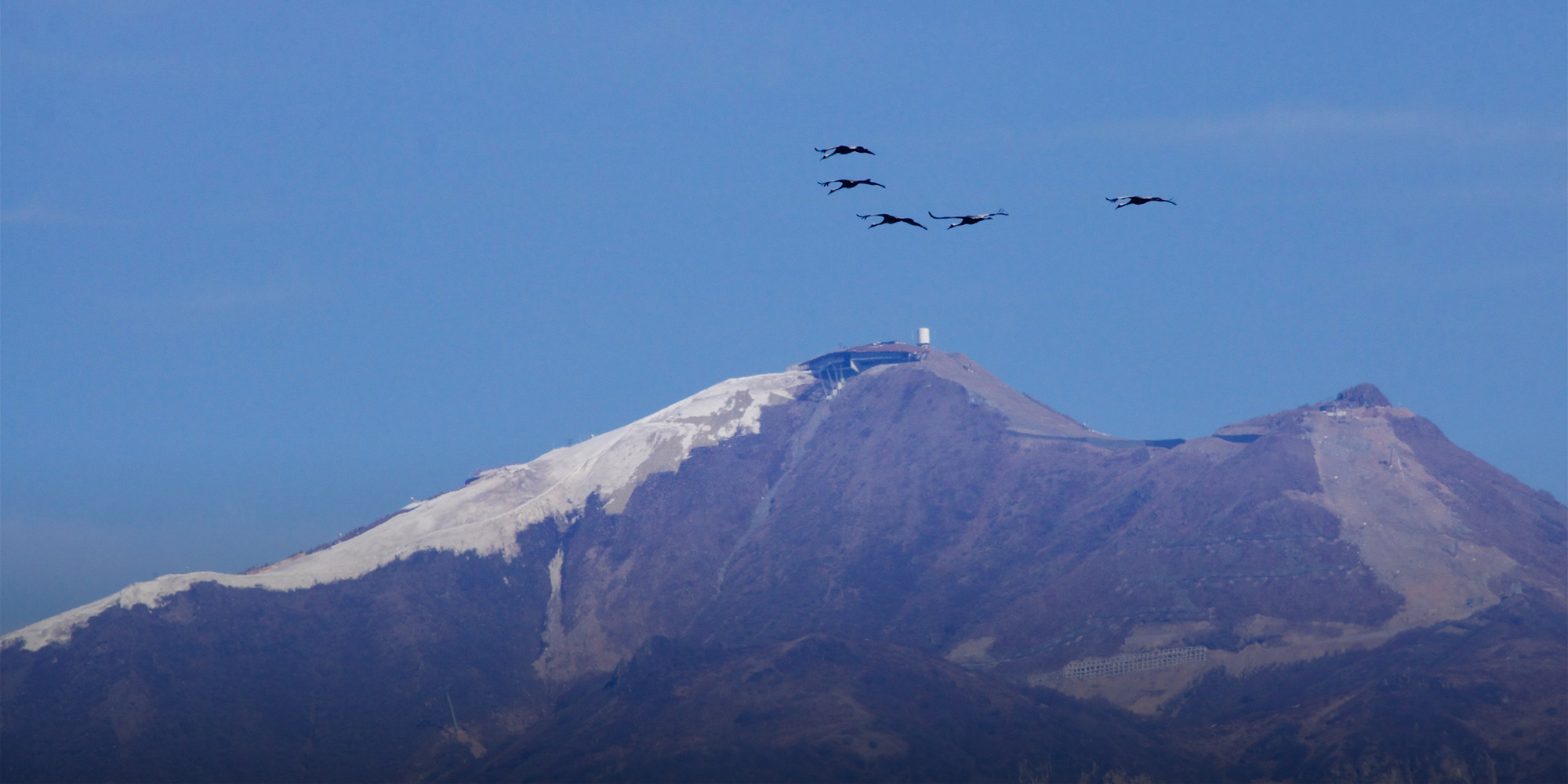 NEWS
Millions of Migratory Birds Stop in Beijing Each Fall, Study Finds
The study — which recorded the night calls of migratory birds flying over the Chinese capital — underlines the importance of protecting the city's disappearing bird habitats.
Beijing has long been known as a major hub for bird life. But according to new research, the Chinese capital is a stopover for even more migratory birds than previously thought.
The study — which recorded the night calls of birds flying over the city — found a greater volume and diversity of migratory birds than expected, suggesting that millions of birds are passing through Beijing during the fall migration season.
The findings underline the urgent need to protect the city's remaining bird habitats, which are disappearing due to afforestation projects, Terry Townshend, one of the researchers behind the project, tells Sixth Tone.
Beijing is one of the world's most important havens for migratory birds. The city is a key resting stop on the East Asian-Australasian Flyway — a migration route connecting Siberia and the Arctic with Southeast Asia, Australia, and New Zealand.
Each spring and autumn, hundreds of bird species take a break in Beijing during their long journeys north and south. This has made the city the second most biodiverse capital among the G20 nations, behind only Brasilia in terms of the number of bird species.
"Many bird species breed in Siberia and Mongolia because there's an explosion of protein-rich insects in summer, and birds can have more young, more frequently," says Townshend, a conservation economist and Beijing resident. "Beijing, between the sea and the Gobi Desert, is a natural stopgap in the middle of the Flyway."
But until now, the full scale of Beijing's migratory bird population wasn't fully understood. While large birds tend to migrate during the day and can be easily identified and counted, many smaller species fly at night — and the migration of these birds has been understudied as a result.
"Flying at night is safer — there are fewer predators around," explains Townshend. "Plus, some birds navigate using the night sky. And it gets a lot cooler at night, which is good for regulating body temperature — you get hot when you're flying."
To get a better picture of nocturnal bird migration over the city, Townshend teamed up with Hua Fanyuan, a conservation ecologist at Peking University, and the Asian Infrastructure Investment Bank. Together, they installed a sound recorder on the roof of the AIIB headquarters building in central Beijing, which they used to capture the calls of migrating birds flying over the capital during the night.
"Just before sunrise, the birds start looking for somewhere to land to stop for a day, and start calling: 'Is there anyone there?'" says Townshend. "If you get a response from the ground … (then) it must be a good place to stop."
Between August and November last year, the team recorded over 34,000 nocturnal calls from more than 60 different bird species. The results were presented on Sept. 27 as part of a conservation seminar in Beijing.
The researchers say the findings took them by surprise.
"First, the volume of birds is higher than expected," says Townshend. "The range of the recorder is just 300 meters, so a simple calculation suggests that several million birds are calling as they fly over Beijing in autumn."
"Second, the diversity of species and their habitat requirements (was also a surprise)," he adds. "This is the first hard data that shows water birds, forest birds, and wetland birds are migrating over Beijing in large numbers."
Beijing Municipality, which covers almost 17,000 square kilometers, is dotted with a diverse range of bird habitats, including patches of grassland, scrubland, wetland, and also agricultural land. Townshend calls these areas "service stations," where migrating birds stop to rest and feed.
But the birds' "service stations" are rapidly closing in Beijing, as the city considers scrubland, grassland, and old agricultural land to be "scruffy" and "unsightly," Townshend says.
In 2012, Beijing began a massive tree-planting campaign known as the Plain Afforestation Project. Since then, tens of millions of trees have been planted on grassland, scrubland, agricultural land, and rocky and sandy areas around the city. Artificial forest now covers almost one-third of the total area of flatland in Beijing.
These "unsightly" habitats, however, are vital for biodiversity, Townshend says.
"We must educate the public that these are unique habitats that support their own species," he says. "They're important not only for migratory birds — skylarks, buntings, ruby throats, warblers — but also for wintering birds, such as parrotbills and quail. Pheasants and partridges also breed there. Plus, it's a habitat for leopard cats and many species of insects."
The loss of grassland and scrubland is already having a major impact on Beijing's bird life. Great bustards — the world's heaviest flying bird, which can have a wingspan of over 2 meters — still stop over in the city's Tongzhou District. But this year, their numbers were down to single digits, as their habitat has shrunk to less than 1.5 square kilometers.
In the north of Beijing, the flatland around the Miyun Reservoir used to be visited by thousands of cranes. Now, much of that land has been covered with man-made forest — and crane numbers have fallen dramatically.
"Cranes are like Boeing 747s — they need a long runway … If you plant trees, cranes do not feel safe," says Townshend. "Before 2016, it was common to see 1,500 common cranes and hundreds of white-naped cranes. Now, you see 50 to 100."
For Townshend, Beijing would lose a major asset if it allows its biodiversity to dwindle. The city's bird life has the potential to become part of the Beijing identity and brand, and also a source of revenue.
"Cranes are sacred in China. At Miyun, we can have an annual festival to celebrate the migration of cranes, hire local people," he says. "Because it is Beijing, we can attract many people — both residents and visitors."
More cooperation between countries along the Great Flyway is also needed, Townshend adds.
"Migratory birds are a shared natural heritage, and with this comes a shared responsibility to protect them and the places they need," he says.
Editor: Dominic Morgan.
(Header image: Cranes fly over the Olympic downhill ski slope in Yanqing District, Beijing, March 2020. Courtesy of Terry Townshend)