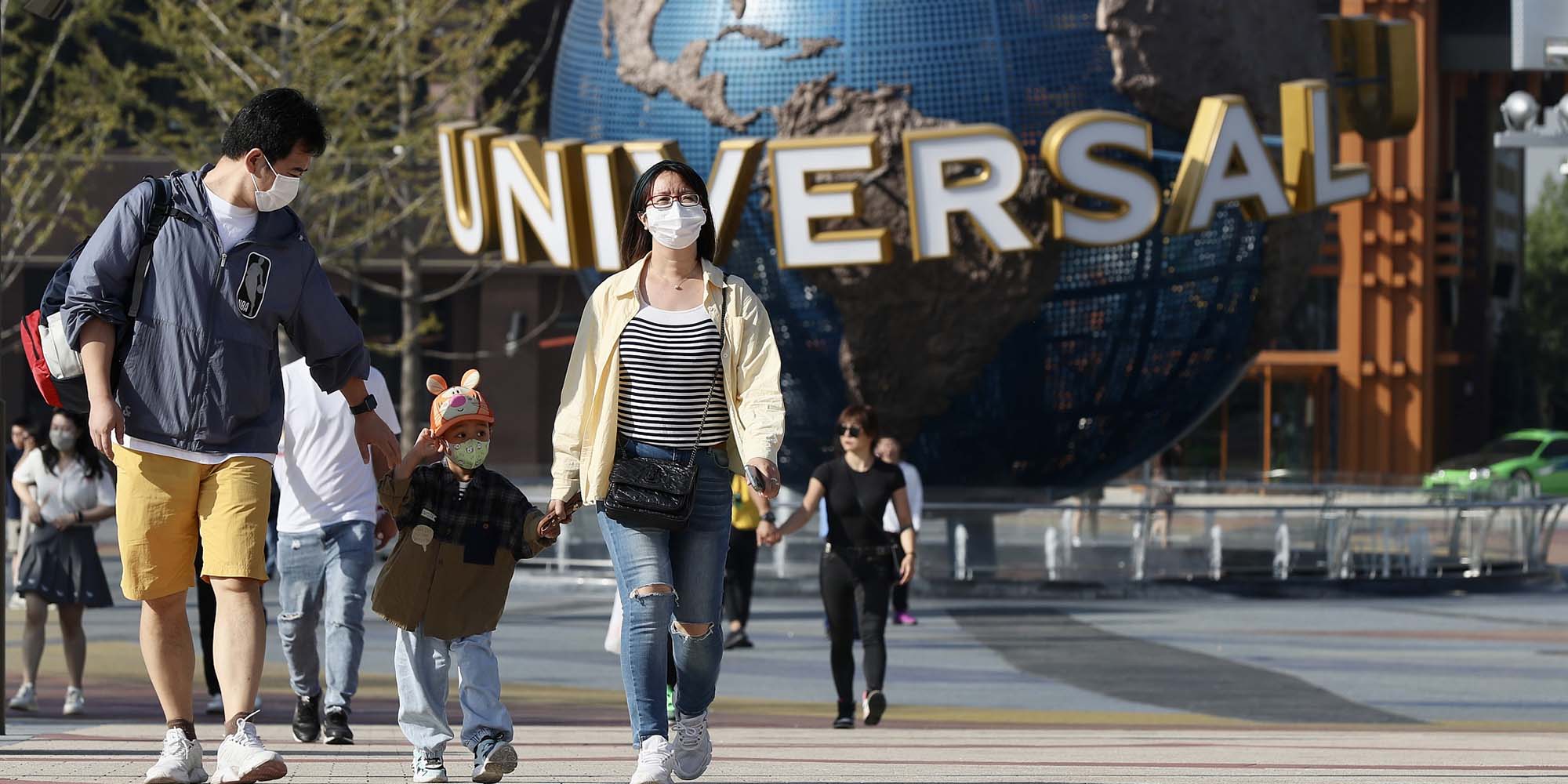 NEWS
'Poor Timing': A Subdued First Anniversary for Universal Beijing
China's once bustling theme parks have been affected by the country's stringent virus control policies.
Universal Beijing Resort opened with much fanfare last September. But a year later, the buzz has nearly faded — long lines at the entertainment park have thinned and businesses hit.
Coco has witnessed the decline firsthand, as cash flow from her shop just outside the theme park gradually declined. Rentals for outfits targeting Harry Potter fans dropped from a peak of 100 sets a day last October to around a dozen in the past months.
"I thought there would be great potential for a rental business, as there's a market for it," Coco, who used a pseudonym for privacy reasons, told Sixth Tone. "People unwilling to spend over 800 yuan ($110) on a wizard robe came to rent one from us. Now it's a white elephant for me."
China's ongoing COVID outbreaks have been biting businesses in almost every sector and disrupted the operations of international and domestic theme parks. Both Universal Beijing Resort — which includes Universal Studios, hotels, and malls — and Shanghai Disney Resort were shut for two and three months, respectively, this year amid COVID outbreaks in their cities.
In September, wait times for most rides at the 160-hectare park in Beijing were down to just 30 minutes during weekdays and an hour for weekends compared with several hours before, according to the theme park's app. It doesn't look rosy for the upcoming weeklong National Day holiday in October either, as authorities have discouraged people from traveling between cities to prevent possible outbreaks. 
Earlier this month, Universal Beijing Resort said that more than 13.8 million visitors had watched over 68,000 performances at its theme park since it opened. It didn't specify the number of total visitors over the past year.
Lin Huanjie, head of the Institute for Theme Park Studies in China, told Sixth Tone that he estimated Universal Studios Beijing has only been able to meet at most 70% of its traffic and revenue targets during its first year. The park had expected 10 million to 12 million people annually, but calculations from a travel consultancy showed at most 5.5 million have visited the park since its opening.
"It was poor timing — they opened amid the outbreaks," Lin told Sixth Tone. "Once the market recovers and visitors can move freely, they will have to restart marketing, promotion, and advertising, which could increase costs."
Universal Beijing Resort has also laid off employees after it was shut for eight weeks during May and June due to the outbreak in the capital, with its workforce shrinking by about 25% compared to when it opened, according to the Wall Street Journal. The theme park has even introduced a 75% cap on daily visitors and reduced its hours after reopening.
A former intern surnamed Yang told Sixth Tone that he was promised a possible full-time position at a Harry Potter attraction but was let go in July. The university graduate said he has since been made unemployed and painstakingly looking for a job in the gloomy employment market.
"When I joined the theme park, I thought I could stay here longer and even get promotions," said the 22-year-old, who was paid just over 3,000 yuan a month as an intern. "It's very disappointing."
Universal Beijing Resort didn't respond to Sixth Tone's request for comments on the impact of virus control measures on their operations. The theme park unit of NBCUniversal, however, told the Wall Street Journal that the pandemic had led them to make "difficult decisions."
And other theme parks across China, including domestic operators, have been experiencing similar difficulties amid lower footfall and mounting losses. In the first half of 2022, China's Fantawild Group reported a 44% decrease in revenue of its theme park operations due to local outbreaks, with losses amounting to 129 million yuan.
Lu Hexin, head of marketing at Ancient Dian Town in the southwestern province of Yunnan, told Sixth Tone that the number of visitors to the resort's theme park dropped about 20% year-on-year in the first eight months of 2022, despite more encouraging numbers during the summer holidays compared to the same period last year.
"Tourists from outside Yunnan dropped in the first half of the year due to COVID-related travel policies," Lu said. "Local visitors traveling in Yunnan have become an important source of traffic for the theme park."
Experts say that such travel constraints could prove more damaging for international brands that usually attract visitors from across the country, unlike domestic theme parks that mostly rely on locals. Lin estimates that about half of the visitors to Universal Studios Beijing over the last year were mostly those living in the capital. 
Xie Peitong from Beijing is one of them. She has visited the theme park more than 20 times, and eight of those trips were in September alone.
"Working and living in a big city is stressful," she told Sixth Tone. "I forget everything and feel like I'm in a different world when I visit Universal Studios. It's an outlet to release my emotions."
But many believe big brands like Universal Studios Beijing cannot just depend on local tourists to make a profit. According to Lin, a visitor demographic of around 70% non-local tourists is ideal for international theme parks.
For now, that target could be difficult to achieve, though experts and investors say that the numbers are likely to bounce back after China relaxes its strict virus control measures.
However, there are no immediate signs when that will happen, and that's making small business owners like Coco increasingly wary of the uncertainties that lie ahead. She said she invested 1 million yuan in her business but it didn't yield the returns in a year's time as expected.
"The Universal Studios theme park can't sustain footfall by just relying on locals," Coco said, adding she is expecting more people to visit the theme park during the National Day holiday. "If our profit margins and orders are further trimmed, we will quit even if we don't get our money back from the investment."
Editor: Bibek Bhandari.
(Header image: A family visits Universal Studios Beijing, Sept. 21, 2022. Yi Haifei/CNS/VCG)