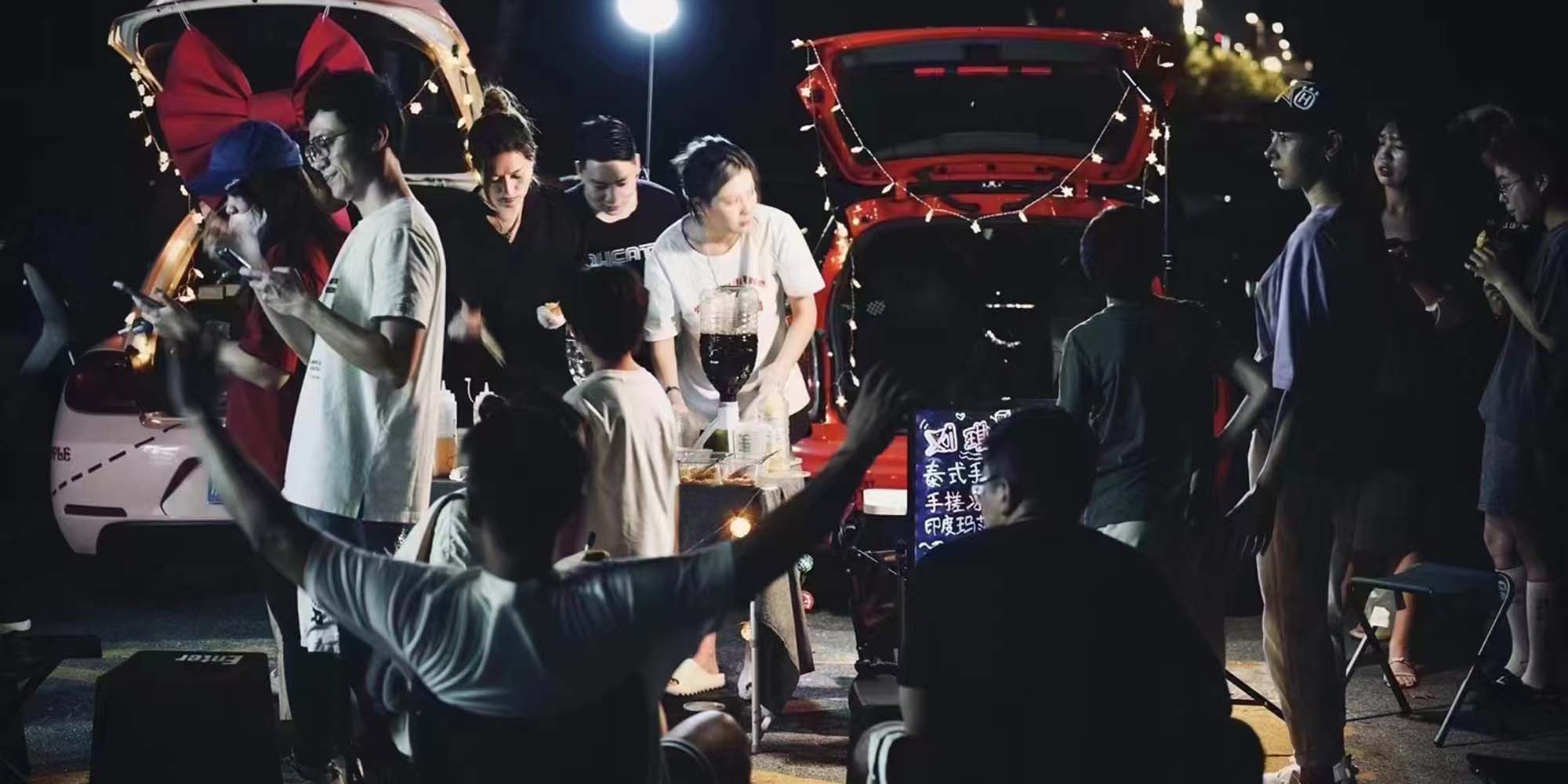 NEWS
Overworked, Unemployed Young Chinese Embrace Street Vending
Many youngsters seek to reinvent an existing business model as a temporary source of income as they try to figure out their next steps.
On weekend evenings, Nabi meticulously displays her handicrafts that she made herself at a street market in the northwestern city of Xi'an. She then waits for young office workers to visit her stall, hoping they help with business.
The 27-year-old used to be one of those white-collar workers who spent weekdays fixing bugs and attending back-to-back meetings as a software testing engineer. But she quit her job in May to become self-employed, as a street vendor.
"Now I can work less when I'm not in the mood, and get down to business at midnight when new design inspirations pop up," Nabi, who only gave her first name due to privacy concerns, told Sixth Tone. "In the past four months, I've befriended several like-minded fellow vendors and exchanged ideas from cost-effective vending slots to perspectives on life and the future."
Dubbed the "lifeblood of China" by Chinese Premier Li Keqiang, street vendors and night markets are gradually making a comeback after years of restrictions and being viewed as a low-status job. The shift toward this small-scale entrepreneurial spirit among disillusioned young urbanite Chinese has partly been bolstered by their desire to break free from the oppressive work culture and experiment with the carpe diem philosophy.
In cities such as Shanghai, scenes of young people selling coffee, accessories, and paintings along its leafy streets and mobile bars set up in car trunks along trendy neighborhoods have become more visible, especially after the city ended its COVID-19 lockdown in June. On Thursday, Shanghai scrapped its blanket ban on streetside businesses after 20 years and allowed them to operate in designated areas, while other cities, such as the neighboring Nanjing in Jiangsu province, have introduced a raft of measures from granting official licenses to fostering cross-industry cooperation this month.
The street vendors are now populating social media platforms too — many are showcasing their businesses online, while also sharing their entrepreneurial experiences and motivations. A related hashtag has garnered nearly 40 billion views on short-video platform Douyin, the Chinese TikTok. On Instagram-like Xiaohongshu, there are over 1.5 million posts of street vendors sharing anything from food recipes to their business plans in an attempt to inspire others.
"It's an intimate community, something I've never had in my previous jobs," Nabi said.
While people like Nabi have become street vendors to break away from mundane office jobs, many others say they jumped on the bandwagon amid growing anxiety. With COVID restrictions contributing to high urban youth unemployment and battering small- and medium-sized enterprises, low-cost businesses such as street vending have emerged as an alternative.
Yang Wen from the southwestern province of Guizhou is among them. The pandemic cost the 28-year-old his hotpot restaurant and a brick-and-mortar bar, and he now goes street to street to sell desserts from the trunk of his car — it's his primary source of income and a means to repay debts amassed due to the housing market cooldown.
"My family and relatives never understood my decision," he told Sixth Tone. "They don't realize that I can't get myself out of trouble working a regular job with meager wages."
Such attitudes reflect the long-existing contempt and bias toward street vendors due to its pseudo-legal status and inherently unstable nature. But experts say it's important for officials and society to acknowledge their economic worth. 
"Street stalls don't just benefit residents on an individual level, they can also play a positive role in the modern urban economy," Huang Gengzhi, professor at Sun Yat-sen University's School of Geography and Planning, wrote in a 2020 Sixth Tone commentary. "Restarting the street stall economy should not be a temporary response to the current economic situation, but part of the country's long-term plans."
Four months since he started the business, Yang's mobile dessert station has integrated itself into urban life. He usually parks his car at around 8 p.m. and creates an inviting ambience with fairy lights, signs, camping tables, and chairs. He said he gets around 200 customers every day, as the makeshift stall has turned into a popular hangout spot for young urbanites.
Yang said he could earn over 30,000 yuan ($4,230) a month, and usually uses social media to increase the visibility of his business and tap into a loyal consumer base. He declined to disclose his income but acknowledged that amassing such a high monthly income would be difficult — his stall is unlicensed, and he has to cope with rising product costs and weak consumer demand.
"I keep doing my utmost all the time to strike a balance," Yang said. "I don't plan to do it forever. But this experience will lay a solid foundation for my future pursuits."
Nabi, who sells handicrafts in Xi'an, also has similar intentions. In the past four months since setting up her stall, she has barely managed to make 2,000 yuan. Then her business briefly paused due to the COVID outbreak and lockdown in July, which prompted her to start job hunting and send résumés again.
"It's way harder than I initially thought, and I don't think I'll be able to do it full time for long," she said, referring to street vending. "But I don't regret my choice and see this business venture as a voyage for the spirit."
Additional reporting: Li Cathy; editor: Bibek Bhandari.
(Header image: Young street vendors sell homemade lemonades and desserts from a car boot shop in Shanghai, July 19, 2022. Courtesy of Jackie Zhu)