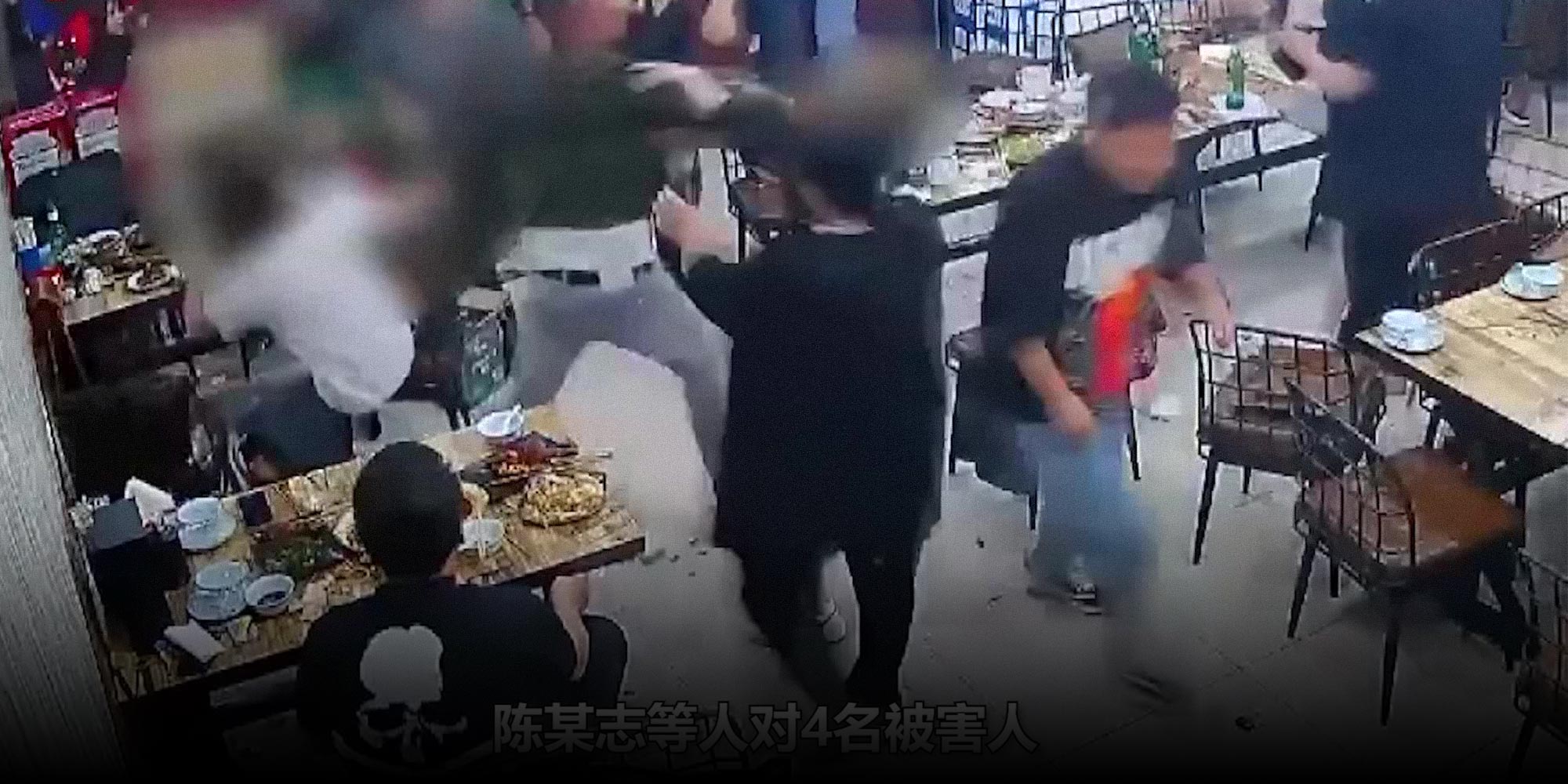 NEWS
Man Jailed for 24 Years After Brutal Tangshan Restaurant Attack
Others involved in the vicious attack on the four female diners were handed various prison terms and slapped with fines.
Chen Jizhi, the main perpetrator in the brutal attack on a group of female diners in the northern Hebei province that sparked a national outcry, has been sentenced to 24 years in prison, according to a verdict released Friday.
Chen was found guilty of eight charges that included "picking ​​quarrels and provoking trouble," robbery, gang fights, and intentional injury, and fined 320,000 yuan ($45,100), a district court in Langfang said. The 27 other defendants were handed prison terms ranging from six months to 11 years and fines between 3,000 yuan and 135,000 yuan.
In June, four women at a barbecue restaurant in Tangshan were brutally assaulted by a group of seven men and two women after one of the female diners objected to unwanted sexual advances. Surveillance footage from the restaurant showing a group of men beating, slapping, and kicking the diners soon went viral, raising concerns over women's safety.
Two of the diners suffered from "minor injuries," while the other pair had "slightly minor injuries," local authorities said last month. Chinese law defines minor injuries as those that harm an individual's appearance and organs, with the potential for criminal charges.
Chen and five other defendants were asked to pay for the women's medical expenses, lost wages, and other expenses, according to the verdict.
The case went on trial Sept. 13 at the Guangyang District People's Court in Langfang just weeks after prosecutors filed criminal charges against 28 people linked with the attack and other crimes, according to the verdict. While the attack took place in Tangshan, it was handed over to authorities in Langfang — both cities are in Hebei — to avoid potential cover-ups.
In late August, the provincial graft buster launched an investigation into 15 local officials suspected of colluding with Chen's gang. Eight of them in Tangshan were taken into custody on suspicion of abuse of power and bribery.
Cases of gender-based violence and sexual harrasment have time and again sparked public outcry in China, with people calling for stricter punishments. Last year, a man in the southwestern Sichuan province was sentenced to death after intentionally killing his ex-wife during a livestream.
But such harsh sentences are rare in many cases of abuse and harassment that have seen women being attacked in public places, including in hotels and when using ride-hailing services. While sexual harassment has been recognized as a cause for legal action since 2018, such cases often don't make it to the courts or are rejected due to a lack of evidence.
This week, another case grabbed national attention after more than a dozen women accused their ex-tutor Du Yingzhe, who teaches at Yingluzhantai tutoring academy, of various degrees of harassment. He was later detained by Beijing police.
Editor: Bibek Bhandari.
(Header image: Surveillance footage shows the attack at a restaurant in Tangshan, Hebei province, June 10, 2022. From CCTV News)