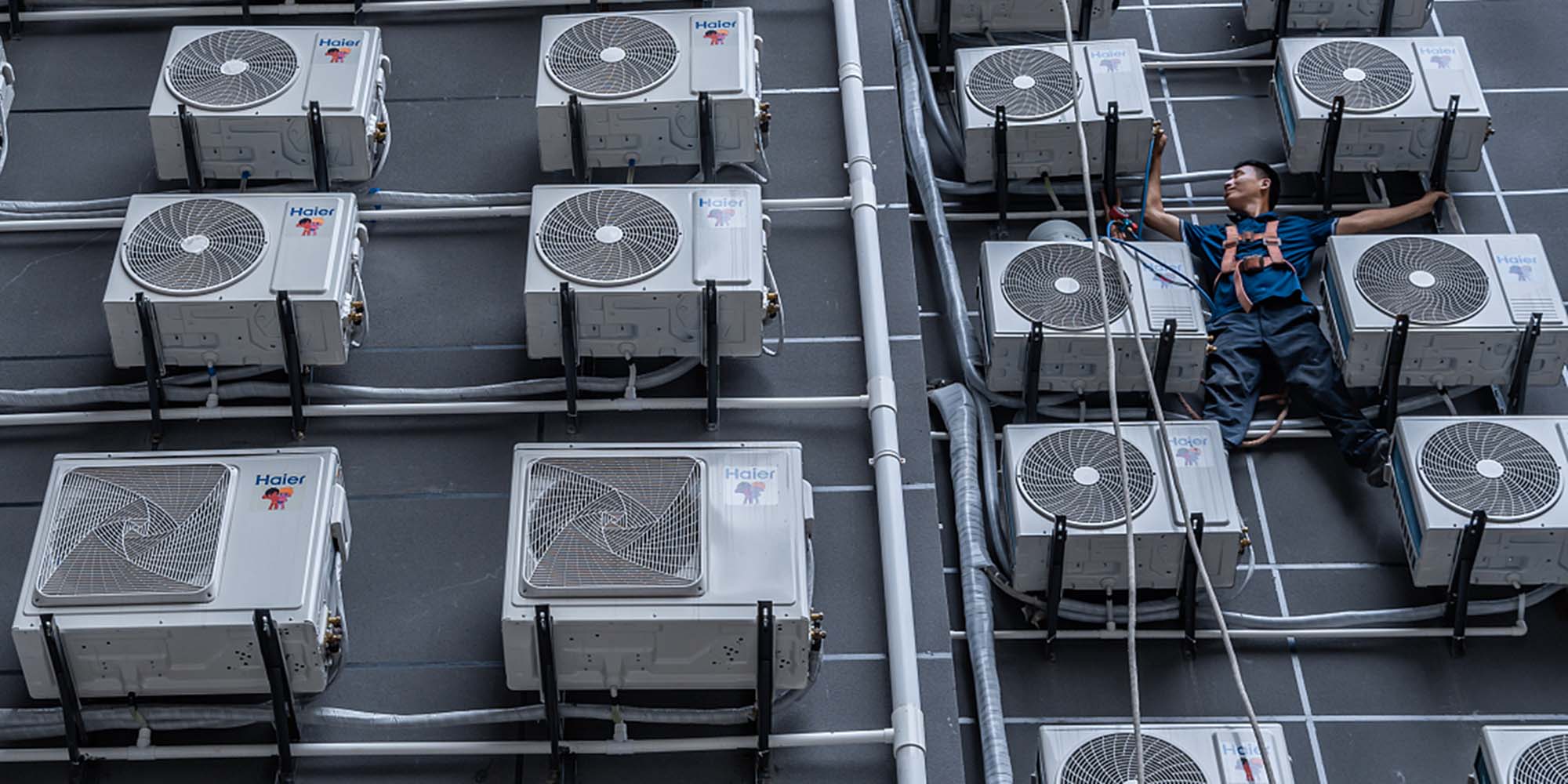 NEWS
More Air Conditioning Workers Died This Summer: Media Report
One Chinese insurance company estimates at least 100 technicians died on worksites, as demand soared due to heat waves.
Air conditioners save lives when there are sweltering heat waves, but they've also proved to be fatal for those installing or maintaining them.
The number of fatal accidents involving falls from high-rise buildings when maintaining or installing air conditioning systems surged this summer, as workers overlooked safety issues to increase efficiency amid an increase in orders during record-breaking heat waves, online media outlet Zhengmian Lianjie reported Tuesday.
An anonymous insurance investigator said their company had logged at least 100 fatalities involving air conditioning technicians over the past three months, compared with 200 during the whole of last year, according to the media report. The investigator, who works for one of the top five companies providing insurance for air conditioning workers, said the number could be higher, as workers not included in insurance schemes are excluded from the casualty figure.
The loss ratio for the investigator's company was already more than 100% in 2021, according to the media report. The investigator added that the accident rate for air conditioning workers was much higher than the insurance industry expected.
Air conditioner technicians and installers in China face a high risk of injury and even death at the workplace due to a lack of safety awareness and proper protection. China recorded 5,175 air conditioning maintenance-related accidents in 2018, of which 362 were fatal, according to the latest available data from China's Household Electrical Appliances Service Association.
In July, a man in the southern Guangdong province died after falling from the ninth floor of a residential building, local media reported. He was only wearing a thin climbing rope instead of the standard safety harness provided by his company.
"The rope could not bear his weight when he slipped," a witness told local media.
An air conditioner technician surnamed Wang told Sixth Tone that this type of job is physically demanding and extremely dangerous. He said many workers, himself included, usually work for themselves so they don't have to split their earnings with third-party contractors that companies and e-commerce platforms usually hire.
This means that many workers usually don't attend necessary safety training and voluntarily buy insurance on their own. Wang said he has worked as an air conditioning technician for over a decade but is yet to obtain the necessary license as required by the government.
"It takes more time for us to wear standard safety belts which usually have three to five buckles, or find a proper place in the house to fasten the belts," said the 35-year-old from the northwestern Gansu province. "At peak seasons, we have to push our luck when there are more orders than we can handle."
Zheng Peng, a lawyer at Hubei Hengkang Law firm who handles contract issues, told Sixth Tone that home appliance companies or e-commerce platforms providing technician services should cover the costs and take responsibility for providing compensation in the event of a tragic accident. Meanwhile, customers should take corresponding responsibilities and be liable for any compensation if they hire installers directly.
"Remember to check whether the workers are qualified for such work and give them safety warnings before they start working," he said.
Editor: Bibek Bhandari.
(Header image: A worker installs an air conditioner outside a building in Chongqing, July 16, 2022. VCG)