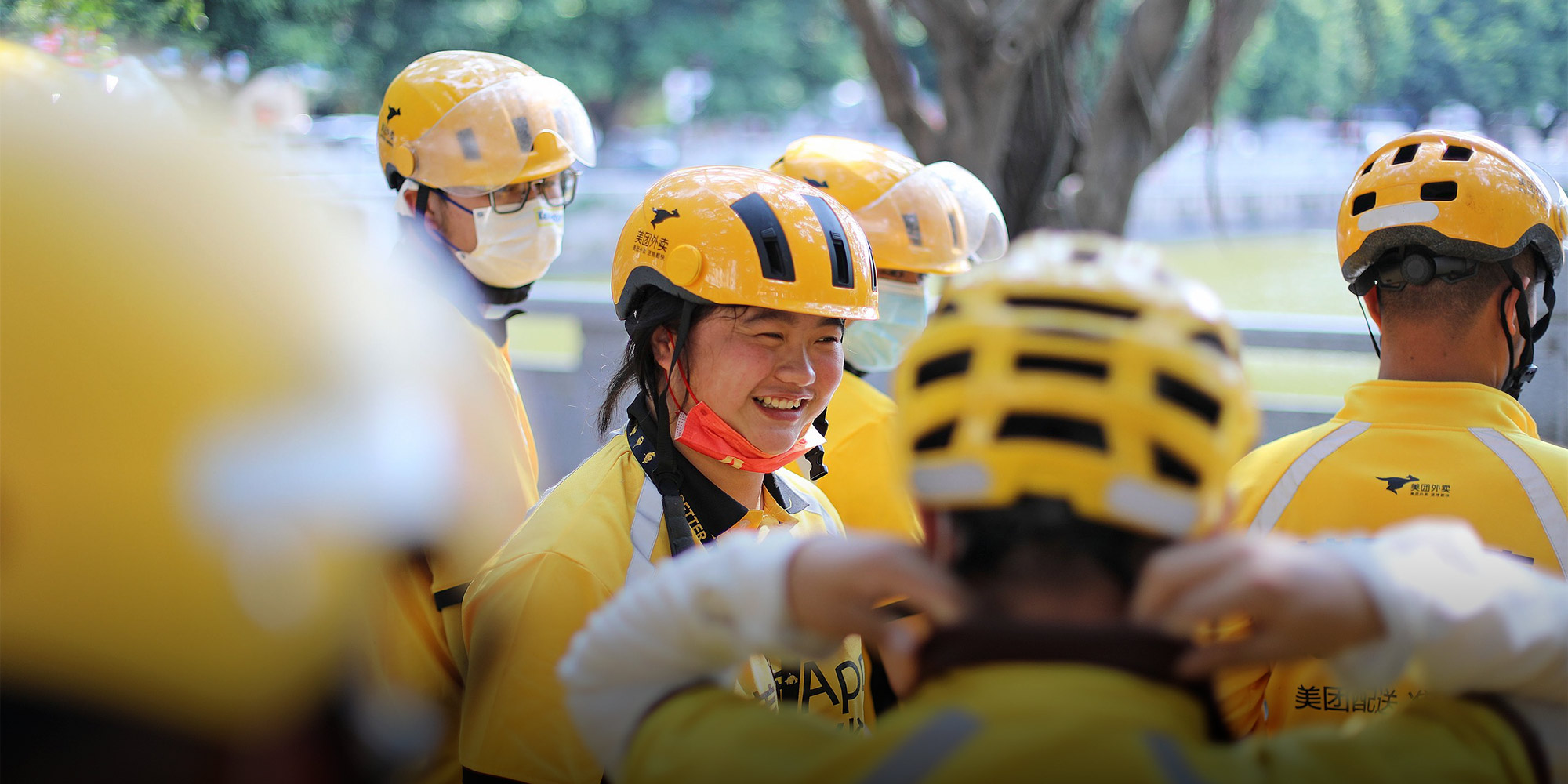 SIXTH TONE ×
For Women Delivery Drivers, Gig Work Feels Like a Guy's World
With the pandemic hitting industries hard, gig work offers women jobs with a low entry threshold and a stable income.
For three years now, 42-year-old Ah-Feng has been delivering food in Beijing. It wasn't perfect, but she had little choice.
Before this gig, she and her husband ran a body shop in their hometown of Wuhan, in the central Hubei province. But then, business went bad, leaving them more than 100,000 yuan ($14,400) in debt. In 2019, the couple decided to try their luck in the capital.
Squeezed in a small room with a monthly rent of over 1,000 yuan, she left her 15-year-old daughter behind, in her relatives' care. Presently, her husband is not employed. He wanted to use his savings to start a small business, but Ah-Feng disagreed. "Not with the pandemic hitting this hard," she says.
To earn a living and repay their debts, she preferred a job that paid regularly.
She first interviewed for a job as a supermarket shift manager, which offered a salary of 6,500 yuan. Though qualified, she was over the eligible age limit of 38.
She then attempted a sales position at a real estate company, where the base pay was 2,000 yuan a month, plus commissions. After discreetly asking one young woman who had worked there for two years, she learned that the monthly income plateaued at 4,000 yuan. It wasn't enough, so she gave that up too.
Finally, a recruitment call to deliver food caught her eye. "Do a good job, you get 6,000-7,000 yuan a month, do a better job, you get 8,000-9,000 yuan. But do your best and you can get over 10,000 yuan," she says.
As long as she could ride an electric bike, and use navigation and delivery service apps, the job seemed straightforward enough. And so Ah-Feng began.
Plan B
Liu Qing, 32, delivers takeaways in the northern coastal city of Tianjin. And just like Ah-Feng, she saw no better options either.
She and her husband owned a small restaurant in Tianjin, until COVID-19 dealt them a fatal blow in 2020. Her husband subsequently worked at another restaurant, and she went back to her hometown of Xinyang in the central Henan province to give birth.
They already had a 7-year-old daughter. But this time, there was a problem.
When she was five months pregnant, a prenatal exam showed that the fetus had a 60% chance of having developmental defects. "If that happens, it's not something that a family like mine can handle," she says. She chose to abort at seven months.
She returned to Tianjin after a year of rest. But anxiety loomed large every day. "I didn't earn any money, and I didn't take good care of my child. I felt useless," she recalls.
Her husband works in a big restaurant now, with shifts ending at 10:00 p.m. every night. He returns home and goes straight to bed. He has no holidays to speak of either. She had to take care of her daughter herself, which made it hard to land a stable job.
However, she resisted the idea of sending her daughter back to her hometown to become a left-behind child. "Because when I was in primary school, my parents left to go and work far away. I know what it was like, so I need to keep her close," she says.
Her school run started daily at 8 a.m., and pickup was at 5:30 p.m. That was the focus of her life, until last September, when her daughter enrolled in first grade. It meant she finally had time to work.
She now works as a part-time takeaway delivery rider. "The hours are more flexible. You get to pick and choose which orders to take," she says. Like Liu, many women now juggle part-time delivery gigs and childcare.
Sun Ping, a researcher at the Chinese Academy of Social Sciences, and her team interviewed thirty women working delivery jobs in 2020 and 2021, of whom eight said they chose this for the flexibility it afforded for child care.
According to Sun, many women interviewed came from traditional, rural families, where women often bear more family responsibilities. For most, employment is a necessity, and part-time gigs are among the few options available.
Sun observed that the number of women working delivery gigs has surged over the past two years. Due to COVID-19 hitting industries that have a high concentration of women workers, such as foreign trade and tourism, many were in urgent need of a job with a low entry threshold and decent, stable income.
The delivery industry thus became their temporary foothold.
Hustling
For many gig workers, late night deliveries are the best. The roads are usually clear after 9 p.m., and the price per order goes up.
But not for Ah-Feng. She recalls an incident not long after she started, when an order took her to a location out in the sticks at night. She could net over 60 yuan on that trip alone.
But when the navigation app showed that she was just several hundred meters away, construction work forced her to reroute to a road with no street lights.
Turning a corner, she noticed a sign for a cemetery, and broke out into a cold sweat. Desperate to feel safe on the way back, she called a male colleague and kept talking on the speaker phone until she saw lights.
In addition to the late night dangers, her other concern is the menstrual cycle.
She bleeds a lot. So each time her period comes, she needs to apply for two days of leave to the head of dispatch. Guarding against sudden onsets while on a delivery, she only dares to work in dark pants, and not in the dresses she loves. "Sometimes it's hard to find a bathroom on the road," she says.
Usually, an order within a three-kilometer radius requires completion in 30 minutes. In 2019, Sun's team conducted an experiment — it's nigh on impossible without speeding, or otherwise skirting traffic rules.
Ah-Feng says that many men rode motorcycles, going up to 80 kph, but almost no women had licenses for that. Even on modified electric bikes, 40 kph is the best women can do.
Motorcycles are heavy in the front for women, most of whom can't steer well. Also, fuel costs more than charging a battery.
In the time Ah-Feng takes to run ten orders, male colleagues complete 15. She tried hard to keep up, sacrificing her own lunch or supper breaks. "In the end, I didn't eat well and I was often dehydrated and exhausted. Then I thought, the extra 30 or 40 yuan is not worth it," she says.
Now, she packs it in after reaching her self-imposed goal of 300 yuan a day, and no longer competes with men.
Liu Qing used to work the coveted supermarket orders. For deliveries weighing over 20kg, the fee went as high as 10-15 yuan. A few times in, however, she felt sore all over, and needed to plaster her shoulders and back, and the pain lingered for a long time. Now, she only focuses on orders with delivery fees of 3-5 yuan, such as from pharmacies and convenience stores.
According to Sun, the algorithms of delivery platforms are tailored for men, in terms of labor intensity and management rules. "Most of the quota system is based on men's data, which is clearly not comfortable for women," she says.
Some platforms assign a level of difficulty for delivery in the system. Sun Ping explains that factors such as hot spots during rush hour, or heavy payload push the price higher. Women eventually learn to shun such orders. Those brave enough to apply are often told: "You can't handle it here" or "We never had women before. Our recruits are all strong and capable men."
Compared with the physical disadvantages she faces, the struggle for a work-life balance makes Liu feel even more powerless.
"Sometimes, on school holidays I take my daughter on the delivery ride. Even if I'm in a hurry, I'd rather slow down than either run a red light or ride on the wrong side of the road," she says. If the destination has a children's playground by any chance, she lets her play for a while. On such days, her daily income halves to less than 100 yuan.
Simultaneously, she is afraid of people judging her. The security guard at a mall once saw her daughter on the back of the bike and said, "How badly do you want to earn?" And while waiting at a light once, a traffic police officer said: "It's not safe for the child."
Liu Qing often feels guilty about it, but can't think of a better way. She fears for her daughter being alone: What if she won't even venture out to the toilet because of the feral cats in the alley? What if she does go out, and gets lost? What about a fresh, warm meal?
Adapting
To survive in this male-dominated market, Sun says women usually adopt one of two survival strategies: the first is "desexualization," packaging themselves as masculine, and projecting the image of a hard laborer who can do what it takes.
The second, according to Sun's survey, is to project feminine traits such as "a smiling face, talking sweetly and slowly, and being accommodating."
Zhang Ling, working delivery gigs in Shanghai, chose the first strategy. She often humors herself that "men don't treat me as a woman."
Before getting on the ride at the end of 2021, she worked in the canteen of a furniture factory. She liked to wear high-waisted miniskirts, and daily makeup was mandatory.
But now, because she wears a uniform and helmet every day, makeup is just a waste. So she only wears sunscreen. From a distance, barring the ponytail sticking out of the helmet, it's hard to tell she's a woman.
Her center has more than 70 riders, and she often ranks among the top three. Coming from a rural background in Sichuan, she has a 14-year-old daughter and an 8-year-old son to support. A family home renovation a few years ago left them deep in debt.
She goes online at a little over 7 a.m. every morning, one hour ahead of most, and grabs the backlog of orders that nobody picked up. During rush hour, even if the destination building has an elevator, she still chooses to run up the stairs to the lower floors — it's simply quicker.
In early April, amid Shanghai's first major lockdown, public toilets were temporarily closed. So she wouldn't drink anything unless she absolutely had to, and did just one bathroom run at 2 p.m., during a quick lunch break.
She says: "My electric bike can carry 20 kilograms, and that's what I try to do. As long as I can pull through, women don't have to lose to men."
Ah-Feng believes otherwise. "After all, I'm a woman. We have to own the objective physical disadvantage."
Sun and her team have shown in their research that some women lean on the female identity to solicit help.
During the lunch rush, office building elevators are always bursting at the seams. Ah-Feng often says in a loud, clear voice, "Hi handsome! Which one of you is going to the sixth floor? Please do me a favor and help me put this food on the shelf there."
"Almost every time, a guy offers help. People like hearing nice things," she says.
When the payload is too heavy, the tire hits a nail, or the weather is bad, she calls the customer to plead for some more time.
Old woes
Amid the long hours, the gender disparity, and the anxiety, Ah-Feng still finds time for her beauty regimen. Every morning before clocking in, she spends an hour on makeup. And every two hours she reapplies sunscreen and mascara.
She told coworkers that she spends 400-500 yuan on cosmetics every month, and after night shifts, she puts on facial masks, a popular fair skin product in China. Some were taken aback. "You have time for that?" Some men flat out say she's a "spendthrift."
She never gets angry, but she does correct them. "Not a spendthrift. Like you men who smoke, to each their own."
She concedes that she doesn't see much of a career in this line of work, and the inferiority complex builds up. "The job is close to the bottom of society, and gets no respect," she says.
She remembers going for a coffee once without changing out of her work clothes. The waiter recommended the 10-yuan variety, but most of the other options were over 40 yuan. She was offended.
Sometimes, when entering high-end shopping malls or high-end residential areas, security guards may ask her to take off the uniform, or call the customers to come pick up at the door.
Compared with the embarrassment and slights she meets outside, what really hurts is when it comes from her husband.
She still remembers an incident around six months after they settled in Beijing, when her bottle of Armani perfume ran out. She hoped he would buy her a new bottle for her birthday. Instead he just said, "Are you going to ride around smelling nice to seduce men?"
In the end, she bought it herself.
Though Ah-Feng talks to her daughter, now in junior high school, on the phone every day, she never tells her what she does in Beijing. The plan is to do the hard labor while she still can, with an eye on better alternatives in the future. That, or save enough to open a small shop in the tropical Hainan province, selling fruit and flowers.
Liu Qing doesn't talk about her work on the school runs either. "I'm worried that I'm not good enough as a mother, and will be looked down upon," she rues.
She remembers one time when she was late to school because of a delivery faux pas. The teacher wanted to call her, but her daughter stopped the call. "Don't call my mother. My mother is delivering food. If you call her, she will have an accident trying to rush here," her daughter had said.
Liu found it almost funny: "I hide it every day, not wanting people to know. And you just told your teacher?"
Her daughter didn't mind, and praised her instead: "The work you do is important, and hard. Many places are closed due to the pandemic. If it weren't for you, they wouldn't be able to receive things." That's what helped Liu punch through her inferiority complex.
She likes the freedom gig work offers, but has no long-term plans for it. "Because it doesn't pay social insurance, I have to pay it myself every month," she says.
She would like a job with social insurance, and one that allows school runs. Once the pandemic eases, she plans to open a cake shop. "I rarely ate cake when I was a child. And after I started working, I only had cakes for my birthdays," she says.
Zhang Ling doesn't plan to stick around either. "In a couple of years, I'll pay off the debt and go home to be with my children."
Reporter: Liu Yuxiu.
A version of this article originally appeared in The Paper. It has been translated and edited for brevity and clarity, and is published here with permission.
Translator: Matt Turner; editors: Zhi Yu and Apurva.
(Header image: A female leader of a delivery team talks to her staff in Shenzhen, Guangdong province, April 2022. IC)