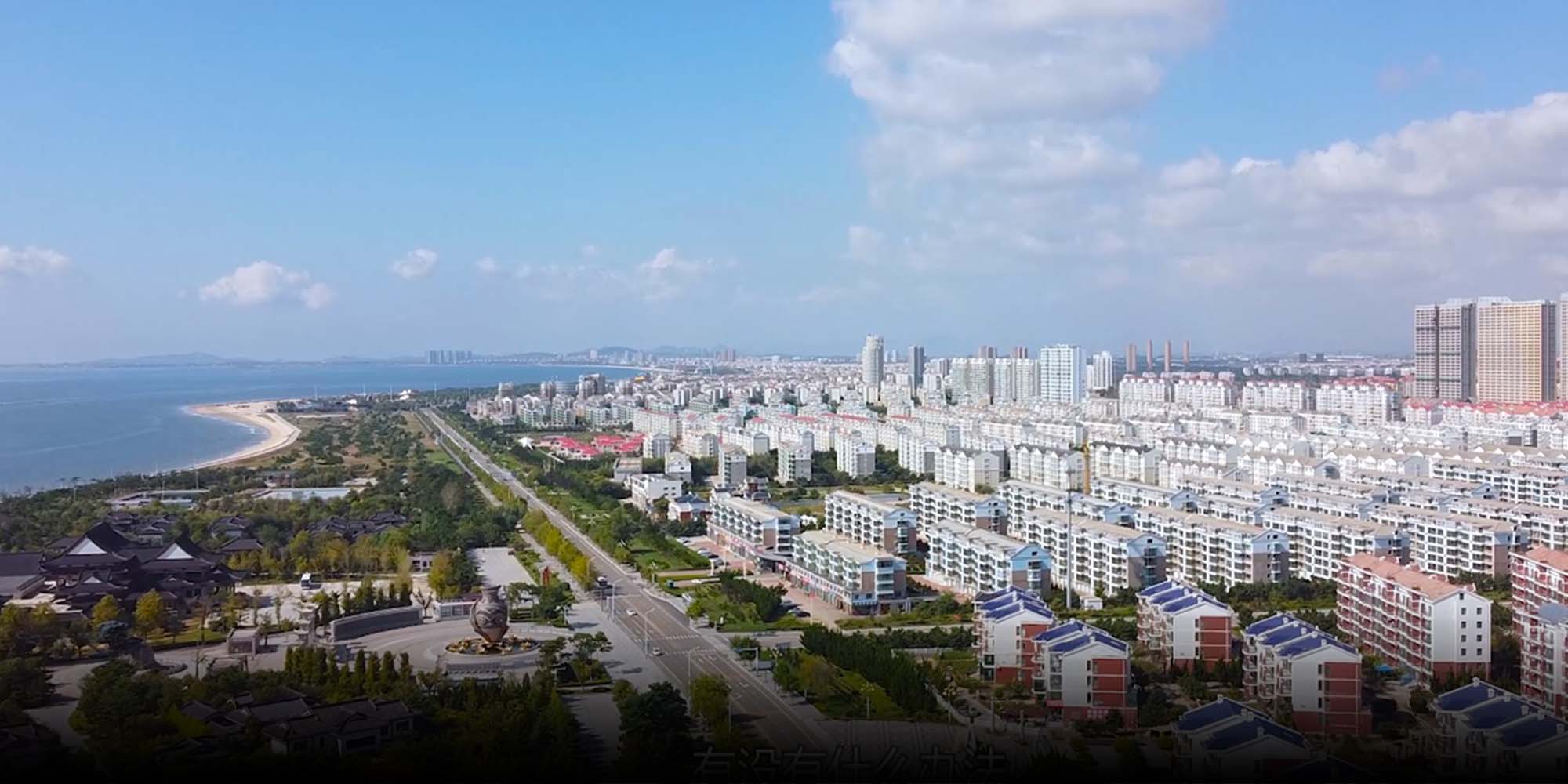 MULTIMEDIA
The Winners of China's Housing Bust: Burnouts and Beach Bums
Situated in scenic towns and all but free, they're the perfect flats for lying flat.
Welcome to WWW: What We're Watching, Sixth Tone's new column looking at the best, the most viral, or just what's obsessing us on the Chinese internet.
It sounded too good to be true, almost like finding a cheat code for Chinese real estate.
Tired of big city life after years in Beijing and Hangzhou, freelancer Pan Deng set out as a digital nomad in 2019. The Hebei native decided to go to Guangzhou, seeking warm weather and delicious Cantonese food. But when he got off the highway on the outskirts of the southern city and saw a resort advertising rooms for just 600 yuan ($87) a month, he assumed it had to be a mistake or a scam.
It wasn't: an hour's drive from downtown Guangzhou, the luxury development was desperate for customers. Pretty soon, Pan was living in a 65-square meter room with a balcony overlooking other houses and trees. In Beijing, all you can get for 600 yuan a month is a bed in a dormitory.
Pan stayed for half a year. Then he drove some 300 kilometers south to Hailing Island, where he got a sea view room for 700 yuan a month.
Finding deals at deserted resorts became a fascination, and then a career. Now, Pan wanders China's scenic hinterlands, broadcasting his hunt for rock-bottom prices to an online audience of over 450,000, on video platforms Douyin and Bilibili. His most popular video has over 1.6 million views.
He's made videos about staying in a "ghost city" in eastern Shandong province for 300 yuan a month, a sea-view apartment in southern Guangdong province for 700 yuan a month, and a resort in southwestern Sichuan province for about 800 yuan a month.
Pan is the most famous of a group of urban dropouts who have found a silver lining in China's property crisis: amazing deals on rent in overbuilt small towns and cities. By now, other burnt-out urbanites are following his lead.
"This kind of empty holiday community is a freelancer's paradise," Pan says in a video from a sea-view apartment in Guangdong. "I'm not sure if it's the impact of the epidemic or the excess of real estate, there have been more and more apartments like this that are available for a few hundred yuan a month in the past two years."
To find low-cost resorts, Pan says in another video, he pores over satellite images of remote mountains and seaside areas, and then looks for developments that stand out from their surroundings. These high-end apartment communities are often built next to tourist attractions, the developers counting on urban tourists and retirees as buyers. But many lie idle, looking like ghost towns.
In China, the hangover from a decadeslong real estate boom is wreaking havoc. But for a growing cadre of urban drop-outs, it's an opportunity to live cheap.
China embarked on a building spree in the '90s to address a shortage of housing in its fast-growing cities, fueled by buyers paying in advance. Today, however, an academic estimate shows that 18.4% of China's urban homes were vacant in 2011, and 21.4% in 2017, higher than the U.S. and most European countries.
"With this development model, no matter who wins or who loses, I always win," Pan tells his followers in the video. He did not respond to Sixth Tone's interview requests.
The vacancy epidemic is a disaster for advance buyers who may never see their apartments built, but it's great news for members of China's growing tangping, or "lie flat," movement. In response to a culture of long overtime, hard work, and permanently deferred rewards, a growing number of skeptics have embraced bohemian voices who argue that if you can live cheap enough, you don't have to work.
A 35-year-old former mobile game developer, surnamed Song, quit his 10-year job last year and went on the road, traveling to remote counties and islands in Guangdong province, following the trail blazed by Pan. In April, he arrived at Yintan, whose name means "silver beach," in east China's Shandong province, where he's currently living. He says an "unbeatable" sea view apartment costs 400 yuan per month.
In Yintan, Song stays in one compound for about two months and then moves to a new place. There are plenty of choices, he says. "Every local here is a rental agent. Whether their daily jobs are selling breakfast or driving a cab or something else, just talk to them, and they can find an apartment for you. There are more apartments than people."
Over 200 residential compounds have been built along the 20-kilometer coastline in Yintan, according to financial media outlet Yicai. In each compound, there are between a dozen and a hundred buildings. They're almost all empty, Song says. "At night you can see nine out of ten houses are empty, and it's still the peak season! In a month, there will be even fewer people here," he told Sixth Tone.
Many locals received several apartments from the local government as it demolished their homes, so they decorate and rent them out. Some tourists bought a residence at Yintan, but only come to stay for two months during the tourist season.
But even now, there are still new properties under construction, Song says.
In one video, Pan shows a kilometer-long beach in Guangdong province, which he says is the only attraction on the island. Three major real estate companies came to build villa hotels and high-rises. "When night falls, you can see that the occupancy rate is less than 5%, but they are still building more," he says.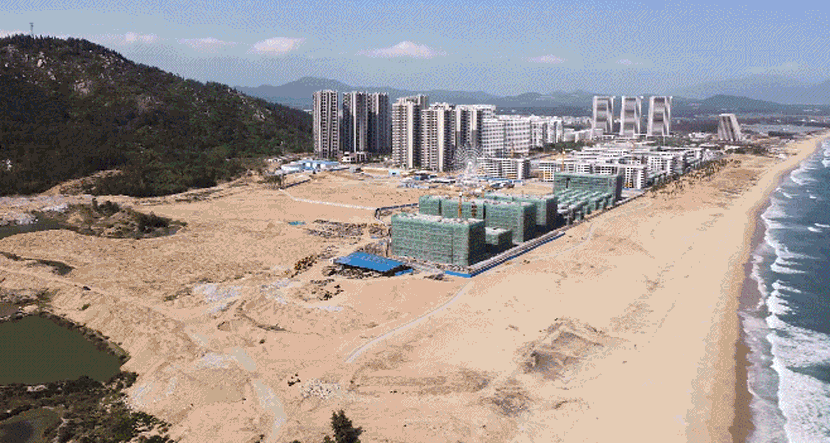 It's a simple life, he says. "It's easy to meet the basic needs of life, but there are almost no nightclubs or karaoke," Song tells Sixth Tone.
"I hate the atmosphere [in Beijing]. It's depressing and it makes me anxious," Song says. "But in Yintan, everyone is relaxed, walking slowly, and even having time to sit on the side of the road for a while. The air quality here is also very good."
Song calls himself Qingsong — "relaxed" — online. "I wish everyone could lead an easy life," says Song.
Song has set up groups on the messaging app WeChat to connect like-minded people who also want to share their peaceful and relaxing existence in Yintan. "When those who haven't come to Yintan ask us in the group how come we talk all the time as if we don't work at all, we will flood the screen and tell them 'we lie flat,'" he says.
Song says that thousands of urban young people have made plans to come to Yintan in the last few years, based on the number of members in related groups on the messaging apps WeChat and QQ.
Living in Yintai frees people like Song from much of the pressure to earn money.
A friend of Song, surnamed Yu, told Sixth Tone that he supports himself earning 600-800 yuan a month from videos documenting his life as an urban exile in Yintan. He budgets 375 yuan a month for rent, 300 yuan for meals, and 50 yuan for utilities. Most days, he gets up and has breakfast, then makes a cup of tea, goes for a walk on the beach in the afternoon, and sometimes watches videos or goes for a bike ride.
Originally from Zhejiang province in China's east, the 34-year-old left the finance industry in 2017 and started traveling the country by himself. He first stayed in a small village in Zhejiang for three years, and started traveling by car in 2020, during which he mostly slept in his car or a tent, and even in temples. Eventually, he moved to Yintan after seeing it in one of Pan's videos.
Living the quiet life of his dreams, Yu told Sixth Tone, he began to reflect on his struggles to earn money in previous years. "In the countryside, I see many old people spend very little money each year. But their lives still go on. So why can't I do the same?"
Yu says he's lost his belief that only owning a home can lead to a happy life. The belief has made demand for housing rigid, and led to unreasonably high prices, he says.
"It's a kind of middle-class anxiety," Yu adds. A nice apartment in Yintan would cost him 150,000 yuan, while prices in Shanghai or Beijing could reach 100,000 yuan per square meter in the city center.
In Beijing, Song once met a couple living in a toilet of a house that was shared with eight different families. "Maybe they think that life only has that one option – working hard," he says. "Life in Yintan is totally different. It's a bit like the two sides of a coin, all the voices are telling you that you should go on the positive side, but actually, you have a chance to flip it over, and try another way of life."
Editor: David Cohen.
(Header image: A sea view in Yintan, Rushan City, Shandong province. From Pan Deng video)
Click here to read more.