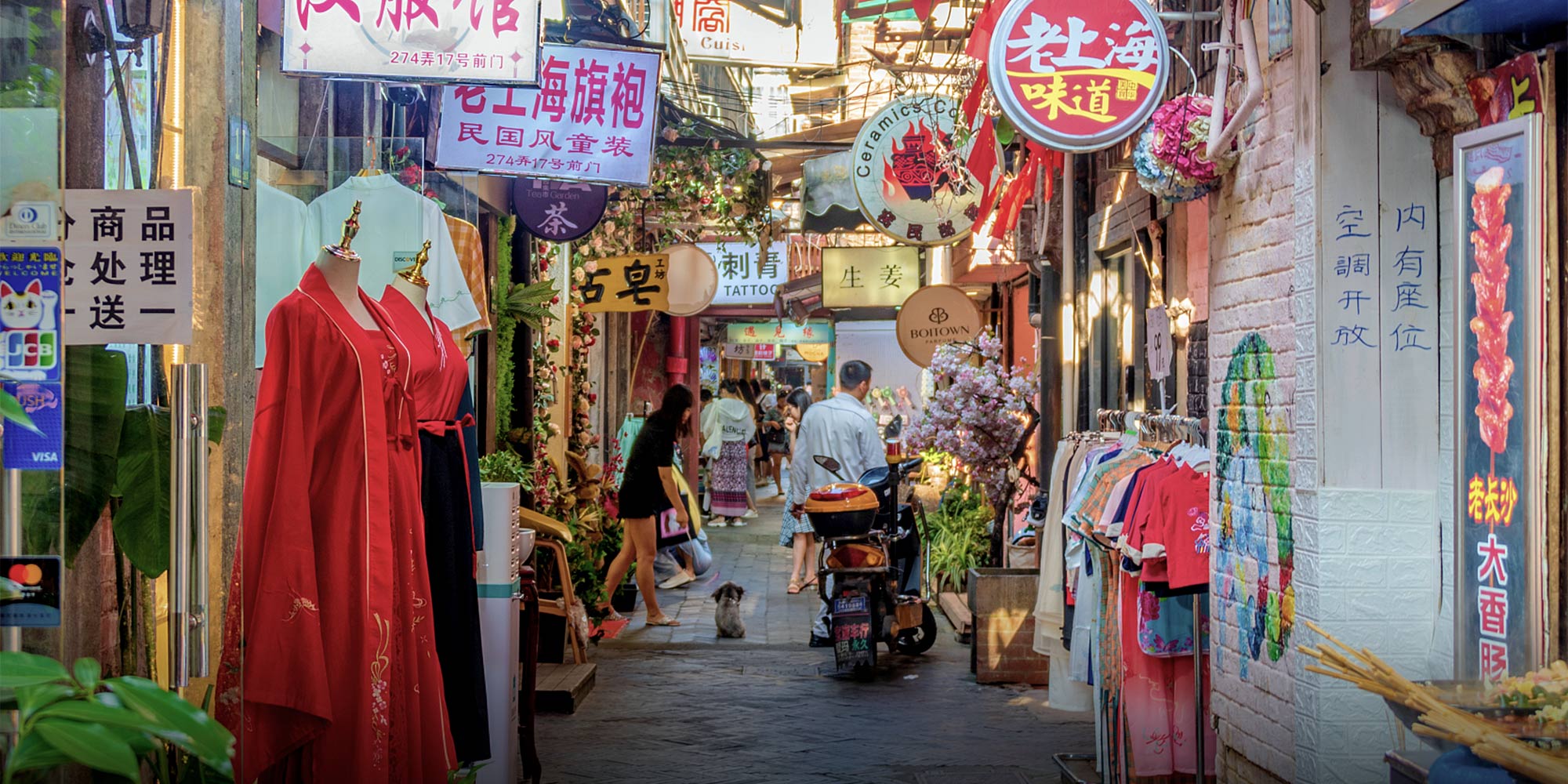 NEWS
All's Not Well at Shanghai's Tianzifang Tourist Hotspot
Falling tourist numbers following lockdown have resulted in losses for many merchants in the once thriving shopping alleyways.
SHANGHAI — Business owners in one of Shanghai's most popular shopping alleys have always found the place crowded with tourists. But footfall in the past few months, they said, has been far lower than what Tianzifang used to see.
Nestled in the city's former French Concession area, Tianzifang houses hundreds of arts and crafts stores, souvenir shops, and eateries, mostly opened by small business entrepreneurs. The labyrinthine alleyways in between the historic Shikumen-style buildings and souvenir shops present a slice of old Shanghai, attracting thousands of shoppers and selfie-takers.
But today's Tianzifang paints a different picture — it's a snapshot of the city's post-lockdown recovery. Three months since Shanghai lifted its COVID-19 restrictions on June 1, its scars are still visible in places like Tianzifang, as shuttered shops and reduced traffic remind visitors and business owners of the lockdown's economic toll.
Following the three-day Mid-Autumn Festival holiday Tuesday, the alleys where tourists once elbowed each other were relatively deserted, though the weekend was slightly more upbeat, shop owners told Sixth Tone. Daily visitor numbers are now capped at 5,000, and a real-time visitor count screen at one of the entrances showed fewer than 200 people were inside the Tianzifang area at 2 p.m. that day.
The occupancy rate in Tianzifang, once an overbooked business neighborhood that welcomed more than 100,000 tourists per day at its peak, has dropped to around 70%, an employee surnamed Lu at Tianzifang's management committee told Sixth Tone.
The lack of tourists is affecting business people like Zuo Zecai, who has owned a shop in Tianzifang for a decade. The 69-year-old spends an hour commuting to his shop selling face cream packaged in vintage-looking containers, but is now unsure how long he can continue as he struggles to break even.
"The impacts of the COVID lockdown and other pandemic prevention measures on Tianzifang have been devastating," Zuo told Sixth Tone. "Mid-Autumn Festival has brought back more tourists, but we can't bet our livelihood on a few holiday seasons."
Zuo's dilemma echoes the plight of several small business owners in Shanghai whose operations came to a grinding halt during the lockdown. With shops closed and factories shuttered, Shanghai's economy shrank almost 14% in the second quarter of 2022 due to the lockdown, according to the National Bureau of Statistics.
The travel restrictions and stricter COVID control measures amid recent outbreaks in Sanya, Chengdu, and Tibet haven't helped in boosting consumption. Tourist hotspots similar to Tianzifang, which have recently been popularized by so-called online influencers, in the ancient southwestern city of Lijiang and the scenic town of Xitang in the east also face similar woes amid relatively bleak October holidays.
"The number of tourists has been recovering very slowly," two security guards in Tianzifang told Sixth Tone, adding that visitors were barred and shops bolted until late June.
Zuo, the shop owner, agreed. He said there were more people visiting Tianzifang during the weekends, though not as many as before and not enough to help his business get back on track.
"Because of the pandemic, I almost lost all the wealth I accumulated over the past 10 years due to losses in the last three years," he said. "The sales are not enough to cover my costs, although my landlord has more than halved the rent from 7,000 yuan ($1,010) to 3,000 yuan."
To reduce the lockdown's economic burden on small- and medium-sized businesses, the Shanghai government has also rolled out a slew of measures. They include lowering taxes and rent, giving consumption coupons, as well as launching a night economy plan to boost consumption.
But store owners in Tianzifang who have been stationed there for years said such measures have provided them with little respite. With no options left, people like Xia Shengbo have shut their shops and moved on.
Xia decided to shut his pastry chain that had stores in Tianzifang and other cities after three years amid plummeting sales. He has now returned to his hometown in Jingdezhen, also known as China's porcelain capital, where he has started a new career selling ceramics on livestreams on Douyin, the Chinese version of TikTok.
"Even before Shanghai's lockdown, sales from my Tianzifang store were only covering 10% of my costs," Xia said. "It's about the same for my stores in other locations."
But not everyone has lost hope yet, and some believe the businesses will weather the storm to bounce back. Huang Ruhao is one of those trying to make the most of the cheaper rent in the area.
After leaving his teaching job, the 53-year-old moved from Taoyuan in Taiwan to Nanjing with his wife in 2021, before settling in Shanghai. He said the couple were instantly impressed by Tianzifang's artistic and historical charm and decided to open an arts and craft store this year.
Huang currently leases a 30-square-meter store for 15,000 yuan per month, roughly a quarter of the pre-pandemic rent, and is busy finishing renovating it. He plans to open the store for the weeklong National Day holiday starting Oct. 1.
"I expect better days ahead," he said.
Editor: Bibek Bhandari.
(Header image: A view of Tianzifang, Shanghai, 2020. VCG)