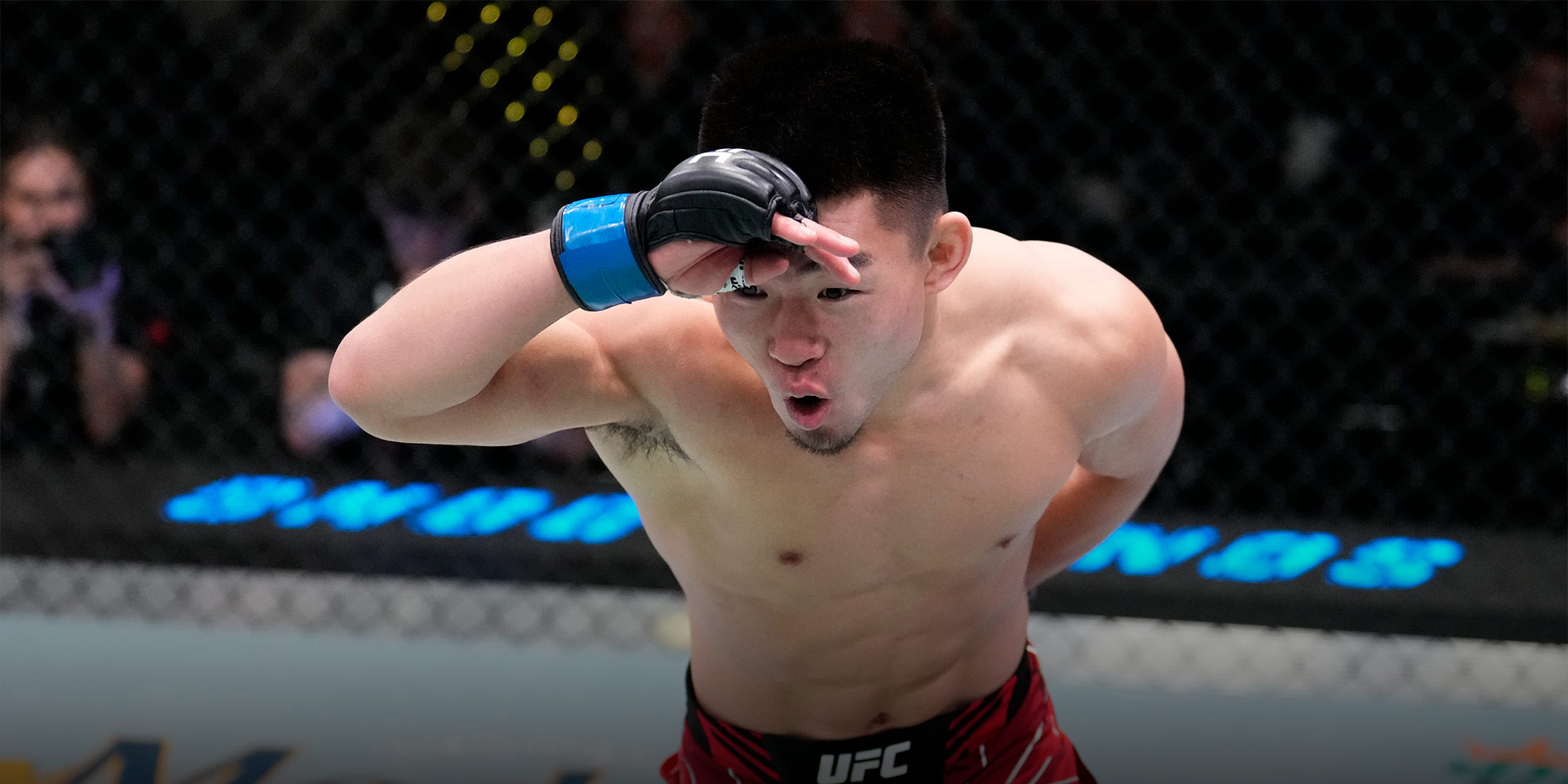 FEATURES
Song Yadong: The Man Fighting to Make UFC History
Song Yadong is on a mission to become China's first male champion in the Ultimate Fighting Championship. But first, he faces his toughest test yet.
Song Yadong was just 13 years old when he stepped into the ring for his first organized fight. It did not go well. He was matched up against a kid twice his size — and he soon ended up flat on his back. But the moment simply fueled Song's conviction that he was born to be a fighter.
"I lost, but I loved it," Song tells Sixth Tone. "I just love to fight."
Some 11 years later, Song still does, and this raw passion has helped propel him to the very top of the world of mixed martial arts. He's now just a few fights away from making history by becoming China's first male champion in the Ultimate Fighting Championship.
Now ranked 10th in the UFC's bantamweight division, Song is due to face the fourth-ranked American Cory Sandhagen in a headline fight at UFC Fight Night 210 in Las Vegas this Saturday. It will be the first time in the UFC's almost 30-year history that a mainland-born Chinese man has featured at the top of the bill.
Win, and Song will be ranked in the top five — and the odds are that very soon he'll get a crack at a historic title fight. Only one other Chinese fighter has ever got that far: the former women's strawweight champion, Zhang Weili.
"We already have Weili," says Song. "So, I hadn't really thought much about leading a new generation before recently. Now, I see it as my mission … I want to show how good male fighters from China can be, too."
Born in the northeastern city of Harbin, Song has been obsessed with combat since childhood. At just 9 years old, he convinced his parents to send him to the martial arts schools that surround the famed Shaolin Temple complex in central China's Henan province. But he soon returned home, after discovering the schools are more about training — and discipline — than actually getting into fights.
By 13, Song had started formal, government-run training in sanda, or Chinese kickboxing, and that was when he received the challenge from the biggest — and best — kid in his class. There was no way Song was going to say no.
"I'd only really been training for six months, and my coaches knew I wouldn't win — but I just wanted to have a fight," says Song. "He was the best kid in my division, and he just knocked me down to the floor, almost straight away. But I finally felt what it was like to be in a fight — and there's no other feeling like it."
This attitude set Song apart. Even at a young age, he had the drive and self-confidence to believe he could make it as a fighter.
"The other kids at that martial arts school wanted to train, but I just wanted to fight," he recalls. "They said, 'There are more than a billion people in China, what makes you think you out of all of them can become a professional fighter?' But I said, 'Why not me?'"
As he has grown as an athlete — and grown into a man — the fight game has taken Song from Shaolin, to the sanda school, and on to the Enbo Fight Club — a renowned talent factory in southwest China's Sichuan province, where he started his career in mixed martial arts.
Then, at just 19 years old, Song signed with the Las Vegas-based UFC in 2017, where he quickly evolved into arguably the most exciting male MMA fighter to have come out of China. He's now on a run of eight wins from 10 UFC fights, cashing in with three fight night bonuses for his stellar performances along the way.
Song is talking with Sixth Tone via video call from his home in Sacramento, California, where he has been living and training at the nearby Team Alpha Male gym since 2018. With him, and helping with translation, is his partner Daisy, while their four-year-old son bounces around on the bed behind them.
It's a picture of domestic bliss, but it hides the sacrifice that Song made when leaving his homeland behind to chase his UFC dream. He was just out of his teens when he departed, and then the COVID-19 pandemic soon struck and made international travel to and from China almost impossible.
Song wouldn't set foot in his home country for three years — and he found himself powerless to help family and friends back home during the crisis. Back in late 2020, Song had spoken with Sixth Tone about how very far from home he was feeling. Soon after that, the decision was made to bring his parents to the United States to be with their son and his family.
"Sometimes it was hard, but I know why I am here," says Song. "If you look at the career of a fighter it isn't really ever long. Time is limited, and I know I cannot waste time. I need to catch this moment in my life and put 100% into it."
While Song's direct connection with his fans back home has been limited over the past few years, clips posted almost daily on his social media feeds have provided them with a unique insight into the hours — and the sweat, pain, and toil — that goes into becoming an elite fighter. And to Song's personal evolution both in and out of the MMA cage.
Now 24, Song puts some of his newfound maturity down to becoming a father (and Daisy is quick to agree with that notion). "I know I am providing for my family and our future," he says.
Watch those clips, and you'll see that much of Song's success has come down to a combination of talent and hours and hours of hard graft. But the way Song tells it, there's also something else: a natural fearlessness in the octagon.
"Normally, maybe people have a fear of being locked into a cage, but I don't feel nerves — I don't feel anything," says Song. "When the time to fight comes, my focus is on my opponent and nothing else … That is the mindset you have to have — you can't let any moments go to waste, you have to just move forward."
Song's growth as a fighter was showcased last time out when he faced the Brazilian veteran Marlon Moraes — a former top-ranked bantamweight who once fought for the title — and laid him out cold with a vicious right uppercut just over two minutes into the first round.
The move to America was driven by Song's desire to become an all-round fighter. Building on his background in the Chinese martial arts of sanda and wushu, Song wanted to add to his arsenal the other skills called upon in MMA, including wrestling and Brazilian jiujitsu.
He'll need them all against the 30-year-old Sandhagen, who has fought against the UFC bantamweight division's top three fighters.
"Last time, I proved that I could beat a fighter who had been at the top," says Song. "I was given a test by the UFC, and this fight is another test. It's a main event, so that means it's five rounds of fighting.
"He has a lot of experience fighting for five rounds, and also fighting with top fighters in the division. He has his tricks and he is also very technical," Song continues. "But I live for these opportunities, to fight the very best. And I live to fight."
Editor: Dominic Morgan.
(Header image: Song Yadong reacts after his knockout victory over Marlon Moraes of Brazil in their bantamweight fight during the UFC Fight Night event, in Las Vegas, U.S., March 12, 2022. Chris Unger/Zuffa LLC via VCG)