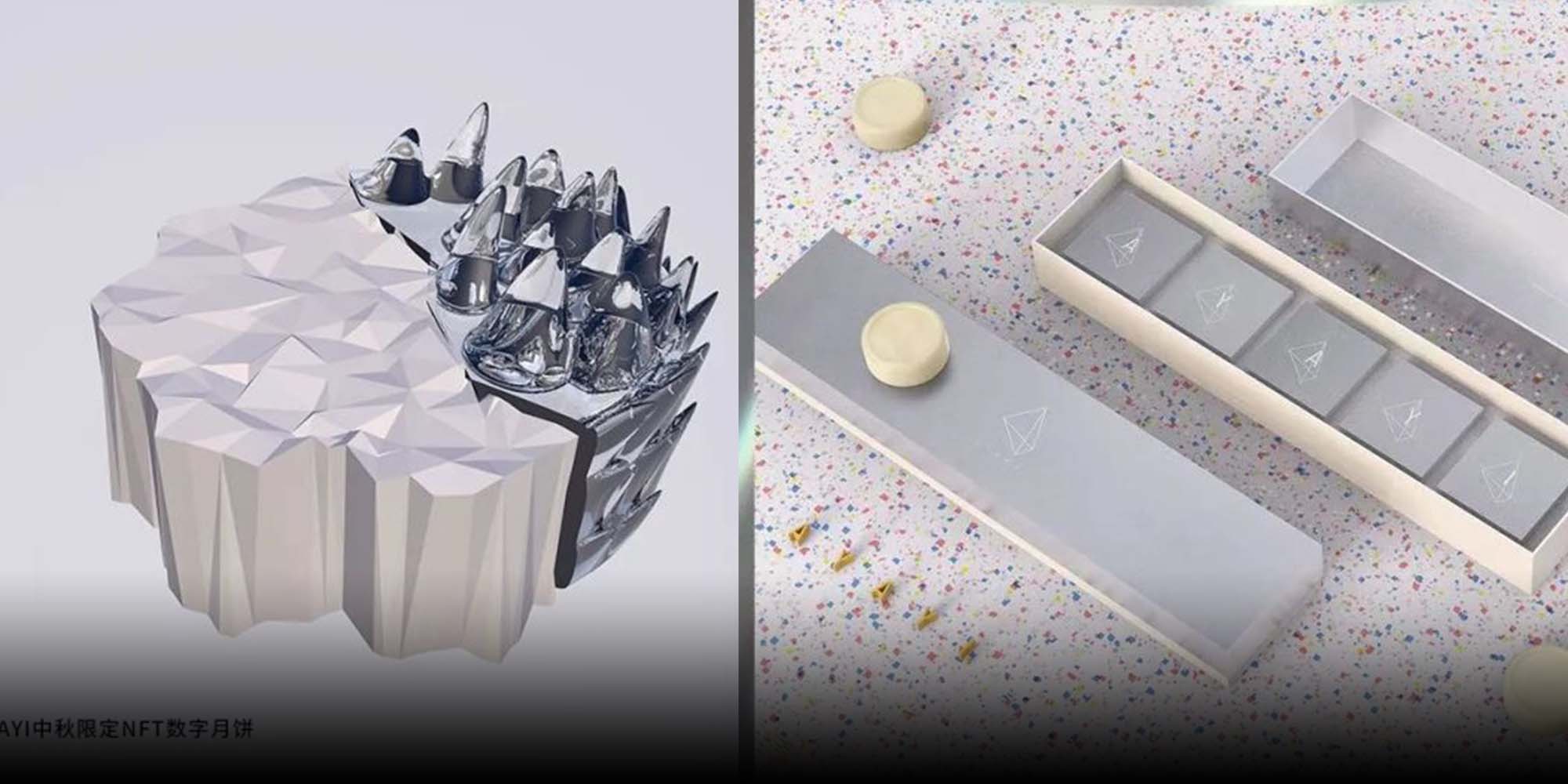 NEWS
NFT Mooncakes Are Hot Off the Shelf This Mid-Autumn Festival
Chinese companies are capitalizing on the NFT fever, while experts warn about regulatory risks.
The quintessential Mid-Autumn Festival snack in the form of non-fungible tokens, or NFTs, is making many consumers drool this season.
The virtual mooncakes have emerged as the latest trend in the highly desired snack of the season, with some costing hundreds of thousands of yuan. Photos of NFT mooncake gift boxes have been widely circulating on social media, with one art studio promoting its calorie-free "air" cakes.
"Blockchain air mooncakes contain zero sugar, zero fat, and zero calories," read the mooncake label from Wave Labs art studio posted on microblogging platform Weibo, adding that they've already sold out.
Snacking on mooncakes, along with other delicacies like hairy crabs, is one of the traditions of Mid-Autumn Festival, which falls on Sept. 10 this year. Over the years, companies have been targeting consumers with high-end and expensive mooncakes that come with premium packaging.
Authorities have been cracking down on costly gift boxes to rein in bribery culture and curb excessive waste. Earlier this year, the National Development and Reform Commission said that 90% of mooncake packages are priced under 200 yuan ($30), with those over 500 yuan subject to close monitoring, domestic media reported.
Now, tech firms, pastry brands, and mooncake manufacturers are coming up with fresh ideas to attract more consumers.
Guangzhou Restaurant, a 98-year-old eatery, is partnering with food delivery platform Ele.me to offer 10,000 co-branded mooncakes between Sept. 1-9. State-owned China Post and Häagen-Dazs rolled out ice cream-flavored NFT mooncakes in late July, which come along with real cakes.
Online, some social media users mocked the idea, while others considered it a form of investment. Last year's NFT mooncake from e-commerce giant Taobao, which cost 1 yuan apiece, is now priced at 38,888 yuan on the metaverse art exchange platform X Meta, according to media reports.
However, the NFT boom and the metaverse hype have experts worried amid a lack of regulations. Experts also warned of the risks of investing in NFT mooncakes, asking companies and consumers to be aware of fraudulent activities.
Editor: Bibek Bhandari.
(Header image: Promotional photos of AYAYI NFT mooncakes. From Taobao.com)