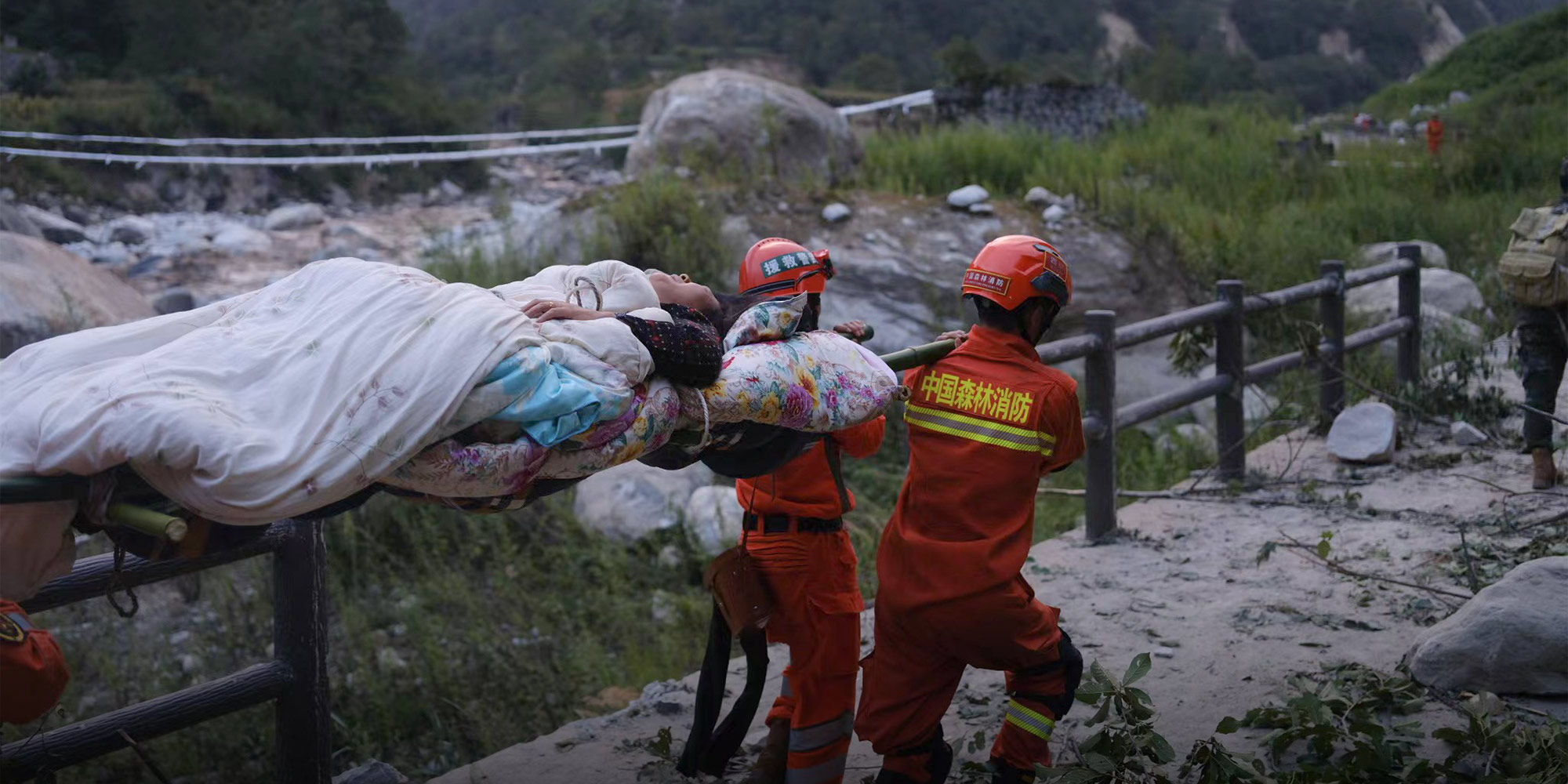 NEWS
Powerful Sichuan Quake Leaves a Trail of Deaths and Destruction
The 6.8-magnitude earthquake on Monday has killed dozens, and rescuers are working to locate the missing.
Li Shao was riding his motorcycle as usual in the ancient tourist town of Moxi when he lost his balance and fell down. It was past noon on Monday when the ground trembled uncontrollably, and he then saw houses collapsing.
The 6.8-magnitude earthquake on Monday was the strongest to jolt southwest China's Sichuan province since 2017, with the epicenter in Moxi, Luding County, according to the China Earthquake Networks Center. Provincial authorities said the quake has left at least 66 people dead, 15 missing, and 253 others injured as of Tuesday afternoon.
"Tiles were falling from the top of houses and smashing on the ground, and smoke and dust were billowing everywhere," Li told Sixth Tone on Tuesday. "Brick walls were toppling down. People were screaming and rushing out of buildings into roads. No words could describe the sound other than horrible."
Several videos on social media showed dramatic footage of the tremors shaking streets, swaying trees, and shattering houses in various parts of Luding, which lies in Sichuan's Garze Tibetan Autonomous Prefecture. The earthquake has triggered landslides and caused damage to water and electricity supplies, transportation, and telecommunications, state media reported.
More than 6,600 emergency workers have been dispatched since Monday, as rescue efforts continue to try and find survivors. But the local meteorological department has warned of hurdles and potential geological disasters, as rain is forecast in Luding for the next three days.
Xu Lei, a hotel owner in Moxi, which is the gateway to the Hailuogou scenic area, said almost all old buildings had collapsed in his neighborhood, while some newly built houses withstood the tremor but were left with severe cracks. After the initial shock, Xu said he spent hours setting up temporary shelters with tents together with other people, who then spent a sleepless night on cotton quilts or mattresses, fearing more landslides.
"It sounded like firecrackers, and parts of the woods on the mountain just kept disappearing and sliding away," said the 32-year-old. "Many homes were smashed by stones."
Residents have also reported multiple jolts since the initial quake, making them anxious. Authorities said there have been 10 aftershocks of 3.0-magnitude and above as of 10 a.m. Tuesday.
Sichuan lies in a seismically active area and experiences earthquakes frequently. The devastating 7.9-magnitude quake in Sichuan's Wenchuan County in May 2008 left over 80,000 people killed or missing and caused massive damage to the infrastructure and local economy.
Monday's quake was powerful enough to shake buildings 226 kilometers away in the provincial capital of Chengdu, where 21 million residents are under a COVID-19 lockdown. Tremors were also felt as far as the city of Chongqing, as well as Yunnan, Shaanxi, and Guizhou provinces.
Meanwhile in Moxi, anxious locals are sheltering in tents, trying to pick up the pieces following the devastation. They often hear the sounds of helicopters unable to land in the mountainous terrain, dropping relief supplies and ferrying the injured to hospitals.
Some entrepreneurs in the tourism sector said that the the quake could further impact their livelihoods. The COVID restrictions over the past weeks amid a a rising number of number of infections in Tibet and Sichuan have already cut visitor numbers, though some say that may have also averted more casualties and injuries.
A restaurant owner surnamed Ma said that the building that houses his eatery now appears unsafe and may need to be rebuilt. He said all his dishes were shattered when the refrigerator fell on top of them after the earthquake.
"I can't count on the upcoming golden periods to make money anymore," the 30-year-old said, referring to the three-day Mid-Autumn Festival holiday starting from Sept. 10 and the seven-day National Day holiday in early October when he previously made tens of thousands of yuan. "The indirect losses are huge."
Additional reporting: Li Xin; editor: Bibek Bhandari.
(Header image: Rescue workers carry an injured woman in Moxi, Sichuan province, Sept. 5, 2022. Cheng Xueli via Xinhua)