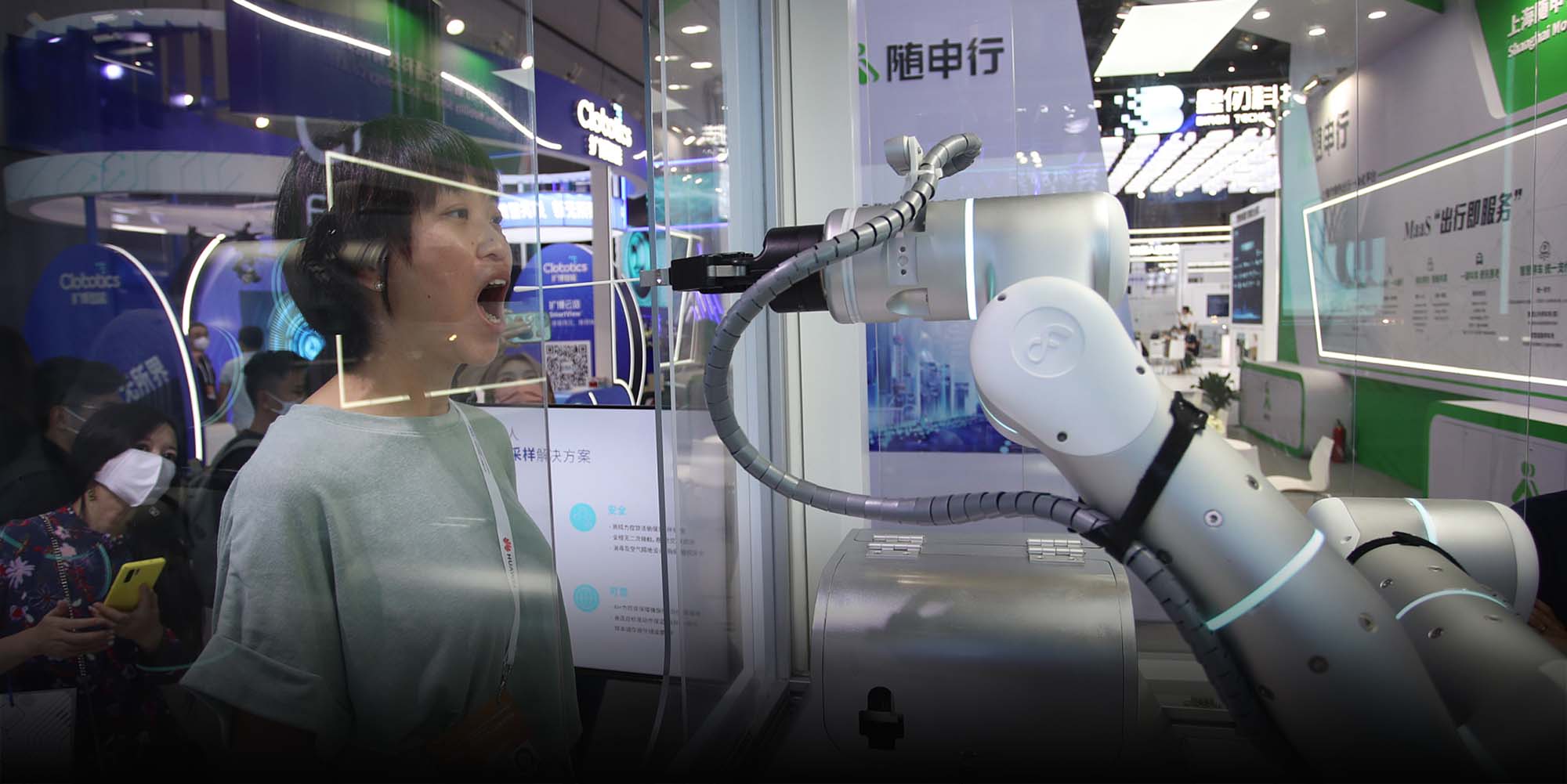 NEWS
Robots, Cameras, and More: World AI Conference Highlights
From fall detection cameras to COVID-19-testing robots, the event showcased several technological innovations.
Artificial intelligence is transitioning into a new era of technological developments as both industries and consumers embrace new innovations, industry leaders said during the World Artificial Intelligence Conference 2022 in Shanghai.
The three-day conference that concluded Saturday brought together key industrial experts and academics, while showcasing the latest products from more than 200 exhibitors across sectors including finance, health, transportation, and culture.
Sixth Tone lists some of the technological innovations that are reinventing people's lives and the future.
Fall detection camera
Chinese tech giant Tencent has developed a smart camera that can spot a fall by detecting abrupt changes in a person's body movements. Dubbed the "Invisible Guardian," the system will immediately alert a designated contact via a text message and phone call once a fall is confirmed.
Zhang Jiapei, a representative of the company, told Sixth Tone that the product aims to protect seniors, especially those living alone. In addition to visual detections at all times, Zhang said an updated version of the product would also trigger rescue alerts when users call for help using certain words.
Falls are the second leading cause of unintentional injury deaths globally, with people over the age of 60 accounting for half of such fatalities, according to the World Health Organization. The camera's fall detection accuracy has reached over 90%, the company said, adding that it would first promote the device in public elderly care homes in Shenzhen, before following it up in other cities.
"We want seniors, especially those living alone, to be noticed immediately and sent for treatment when they fall," Zheng said. "As the country has an increasingly aging population, we hope the device can help safeguard their lives."
Anti-fraud system for digital transactions
Alibaba's fintech spin-off Ant Group revealed its intelligent risk control system for quickly detecting and intervening in fraudulent digital transactions. One of the key features in the multi-layered mechanism is a 90-second alert call by the platform's AI assistant.
Zhao Ke, a representative of Ant Group, told Sixth Tone that the system could provide tailored evaluations by analyzing real-time feedback from users during the call, and terminate the process when necessary.
"With this 90-second pause, we want to make our users understand what's going on by getting them away from the fraudulent transaction where they're being urged to quickly complete the transaction," Zhao said, adding that communication could provide more information and improve the accuracy of the system.
Other anti-fraud innovations include a 15-minute "cooldown period" and a 24-hour transfer delay. The company said the AI-powered system has encompassed all kinds of fraud released by police officials in its database and sent more than 500,000 alerts every day across all its applicable platforms, including the popular digital payment app Alipay.
Robot COVID-19 tester
Flexiv, a Shanghai-based robotics enterprise, has developed a robot that can complete an automated COVID-19 test, from picking up a cotton swab to placing the sample in a tube.
Equipped with visual recognition technologies and highly flexible force sensors, the mechanical arm can identify the right point to swab people of different heights, while ensuring it is done in a safe and comfortable way. The swab takes around 28 seconds to finish and the robot can test 240 people in two hours, a member of staff from the company told Sixth Tone.
As frequent COVID-19 testing has become a pivotal tool in containing outbreaks, China is seeking to free medical workers from mass testing and reduce their exposure to the virus. In August, the country published its first industrial standard on sampling machines, which helped review the existing products and regulate the sector.
(Header image: A woman tests a machine that collects COVID-19 oral swab samples during WAIC 2022, Shanghai, Sept. 1, 2022. VCG)