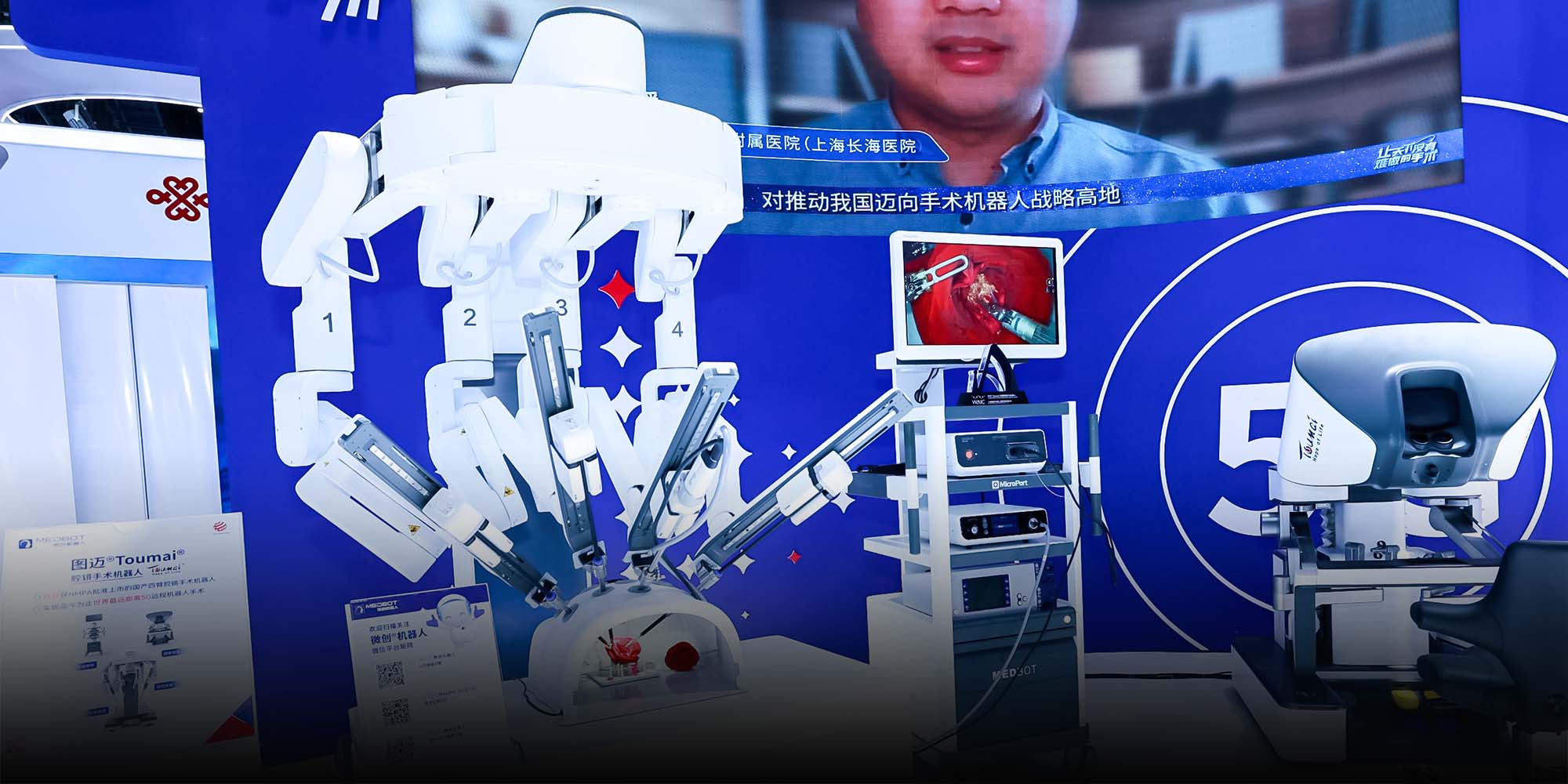 NEWS
A Chinese AI-Powered Robot Aims to Tackle Complex Surgeries
The four-arm laparoscopic surgical robot clinched the topmost award at the 2022 World Artificial Intelligence Conference.
SHANGHAI — A surgeon's nimble hands play a vital role when doing surgery, but medical technology developers are now seeking to make them more precise and flexible with the help of a new assistant: robots.
A Shanghai-based robotics enterprise has developed a four-arm laparoscopic surgical robot that helps doctors carry out complex surgeries in narrow spaces. The technology — approved for commercial application by China's drug regulator in January — clinched the "Super AI Leader" award at the 2022 World Artificial Intelligence Conference, which kicked off Thursday in Shanghai.
Four-arm laparoscopic surgical robots, deemed some of the most advanced, are equipped with a complex system and several cutting-edge technologies. While there are only a few products available for commercial use worldwide, the technology is ranked first among a group of high-end medical devices prioritized in the country's five-year industrial scheme.
Du Qunjian, a representative from the robot's developer MicroPort MedBot, told Sixth Tone at the conference that the product would enable more doctors to accomplish a wide set of difficult surgeries with its key technical advantages. He added that the robot has completed several clinical trials this year.
"There are only a few experienced doctors capable of accomplishing certain surgical operations across the nation," Du said. "But with the aid of robotics, we want to cut back on that reliance and create more possibilities."
MicroPort MedBot's surgical robot consists of a console, a vision cart with magnified three-dimensional surgical views, and mechanical arms that can imitate a surgeon's wrist in clamping, knotting, and stitching with 360-degree rotations. In contrast with traditional surgeries, doctors will use the robotic arm to perform the procedures.
"A more realistic image could reduce fatigue for doctors during the operation, and not being in direct contact with patients could reduce the risk of infection," Du said.
For patients, the more precise and less invasive robotic surgery could result in less blood loss and better rehabilitation. Referring to prostate cancer surgeries, Du said a robot-assisted operation could constitute only one-tenth of blood loss compared with conventional methods.
In June, MicroPort MedBot completed two remote robotic surgeries at hospitals in the eastern Jiangsu province and the northwestern Xinjiang Uyghur Autonomous Region. The company seeks to harness the power of 5G technology to bring medical welfare to more people in remote areas where there is less health care infrastructure.
"We hope one day that there won't be any difficult surgeries in the world," Du said. "With the aid of technology, we want to bring more hope to patients by extending and reshaping their lives."
Despite limited application in hospitals due to the high medical costs and low market penetration, the surgical robotics market is expected to expand in China over the next few years. According to global consultancy Frost & Sullivan, the domestic market size for surgical robots will swell from $400 million in 2020 to $3.8 billion in 2026, with an average annual growth of 44%.
(Header image: A four-arm laparoscopic surgical robot exhibited at the 2022 World Artificial Intelligence Conference in Shanghai, Sept. 1, 2022. Courtesy of WAIC)