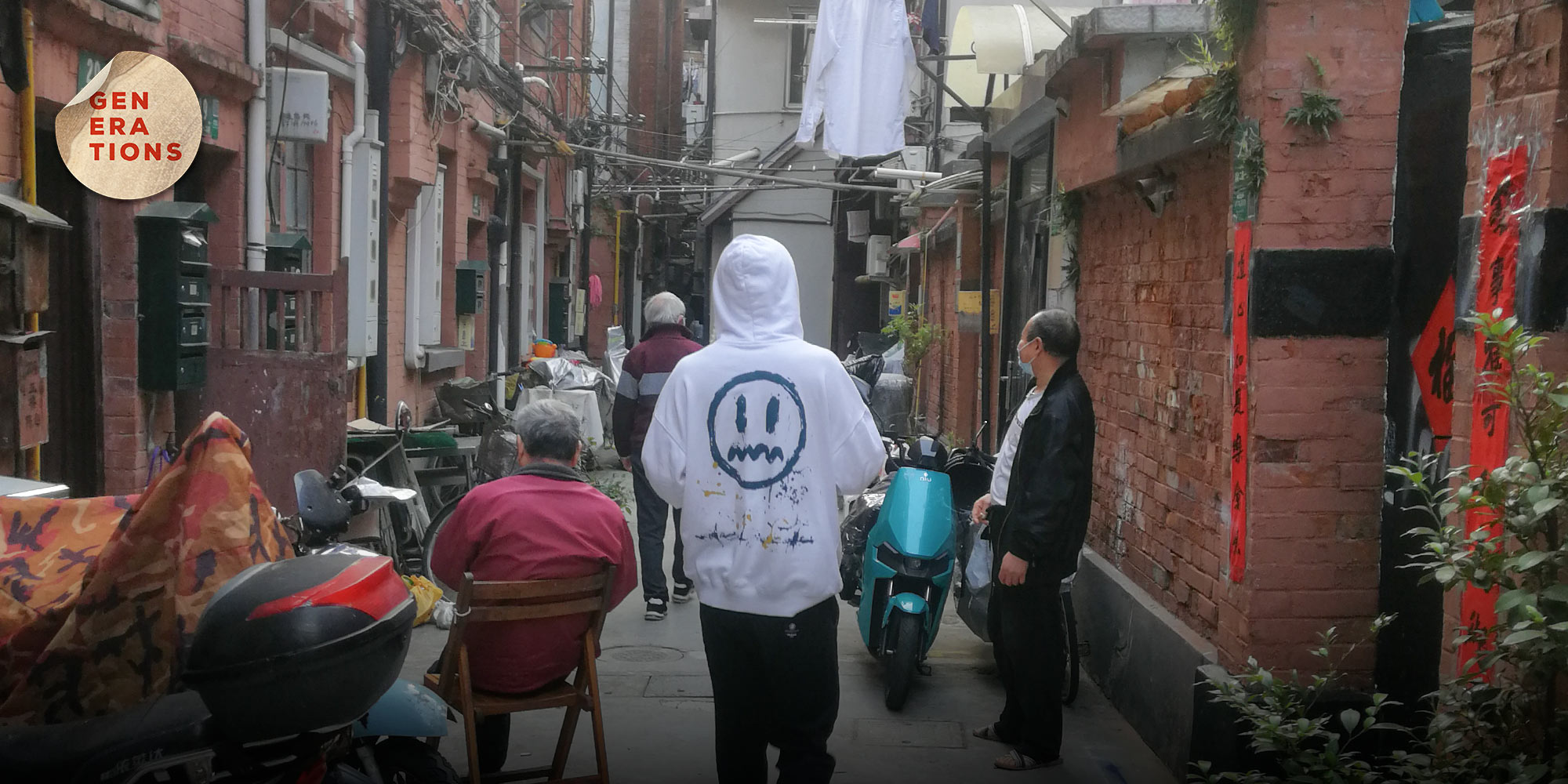 SIXTH TONE ×
Almost Family
In this entry to Sixth Tone's China writing contest, writer Alessandro Ceschi gets to know the strangers who live next door in a Shanghai alley house. The young laborers sharing a room see opportunity slipping away, while the elderly Yu's hardly seem to notice a difference.
"Second floor! Come down and do your test!"
"What did you say?"
"Come down and do your test! You're the only ones missing!"
"Okay! I'm in the shower!"
"Come on!"
"Alright! Give me a minute!"
During my first six months in this old Shanghai alleyway, there had always been a distance between me and the senior couple living downstairs. The only time we interacted was on a late October weekend. I wanted to go out, but couldn't find my apartment keys.
In my mind, I quickly went over my possessions: nothing worth a lot of money. I used an unopened package from something I had bought online to keep the door from closing, and left the apartment.
But the building door downstairs was still a problem — between the time I left and when I came back, someone would have shut it. Waking up Mr. and Ms. Yu by knocking late at night wouldn't have been very neighborly. I decided to spend the night outside and go home in the morning.
Old Shanghai houses have shared kitchens in the staircase. As I arrived outside of the building, I could see through the window Mr. Yu boiling four eggs. He recognized me and opened the door; I explained who I was and what had happened. "You forgot the keys," Mr. Yu said smiling, repeating my words to make conversation. I smiled back.
After that day, it was only polite nods and good mornings on my way out. That's until Shanghai went into lockdown.
Building 11 is a three-story Shanghai alleyway house. The Yu's occupy the ground floor; two young men and I live on the first floor; a family of four is on the third. Every time we go for a Covid test — a daily recurrence in lockdown life — we wait for all nine of us to be fully gathered downstairs before heading to the sampling site. We look like a tight pack of primary school students.
The notice we had received in Puxi, the part of Shanghai to the west of the Huangpu River, said that lockdown would last from April 1 to April 4. But on April 5, it just went on.
That day, as I left my apartment to go for yet another Covid test, I met Mr. Yu. "Today's the last one," he said with a cheerful smile. "If all goes well, tomorrow we're free."
I didn't think that was true. The lockdown had just been extended, indefinitely. Mr. Yu couldn't know when it was going to end — no one did. But I found solace in his lighthearted optimism, and tried hard to be persuaded by it.
Mr. Yu was born in the '30s. Before the founding of Mao's China in 1949, he went to a middle school run by the French in Shanghai. He learned English, French, and Russian, and once expressed regret for not being able to converse with me in Italian, my mother language. Our residential complex was designed and built in 1929: Mr. Yu was born here, and called it home ever since.
Before the Communist Party took over and split Shanghai's single alleyway houses into multiple living units, all of Building 11 belonged to Mr. Yu's family. In his over ninety years, Mr. Yu saw all that there was to be seen in history — and even what one might wish not to. Could the spread of a virus really disrupt his inner peace? The more I think about it, the more I understand his unperturbed look.
With the onset of lockdown, their family routine didn't change. Mr. Yu chops vegetables at home; Ms. Yu chats the day away with neighbors sitting outside. That's the background noise to my lockdown days, spent working from my terrace that overlooks the alleyway. They use part Shanghainese dialect and part Mandarin, so I can get about half of what they say.
We have plenty of neighborhood group chats on our phones, but key information still reaches us through Ms. Yu. To know when we have to go downstairs to pick up government vegetables or antigen test kits, we came to rely on Ms. Yu's lively voice calling us, or sometimes on her fierce knocking on the door.
Next to my apartment is a small back room called the "pavilion room," or tingzijian. Before lockdown, it used to house three young men. They would sleep at day and work at night, joining the troupe of helmet-wearing, for-hire designated drivers who ride in folding bicycles to barbecue restaurants and karaoke bars. In the line for our Covid test, we talked, and I found out that one of them had recently gone back to his hometown. As luck would have it, Omicron reached Shanghai in the meanwhile, and he remained stuck outside.
That made the tiny tingzijian slightly larger for the two guests left. Ms. Yu amiably addresses them as "the two kids".
In the first ten days of lockdown, as a limited amount of drivers struggled to serve a city of 26 million, getting groceries delivered was a challenge. Most people were down to eating whatever was left at home. Scrolling through my WeChat, I saw a post by Li Ming (a pseudonym), one of the young men in the tingzijian. "The reason I came to Shanghai," his words read, "was to not eat instant noodles. Now, I'm running out of even those." Shanghai felt like a faded dream.
The tingzijian is not meant for cooking — normally, the "kids" would just get delivery food or eat outside. Ms. Yu inquired more than once about their food situation. She said they could give her the vegetables provided by the government, and she would do the cooking. From what I saw, they never took up the offer. They would just rinse the vegetables and eat them raw.
Eventually, Ms. Yu got them a rice cooker. That night, looking a bit tipsy, Li Ming knocked on my door asking for some cooking oil. The next time he came, he was holding a five-pound bag of rice. As he gave it to me, he only said two words: "Government gift."
The morning when Ms. Yu called me out of the shower, I was barely halfway done. I put something on quickly and ran downstairs. There was no one in line at the sampling site, and paramedics were packing things up. I was clearly late to the party.
Back at Building 11, I ran into Mr. Yu, who was cooking lunch. "Today we went to see the doctor," he said, and I stopped, realizing he had something to say to me. "That's why we didn't call you for the test."
Although the sound of loudspeakers fills the alleyways for most of the day, there are just too many buildings mentioned in the announcements, which makes it easy to miss the one you should hear. That's why, at Building 11, we only respond to Ms. Yu's calls, and ignore the rest. When testing had started earlier that morning, Mr. and Ms. Yu were at a doctor's appointment. That's why I had almost missed it.
"I had to get a pass from the residential committee to be able to go out," Mr. Yu said, as if the red tape required, and not the doctor's appointment itself, was what occupied his thoughts. In the past few days, I noticed how Mr. Yu has carried a much weaker look.
"How are you," I say to Mr. Yu with a pause, almost trying to buy time, avoid finishing my question and delay the moment I will hear the answer. "How are you feeling?"
"So so," says Mr. Yu. This time, his cheerful tone creates a stark contrast with the meaning of his words.
I now realize what has happened in about three weeks of lockdown: shouting back to Ms. Yu from the shower, checking on Mr. Yu's health after his doctor's appointment. The distance between us is gone. For the first time, I talked to them directly, without making the conscious effort to come off as the polite upstairs neighbor. That feeling you usually get at home, of talking with mom or dad and not thinking too much about it — because you know there will be countless other chances for conversation about anything, for all sorts of reasons in the near future. Every exchange grows to be ordinary, a product of inertia, a part of your day. It becomes life.
"Did it get them?" Ms. Yu asks me excitedly. The other day, she gave me a small packet of roach powder, although we had never discussed this topic before, nor had I ever suggested I had a roach problem.
"Oh," I say, unable to immediately understand what Ms. Yu is talking about. "It did, yeah!"
"You see, this powder works great," Ms. Yu says proudly. "You just put a little bit down, and you can use it for years."
"You're right," I say as I walk up the stairs. "Works like a charm!"
Back in my apartment, my gaze falls on the cupboard, on which lies the unopened packet of roach powder.
Author Bio:

Alessandro Ceschi is an Italian freelance writer who has been living in China for the past six years. He loves football, cooking, and biking. You may find him in a youth hostel almost anywhere in the country.
(Header image: Residents take COVID-19 tests during the Shanghai lockdown, April 2022. Courtesy of Alessandro Ceschi)