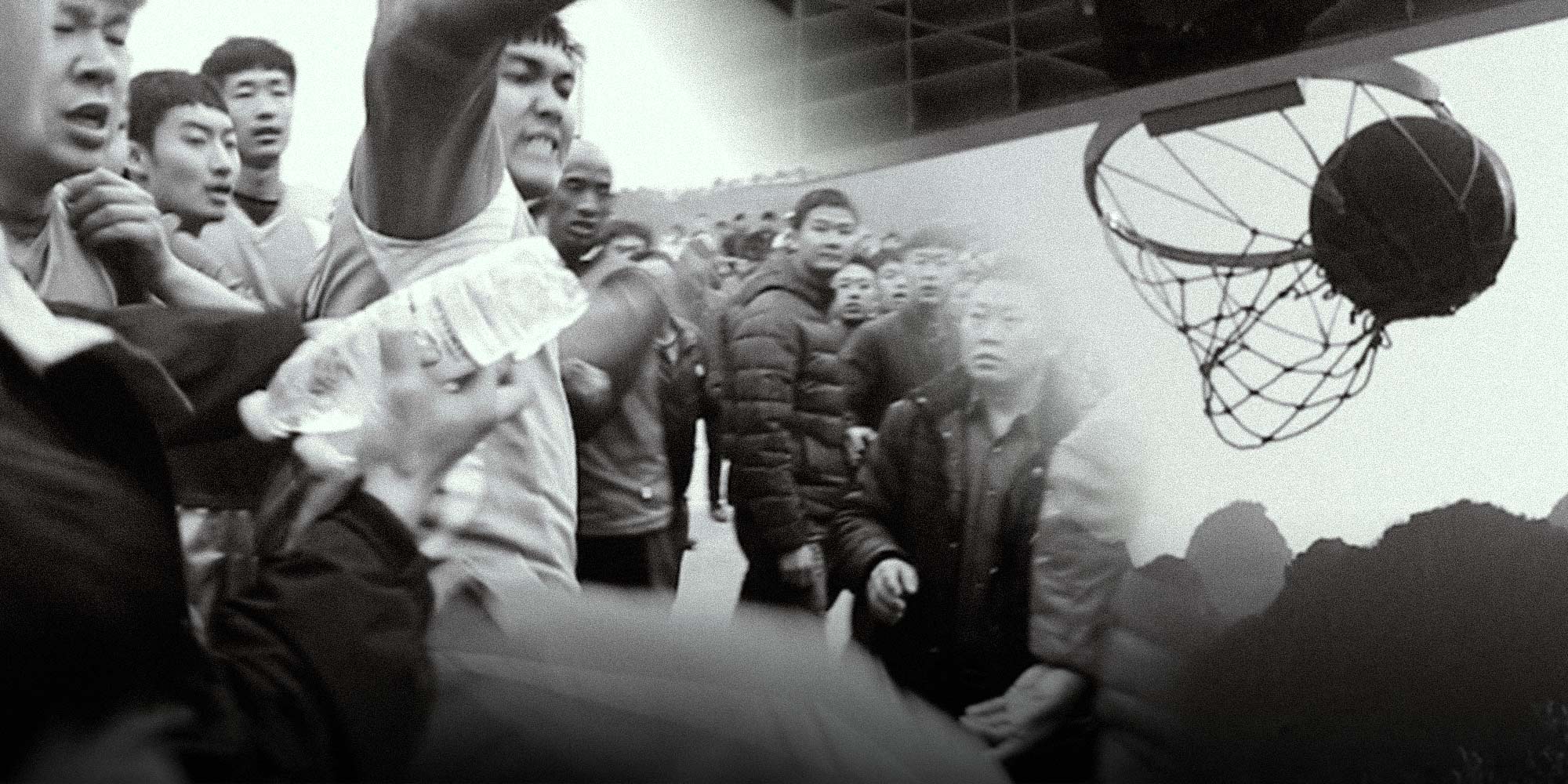 FEATURES
'Wild Ball': A Compelling Journey Into Chinese Basketball's Wild West
Li Hongquan's hit new documentary follows American journeyman Lee Benson as he's sucked into the bizarre world of "wild ball" — China's gritty rural basketball scene.
The scene is an outdoor basketball court on a green hillside in southwest China's Guizhou province. Hundreds of people have gathered on the grassy slope to watch the action, wrapped up against the cold mountain air.
Courtside, fans are held back by just a rope. They're leaning over to get a closer look at one giant figure in particular: an American draining three-point shots from way, way out, ripping the ball out of the air for rebounds, and generally running the show.
His opponents can't seem to find a way to stop him, and so they soon resort to violence, committing a series of nasty fouls that the referee lets slide. The man stands his ground, then fights back, and then the game descends into fury and farce as the two teams come to blows. The fans go crazy, hurling abuse and running onto the court.
"(Benson) is always honest and true to himself," the 28-year-old director tells Sixth Tone via video call. "Sometimes that gets him into trouble, but it's the way he is."
Benson is an ex-con and journeyman player who in the dying days of his professional career had been lured by the promise of millions of yuan to play exhibition games in remote areas around southwest China — a scene known locally as "wild ball." 
Li was fascinated. He'd end up spending most of the next three years following the American, documenting his doomed journey into Chinese basketball's wild west. The result — the feature-length documentary "Wild Ball" — is a compelling watch, weaving together twin storylines.
There's the life and times of Benson — a towering, mercurial man whose dreams of NBA stardom were wrecked at the age of 19, when he was arrested on a litany of charges including abduction, gun possession, and drug trafficking. He would end up doing eight and a half years' jail time, before finally making good on his talent as a basketballer, picking up professional contracts everywhere from Greece to Puerto Rico and finally China, where he became a top player in the CBA.
And then there's the bizarre world of wild ball, basically an independent series of basketball games bankrolled by wealthy businessmen in rural China. These local "bosses" pay big sums to lure pro ballers from all over the world to come and play in tournaments, which are often held alongside traditional rural festivals.
"At the start of the film we show a bull fight, because in these provincial towns the festivals put on these things to entertain the people, and that's what wild ball is, too," says Li. "It can all get a bit crazy.
"Most of the time everyone is having a good time. The foreign players are having a good time, they're getting paid, and the businessmen fulfill their dreams of being the boss of some kind of basketball team," the filmmaker continues. "But sometimes there is confusion, and things can go bad."
And in Benson's case, things go very bad. "Wild Ball" ends up charting an almost classically tragic narrative arc from success and euphoria to failure and despondency, and — as the end credits roll — to prison once again for the American.
The film, which Li put together with co-director Ding Beichen, made its world premiere at the recent FIRST International Film Festival in Xining, a city in northwest China's Qinghai province. It proved an instant hit with audiences and critics, as it sheds light on the furthest reaches of professional sport — and of the human condition.
Wild ball, the sport, is exactly what it claims to be — wild — with referees of varying degrees of competency overseeing games between players of varying degrees of talent, in games that frequently descend into violence.
The settings, too, are wild — with outdoor courts set up high in the mountains of Guizhou, Henan, and other remote parts of central and southwest China — as are the characters involved, from shady, money-grubbing middlemen to the crowds of working-class folk who pack the stands and always seem to be itching to enter the fray. As seen at the start of the film, every now and then, they actually do.
And then there's Benson himself, who rails against his fate as his career slowly unravels and he's ripped off and betrayed. The American is candid throughout, openly offering his thoughts to Li and his crew, even as it all goes wrong.
"(Benson) makes no excuse for what he has done or how he acts," says Li. "He taught me a lot about being real. In China, sometimes you have to fake it to make it, but he always told me to just be willing to be real with people."
At various points throughout the film, there are clips from Martin Scorsese's classic 1980 movie "Raging Bull" playing in the background on a TV in Benson's various far-flung hotel rooms. Li says he saw a close connection between Benson and "Raging Bull's" protagonist: ex-world boxing champ Jake LaMotta, played by Robert De Niro.
"We were just simply following (Benson) and he was struggling — with his body, with his relationship with his wife in the U.S.," says Li. "One day I found myself watching 'Raging Bull' again, and I suddenly started to feel something, these similar things between the two of them … two people who put on a show for people, who entertain until they can't, like the bulls at the start of the film."
The Dayton, Ohio-born Benson could have been a basketball great. He was a standout among a 1990s generation of players that included Shaquille O'Neal, and was named equal Most Valuable Player of his city's high school league. 
Even after he was released from prison at age 27, there were still rumors that an NBA team might take a punt on him, given his enormous size — at six-foot-11 and over 230 pounds — and stellar record. But that chance never came.
Instead, Benson took his talents on the road, including stints playing for CBA teams in Guangzhou, Shanxi province, and Tianjin, where he became a fan favorite with his relentless scoring and explosive, passionate play.
But by the time Benson met Li in 2015, age had slowed him down. He was in his early 40s, and he'd turned to the shortened form of basketball — 3x3 — and wild ball.
Initially, all goes well for Benson. He plays and wins, and shares the riches with a wild ball team he has helped assemble. Then, things slowly go pear-shaped.
One of the more memorable sequences begins with Benson arguing over money, then cuts quickly from game to game. Meanwhile, a running tally on screen shows how the American's income slowly falls to zero as his skills and interest levels fade and his teams start to consistently lose.
"He was also trying to take care of everybody, make sure they win and get paid," says Li. "But you can see when they are not winning, how hard it becomes. In wild ball, they not only hire you to play, they also hire you to be entertaining, to make the boss look good in the town. But Lee would never change himself."
Finally, Benson packs up his bags and heads back to Ohio, with filmmakers in tow. We see him walking the darkened streets of his hometown — and we learn that in 2019 he was found guilty of fresh charges including drug trafficking.
Li says Benson has seen the film, and has OK'd it. Now, the filmmaker's business partners are negotiating possible distribution deals with China's various streaming platforms.
Wild ball has taken a hit during the pandemic — as have most sports in China — but there are still games happening, Li says. Benson, meanwhile, is just trying to get on with his life.
"Coming into this film, I was just trying to find out why (Benson) bought into wild ball," Li says. "He never said no to me. It's very precious for us to make our first feature film and have a very real relationship with this person … The way it played out, it felt like I was catching the wind."
Editor: Dominic Morgan.
(Header image: Stills from the documentary "Wild Ball." From FIRST International Film Festival, reedited by Sixth Tone)