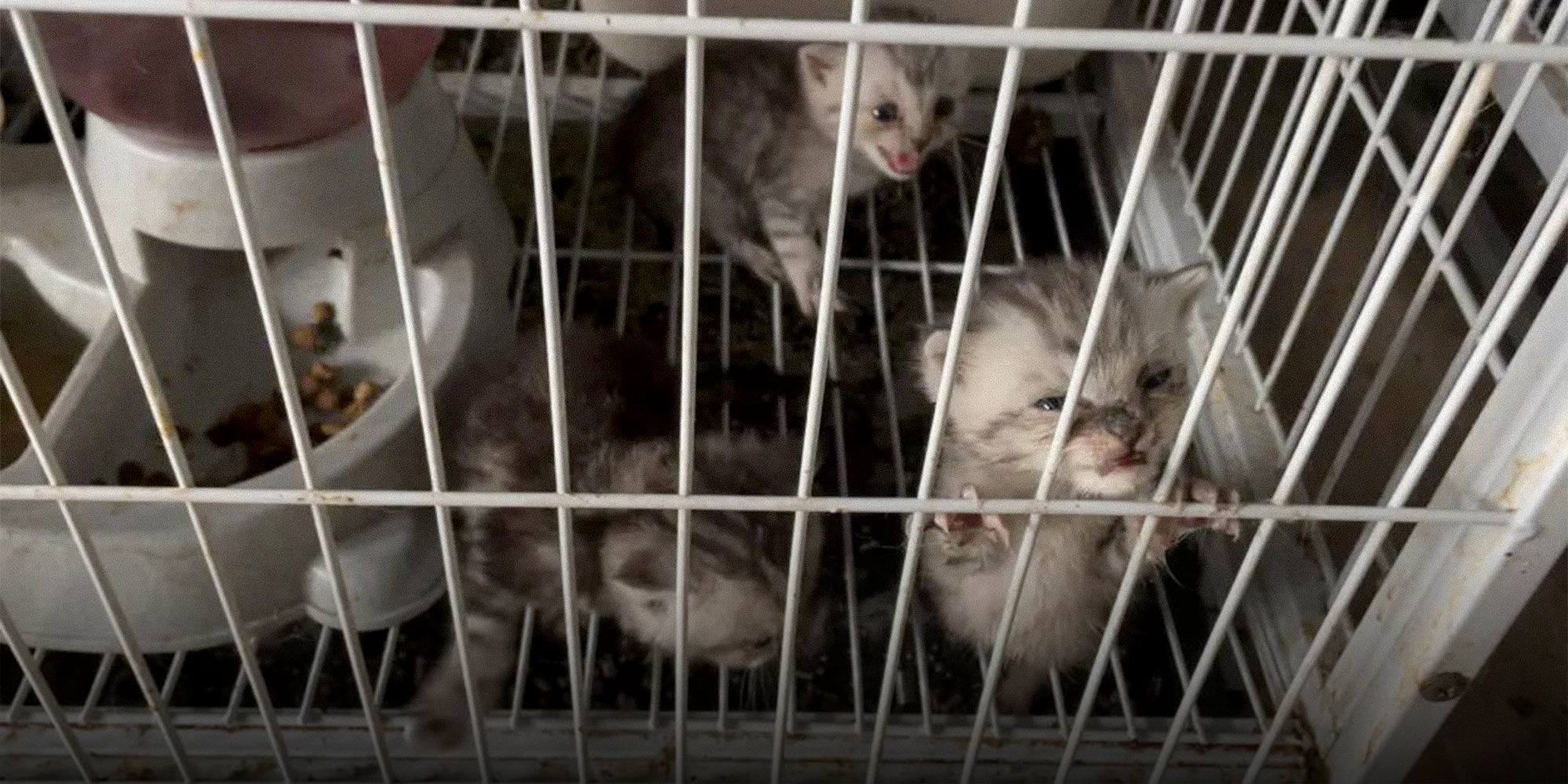 FEATURES
China's Pet Industry Is Booming. So Are Its Horrific Breeding Mills.
Most Chinese pet owners have no idea where their animals come from. That's allowing a dark breeding trade to flourish unchecked.
When Yuanzi decided to get a cat in July, the fresh graduate didn't spend long researching her options. She simply opened the Chinese e-commerce app Taobao.
After some browsing, the 26-year-old selected a Persian kitten from a cattery in Shanghai. It was one of the top vendors, so Yuanzi assumed it must be a good business. She paid the 8,500 yuan ($1,250).
But when her new pet arrived a few days later, Yuanzi quickly realized something wasn't right. The kitten seemed weak, and began vomiting and suffering diarrhea. Within three days, it was hospitalized with feline distemper — a highly contagious and deadly disease. Five days later, it died.
Yuanzi was upset by the loss. But her sadness turned to horror once she began looking into why her cat had arrived in such a terrible state.
She discovered reams of footage on social media showing the inhumane conditions inside China's breeding industry. In one clip, dozens of cats — almost all of them suffering from visible injuries — were crowded into a small, squalid room. In another, a breeder was cutting open the abdomen of a British shorthair undergoing a difficult birth. No sign of sterilization, no anesthesia. The mother cat's cries haunted her for days afterward.
Yuanzi still isn't sure whether her kitten was raised in that kind of center. When she contacted the cattery, it refused to allow her to see its animals' living environment. Instead, it offered to send her another kitten "in 100% good health." But the student fears the worst.
"My gut tells me that my kitten came from a cat mill disguised as a cattery," says Yuanzi, who spoke with Sixth Tone using a pseudonym for privacy reasons.
Many Chinese pet owners have suffered similar experiences. Backyard breeding centers are thriving amid China's boom in pet ownership, allowed to boost profits by keeping animals in horrifying — and often dangerously unsanitary — conditions due to a lack of regulation and public scrutiny. 
China's pet market has seen extraordinary growth in recent years, driven by rising living standards and three years of COVID-19 lockdowns. The country's pet cat population surpassed 58 million in 2021 — up 19.4% year-over-year — while the number of pet dogs reached 54 million.
Most of China's new pet owners consider themselves devoted animal lovers. Many describe themselves as doting "cat slaves," pampering their "fur babies" with premium kibble, toys, and grooming services. A typical Chinese pet owner splurges 6,650 yuan ($960) per year on pet products, more than the average Chinese consumer spends on food, tobacco, and alcohol, according to business information platform IT Juzi.
Yet few are aware of how breeding centers operate. That's enabling breeding mills to practice cruelty on an industrial scale, unchecked by public scrutiny. China's lack of animal protection legislation makes the problem worse, as breeders are rarely punished for bad practices.
"Source of goods"
Kitten mills are the most common form of backyard breeding operation, where hundreds or even thousands of cats are crammed into cages and forced to give birth multiple times a year.
A former kitten mill owner, surnamed Su, told Sixth Tone he used to have 600 cats reproducing three to four times per year. Some female cats spent their entire lives in their cages. Su used aphrodisiacs designed for livestock and poultry to stimulate his cats' estrus and increase their productivity.
According to Su, kitten mills are the "source of goods" for 80% of pet stores in China. Pet stores are the Chinese pet industry's biggest sales channel, accounting for over 35% of total sales, according to a 2019 report by Chinese research firm Leadleo.
Backyard breeding centers also appear to supply many of the nearly 5,000 cat vendors operating on Taobao. The platform's top selling vendor, which sells over 10,000 cats per month, told Sixth Tone it had "thousands of cats in the warehouse," but declined requests to view conditions inside the facility as "the stockpile is too large."
The breeding industry is highly secretive, and it's difficult for customers to get a glimpse inside the centers that supply their animals. But videos secretly recorded by animal rights advocates during surprise visits to kitten mills show grim conditions, with many cats in an agitated state and bearing injuries.
Su refused to provide specific details about conditions inside his former kitten mill, but admitted they were similar to those pictured in the videos.
For Su, breeding pets was no different to any other kind of business. Its main attraction was its high profit margins: the unit cost of a cat was often as low as 20-30 yuan, while they sold for hundreds or even thousands.
"It is a solid and profitable business," says Su, adding that his kitten mill made just under 1 million yuan per year.
But this hard-nosed approach creates a multitude of problems. Cai Chunhong, a lawyer who has specialized in animal protection cases for over a decade, says many breeders inject sick pets with immune serum to make them appear exuberant and healthy.
Su confirmed this was a common practice. Breeders also regularly use antibiotics to ensure kittens survive just long enough to make it to the pet stores, he added.
Breeders will abandon their animals as soon as they are no longer profitable, rescue organizations tell Sixth Tone.
Last August, RHR Shanghai — a local animal protection group — found 33 Chartreux cats abandoned on a vacant construction site on Shanghai's southwestern outskirts. All of them were sick, with the adult cats generally weighing less than three kilograms. The volunteers also found the remains of 15 cats on the site, which appeared to have died from car accidents and illness.
According to RHR Shanghai, the cats were likely owned by a backyard breeding operation, and were abandoned after becoming sick. Owners often want to avoid the cost of veterinary bills, they added.
Live With the Cat, another animal rescue organization, found three dozen cats abandoned inside a backyard breeding base disguised as a cat café in the southwestern city of Chengdu the same month. The scene of rotting corpses, feces, clouds of flies, and rotten food shocked even experienced team members.
"Most backyard breeders leave the animals whenever they are ill or cannot procreate anymore, as they're of no use to the breeders," says Huayuan, a rescuer at Live With the Cat, who also spoke under a pseudonym for privacy reasons.
The huge number of cats abandoned by breeding companies is also creating another problem: a skyrocketing stray population. China's number of stray cats grows by around 40 million per year on average, Sixth Tone's sister site The Paper reported.
Cats from breeding centers now show up frequently on the streets of Chengdu, according to Live With the Cat. The organization has encountered five such cases already this year.
The cats in Su's former kitten mill met a similarly grisly end. When China went into lockdown at the start of the COVID-19 pandemic in 2020, the animals were left alone for several months. Su returned to the center to find all of the cats had died. After that, he decided to move into the building materials trade.
"A drop in the ocean"
There is currently little to restrain the actions of pet breeders in China. With no industry guidelines in place, the conditions inside breeding centers depend almost entirely on the consciences of the businesses' owners, according to Cai, the lawyer.
"It's hard for ethics to beat profiteering," says Cai.
Animal welfare groups have been lobbying the government to introduce stronger legal protections for pets for years, but progress has been slow. Current animal welfare rules only apply to laboratory animals, while the ban on wildlife trading introduced during the pandemic does not affect the breeding of domestic pets.
The government has come under greater pressure to take action over the past few years. Whenever a new scandal related to the live pet trade emerges — such as last year's trend for mailing live pets inside "blind boxes" — they are often followed by public calls for tougher regulation.
Deputies to the National People's Congress, China's top legislative body, have proposed new measures to strengthen animal rights every year since 2015. The past three years saw proposals to ban the for-profit breeding and sales of live pets and punish those found to have abandoned or abused a domestic animal. Yet none of these suggestions have become law so far.
"It seems that animal welfare is not so critical or urgent an issue for legislators," says Cai. "But a genuine game changer can't come from anyone but the government, which has the authority to raise the bar on live pet trading and crack down on backyard breeding operations."
Animal welfare groups are also trying to raise public awareness of conditions inside the breeding industry, hoping to convince pet owners not to buy animals from stores that work with breeding mills.
Many groups — including RHR Shanghai and Live With the Cat — regularly post footage of the cruel practices used inside backyard breeding centers to social media. These shocking clips often go viral, garnering over 100,000 views and sparking heated discussion.
Yet both organizations are pessimistic about how effective this advocacy really is. China's breeding industry is just so big, and public awareness of backyard breeding remains low. 
The situation is particularly challenging in China, where millions of people are getting a cat or dog for the very first time. These first-time buyers tend to be the most likely to unwittingly fuel the backyard breeding industry, yet they are also the hardest people to reach.
"People never pay attention to the issue of backyard breeding until they get a pet — the overwhelming majority of our audience are pet owners," says Huayuan. "It's very difficult to break the information cocoon around prospective pet owners."
The breeding industry, meanwhile, is unlikely to change its practices unless it's forced to. Su says he doesn't understand why backyard breeding provokes such anger. It's no different to the animal husbandry industry, he argues.
"Pigs, chickens, ducks, geese … so much livestock is on sale," says Su. "Why do we have to treat cats and dogs differently?"
After her experience in July, Yuanzi joined a group for cat owners on the social app WeChat. Many of the members said they'd had the same problem: their pets got sick shortly after arriving at their new homes. Some kittens eventually recovered, others were returned to the breeders, while still others died. 
Yuanzi is determined not to make the same mistake twice. A few days ago, she adopted a stray cat that had been living on the streets near her home. This is the only way, she believes, to ensure she's not complicit in backyard breeding.
"Where there are buyers, there are sellers, trade, and tragedies," she says.
Editor: Dominic Morgan.
(Header image: Cats abandoned inside a backyard breeding center that operated under the guise of a cat café in Chengdu, Sichuan province. Courtesy of Live With The Cat)