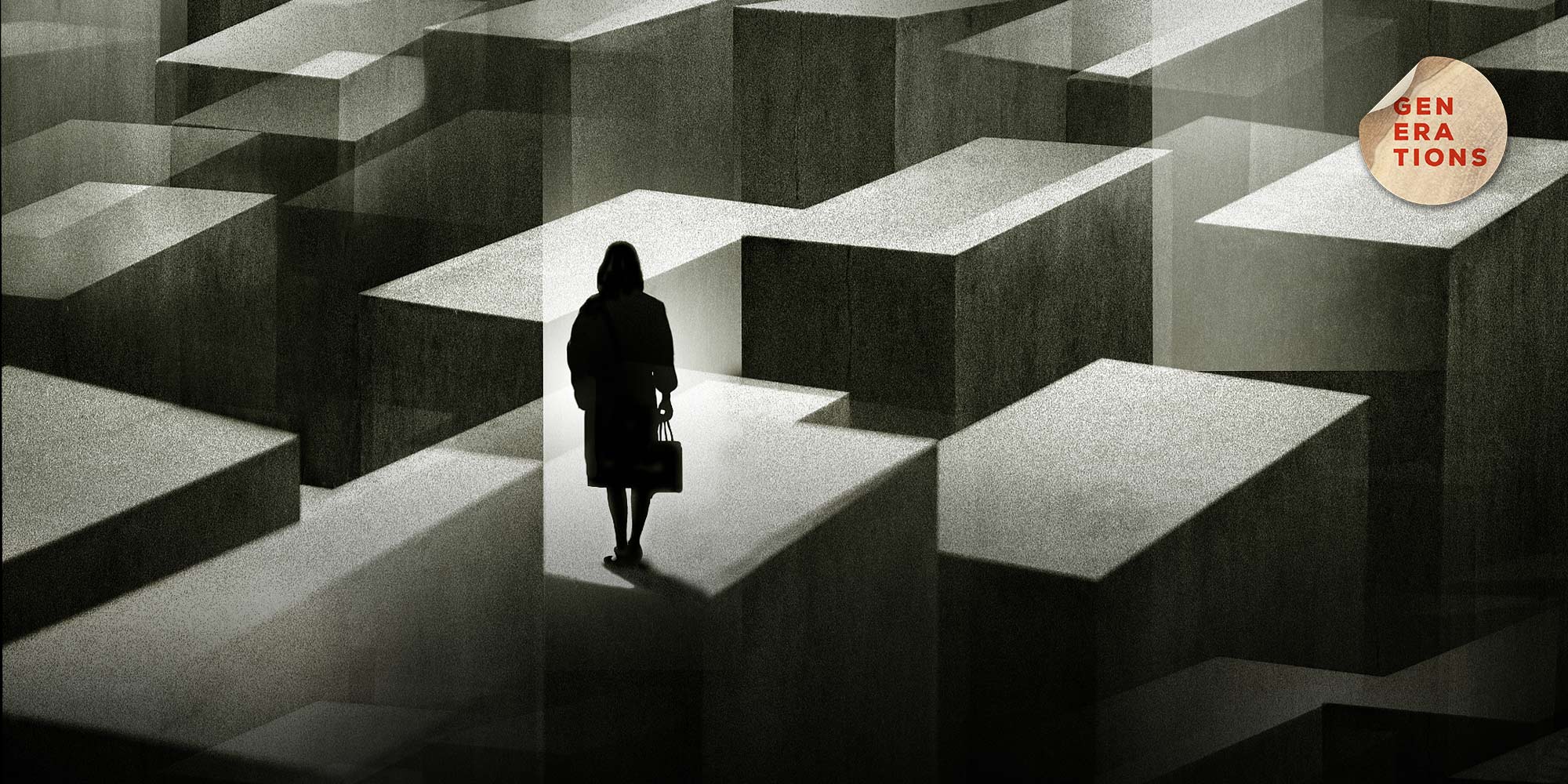 SIXTH TONE ×
Anonymous for Thirteen Years in Singapore
In this entry to Sixth Tone's China writing contest, writer Duan Wenxin documents an immigrant's life in Singapore.
I
Sitting on her bed in a quarantine hotel, Yolan bends down and touches her calves. In the background, laughter can be heard coming from the television. Although she has been out of prison for a month, the marks the shackles left on her skin are still visible. She tries to take a photo of her scars, but deletes it because she feels it is too ugly.
She remembers the day of her trial at a Singapore court; as she walked out, the prison guards restrained her with handcuffs and shackles. The heavy chains pressed into her, prompting tears of fear and sorrow. It was the first time she cried since she'd decided to turn herself in.
Yolan was charged with overstaying her visa by 13 years and two months. In 2009, she paid a 10,000 yuan fee (then roughly $1,480) to travel agents for a tourist visa to Singapore. On arrival, Yolan set herself a goal: She would work until the day she got caught. Her whole family was relying on her — including her two young children, who stayed behind with her mother and younger brother.
The first room she rented was a shared accommodation, crammed with as many as 20 people. Most of the tenants were like her, undocumented immigrants from Fuqing, a small town in southern China. A small, hilly seaside town in the southeastern province of Fujian, Fuqing is known for the number of its residents who have moved abroad since the 1990s. These people often had little education, and local wages were low. They stowed away on ships, arranged fake marriages, or pasted their photos into the passports of other people — a practice known in Chinese as huan rentou, or "swapping heads" — and flocked abroad for higher paying jobs.
Overcoming hardships, the people of Fuqing brought Chinese supermarkets to Argentina and opened massage lounges all over the world. They can be found nearly everywhere: Japan, South Korea, the United Kingdom, and the United States. Yolan was just one of many. She didn't know why going abroad had become a tradition, but she knew that she had to go once she had saved up enough to apply for a visa. Once she had it in hand, she departed for Singapore quickly, leaving her husband, who she says gambles and drinks, behind.
One of Yolan's male roommates in Singapore was an alcoholic. He always went drinking on payday. One night, near midnight, the man returned home and, just like her husband, began smashing liquor bottles on the floor. The loud bang and shattered glass scared her. Hearing a neighbor had called the police, she hurriedly packed her belongings and left the room. She tried to rent a place using a doctored work permit, but the landlord got suspicious and later found out that it was a fake, so Yolan was forced to move again. After relocating several times, she got to know a Malaysian man who was in desperate need of money. The man's girlfriend came from Fuqing, just like Yolan, so he knew she was an undocumented immigrant. But he let Yolan rent his place anyway.
Without a work permit, Yolan couldn't find a full-time job. She became a household cleaner and was paid by the hour, in cash. It's the kind of work that offers good wages and doesn't require strict visa verifications. She got up at six every morning, arriving at her employer's home by eight. Her lunch was usually a cheap, three-dollar Hainanese chicken with rice, which she would hurriedly eat in a building corridor so she would be on time for her next job at one in the afternoon. She worked for nearly 10 families every week, year after year.
Yolan's first employers were a middle-aged couple from China. They both had graduated from a famous Shanghai university and moved to Singapore to work in the technology sector. They were kind but strict, and set lots of rules. To conceal her identity, Yolan usually told her employers that she was a single mother, or that she had a child studying in Singapore. She would occasionally change her story when she worked for young married women, easing their fears by emphasizing that she had come to Singapore with her husband. She called these her "white lies." Sometimes even she would get confused. Once, Yolan forgot which story she had told and gave the wrong version. Fortunately, the employer didn't realize the difference. Afterward, she warned her roommate that they'd better stick to one story in the future. All of their employers were deceived by these vivid stories — until the police informed them that they had hired undocumented immigrants.
The Singapore summer is relentless. Walking along the street, Yolan felt as parched as the bedsheets she had hung outside to dry. Entering her forties, Yolan found it harder to bear the weather, especially when she was cleaning toilets. Her sweat-soaked body was reflected on the white tiles like the shadow of a cloud. Her friends laughed at her and told her to turn a fan on.
"No, no, no," she would reply. "I came for work, not enjoyment." She worked much more than the average cleaner. When the Spring Festival came around, Yolan would give gifts to her employers, like seaweed and fish balls sent from her hometown by her daughter. She even gave out red packets stuffed with a bit of money to their children.
As time went by, Yolan's client list grew. Once, she was hired by an Indonesian family, but she never went back. The kitchen was too smelly, and the walls covered in grease from deep-fried foods. As for the Singapore Chinese, they would set up complicated rules. The one Yolan remembers best came as she was cleaning the floor. "Be careful!" her employer warned. "The floor is made of marble!" She was often asked not to touch the luxurious handbags on the shelves. After hearing this, she would pull back her hands and curse silently. She once damaged a blouse while ironing it. Her employer said it was made of silk and demanded 200 Singapore dollars ($143) as compensation. At the time, Yolan only made 100 Singapore dollars from each job. Afterward, she chose not to work for the woman again.
She misses the British couple she once worked for, who used to be teachers in Singapore. They were polite and kept an appropriate distance, she says. Whenever Yolan started to work, they would take their young child outdoors, and come back after the cleaning was done. When they had special requirements, they would just write a note in English and leave it on the desk. Yolan didn't know much English, but she could understand some by guessing. Occasionally, she would ask her boyfriend Jay to translate.
Yolan met Jay at a karaoke bar. She had just arrived in Singapore, and two of her girlfriends invited her to hang out. Yolan was silent in the crowd of men and women under the flashing lights.
The next day, Yolan received a phone call from Jay, a Singapore native who owned a car repair shop and was 12 years her senior. He told her his wife had passed away young and left him with two daughters.
"Let me take care of you, OK?" he asked.
Yolan knew that some girls dated Singaporean men and relied on them to cover their living expenses. They even had two separate phones so that they could speak to several men at the same time. Jiu Dan, a Chinese writer who once studied in Singapore, wrote about these Chinese girls in her novel "Crows." The Singaporeans call them "little dragon maidens" — not after the beautiful protagonist of the classic martial arts novel "The Condor Heroes," but a derogatory way to curse them for luring Singaporean men.
They were active in nightclubs and hotels, going from bathrooms to bedrooms and earning large sums of money rapidly. But they were also more likely to get caught by the police.
Yolan agreed to Jay's request, and Jay asked her how much money she would need. Yolan calculated the needs of her whole family and asked for an amount equivalent to 5,000 yuan a month. Hearing the sum, Yolan's girlfriends laughed at her, saying that no one would settle down with a single partner in Singapore. Doing so was like "getting hung on one tree."
When COVID-19 struck, however, they started to envy Yolan's settled life. Jay supported her with basic living necessities — as well as something that the other girls rarely got from their partners, something like love.
Without a legal ID, Yolan was unable to go to hospitals, get vaccinated, or get a share of the facemasks provided to residents by the government. The space for her survival grew narrower. She continued her work and learned about the symptoms associated with vaccination so she could be as detailed as possible with her employers. "There weren't too many side effects, I just felt a bit sleepy,' she would say.
Later, a text message circulated among Yolan's friends with a copy of a vaccination certificate belonging to someone with a work permit. The certificate recorded the date, location, and type of the vaccination. Yolan and her friends saved the copy and changed the name on the document to theirs so they could show it to their employers. She would even share some of her precious face masks with her employers, to convince them that she could get supplies from the government.
In the early spring of 2020, Yolan's landlord sold the rental property and she was forced to leave the place she had lived for over 10 years. Her life was like dodging landslides, each more dangerous than the last.
That April, Singapore imposed a lockdown, and people were required to use contact tracing codes to enter public places like shops, markets, and department stores. From then on, Yolan was unable to enter larger stores. For two months she could hardly get any meat; she ate only bread and potatoes bought from convenience stores. Sometimes she lived at Jay's place, and they would buy food for her friends who lived alone.
There were more and more police officers patrolling the streets, so she turned her daily jogging routine into a weekly one. She hardly ventured outside in the evenings.
The only thing that didn't change was her work, as Yolan tied up her face masks and went from family to family. When the residential buildings she worked in also began to require ID verifications, she would wait outside until she saw someone with a baby stroller and follow them in. "They are checking my identity again, it's so strict!" Yolan would sometimes complain to her employers, as if she had shown it.
Jay's younger daughter is a nurse, and she sometimes stays at her father's place. On the evening of Sept. 29, 2021, Yolan cooked for them and the three had dinner together. She noticed that Jay's daughter had a mild cough, and, before going to bed, Yolan handed her a glass of warm water. Jay's daughter soon left for work, just like a normal night.
The next morning at 4 a.m., however, Jay's daughter called and told them that she had tested positive for the coronavirus. According to the legal requirements of Singapore, both Yolan and Jay would need to self-isolate at home.
"Home," it seemed, was a word that had become increasingly elusive for Yolan. After contemplating her predicament for four hours, she concluded that she had nowhere to go and decided to turn herself in to the Immigration and Checkpoint Authority (ICA) of Singapore. She was well aware that, no matter whether she chose to go back or stay, she would regret it afterwards.
"If…" Yolan had considered many options. If she self-isolated at home with Jay, she would not be able to get treatment even if became infected. If she turned herself in to the ICA, however, she might be able to get vaccinated. Ever since the initial outbreak, the police had been making increasingly frequent daytime patrols, and many of the chat groups that Yolan's friends had set up were disbanded after their members were arrested. One of Yolan's friends had been caught and deported back to China, and she tried to persuade Yolan to turn herself in.
"At least you can dress up," she said. "I looked like a beggar when I was caught outside."
It was late September, and the occasional gentle breeze provided a break from the heat. Making up her mind, Yolan donned a shirt with black and white stripes. She looked at herself in the mirror, but did not find herself beautiful. The shirt, along with many of her other clothes, had been mailed from China by her son. She threw away many of her other outfits as she packed her luggage, eventually condensing everything into a single suitcase and backpack, as if she was just a tourist.
Before going to the ICA, Yolan had a video call with her family: mother, daughter, and son were all squeezed onto a small phone screen. Yolan simply explained her decision and plan. From her restrained tone, Yolan's daughter felt the chill of death. She cried and asked her mother to take a selfie.
Yolan turned on the beauty filter. She looked skinny. Her hair was short and her eyebrows were neatly trimmed. From under them, a pair of shiny eyes gazed at her family.
II
Before she was sent to the Changi Women's Prison, officers with the ICA offered Yolan an opportunity. In the interrogation room, a male and a female officer questioned her in a serious voice: "Do you know any people like you?" The officers had already gone through Yolan's phone and seen some messages Yolan hadn't had time to delete. They asked her whether she would like to be a police informant: All she needed to do was to make a phone call to her friends and ask them to go to a certain place where the police would be waiting in secret.
Yolan shook her head and said she could not do that. The female officer switched into a gentle tone and asked again: "What if we offer you an informant permit, so you can work normally in Singapore?"
The male officer whispered in English: "Is there such a permit?"
Yolan asked back in Chinese: "Is there such a thing?"
The male officer was surprised. "You know English?" he asked.
"Not really," Yolan replied. "But that is what you mean."
The female officer finally admitted that there was no such a thing and they left Yolan alone.
Yolan knew all too well the temptations of becoming a police informant: Some obtained a 10-year work permit and no longer needed to worry about visas; others received 8,000 Singapore dollars and a flight ticket back to China. However, Yolan also knew that one of her best friends was captured because of an informant. Her friend got infected with COVID-19 in jail, and still hadn't recovered.
After taking a COVID-19 test, Yolan was required to quarantine for 14 days in prison. She received a box containing a toothbrush, a tube of toothpaste, a pack of soap and two toilet rolls: supplies for a whole week. The prison guards also gave a straw mat and two quilts to each inmate. The prisoners got up every day at 5:30 a.m., made their beds and took turns showering, after which they got dressed and waited for the guards to check their room. Meal boxes were dispatched through the window under the gate, and the inmates sat on the ground to eat. The toilet was just a makeshift room separated by a partition at the back of the cell.
During her time in prison, Yolan got acquainted with Lynn. They both came from Fujian province and had mutual friends. There were five people quarantined in the room together: Yolan, Lynn, a middle-aged Singaporean woman, an Indonesian girl, and an Indian girl. They had no common language.
Lynn seemed to be the only happy one in the cell. During her 14 years and 6 months of overstaying in Singapore, she had saved up 2.5 million yuan by giving out loans. As Lynn thought she had earned enough money, she happily turned herself in to the ICA. The officers scratched their heads when they saw the loads of luggage she brought with her. She declared that she would treat all her fellow villagers to a buffet and buy some expensive coats after her return to China.
In the prison, Lynn asked the Indonesian girl to marry her son. Yolan played the role of interpreter, using the few English words she knew to ask the girl: "Lynn you hen duo money! ni yao bu yao jia gei her son?" ("Lynn has a lot of money! Do you want to marry her son?") She didn't know how to convey the idea of lots of money, so she wrote the number two and lots of zeros after it; all five of them laughed.
Lynn also asked why the Indonesian girl was caught. The girl kept silent. Lynn tried to ask around the room, but got no reply.
Yolan stopped Lynn and said: "No one came here by choice, stop asking."
After about 10 days, the Indonesian girl finally shared the reason why she was imprisoned. The girl had worked as a housemaid and was abused by her employers. For revenge, she tried to harm their child, but was caught on camera.
The quarantine period was over, and Yolan was happy to find that she hadn't had any symptoms of infection. She was then transferred to a cell of four people. To her surprise and delight, Lynn was also in the same room. Just as Yolan was about to celebrate their reunion, a large elderly woman with white hair sitting nearby put her finger to her lips, gesturing at them to keep quiet. "Don't talk too much and don't ask anything," another woman explained in Chinese.
It occurred to Yolan that the elderly woman might be "Big Sister" — one of the most powerful inmates in the prison.
She learned that the woman had been a prominent Nyonya drug dealer who had been in jail for 40 years. She was 68 years old, and the guards took good care of her, often greeting her in the cell and helping her out with any troubles. The person next to Big Sister was an obese Malay woman, a pious Muslim who always prayed in a corner of the room.
Yolan talked to Lynn in private and suggested that they should take up the cleaning as they were new. Lynn was tasked with taking the meal boxes and mopping the floor, while Yolan would clean the toilet. In addition, Yolan would sometimes bring in the slippers for Big Sister, and put them back when she was not using them. Lynn was annoyed by Yolan's kind deeds, and complained that Yolan was being too helpful, which forced her to do the same.
"Well," Yolan explained, "be generous, as Big Sister is old." When Lynn didn't clean the floor thoroughly, Yolan would use her shower soap to clean it again.
Being generous and tolerant had always been Yolan's mindset. During her 13 years in Singapore, she had witnessed too many lives broken apart and too many relationships in chaos. Min, another of Yolan's friends from Fuqing, didn't dare to leave her Singaporean partner, who frequently abused her after drinking. As she had used a fake passport to enter Singapore, she was afraid of getting caught and receiving a severe prison sentence.
Fen, a Chinese mother who had been in Singapore for 23 years taking care of her daughter who was studying in the city, came down with COVID-19 at the market where she worked. When she went home one afternoon, Fen found that her landlord had put all her clothing outside the door, so she could only go back to China. There were also times when Yolan thought she'd had enough, especially when she was having arguments with her two children — moments when her anger was about to overwhelm her moral duty as a mother and the oldest daughter, and she would tell her kids that she was going back to China the next day.
But she never went through with it. Yolan kept on working for 13 years. She purchased an apartment in Fuqing for her family. Her son was about to graduate from university and was capable of earning a living. She had also provided for her daughter Cindy to go abroad for her studies. Their lives were beginning to brighten up, like one of the floors she had mopped. Yet, just as she planned to save up some money for herself, she was forced to leave.
Yolan had dropped out of high school, but she read four books during her time in jail. What impressed her most was romantic fiction of Giddens Ko, with its plot twists and love-hate relationships. Each day, the prisoners were allowed one hour of outdoor exercise — the only time they were able to take off their shackles. As the two metal gates of the prison were opened, Yolan would see women in white uniforms walking out, cell after cell, line after line, walking into the crowd, their shadows meeting each other on the pale-green coloured wall, and then separated. The public television showed Malaysian and Indian drama series, which Yolan could hardly understand. Yolan noticed a prisoner who looked like a male, and always stayed close to another girl; the guards would shout at them and have them separated. In the laughter of the crowd, Yolan realized something and began to laugh with everyone else.
Time flew by in a flash of light and darkness. Fourteen days had passed, and the guards told Yolan and Lynn to pack their belongings and get ready to leave. To Yolan's surprise, the Nyonya Big Sister suddenly got up and gave her a hug, then pointed at the floor and gestured a thumb-up.
During her 28 days in jail, Yolan learned a few words in English, including how to say "good morning" and "good afternoon" to the guards, the four-digit prisoner number on her wrist, and to shout "yes" when the guards called that number.
Arriving back at the ICA, however, she heard others shouting "present!" in Chinese.
"Maybe we should speak Chinese too?" Yolan whispered to Lynn. But Lynn was chill and told her to keep saying "yes."
"When will you be able to use this English word in the future?" Lynn pointed out. Yolan was soon persuaded.
Because of a problem with her household registration back in China, Yolan's passport was not approved for a long time. She stayed a few days at the ICA and was later released temporarily to wait. Lynn, however, got on a flight home only two days after she was released from prison. Before leaving, Lynn asked Yolan what she planned to do after her return.
Yolan thought about it for a moment, and said: "I have nothing now. Probably I will just ride a tricycle to sell bak kut teh." Later, it occurred to Yolan that she didn't even know how to ride a tricycle.
Lynn was bemused. "Ride a tricycle?" she asked. "You just came back from Singapore! You should drive a car!"
"You will drive a car," smiled Yolan. "It's fine that I only ride a tricycle."
People like them, people with no legal status. They were so alike, yet so different.
After being released from Changi Women's Prison, Yolan felt as if she had lost her memory and become numb. Fen's daughter comforted her: "It's alright, my mother has the same problems." Fen had tested negative and was able to return to China for quarantine, while Fen's daughter, staying in Singapore, was trying her best to help her mother's friends. The procedures required to return to China were getting more and more complicated. On Nov. 16, 2021, Yolan finally got her new passport. As required, she self-isolated in Jay's flat for the next fourteen days. After testing negative for COVID-19 twice, she was able to apply for a "green code" and board the flight home.
It was the last fourteen days Yolan would spend in Singapore. As the countdown began, Jay became extremely anxious. Waking up at 4 a.m. every morning, he refused to work in his repair shop. He also had a bad appetite, and he could only swallow his meals, as though he felt repulsed by the taste. Yolan heard from the immigration officer that the policy of Singapore had changed, and that she may be able to come back one day — as long as she found someone to write to the ICA and be her guarantor. Yolan made up her mind that she would get divorced and transfer her flat to her own name. Then she might apply for another visa to come back to Singapore. However, she wasn't able to give Jay any promises, not like the promise that he had given before. Yolan wasn't sure when she would be able to come back again. In three years? Or five? The pandemic had brought too many uncertainties and left too little under her control.
"Let's have a long-distance relationship," she said to Jay before she left.
On November 27, Yolan flew back to China. Landing in Xiamen, not far from Fuqing, she was the first passenger to step out of the airplane. Immigration officers questioned her for a long time in a detention room. She pleaded with the officers not to put the word "illegal" on her record.
"Everyone else uses 'overstay,'" she said. "It sounds a bit better."
"Alright, alright," the customs officers agreed.
At the end of December, Yolan finally finished her quarantine period and was able to return home. She saw the flat she purchased in a brand-new residential estate, where blocks of high-rise buildings spring from the green belts towards the sky. From the kitchen windows, she can see a hill in the distance, its hillside lit by the temple built on its peak — the same temple where she used to pray and pay homage to her ancestors.
No longer accustomed to Fujian winters, she has caught a cold several times since her return, and she is prone to oversleeping. She found a new dog in her home, named Chunchun, who runs whenever it sees strangers. But her mother's cooking is much better than the food she had in Singapore. On New Year's Eve, her mother, her son, her younger brother and his wife, and their children took a photo commemorating their reunion. Only one person was absent — her daughter Cindy. Yolan hasn't gone to sell bak kut teh. She is not in a hurry to find another job, despite needing to pay back the loan on her flat. She needs some rest.
Yolan thinks that she should light up incense to pay homage to her late father, who passed away 10 years ago. To her surprise, her mother hesitated. She says she needs to consult with others on whether it is appropriate. According to the traditions of Fuqing, only the eldest son is qualified to pay homage to their ancestors on specific dates. Hearing that, Yolan became angry. She felt frozen, the distance between her and her mother stretching to infinity under the evening light.
Author Bio:

Duan Wenxin is a writer of fiction and nonfiction.
She studies creative writing at Fudan University. Her novels about immigrants won the Guangzhou Youth Literary Award in 2022.
Translator Bio:

Wang Jiyuan is an interpreter and aspiring literary translator. He holds a master's degree in literary translation studies from the University of Warwick.
(Header image: Gary Waters/Fanatic Studio/VCG)